For the past ten years Connecticut Cottages and Gardens has been bringing the best of our state to its beautiful glossy pages. Each month (or two) editor in chief DJ Carey (now Editorial Director of the entire Cottages & Gardens family of publications) fashioned a book filled with glorious gardens, handsome homes and delightful discoveries. So it was not surprising that last Thursday a huge crowd gathered to celebrate a decade of great design.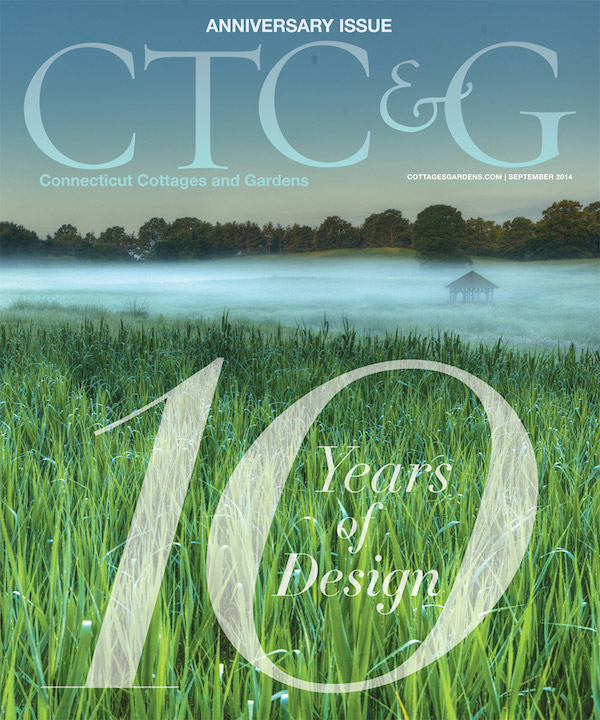 In these challenging times, it is a testament to the quality of the magazine that a local luxury publication has not only survived but thrived.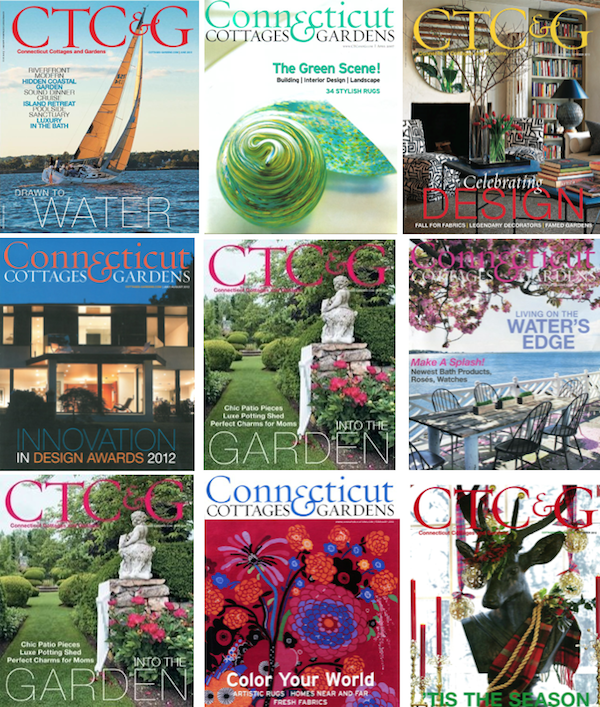 And as the magazine looks forward to its second decade, it was fitting that it marked the occasion with four talented local designers in a new Connecticut establishment geared toward design professionals and aficionados. From formal 18th century finds to mid century classics to contemporary creations, the Fairfield County Antique and Design Center is the newest local source for furniture, decorative and fine art, jewelry and even vintage clothing and accessories. With over 100 dealers in a gigantic 20,000 square foot space, there is something for everyone.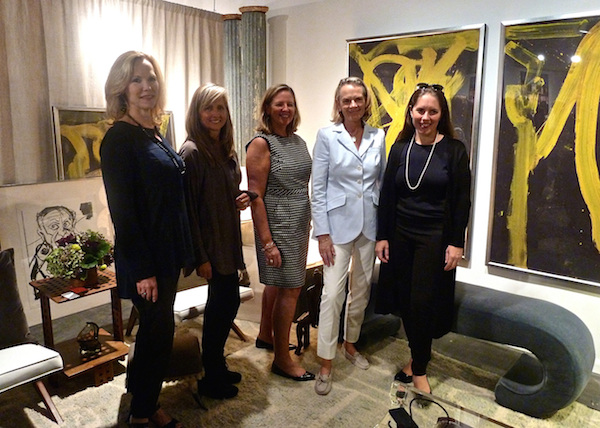 Above, designers (from left to right) Catherine Cleare, Krista Fox, Lynn Morgan and Lisa Hilderbrand surround DJ Carey (in middle) at the event. The four designers were given free reign to comb the extensive venue and last Thursday evening their final vignettes were unveiled. Lisa Hilderbrand's space was a chic eclectic mix of styles and eras.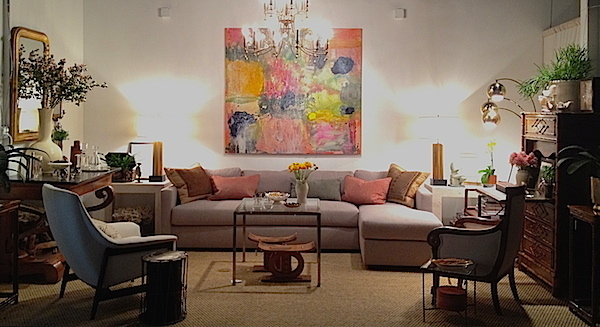 With a terrific sense of warmth and comfort, her space felt move in ready.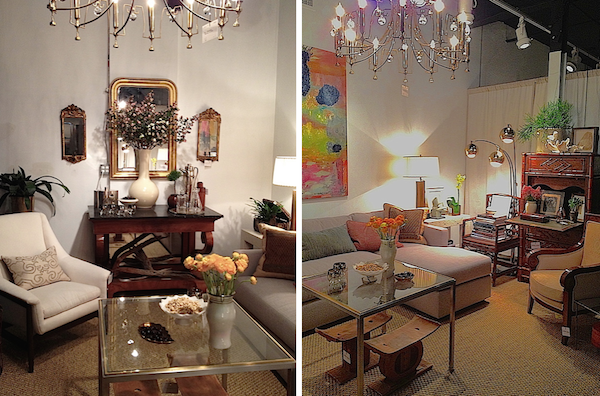 I particularly liked this charming vignette of art and accessories.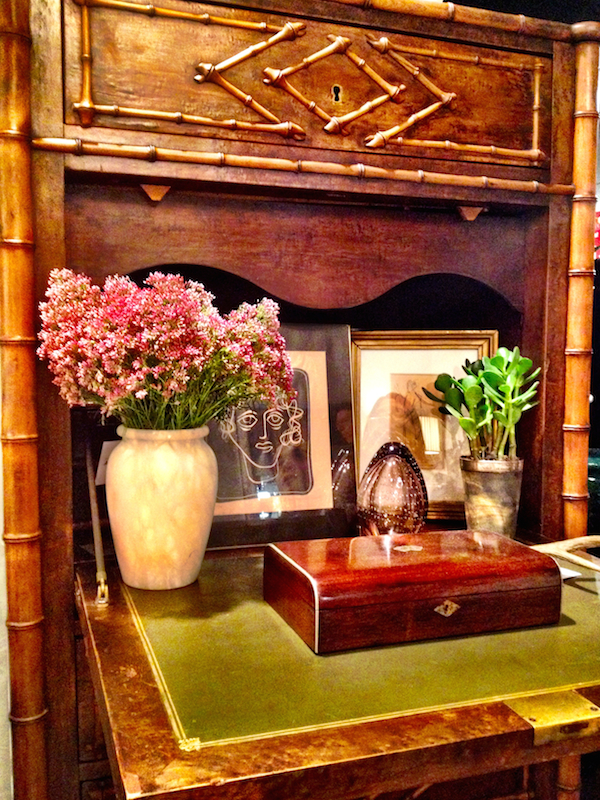 The power of scale made a huge impact in Krista Fox's space. The bold and graphic art played perfectly off the softer shapes as did the pop of color against the neutral palette of the rest of the furnishings. With a nod to mid-century, the vignette felt contemporary in a very organic way.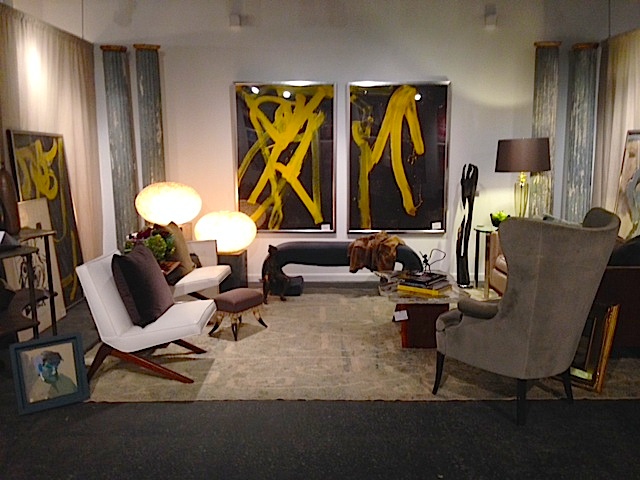 Catherine Cleare's space was full of personality. While Katy's designs always have a timeless quality, she wasn't afraid to inject a little playful fun into her room. Black and white was having its moment, as was seen in many of the recent runway shows.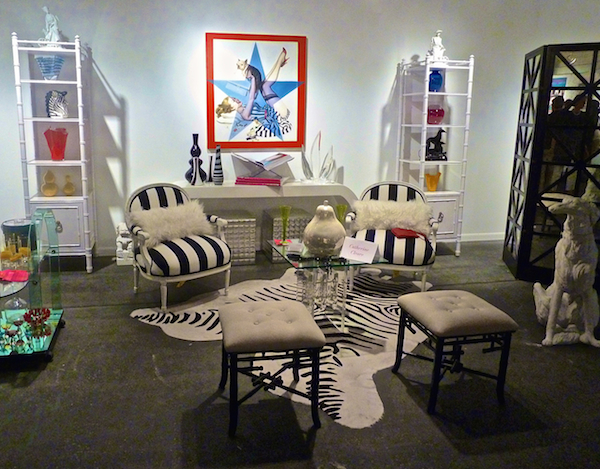 Lynn Morgan is known for her crisp often coastal inspired schemes and her space certainly conveyed her signature touch with clean lines and bright pops of color. The power of pairs was happily evident in her bedroom vignette.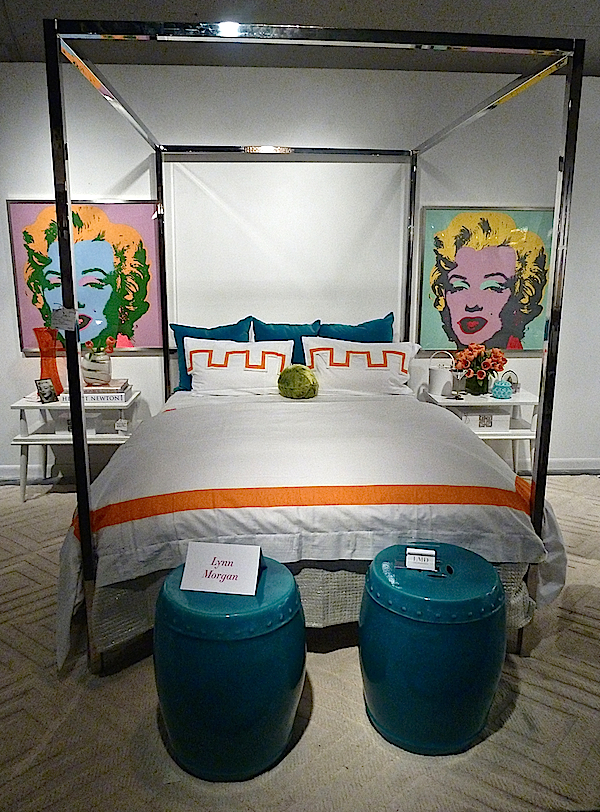 And retro glam had a fun moment  in this corner with a great mix of textures and form within a pure palette of white with pops of turquoise.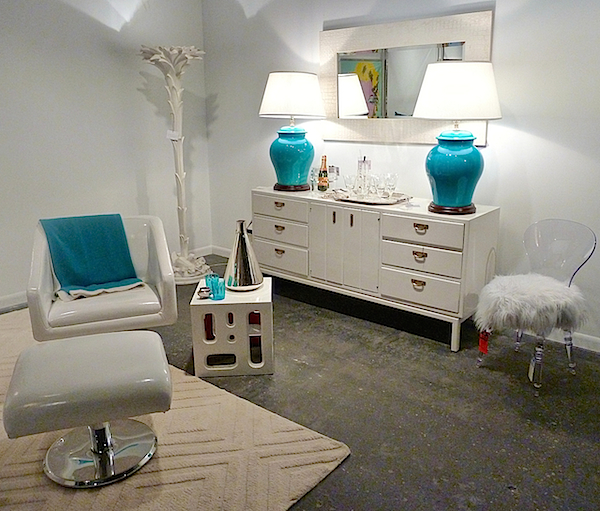 There was thankfully time to peruse the vast offerings at the center and I include here three of my favorite vendor booths. Aquamarine (aquamarineandco.com coming soon) has a unique mix of decorative and distinctive offerings. From classic elegance to global chic it's a sophisticated melange of fabulous finds from around the globe, informed by years of world travel and a Masters Degree in Decorative Arts. I know this because my sister is the eye behind Aquamarine's stylish facade. With a bloodhound's nose for the rare and remarkable and endless patience for the hunt, she has turned what started as a childhood obsession and continued as an avocation through a career in private banking into this new venture. And I am thrilled that the center has proven to be the perfect venue for her to finally share her carefully curated collection.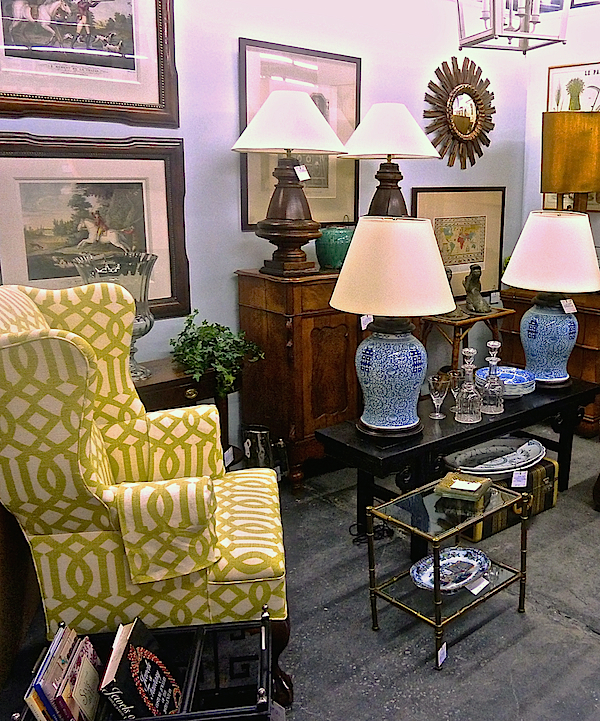 These amazing architectural lamps almost didn't make it into the booth as I enviously eyed them on their way to the center.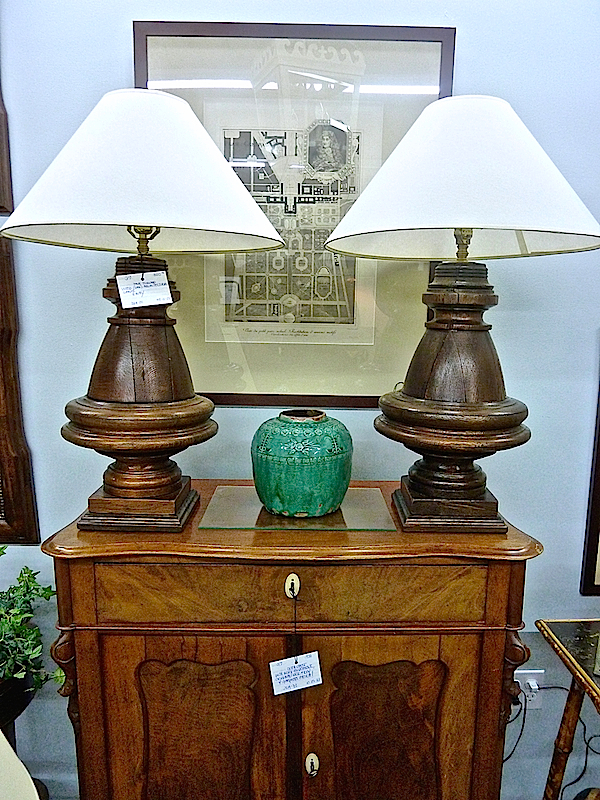 Another booth I admired was that of Nora Murphy Hunt Club. Evoking classic Connecticut themes, her space reflects her love of the low key elegance of country life. I was not surprised to learn that Nora spent her career in the furniture industry working for such distinguished brands as Ralph Lauren and finally as Executive VP of Style and Advertising at Ethan Allen. You can find Nora online where her lifestyle site celebrates the best of stylish country house living.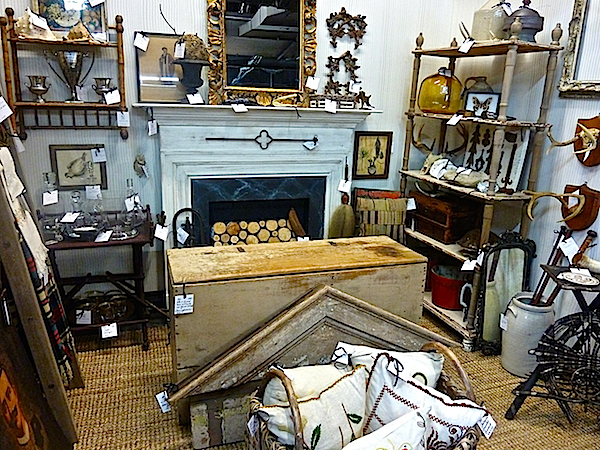 And it's impossible to miss the ebullient space of Matthew and Company. With a cheerful mix of color and pattern, Matthew Tyrrell always includes a great selection of lacquered pieces that add a dose of style and whimsy to any room.
In addition to the dealers' booths, the center also includes Leclerc Contemporary, a contemporary art gallery with rotating exhibitions lasting six to ten weeks. A great source for fine art, the space is also available for events and parties.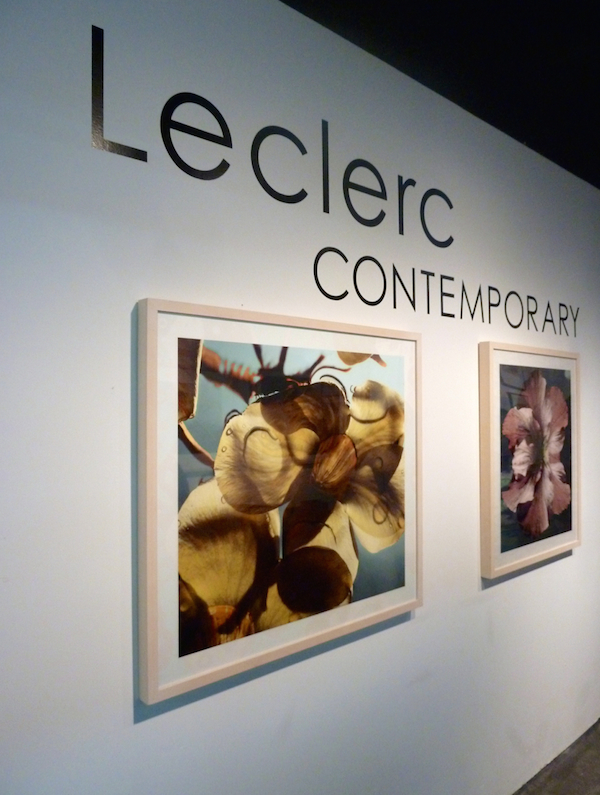 The last aspect of the center to note is the Atypicalfind Auction. Every Wednesday at 6:30 pm, in conjunction with Westport Auction, a table auction with no reserves, presents consignors with antique, vintage or especially unique items. There is no phone of internet bidding and all items are sold to the highest bidder. There are always finds to be had at frequently appealing price points.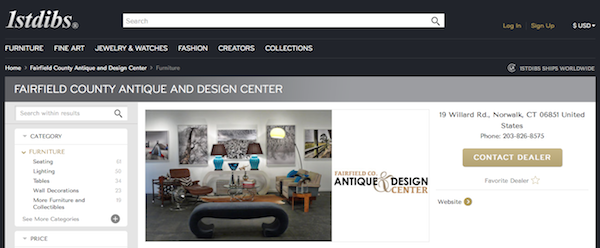 Any questions about any items featured in the booths or vignettes should be directed to the center here. In addition, for those not local, the site is now on 1stDibs where you can peruse many of the center's offerings from the comfort of your chair!