True style icons are few and far between but C.Z. Guest ranks at the top of American qualifiers. More than merely beautiful and stylish, the essence of her status emanated from within, expressing her zest for life across the board. She was the alluring embodiment of seemingly disparate worlds. And it is this fascinating dichotomy that Susanna Salk captures so wonderfully in her new volume from Rizzoli, C.Z. Guest | American Style Icon. For "what distinguished Guest – besides her exceptional beauty, lineage, and style – was how exceptionally she ended up living her life when she could have merely coasted on special."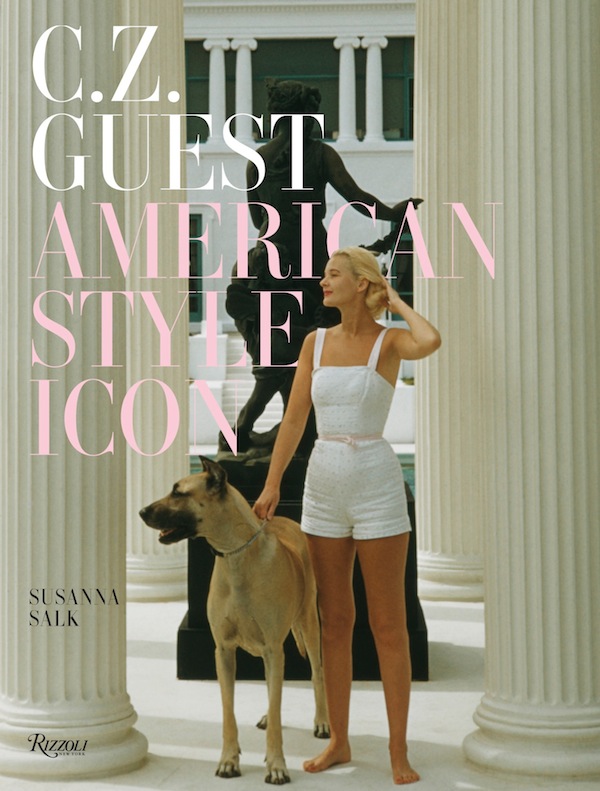 With contributions from an impressive cast of both A-listers and intimates who knew her best, we are painted a portrait of a woman both of and ahead of her time, whose interests ranged from Mainbocher to Madonna from pups and ponies to Dali and discos. And yet C.Z. was never more or less than herself. So completely comfortable and confident, she never tried nor needed to impress. She remained true to her classic Boston brahmin style, exuding an enviable elegance that was both timeless and chic.
photo by Michael Mundy
It was at her fabled home, Templeton, in Old Westbury, Long Island, where she was her own best self. Riding every day, tending her gardens and entertaining friends and celebrities at home, C.Z's love for a beautiful, sporting life was celebrated with understated style and panache. Whether answering letters to the readers of her syndicated gardening column as above, or preparing to host the Duchess of Windsor and Babe Paley for the weekend, she was a natural.
photo by Elvin McDonald
Her home was the perfect expression of her personal style. Here precious art and antiques mingled effortlessly with the stuff of everyday life. As Susanna so lucidly scribed, "Templeton…hummed with the sense of lives well lived and not just well displayed. It's the details that reveal the daily duet between elegance and practicality here: the leopard-pattern carpet (with its worn center seam), chosen as much for its chic appeal as its durability under the happy trot of dog paws; prized orchids proudly displayed in green plastic pots and museum-worthy masterpieces hung in plain view, clearly because they are well loved rather than just because of their lineage…"
photo by Michael Mundy
Her dressing table was the same, including an impressive collection of Charles II vermeil next to photos of friends of family and fresh picked garden flowers in plain glass containers. These are the contrasts and consistences of C.Z. Guest's extraordinary life.
photo: Hemingway © Bettmann/Corbis
She was not a snob in the classic sense. She valued good manners, kindness and "winners" in any field. As William Norwich writes in his foreword, "she championed meritocracy, not aristocracy. She responded to excellence." And that could be in the garden, on the polo field, or on stage – it was about holding oneself to high standards no matter what your station in life. Unlike most women of her stature at the time, she wasn't afraid to branch out of that closed class structure. She embraced the new, the adventurous and the exotic all without abandoning her perfect posture and pearls. Even her 1947 wedding to polo champion and society scion Winston Frederick Churchill Guest was out of the box. Instead of a stately WASP affair, she was married on Ernest Hemingway's ranch in Cuba with the author as best man, above.
photo by Mary Hilliard
And after her bout with cancer, her indomitable spirit stayed strong. Following her chemotherapy, she kept her hair short in a chic modern cut and carried on. Even a year before her death, she looks ebullient with (and wearing) Oscar de la Renta after having just accepted her CFDA Fashion Icon Award. Her life and style are the stuff of legends and Susanna Salk's inspiring tome is a beautiful embodiment of C.Z. Guest's legacy to be given and received as a treasured volume.  As Susanna wrote in her introduction, "I wanted to do this book as a kind of tribute to Guest's timeless power, as I don't think we'll ever see the likes of her again."