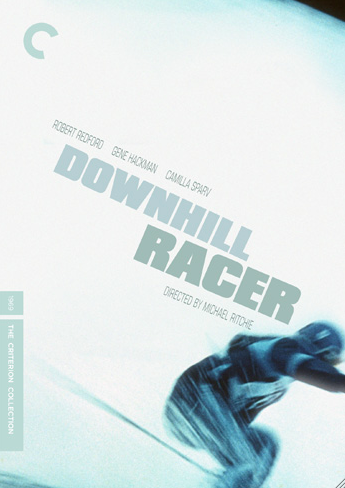 Considering my alpine lust lately, one of my old favorites, Downhill Racer, seemed a fitting choice this week. This cult classic from 1969 stars Robert Redford in one of his earliest roles.  Don't let the title mislead you. This is definitely a film about skiing, racing and competition but it is not a fast action-packed sports movie. This is a contemplative edgy film more in the tradition of French new wave with that semi-journalistic style and hand-held camera work reminiscent of Godard.  And this is why it is included in the prestigious Criterion Collection, famous for their impressive assemblage of art house and creative classics (as an aside, this DVD cover is not up to their usual high standards – go here to see the vastly superior alternate versions designer Eric Skillman presented for consideration). And partially due its inclusion, critics and audiences are rediscovering this film.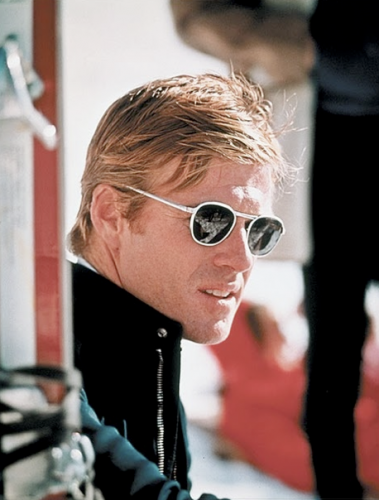 "Four decades later, Downhill Racer seems better than ever, not merely the best film ever made about skiing (an encomium that's almost an insult) but that rarest of triumphs—a pointedly unsentimental sports movie," said John Powers in Vogue just last year. Chris Nashawaty of Entertainment Weekly also praised this as "the best movie ever made about skiing" (not that there is a ton of competition), but adds, "This alpine masterpiece is one of Redford's greatest movies." High praise indeed. And you will see why when you (hopefully) watch it. Beautiful photography, spare understated performances and a timeless message all make this a film worth watching. Redford's portrayal of the aloof, egotistical and ruthless David Chappellet represents the perfect 60's antihero, begging comparison to contemporary characters such as Jack Nicholson in Five Easy Pieces, Peter Fonda and Dennis Hopper in Easy Rider and Warren Beatty in Bonnie and Clyde. Director Michael Ritchie, who went on with Redford to make The Candidate, and author James Salter, who wrote the screenplay, collaborated with Redford to make the kind of creative film that Hollywood didn't know what to do with. Against Redford's wishes, it was marketed purely as a sports film by the studio, which is why it was a box office failure and why ultimately, after this film, Redford founded Sundance. Nowadays, with a stronger interest in independent arty films, this could have been delivered by a studio such as Miramax and handled properly to much greater acclaim.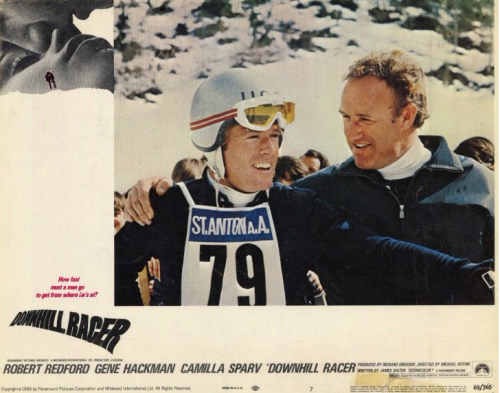 The first of what Redford intended to be a trilogy on the price of success in America (the second being The Candidate), Downhill Racer has a fascinating back story. Based on the 1963 novel by Oakley Hall, The Downhill Racers, it was originally optioned by Paramount whose first go around failed. When Robert Evans took over the studio, he used it as an added attraction to lure in Roman Polanski, an avid skier, to make Rosemary's Baby. Redford, who was already on board to star in the horror film, had taken a keen interest in the ski picture, and secretly enticed Salter to write the screenplay. In the meantime, due to his involvement with Rosemary's Baby, Polanski was pulled off the project and Redford was sued by the studio from walking away from Blue, another movie he was contracted for. The film fell by the wayside but Redford was determined. It became his baby and he convinced the studio to let him produce it cheaply by filming in Europe at such spectacular alpine locations as Wengen, Switzerland; Megève, France; and Kitzbuhel and St. Anton, Austria. Redford handpicked Ritchie as the director and with bare bones expenses the film ultimately came in under budget at $1.8 million.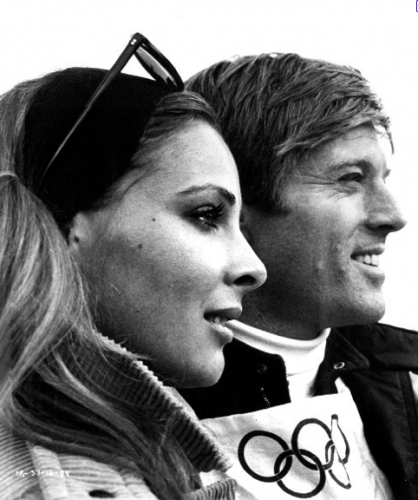 The film also stars Gene Hackman, delivering his usual excellent performance as the Olympic ski coach, the gorgeous Camilla Sparv, Robert Evans's ex-wife, as Redford's glamorous love interest and Dabney Coleman as the assistant coach.
Here is the rather terse trailer for the Criterion version, but it will give you a feel for the stunning scenery and cinematography. If you're enticed, then I highly recommend you give this underrated 60s classic a whirl.