Starting with this shopping collage for the fourth of July, I am hoping to inaugurate a light summer series entitled At Ease, where I will regularly gather some thematic product for stylish occasions throughout the summer. Since we all celebrate the 4th in different fashions, I thought low key luxe might cover quite a few bases. Whether you're looking for a chic accessory, a stylish hostess gift or a new wine to serve or bring, I've assembled an assortment that hopefully includes a little something for everyone!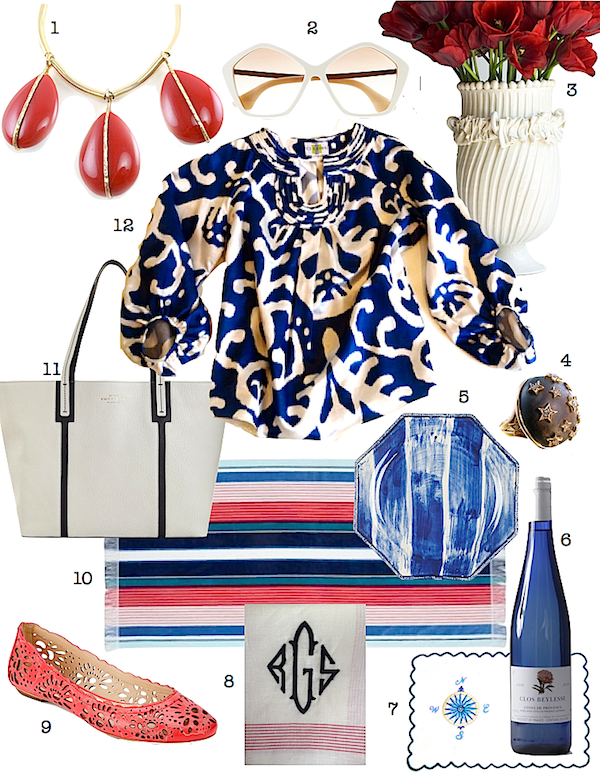 1) Lanvin Lucite Collar Necklace from House of Lavande 2) Miu Miu hexagonal sunglasses 3) Frances Palmer handmade ruffle vase 4) 14 karat yellow gold, wood, and diamond star motif cocktail ring – contact Camilla Dietz Bergeron 5) Oscar de la Renta brushstroke dinner plate 6) Clos Beylesse Rosé (Aerin Lauder served this at our lunch and I loved it – fresh yet flavorful) 7) Turkish – T blue compass cocktail napkins (set of 4) 8) Number Four Eleven Libeco linen tea towel custom ordered with diamond monogram in navy 9) AERIN Brava ballet flat 10) Sunnylife Luxe Beach Towel – Hamilton  11) Smythson's leather Jackie tote for Barneys 12) CJ Laing silk crepe de chine Tangier blouse  
So wishing you a very Happy and stylish Fourth of July! Cheers to the red, white and blue!