One of my favorite sections in House Beautiful is the Kitchen of the Month. So when I heard a project from designing friend Young Huh was going to be the November feature, I was extra excited that the magazine let me share a sneak peek.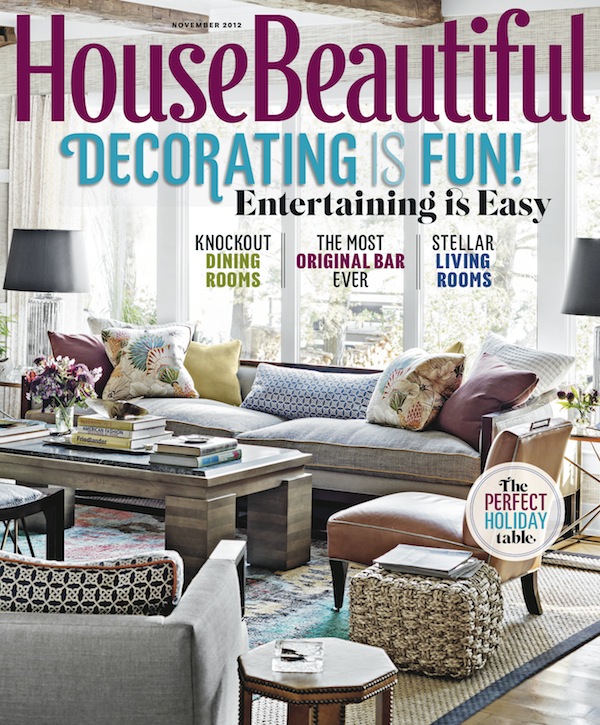 We often discuss about how important it is to bring personality into a project to add authenticity and life to the decor. Well this client didn't need any convincing. Her goal with her renovation was to recapture the feeling of her childhood home, a simple yet "real" kitchen that was utilitarian yet homey. And she wanted it to fit with the rest of her circa 1900 house in a seamless way.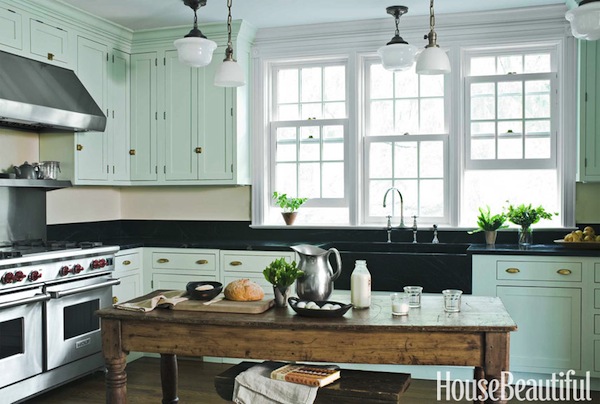 You'd never know by looking at the result that this wasn't the original space merely outfitted with modern appliances. Young summed it up, "There's a humbleness to everything, but also an elegance in the attention to detail and the quality of the materials." The client knew she wanted a farmhouse table instead of an island not only for the evocative period effect but because she loves to bake and the table height is easier for kneading.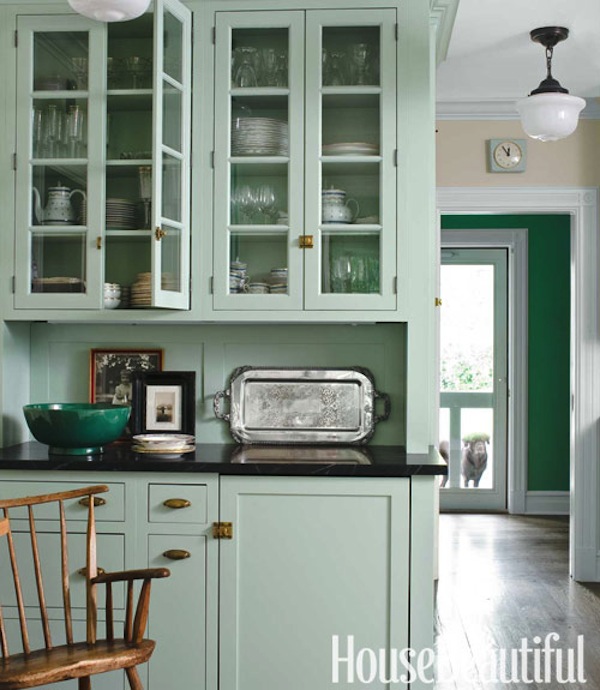 But as Young explains, it wasn't easy getting everyone on board with the concept. "What was interesting about this project was the client's determination to achieve a handcrafted, original quality to her kitchen even if it meant going against conventional kitchen design and construction practices." Plain and Fancy, who produced the handsome shaker style cabinets, were a bit surprised Young and her client wanted to hand paint them instead of ordering their perfect factory finish. "The client and I spent a lot of time mixing colors ourselves to  simulate the color of the cabinets in her childhood home. Finally we settled on Farrow and Ball's Theresa's Green," a beautiful blue-green that "is at once retro and fresh."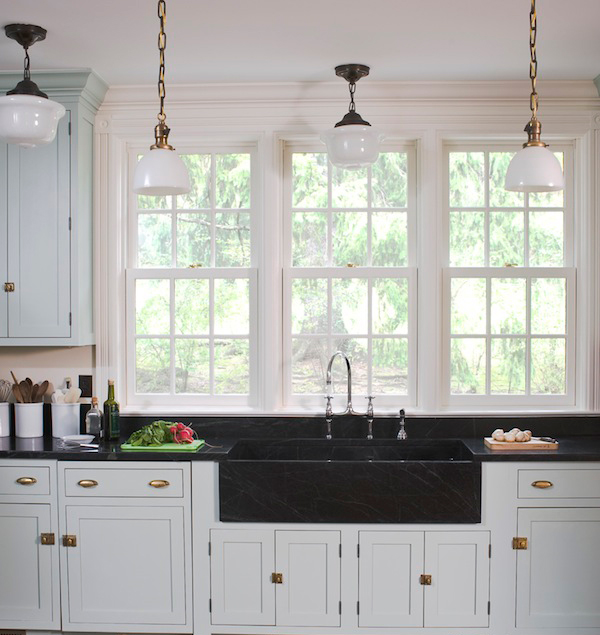 "And the contractor was taken aback when he learned that there would be no recessed lighting, but rather incandescent vintage pendants all of which required some rewiring." Soapstone counters and sink, while a traditional material, offer a crisp clean contrast to the cabinetry. Warm brass pulls and latches from House of Antique Hardware complete the vintage look, even successfully concealing a below-counter subzero wine fridge below.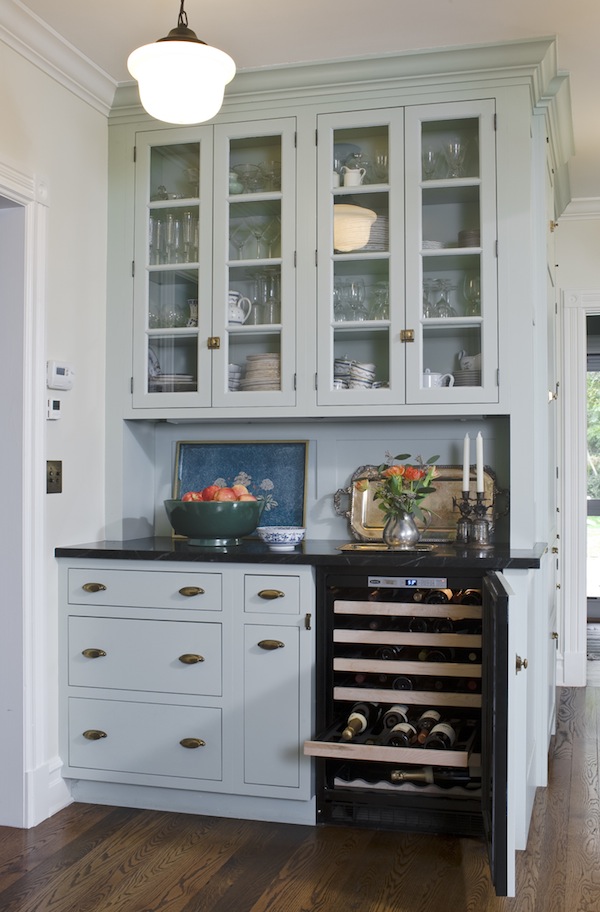 While not included in the article, Young was kind enough to send me this shot of the attached breakfast room to get a greater sense of the house. Papered with Farrow and Ball's Ranelagh , the furniture is the client's own and there are intentionally no window treatments so that she can see her children coming up the drive after school. It's all these subtle touches that help evoke the client's cherished childhood memories she wanted to replicate.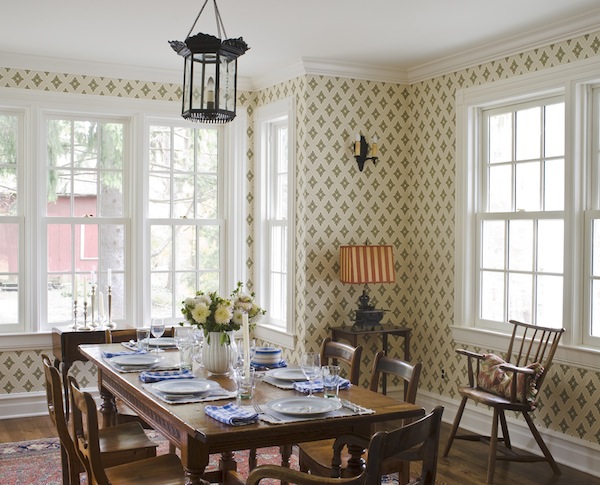 Young says that her firm's first step is always "understanding our clients' vision as well as their lifestyle." Helping her "transform her vision into reality" involved going back in time to move forward, creating a stylish well functioning kitchen that feels as though it has always been there.
Young credits stylist Gregory Bissonette, whose love of old things was so perfect for this shoot as well as editor Samantha Emmerling and photographer John Hall, all of whom brought great creative yet focused energy. Clearly a good time was had by all as "afterwards, we all sat down and ate the styling props along with some short ribs that the client had made the night before."