The International Fine Art and Antique Dealers Show had a sensational selection of jewelry and I could certainly have written on that alone. In my rush to get through the show in our one hour window, I missed visiting many of my favorite dealers but this amazing aquamarine and pearl suite by William Ruser of Beverly Hills caught my eye at Sandra Cronan's booth. Ruser, a popular jeweler to the stars in the '50s and 60's, was well known for his use of pearls, but it's really the combination with the impressive emerald cut aquamarines that makes this a stand out.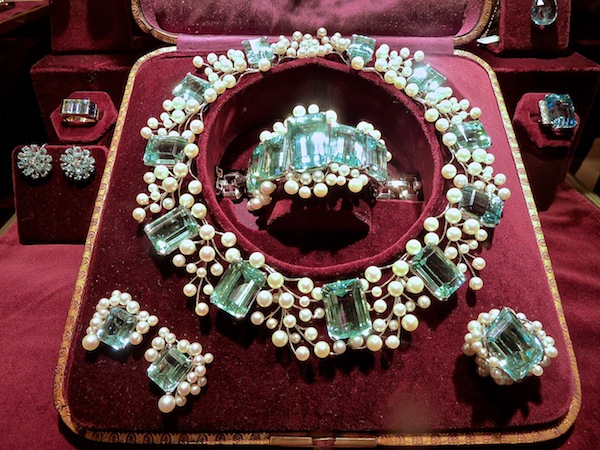 Nexxt20 specializes in 20th century and contemporary jewelry. What makes the collection so interesting is that it includes pieces designed by famous artists, sculptors, designers and architects including Jean Cocteau, Georges Braque, Max Ernst, Ettore Sottsass, Harry Bertoia, and more. While I wasn't allowed to shoot those works, I was able to share this unusual Boucheron pendant, as they also carry estate jewelry from many of the most prestigious jewelry houses.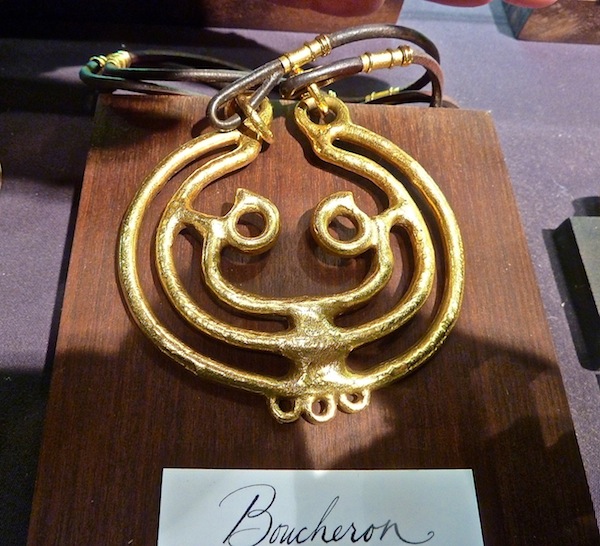 I am always amazed at the variety of items that people are interested in collecting. As Peter Finer says, "The collecting of Arms and Armour is an unending search for the elusive and rare." His booth was a fascinating history lesson in and of itself. I'm not quite sure where I would display it but was intrigued by this northern Italian armor, circa 1580, made for the Tilt in Milan (a form of jousting). It is truly amazing to consider the level of workmanship in pre-industrialized eras. When we say handmade now, that naturally includes the use of tools involving electricity, aided by electric light and modern conveniences. Just imagine what was involved in the creation of such objects.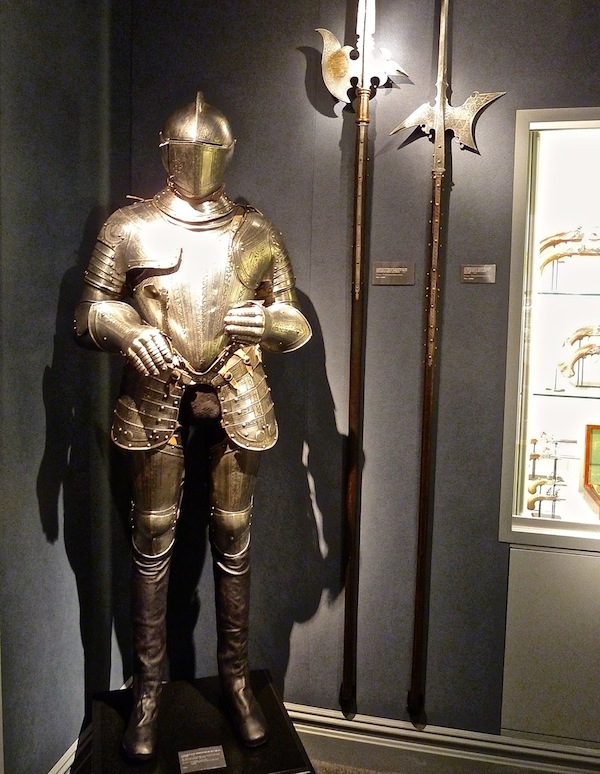 Brian Haughton, with his wife Anna, is the founder of Haughton International Fairs. Now working with his son and daughter as well, they run six international art and antique fairs in New York, London and Dubai, including this one. In addition, Brian is one of the world's leading dealers in antique ceramics. Specializing in 18th and early 19th century English and continental pieces, his booth at the show included a huge variety of English and continental pottery and porcelain. This extremely rare pair of Sèvres Biscuit Models of Lions, circa 1818 – 1820, were so unusual.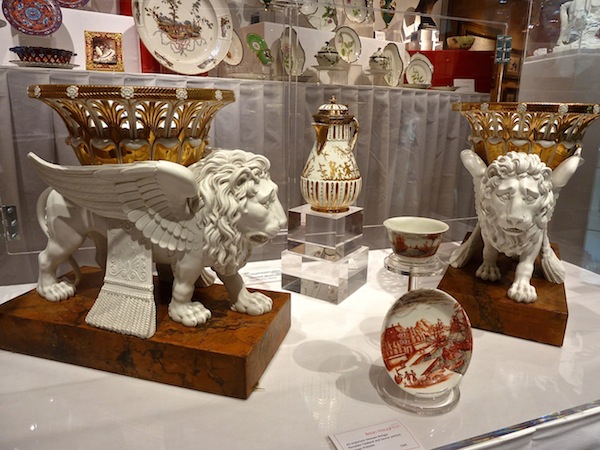 Each lion supported gilt reticulated baskets that contrasted brilliantly with the biscuit finish of the lions and faux marble painted bases.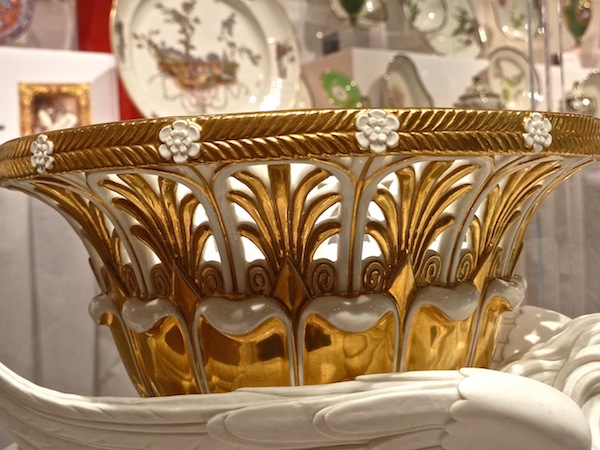 One of the talks of the show was this magnificent George II scarlet and gilt-jappaned secretaire cabinet from Thomas Coulborn & Sons. With incredibly intricate chinoiserie decoration, the piece, circa 1730, is attributed to the well known British cabinet maker Giles Grendey, whose Lazcano furniture, the largest recorded suite of 18th century English furniture, is represented in major museums, including the Victoria & Albert Museum, the Metropolitan Museum of Art.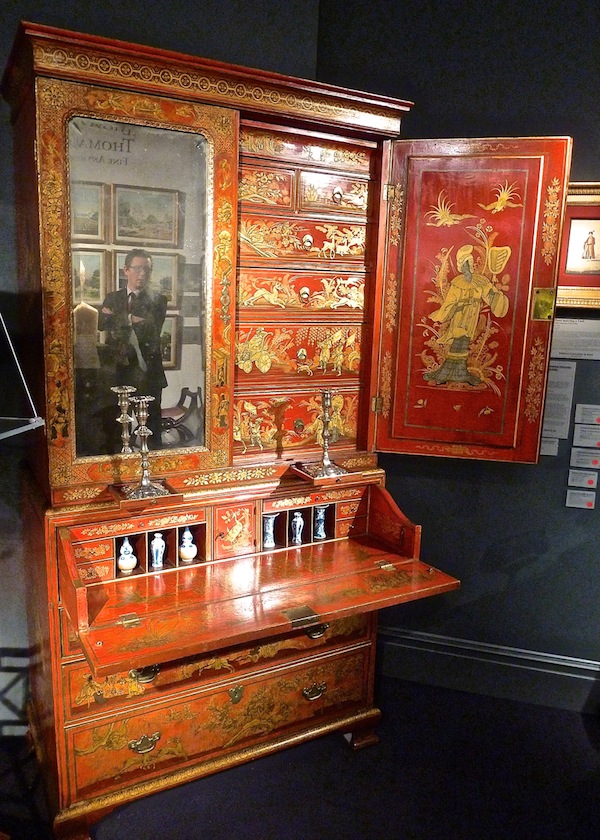 This detail shows the amazing intricacies of the workmanship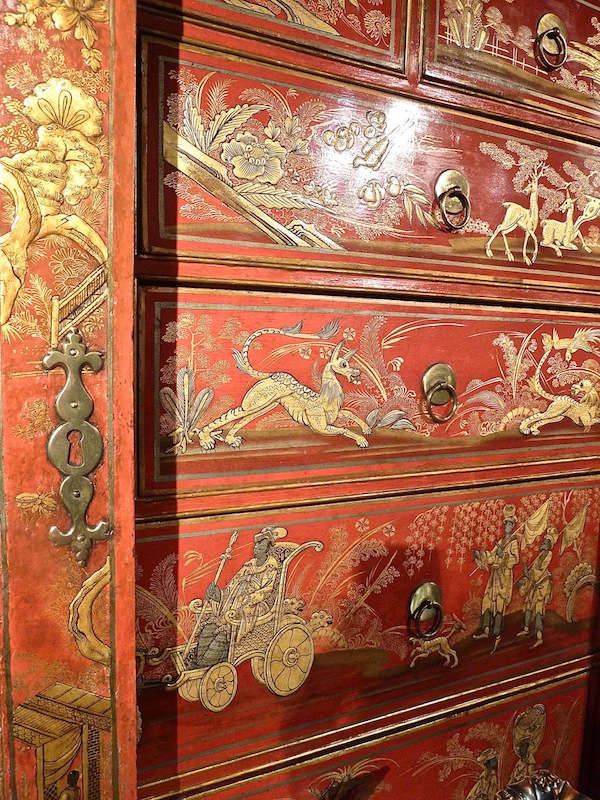 And for all you lovers of Regency, I am sharing this amazing bronzed and parcel-gilt bergère, also from Thomas Coulborn.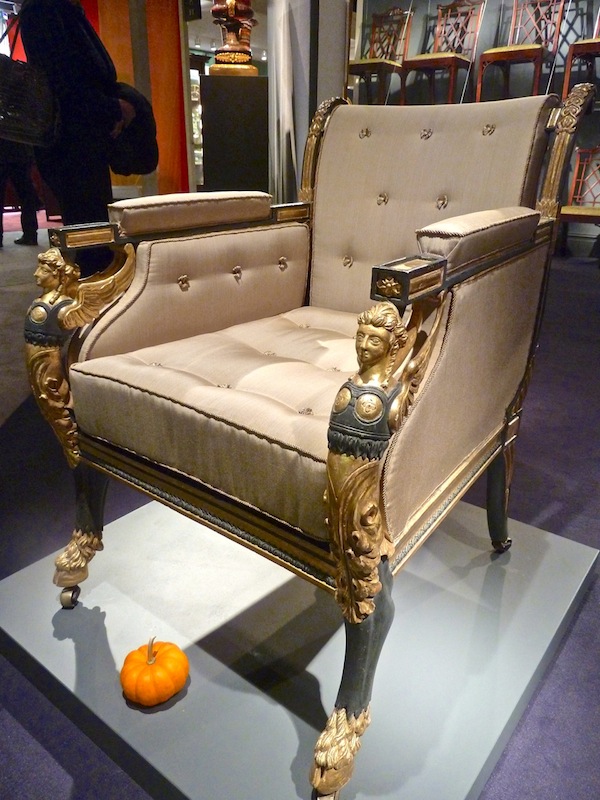 Carved winged caryatids (a female figure serving as architectural support) in the form of Nike, Greek Goddess of Victory, ending in gilded hoof feet are the epitome of classic regency style.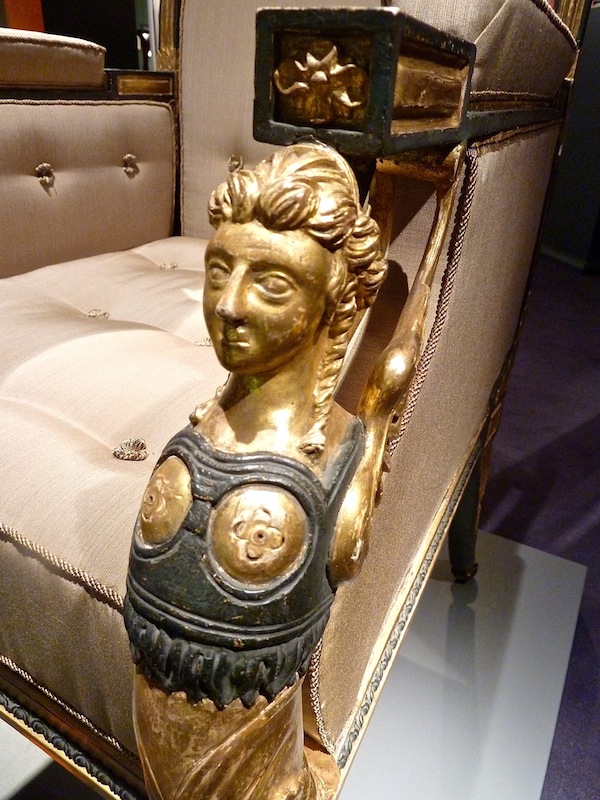 Todd Merrill was one of the few modern art galleries represented at the show. Well known for their vintage collection of 20th century furniture and lighting, they also carry contemporary artists. There was quite a bit of buzz about Beth Katleman's "Demi Folly," a reconfiguration (at half the size) of her original "Folly."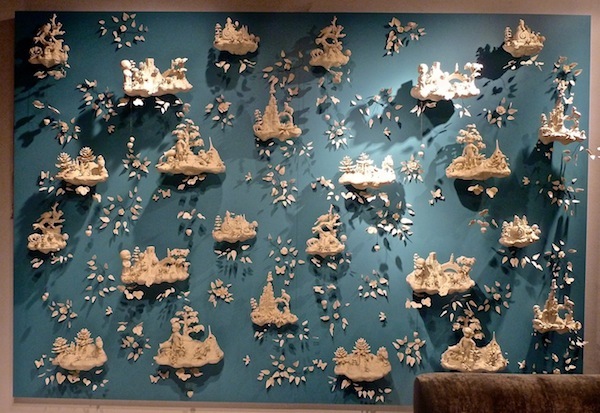 Demi Folly is a three dimensional porcelain wall covering based on the concept of Toile de Jouy. Elegant from a distance, a closer inspection reveals scenes made with "kitschy figures of popular culture." Ken Johnson in the New York Times described Katleman's work as "doll-sized rococo theaters of murder and domestic mayhem."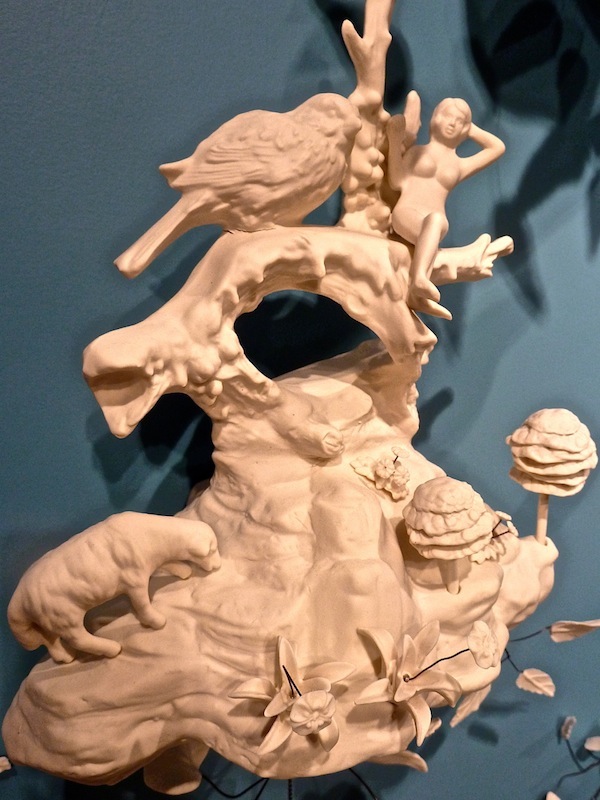 Another incredibly creative wall sculpture at the booth was Jennifer Trask's Burgeon. Using found 18th and 19th century Italian gilt wood fragments, gold leaf, epoxy resin and animal antler, bone and teeth, Trask created an intricate work of baroque luxe and natural elements.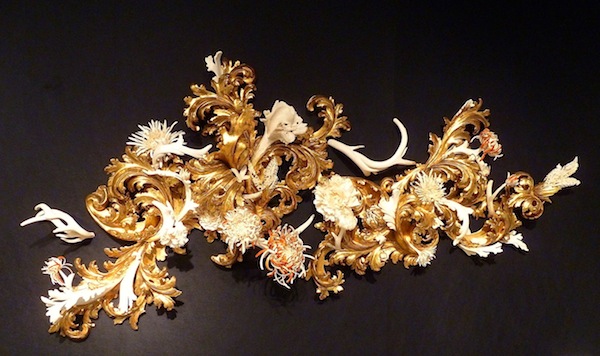 With over 3,500 different pieces of animal bone and teeth, the flowers are made from combinations of different parts, resulting in amazingly lifelike forms. This central flower is comprised of over 400 parts.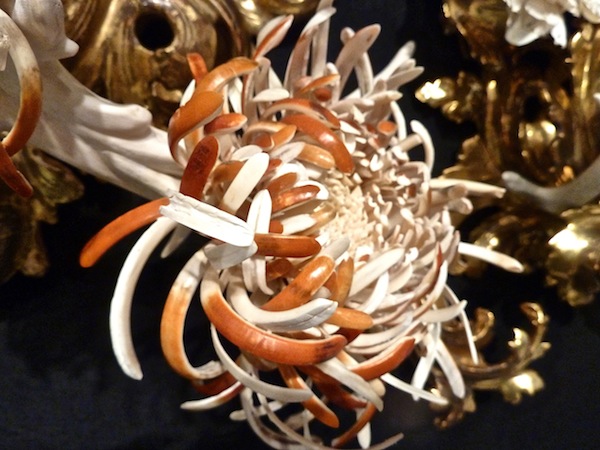 And this delicate peony is actually carved bone.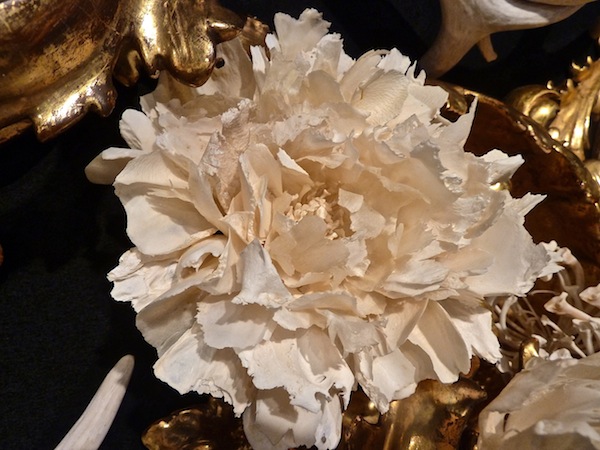 Another artist that Todd Merrill featured was Niamh Barry, whose work I admired last year at the Origins show during the London Design Festival. Walking the line between product design and sculpture, Barry's Fouette is an elegant lighting installation.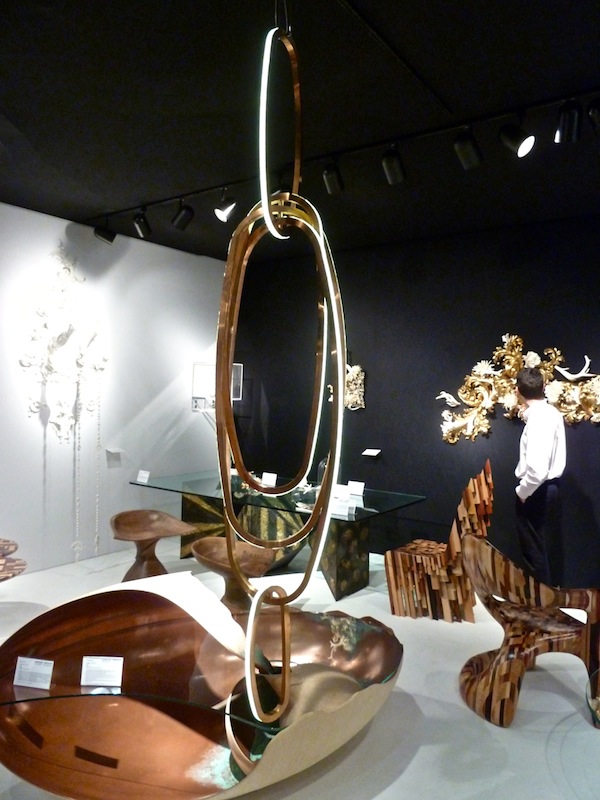 Five intertwined polished brass loops of varying sizes are fitted with LED lights, resulting in a refined jewelry-like piece.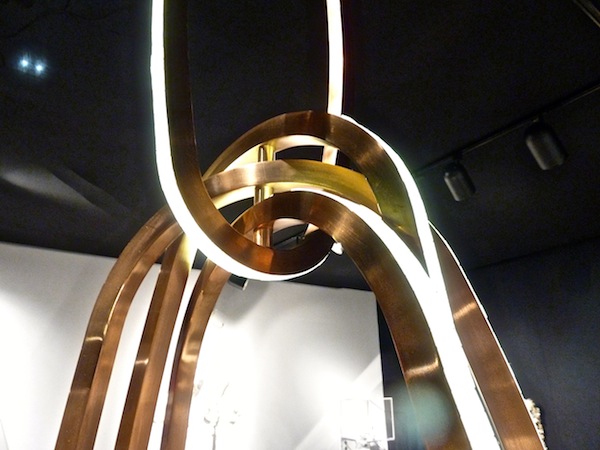 With a wonderful assemblage of sophisticated dealers offering a wide range of vetted art and antiques this is a show to put on your calendar for next year!