Although I was unable to attend High Point this market, one of my regular stops, that I was sorry to miss, is Currey & Company, who was debuting, among other introductions,  new additions to their Winterthur Collection. While Currey now carries a wide range of furnishings, you may not know that they began, in 1988, as a company offering classic garden furniture from the Winterthur Museum and the Smithsonian.  Winterthur was the birthplace of Henry Francis du Pont, one of the many heirs to the family fortune, who inherited the estate. It was he who was responsible for assembling Winterthur's American furniture collection, the largest and widely acknowledged to be the finest in the country. His collection became so sizable that in 1929 he commissioned an enormous five story wing to accommodate his many purchases. He also developed the extensive 60 acre naturalistic gardens and established the building as a museum in 1951. Like many passionate collectors, he had eclectic taste, ranging from simple pine pieces to elaborate examples of gilded empire furniture. Innovative and discriminating, "Harry" du Pont was an avid gardener, art collector as well as consummate party planner (got to love a man who obsesses over tabletop), hosting guests from Brooke Astor and Doris Duke to Jackie Kennedy and Prince Rainier. I commend Currey for continuing to collaborate with Winterthur, maintaining the legacy of an American decorative arts institution in a contemporary way. I thought I'd include three of my favorites from the new additions.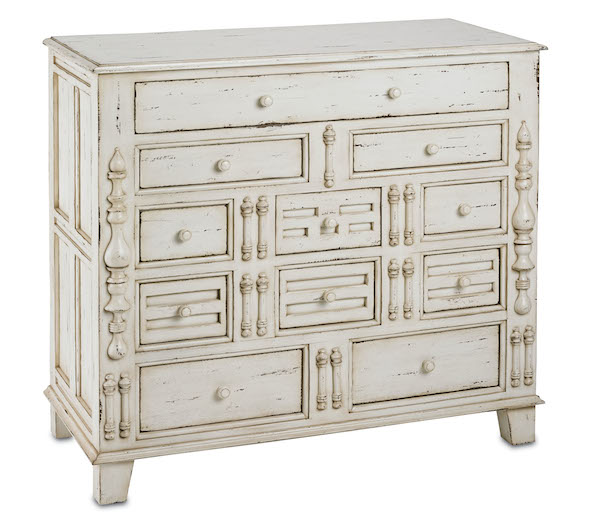 Supporting Henry's penchant for painted pieces, the Centerville Chest was originally made in 1678 for John and Margaret Staniford of Ipswich, Massachusetts. One of the earliest dated chest of drawers from New England, the original version, below, had black painted ornamentation with polychrome painted decoration added sometime after 1750. Currey's updated version, while retaining the spirit of the original with its split spindles, proportion and draw configuration, is a wonderful interpretation in a worn Dutch Cream finish perfectly compatible with a variety of today's interiors.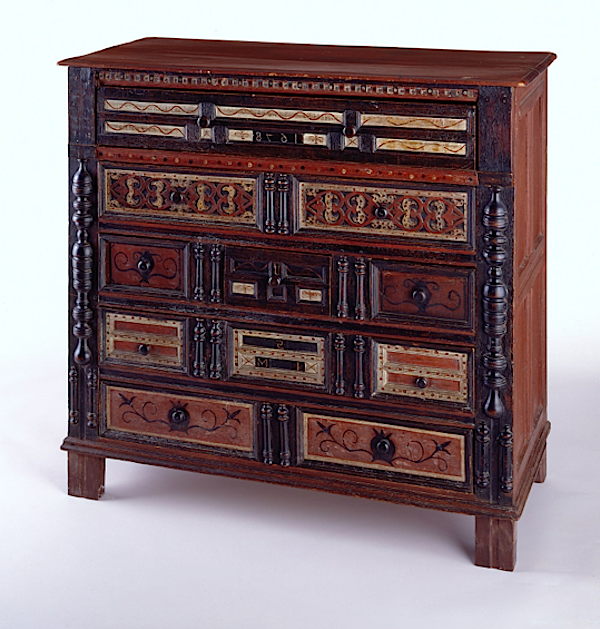 Currey is of course known for their lighting with hand forged iron products a speciality. One of the fixtures reproduced for the collection is based on a charming colonial-style light hanging in the Gray Room at Winterthur that perfectly complemented the 18th century mid-Atlantic furniture in the room seen below, documented in stereo view by Robert Brost and then hand-colored by Annette Karge (photo courtesy of Winterthur).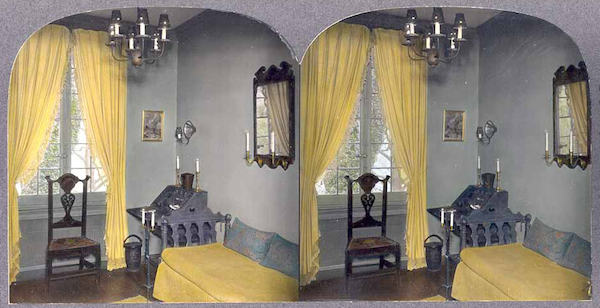 Currey's Blackwell Chandelier, below, with its hand-applied Molé Black finish, features a wooden core holding the six candle arms, each with crimped candle cup detail. While we rarely have to deal with the original function of drip pans, women of colonial times felt lucky to return home from a formal social function without wax on their dresses from overflowing chandeliers. This fixture, with its amplified width and simplified lines, has a rustic chic that would enhance a traditional, modern or transitional decor.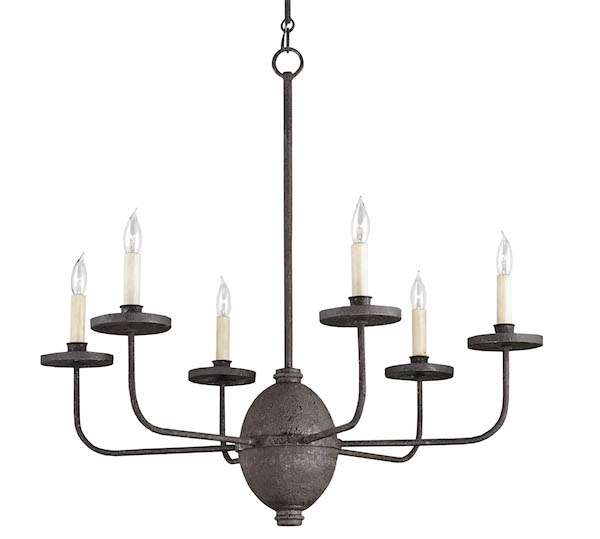 Henry du Pont's ardor for acquisitions was not confined to smaller antiques and collectibles. From Montmorenci, an 1822 plantation house in Warren Country, North Carolina, he purchased a grand circular staircase which he then transported to and installed in Winterthur. This French inspired era of neoclassical style is showcased in Winterthur's Empire Parlor where gilding, banding and more decorative inlay characterize the pieces.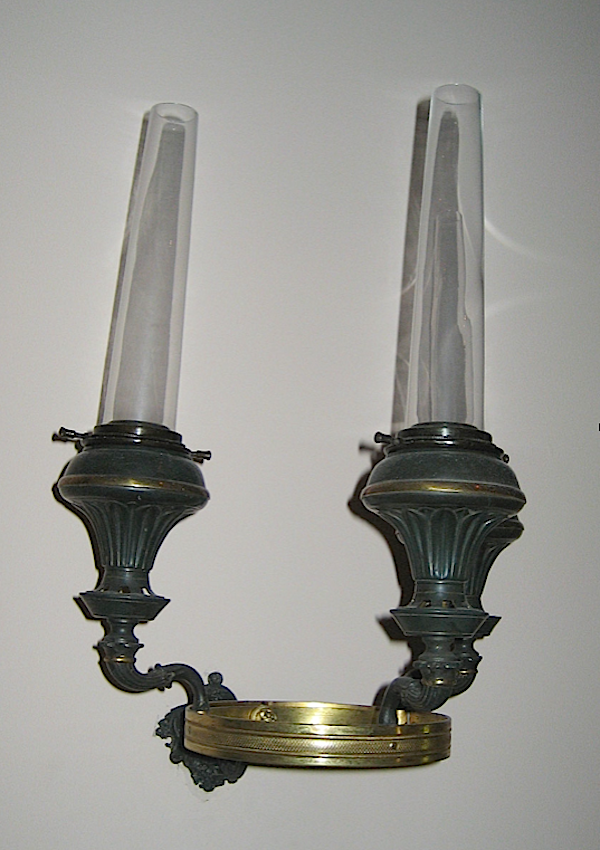 A sconce in this room, above, with French-style ormolu ring is based on an early Argand lamp, developed in France in the late eighteenth century, noted for its glass cylinder and much improved brightness. Inspired by this sconce and named for the plantation house, Currey created the Montmorenci Chandelier, below, an elegant Empire style fixture with a twist. With quirky corkscrew cables and an understated Spanish Gilt finish, this is an unusual piece full of statement style.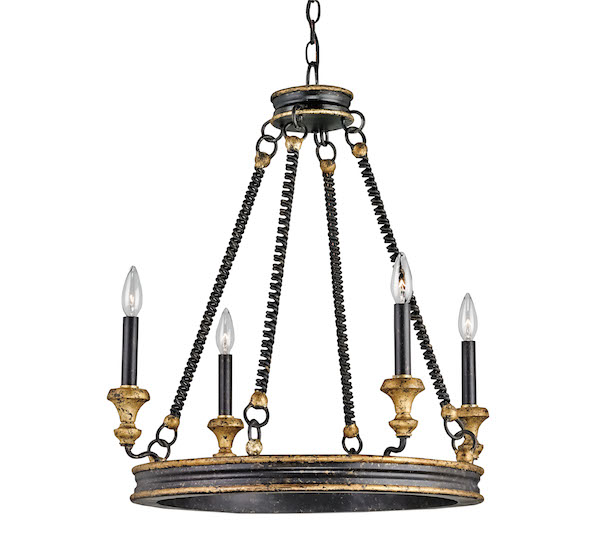 I'm glad Currey now has a NYC showroom at the NYDC where I hope to catch up with the rest of the new collection soon. And for those of you not near one of their showrooms, you can visit here to explore the rest of the Winterthur Collection at Currey & Co.