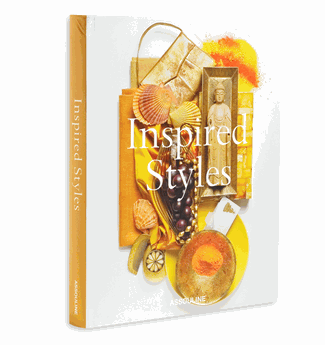 Although today is usually Wednesday Wine, there has been so much happening at Blogfest, I felt the need to catch up those of you unable to attend. Today was another jam packed day of activities. One of my favorite venues was the Traditional Home cocktail party at Mayo Studios in Long Island City where select designers were invited to use Lee Jofa's new Heritage collection, featuring modern versions of classic Lee Jofa prints, in full scale set designs. Our gift for the event was the fabulous Assouline title Inspired Styles, featuring work from most of the designers, who have created fabric collections for the Kravet and Lee Jofa company. It was wonderful to be able to meet the designers in person (and have them autograph our books)!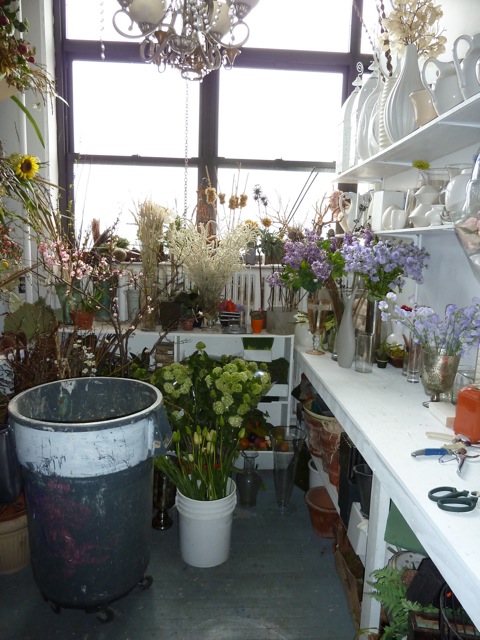 Mayo Studios is an incredible photography space. Even the flower room is inspiring.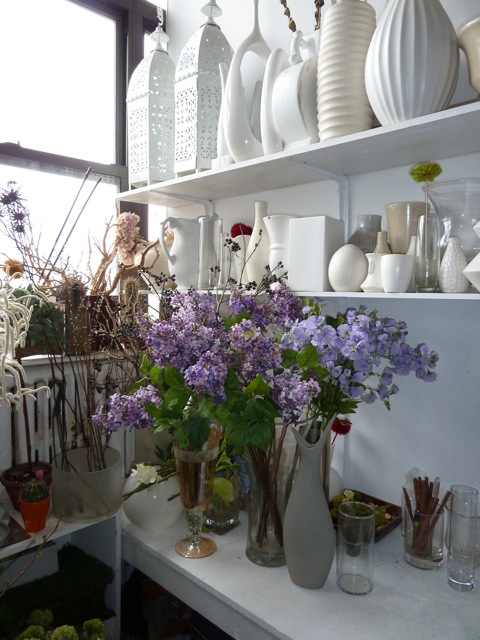 There was a great party vibe as everyone mingled, drank and grazed.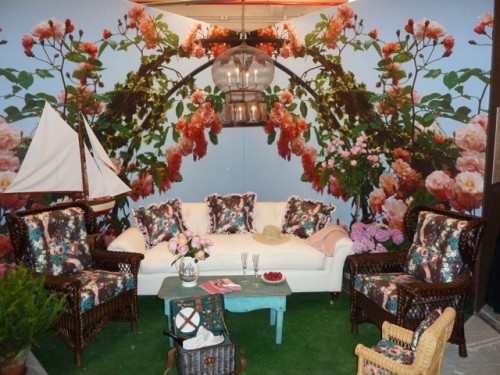 Diamond Baratta's room was filled with their signature burst of color and pattern. They transformed the feminine Rosebank print by recoloring it with a grounding chocolate background that anchors the space.  Despite their bright and sometimes unexpected combinations, Bill Diamond & Anthony Baratta looked elegantly turned out.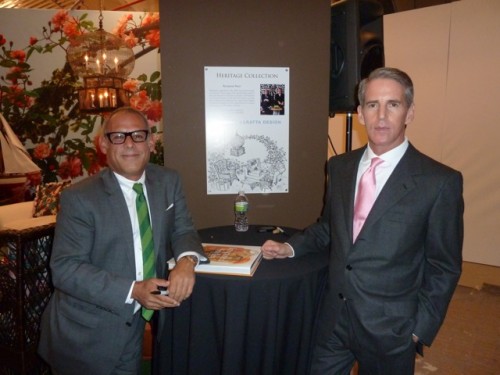 Not surprisingly, Eric Cohler's beautiful space looked as refined and dapper as he did.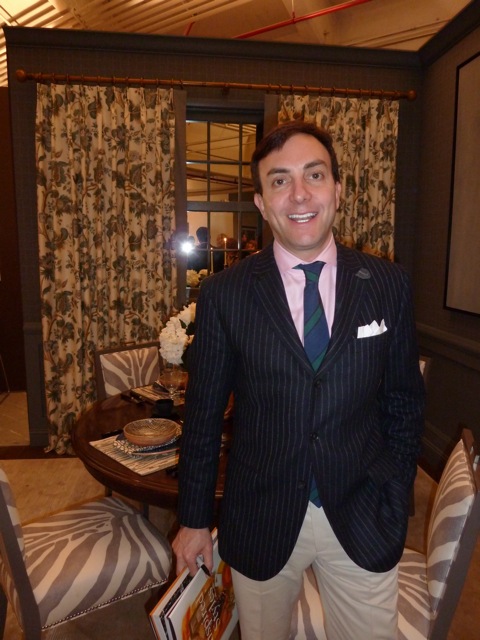 I loved how muted and elegant the Treyes Handblock looked printed on chintz instead of the traditional linen. It was a great foil for the animal print on the chairs. Even his beautiful table setting exuded the eclectic mix of traditional and contemporary for which he is known.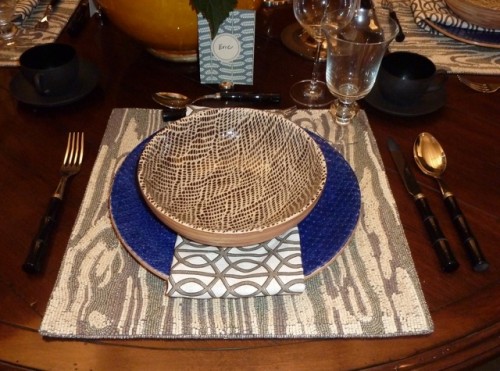 Suzanne Rheinstein's vignette made fabulous use of Lee Jofa's English documentary Clarendon print by recoloring it on linen.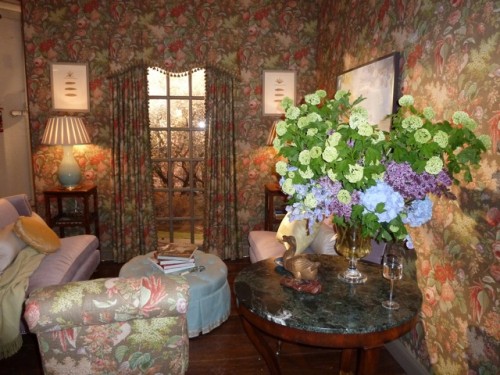 The room was refined yet comfortable with exquisite color combinations.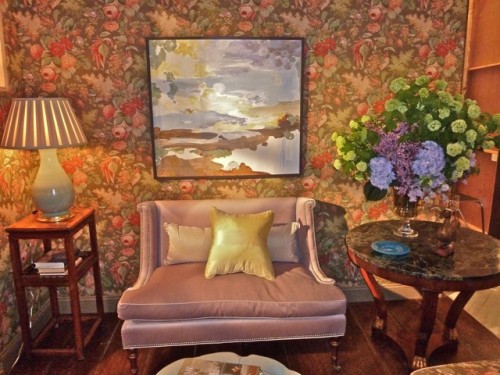 Suzanne looked just as elegant as her room in her fabulous Lee Anderson coat.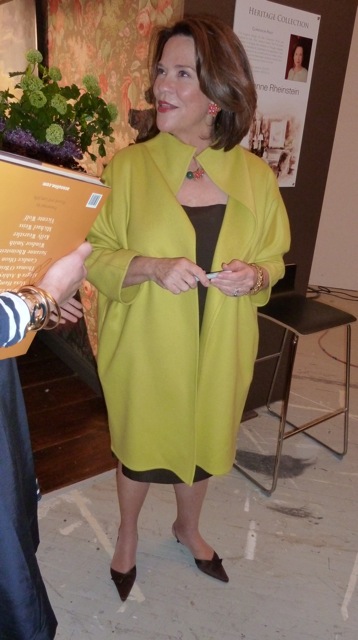 Many think of David Easton as the architect/designer who creates timelessly elegant spaces grounded with a sense of gravitas and history. But what you may not know is this very talented man has a wicked sense of humor and knows how to get down!! Here he is playing a coy game of peek-a-boo when I asked for his picture.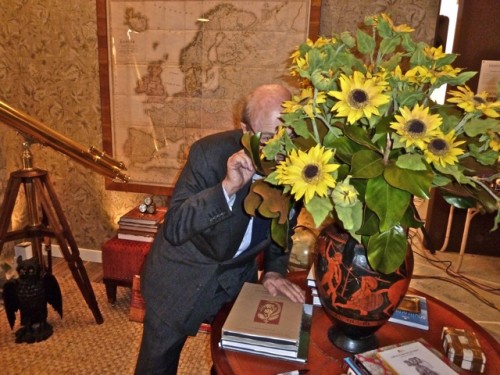 His beautifully tailored space featured the Gaddesden print, a screen adaptation of a Jacobean tree of life block from the 1920's. I love his Timeless Elegance book which I reviewed here. If you'd like a bookplate signed by David for your copy, e-mail your name and mailing address to cgauche@davideastoninc.com mentioning you were referred by Quintessence!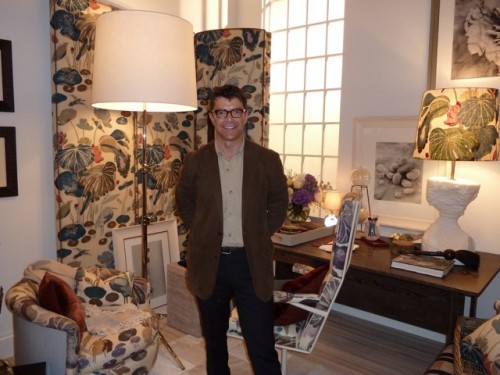 Thomas O'Brien's room was a reflection of his eclectic style that has become the hallmark of Aero Studios. His collected style filtered through a modernist lens lends his spaces a lived in yet totally distinctive look. Here, for example, he combined the bold classic Nympheus Handblock print with contrasting elements such as his Multi-V telescoping floor lamp for Visual Comfort. O'Brien's mix of seemingly incongruous items is what makes his designs so special.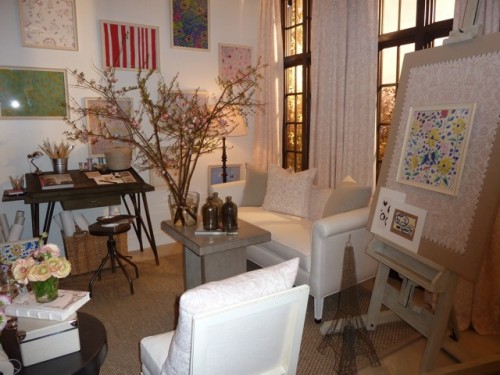 Suzanne Kasler's rooms always have such a fresh inviting look. They are glamorous but not fussy spaces that successfully mix classic antiques with easy upholstered pieces for a comfortable sense of Southern hospitality . Her vignette defied the miserable weather to exude an airy sense of spring! Her monochromatic reinterpretation of the originally multicolored floral Shiraz Print lent it a new vibrancy for modern living.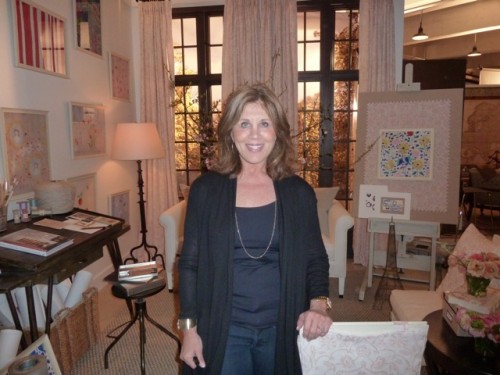 What a great time this was meeting designers in their element and, chatting with Traditional Home editors and of course getting to know more colleagues! Can't wait to see what tomorrow holds in store.