When I am reading the Sunday NY Times, I invariably pick up the Styles section first – or what my brother-in-law refers to as the girls' sports pages. And as I am finishing, I always quickly peruse the wedding/celebrations section in the back. Obviously many of us do. But I have become increasingly aware of the impressive accomplishments of some of the younger couples. Is this a function of the ever mounting pressure to succeed in this world or that it requires more experience and education just to be able to compete? I'm not sure but some weeks there are so many incredibly accomplished people that it makes me feel I need to reassess what I have done with my life (so far). And then there are some couples who are just so appealing across the board that it seems almost unfair. This week there was just such a couple. If they didn't seem so darn nice, you'd want to hate them.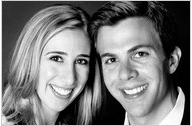 Claire Pasternack and Brian Goldsmith met at Harvard, from which they both graduated, she magna cum laude. Until this past June she taught English, French and debating at the prestigious Harvard-Westlake School in Los Angeles and will soon begin her master's in policy, organization and leadership studies at the Stanford University School of Education. This fall Mr. Goldsmith will begin his second year of law school at Stanford. Before that he was an aide to Katie Couric and a producer on the staff of "The CBS Evening News" in New York.
The story of their meeting is of course charming and their final bonding was over a cheese course at a French restaurant where they discovered they both loved Époisses (they earned instant brownie points for this since it's one of my personal favorites). So as they discovered they had much in common, they also made an effort to appreciate each others' interests. And as Ms. Pasternack explains, "Brian has picked up a little French, and he knows his cheeses. I have tried to keep track of every member of the Senate, where they're from, and what campaigns are hot." No big deal. You would do that, right? Smart, cute and nice too.