Tomorrow marks the final day to visit The Salon Art + Design 2017 at the Park Avenue Armory. Including 56 of the worlds most influential galleries, this fair is marked by its wide ranging and inclusive nature. An impeccable mix of quality art and design, from historical to contemporary, including modern masters and emerging artists are all represented in this vibrant show. I stopped by on Thursday for a peek to share a few of my favorites.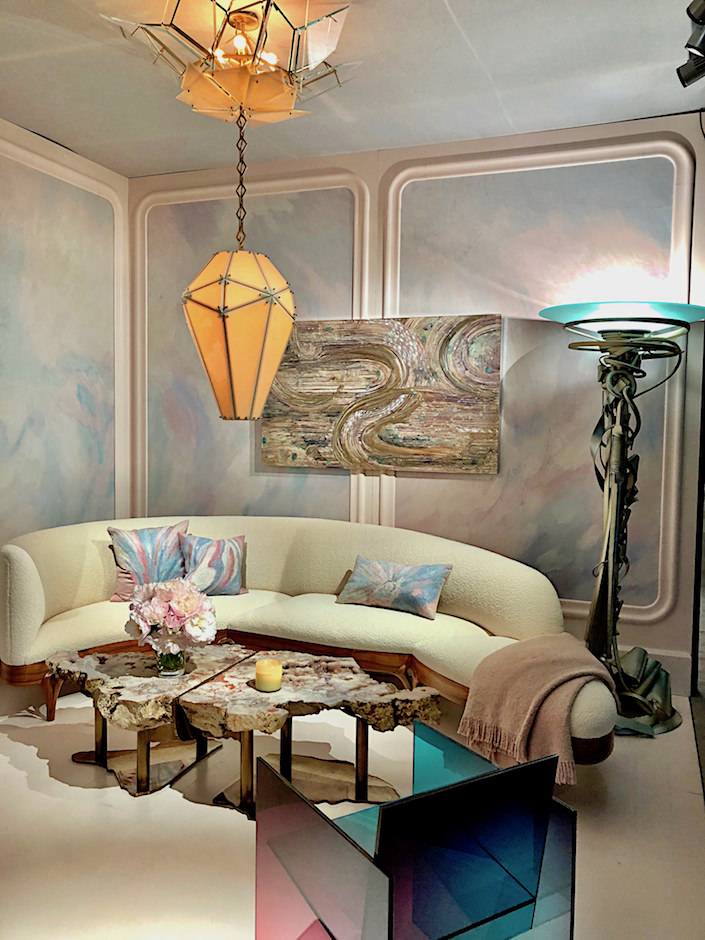 For the first time ever, the fair invited an interior designer to created an exhibit. With her installation of "The New Nouveau," Amy Lau envisioned a large room filled with work either specifically commissioned or picked to represent the artistic legacy of Art Nouveau. From rare Tiffany and Majorelle pieces to contemporary work such as Mary Wallis' jewel-like Empire Pendant, Germans Ermičs' Ombré Glass Chair,  Brenda Houston table, Nancy Lorenz artwork, Albert Paley standing light, and walls by Calico, emulating the opalescent Cypriote glass of Louis Comfort Tiffany (all seen above), the space shows the unifying power of a carefully curated selection of art and design.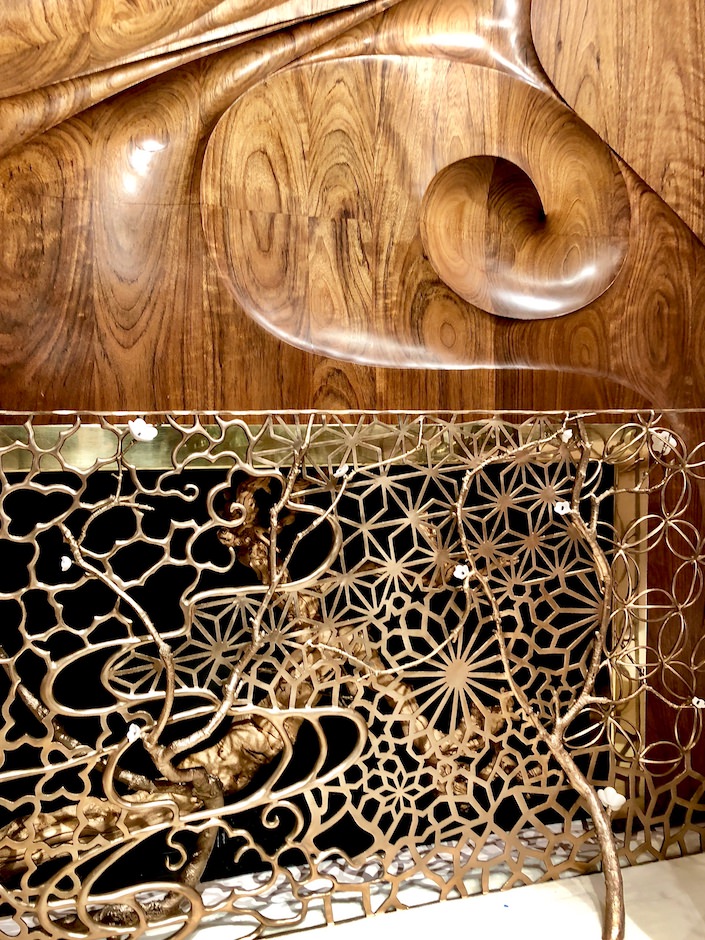 Michael Coffey's sculptural walnut fireplace paired with David Wiseman's bronze and porcelain fireplace screen, above, are more contemporary artisanal examples of Nouveau inspired work. And below, Caterina Fabrizio, whose company, Dedar, supplied all the fabric for the upholstered pieces, and Amy, sport incredible handmade opal necklaces by Brazilian jewelry designer Burle Marx – Amy's a dazzlingh 307 karats!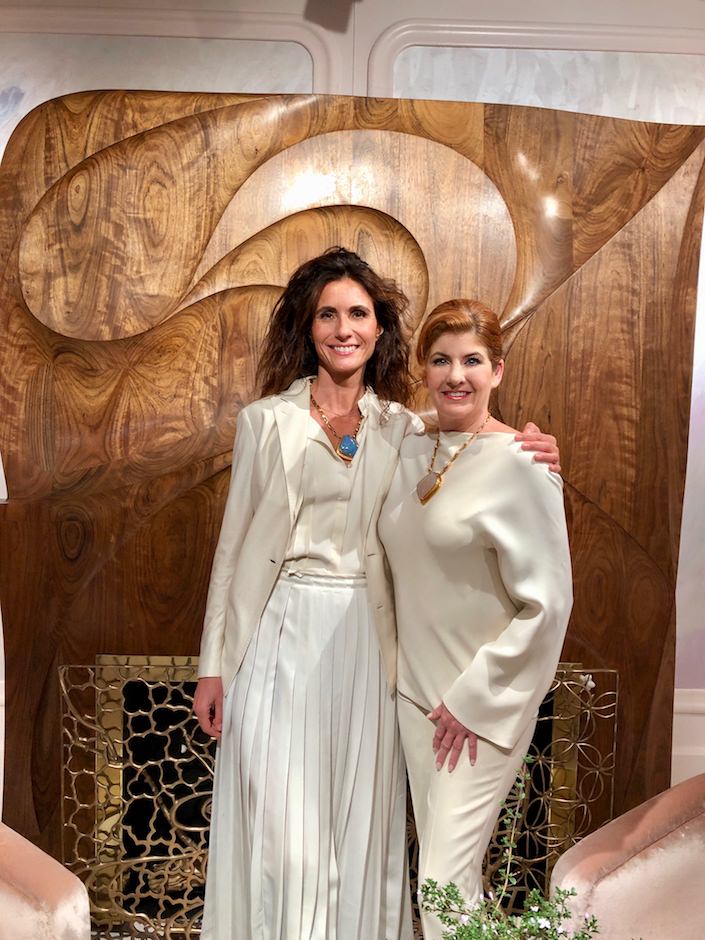 Hostler Burrows always has a beautiful booth and this year featured a spectacular lighting fixture, Butterfly Asteroid, by NYC artist David Nosanchuk.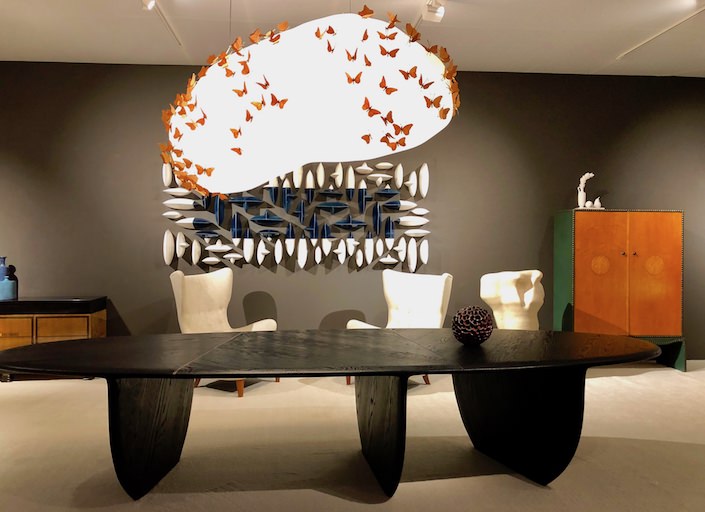 "The story of the transcendence of nature depicted through the meeting of the Limenitis Arthemis Butterfly and the Itokawa Asteroid," the light represents their journeys through space and time. Bodies made of solid bronze created by 3D scans of a real butterfly and wings of beech veneer with detail created by laster engraving are attached by traditional lost wax technique – detail below.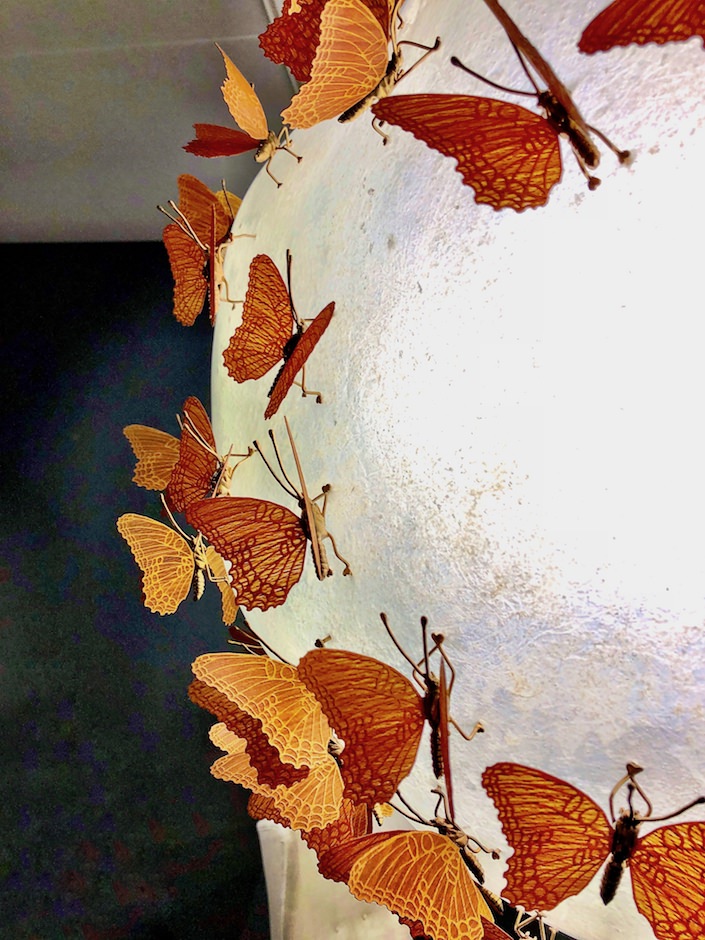 Friedman Benda represented the U.S. debut if Lebanese artist Najla El Zein and her two concrete benches, shown with tapaestries by Faye Toogood behind.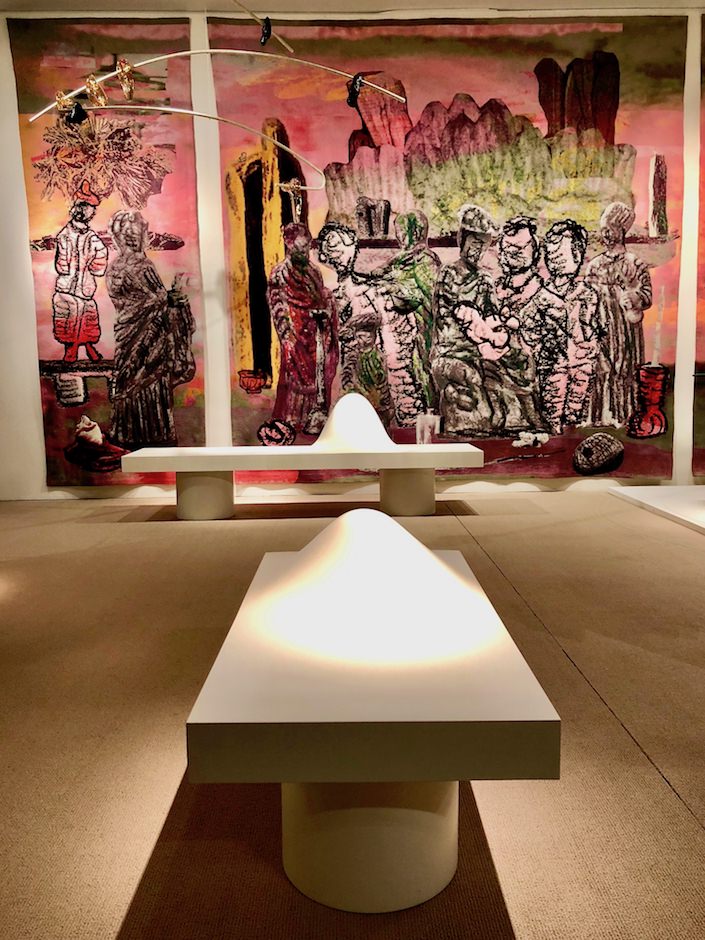 Liz O'Brien is always a favorite. A corner featured, among others, a John Dickinson table lamp, Darcy Miro mirror and Billy Haines bench and  leather topped game table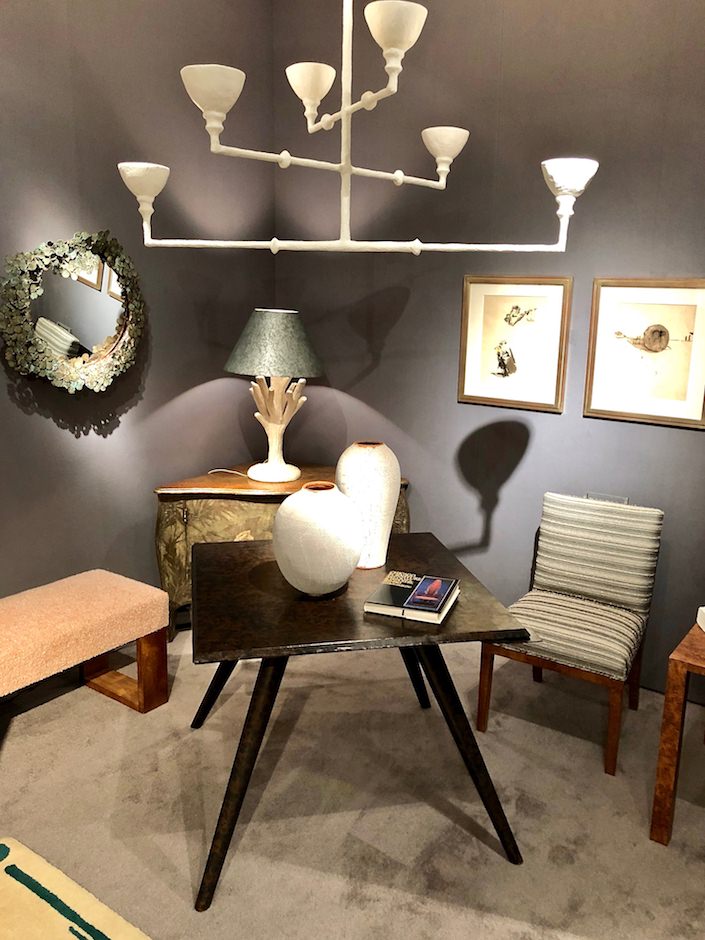 with pull outs for drinks.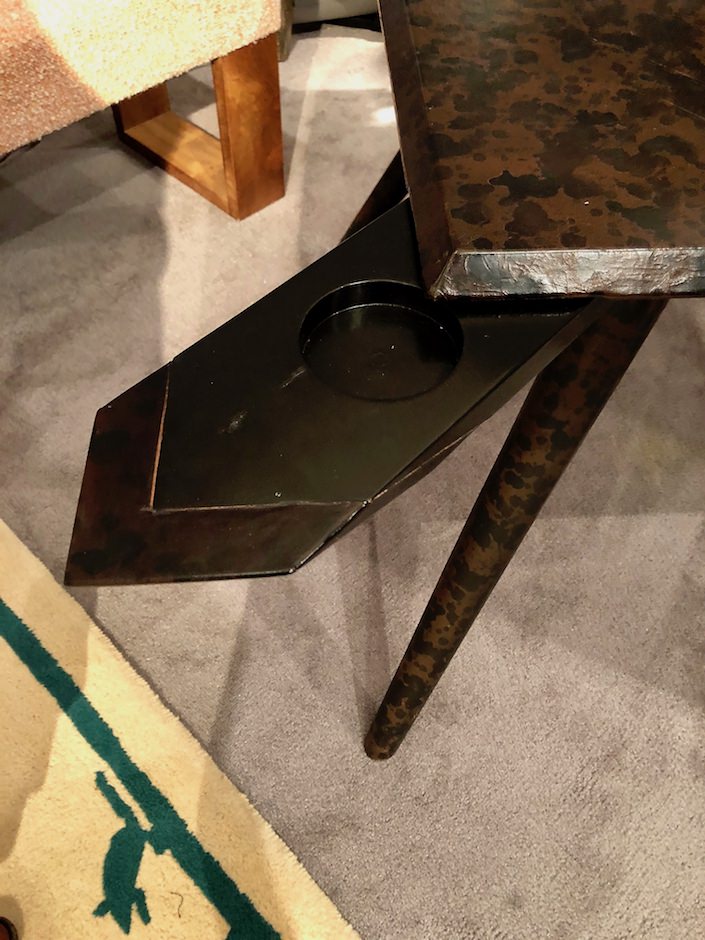 Her own Frances Armchair, upholstered in Hermes, looked stylish in front of a Samuel Marx demilune lacquer side table,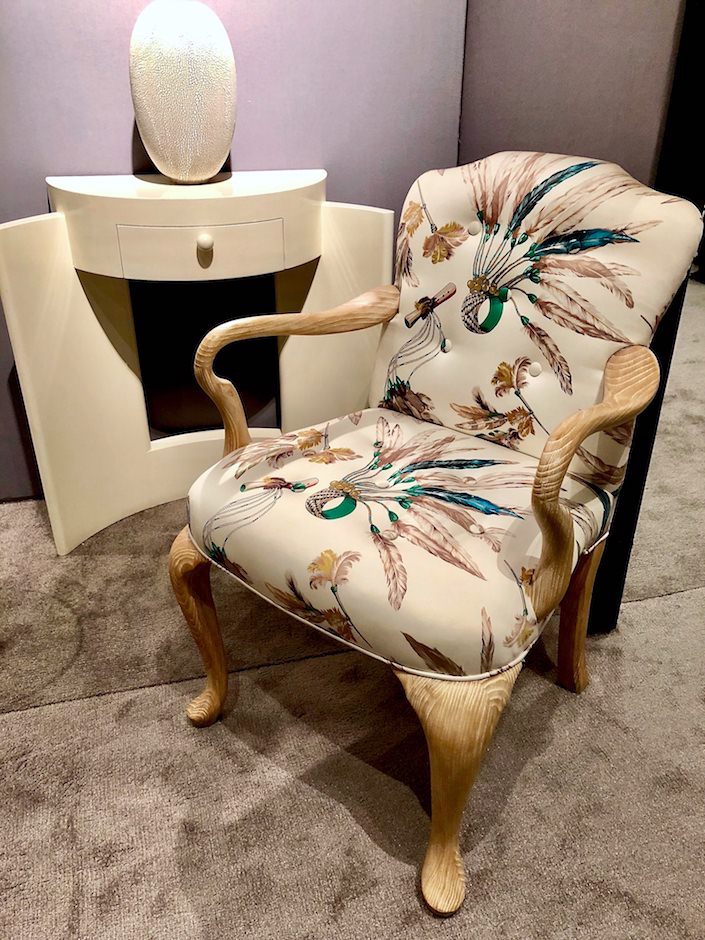 and of course everyone was enchanted by the Jansen Trompe l'Oeil Commode (I couldn't find my shot so had to borrow Liz's)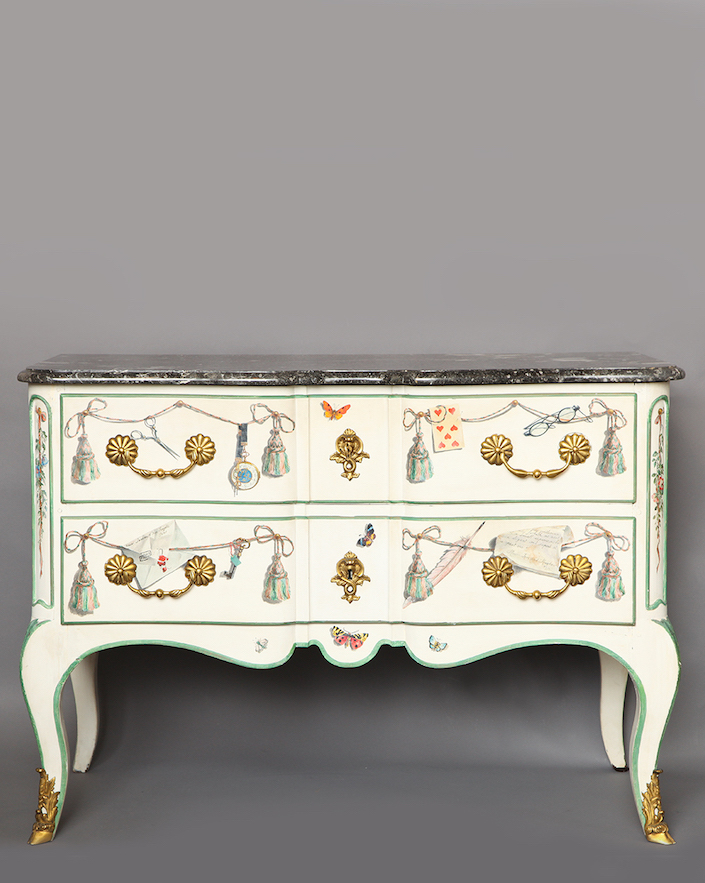 Swedish gallery Modernity showed a set of table and chairs by Eliel Saarinen designed in 1907 for the Munksnas hotel in Finland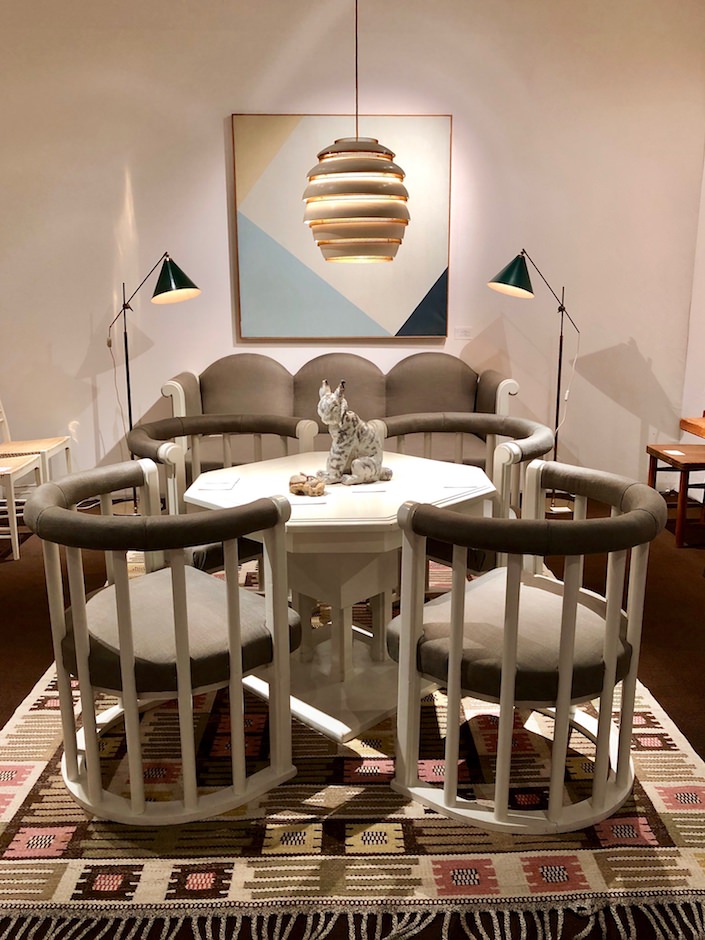 and a stunning monumental dish by Birger Kaipiainen designed in the 1950's for Arabia.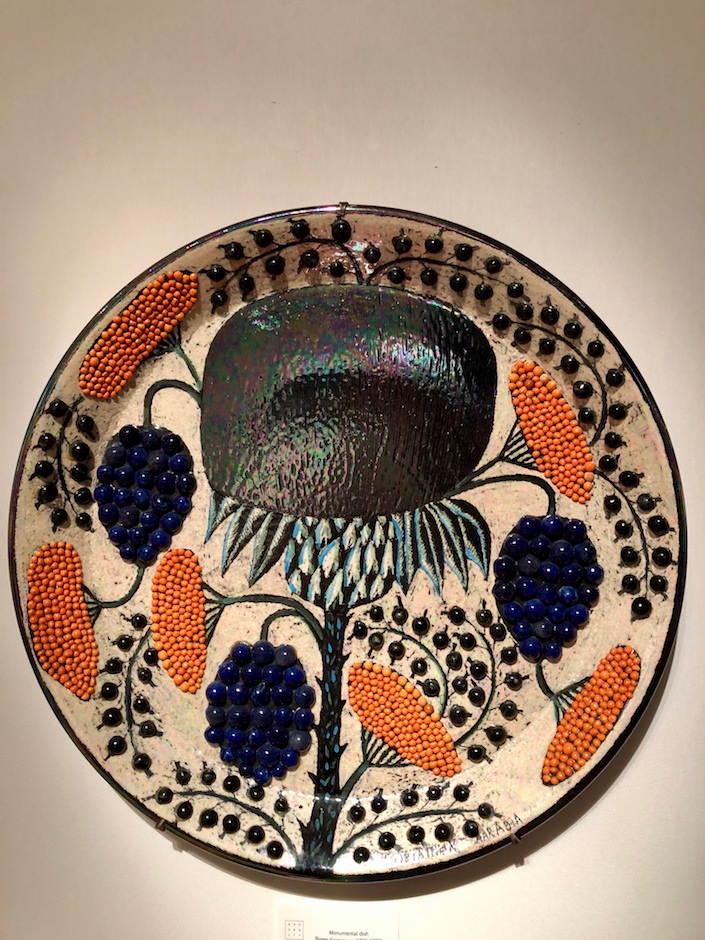 At Adrian Sassoon, I had a chance to chat (perhaps some of you caught the live video feed on Instagram) with one of my favorite ceramicists, Kate Malone, whose nature-inspired organic pieces are a joy to behold. Below, her Oak Magma Atomic Vase, which represents the melding of over and underground with incredible color, texture and movement.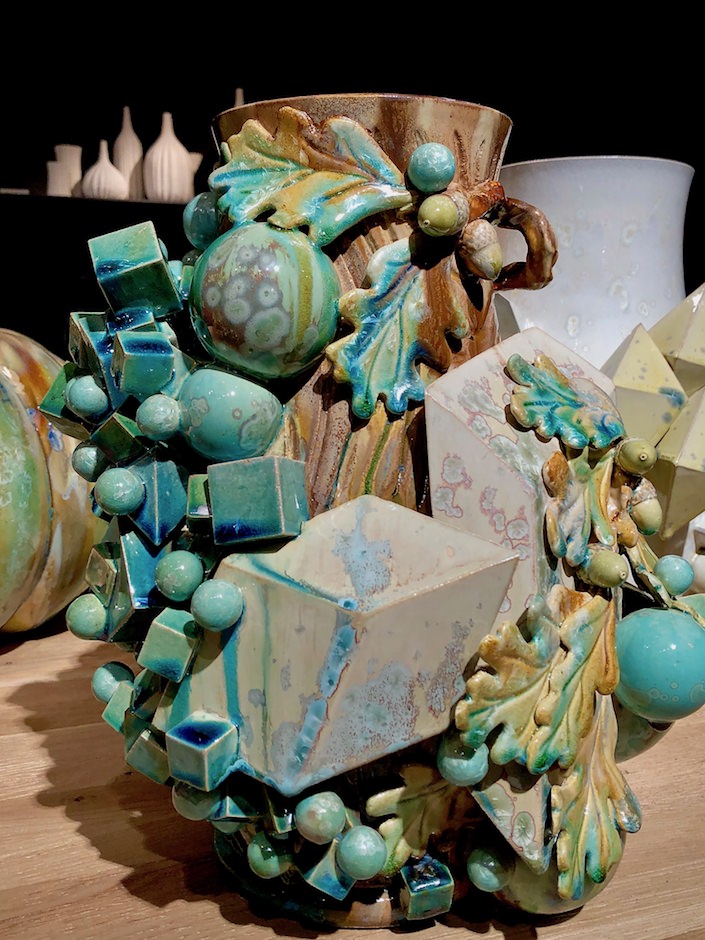 The two monumental vases below were part of a collection inspired by Waddesdon Manor, the Rothschild estate in Buckinghamshire, now owned by the National Trust. Here Kate took inspiration from the architecture, gardens, personalities and renowned collections of Sèvres, Meissen and earthenware to create her own take on Waddesdon.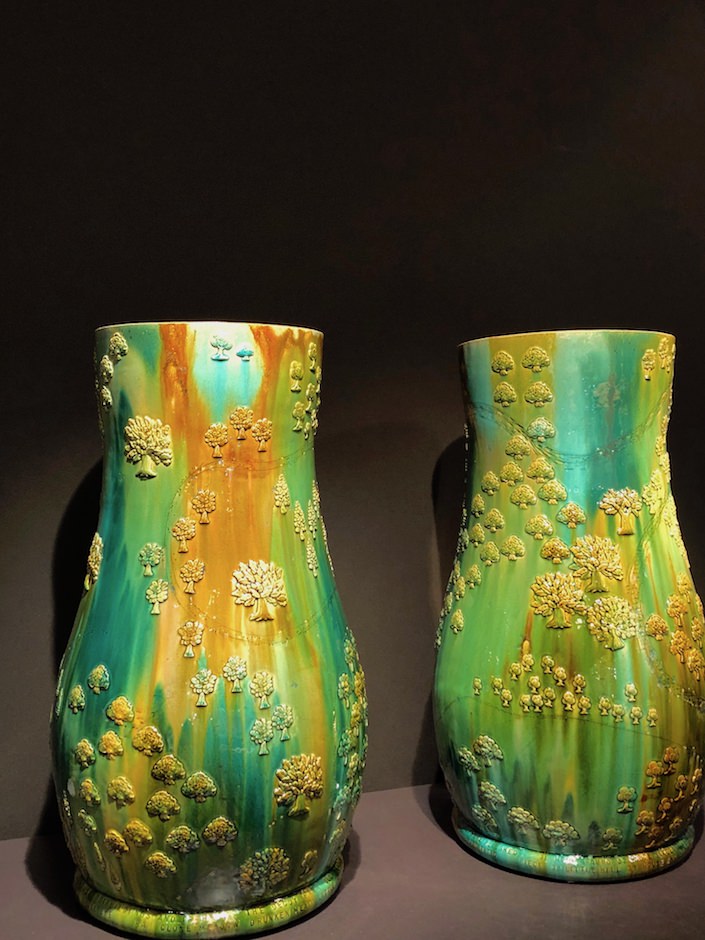 The vases tell the story of the estate so eloquently with trees, roads and sense of history. I know it was hard for Kate to let these go when they sold.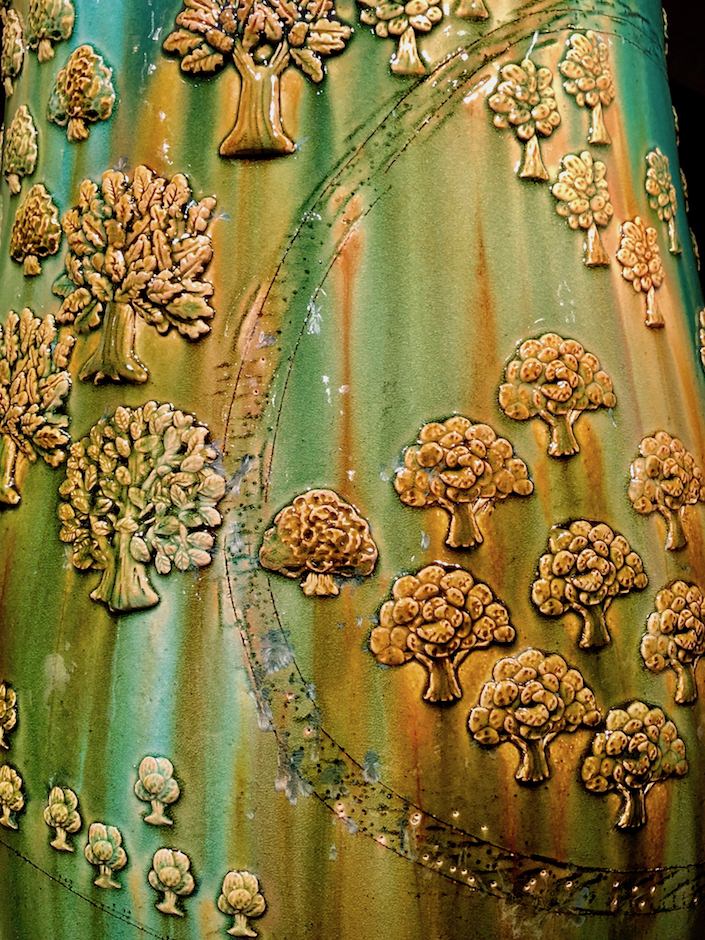 Todd Merrill Studio showing a new light sculpture, Rising, from Irish designer Niamh Barry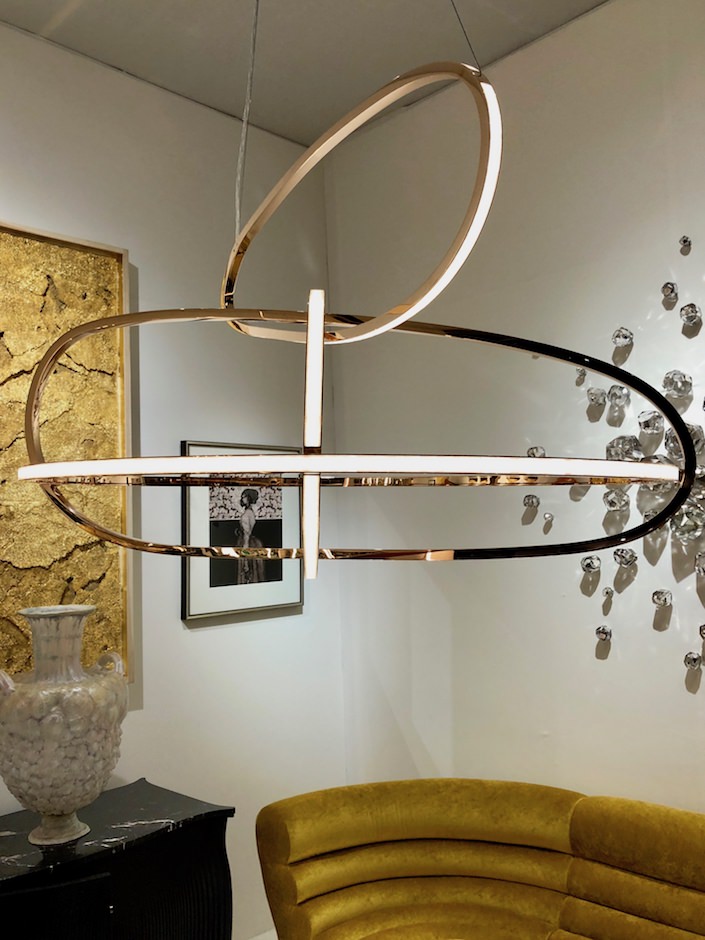 as well as British Designer Sophie Coryndon's Primavera, a large triptypch inspired by 16th century tapestries with their intricate gold-work embroidery, behind South African artist Charles Haupt's Num Num dining table and Markus Haase beautiful ash and brass chandelier, below.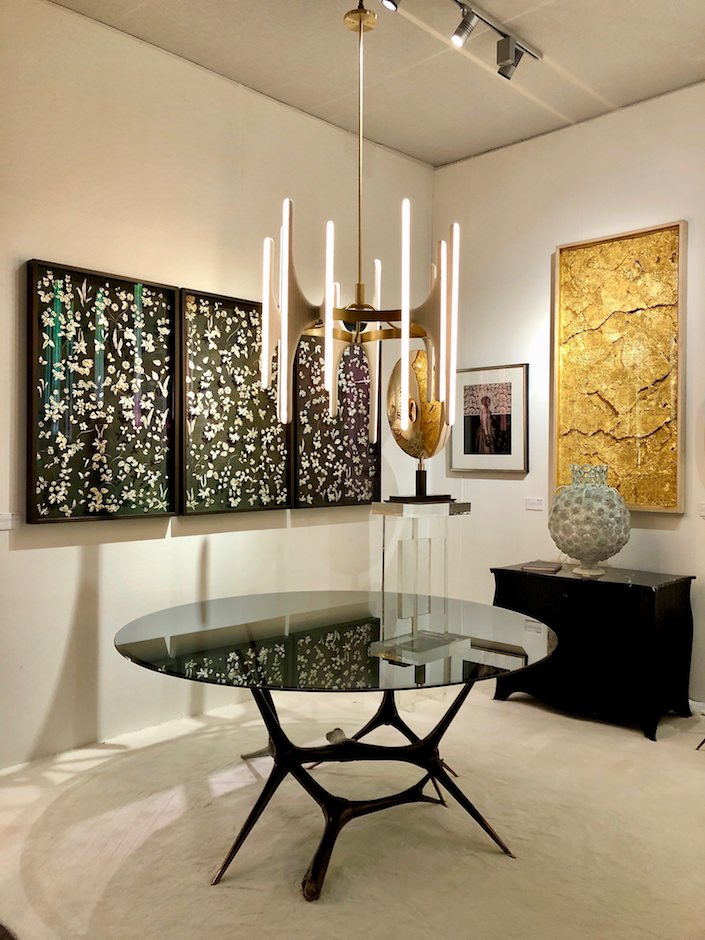 Below the hand-tooled flowers that are cast and gilded in yellow and white gold before being added to Coryndon's piece.
Maison Gerard's large space featured, among other pieces, a rare console table by Süe et Mare, one of a set commissioned by couturier Jean Patou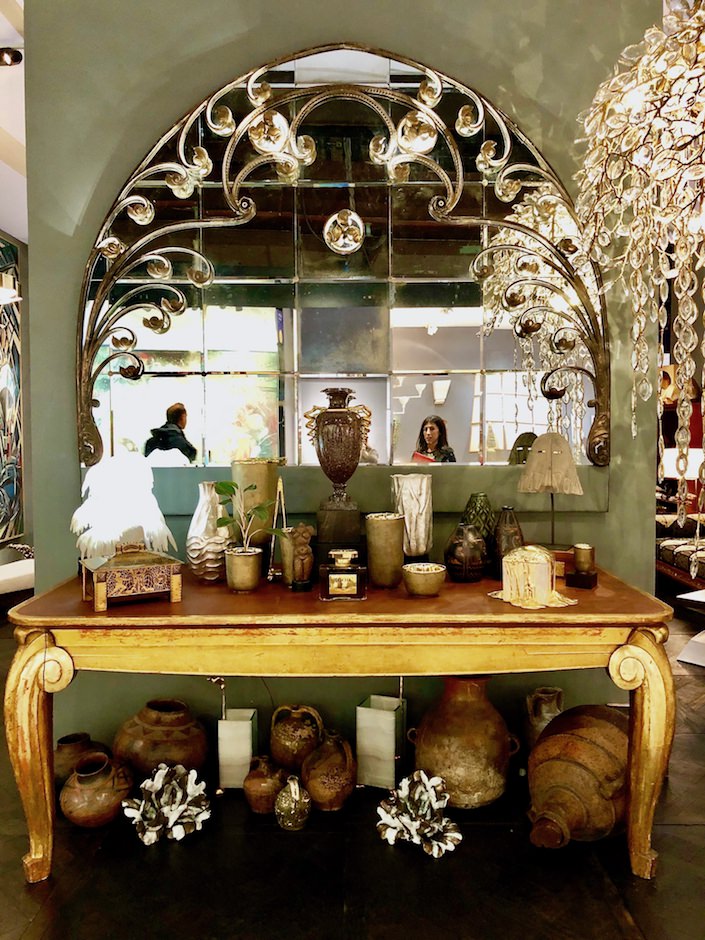 a 1984 Pucci de Rossi orientalist style sofa, upholstered in velvet surrounded by faux marbled wood and intricate marquetry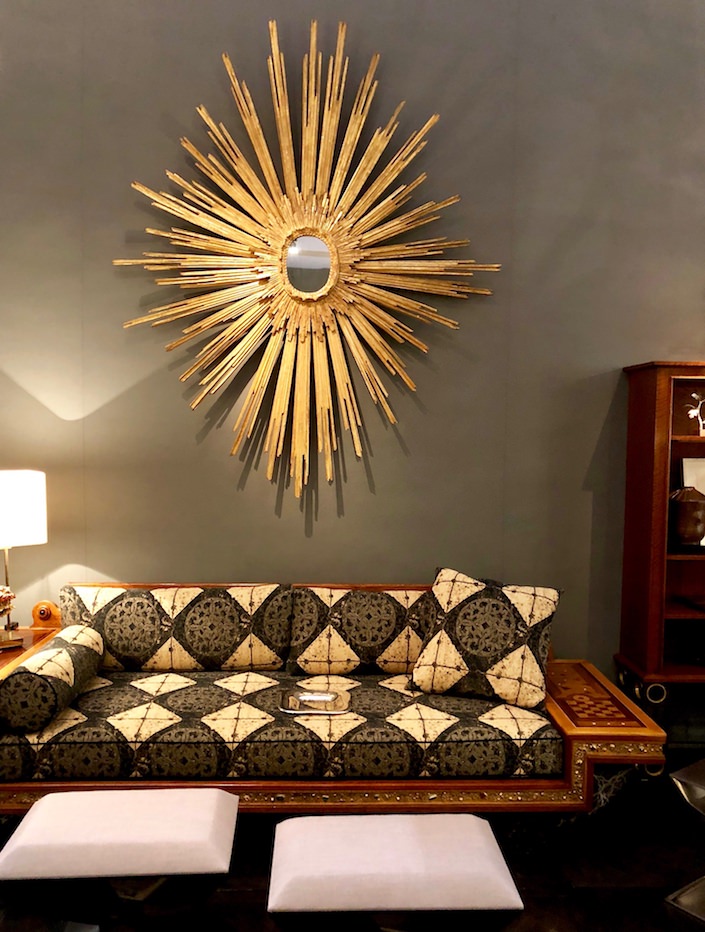 and Willow crystal and cast bronze chandelier from Thomas Pheasant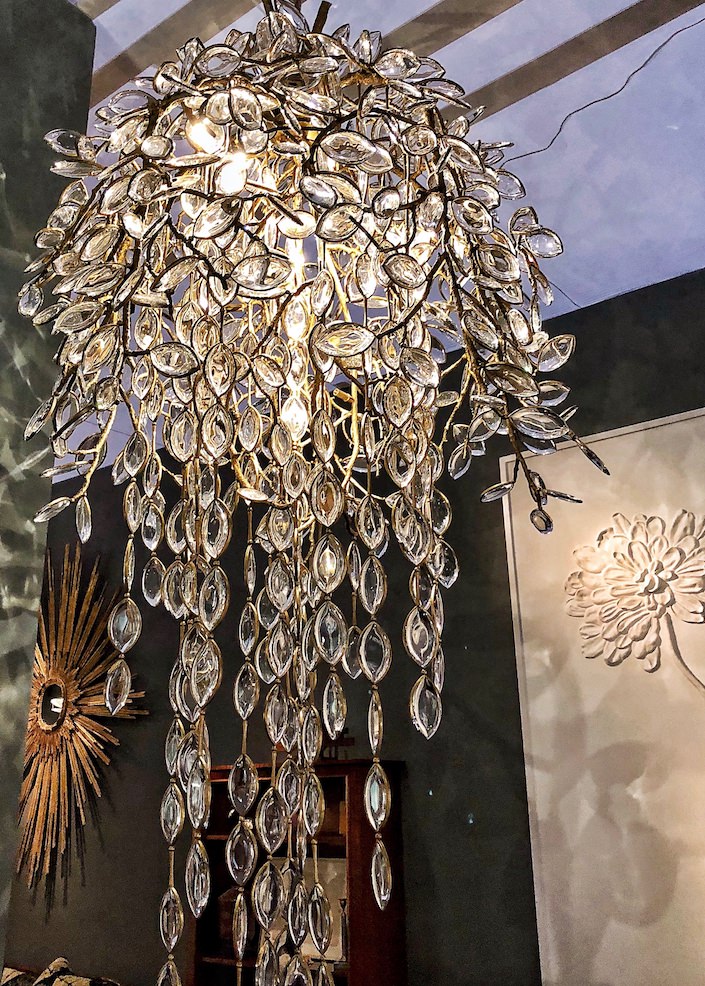 In Galerie Chastel-Maréchal, a wall of Line Vautrin mirrors hung like stars over a mid-century desk by French master Jean Royère.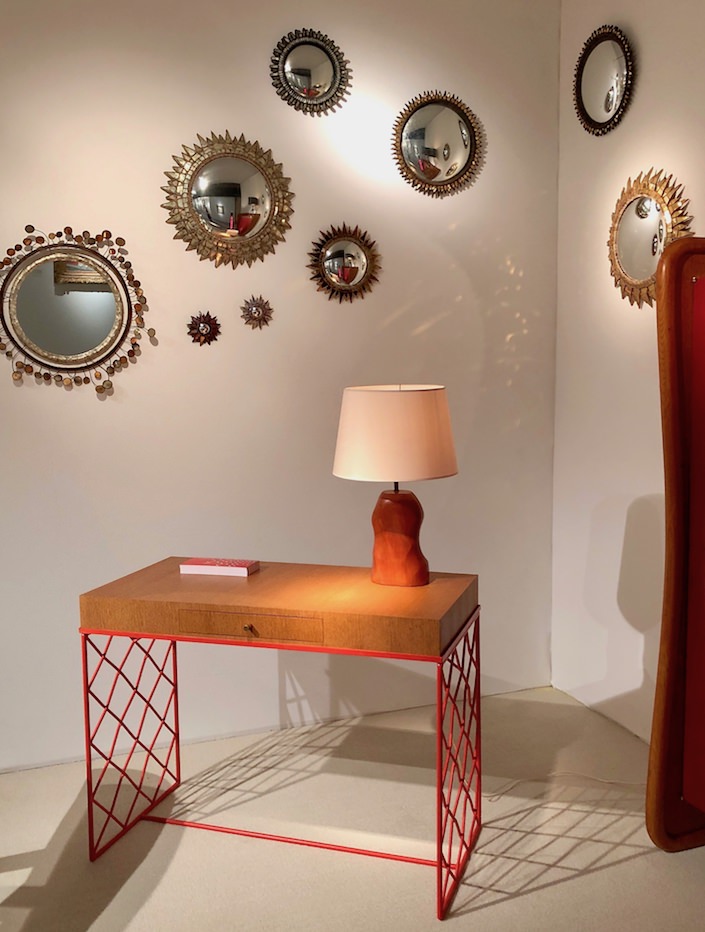 A strong and primitive French post-war statement was made in Magen H Gallery's booth with pieces by Pierre Sabatier, Pierre Chapo, Pierre Szekely and more.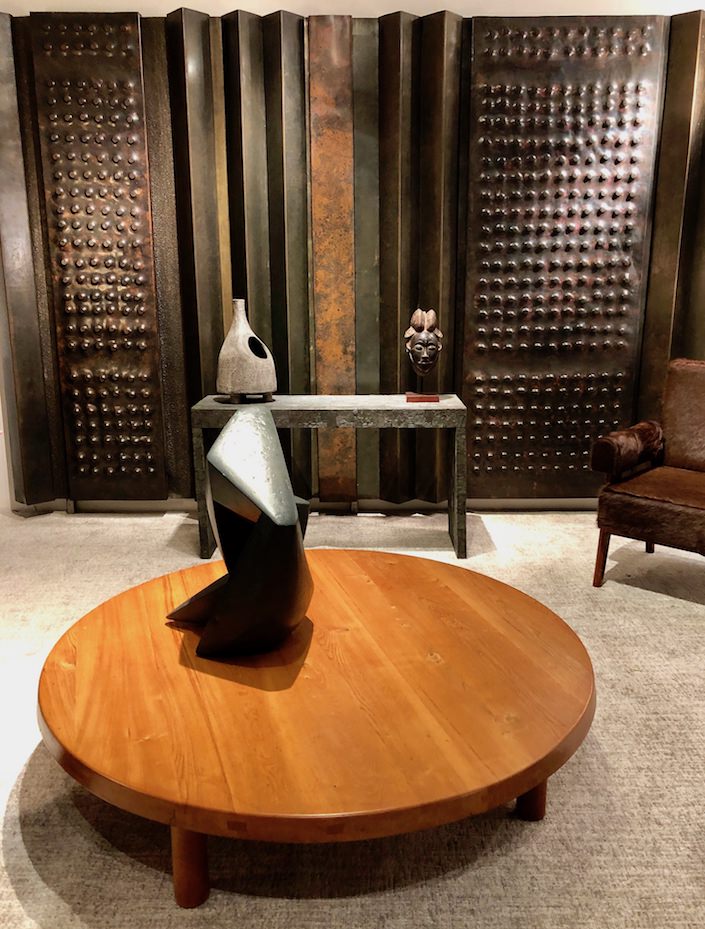 Demisch Danant presented their signature take on 20th century French design with selections from such icons as Maria Pergay (her Pouf Colonne in front left), Jacques Dumond (his round glass table in middle), César artwork, Claude de Muzac table lamp in back,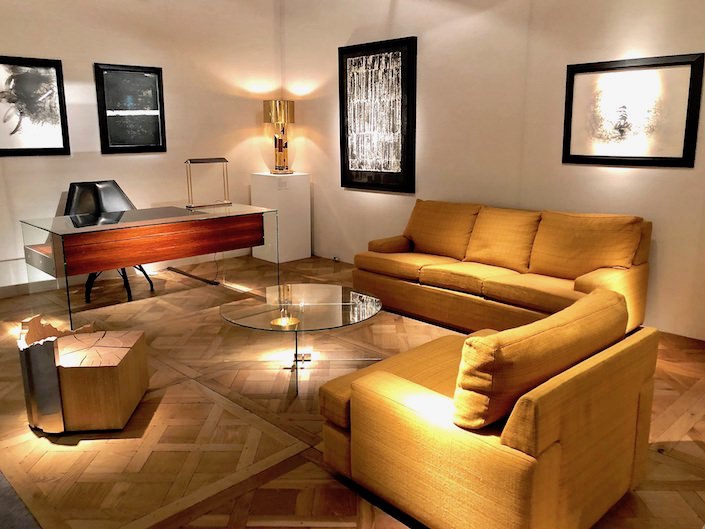 Philippon and Lecoq sofa, chair and amazing desk, below, shown with a Pierre Paulin leather chair.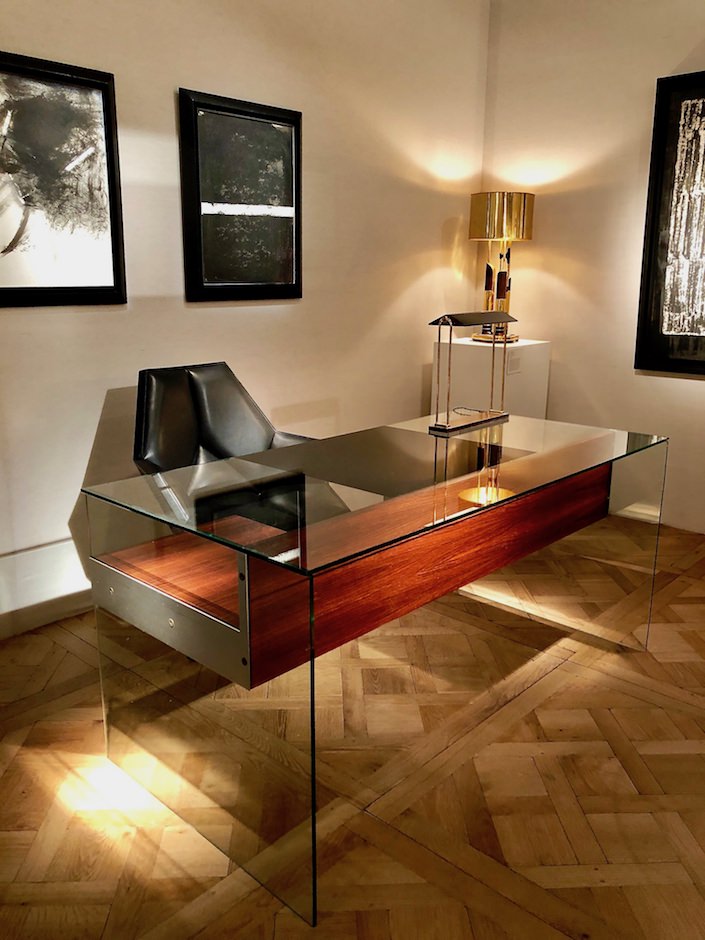 At Wexler Gallery, a modern monochromatic palette included a Harow steel and leather sofa under Tim Rollins and KOS "Letter from a Birmingham City Jail." Gulla Jonsdottir's Puzzle Table added a burnished brass sheen.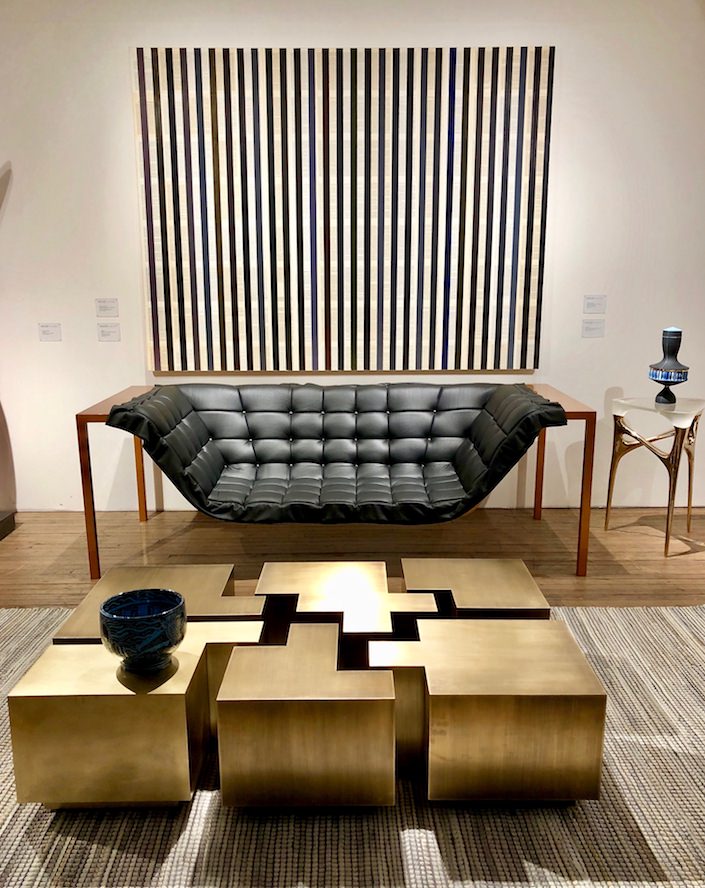 A close up of the Puzzle Table with Roberto Lugo's Hip Hop Bowl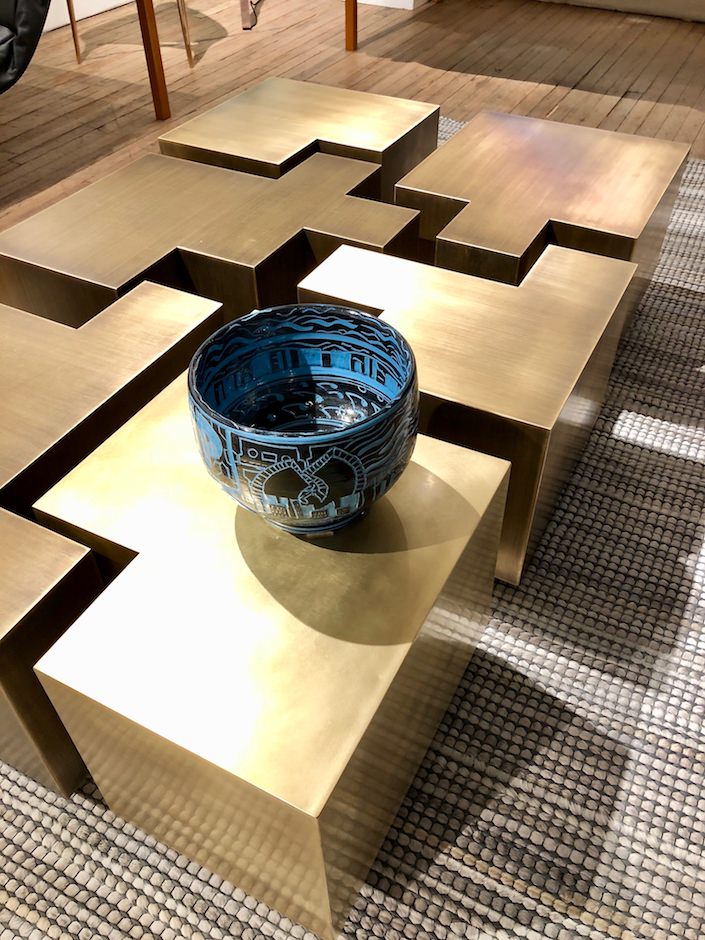 R and Company's booth presented a dynamic combination of Wendell Castle's iconic sculptural wall element behind a Joaquim Tenreiro dining table below Jeff Zimmerman's fabulous Exploding Galaxy.
all photos by Stacey Bewkes for Quintessence unless otherwise noted
Lost City Arts is known for their Bertoia holdings. This year they presented the artist's Stemmons Towers Sculptures from Dallas.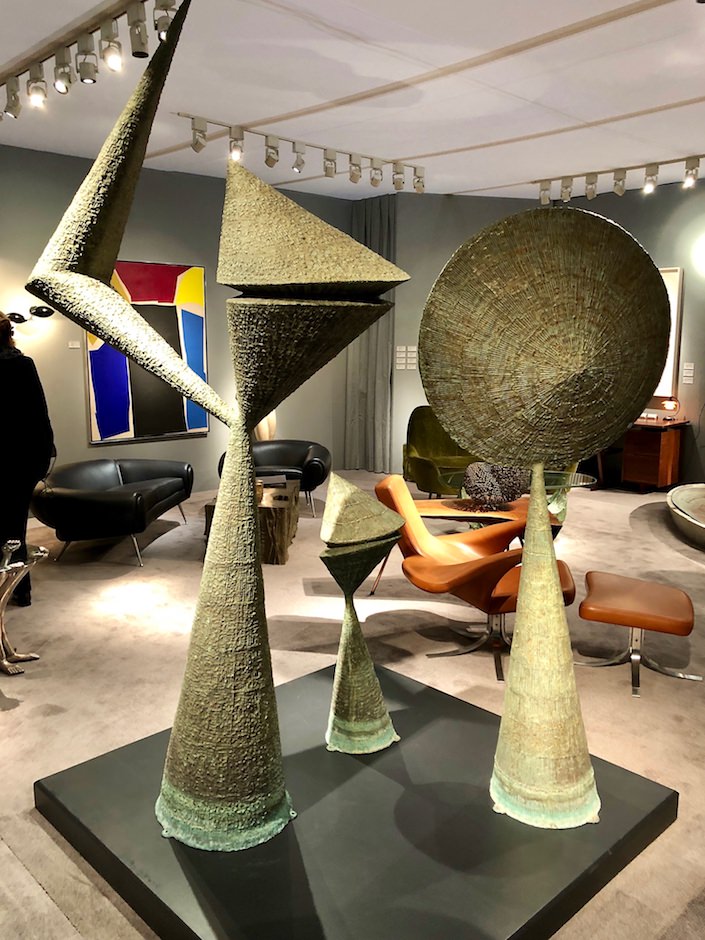 And I liked this mid-century assemblage of green with Cesare Lacca's settee, a Pal Evans' coffee table and a "Summer" vase by Dane Axel Salto.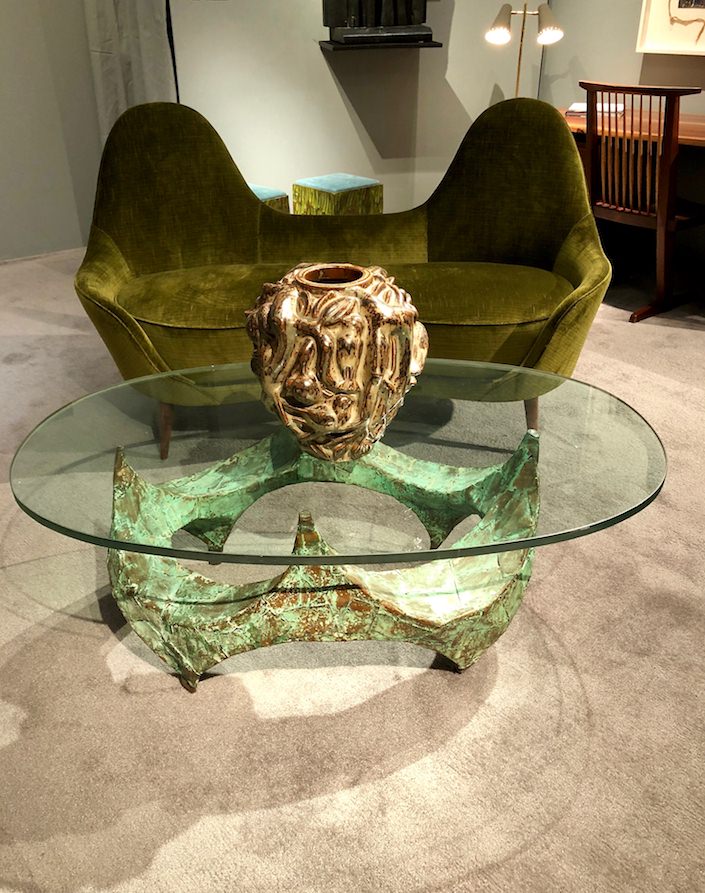 David Gill Gallery's booth was a showstopper of modern classics with Zaha Hadid's 'Liquid Glacial Colour' table, Barnaby Barford's Light Sculpture 'Future' and Jose Yaque's 'Rodocrosita I'.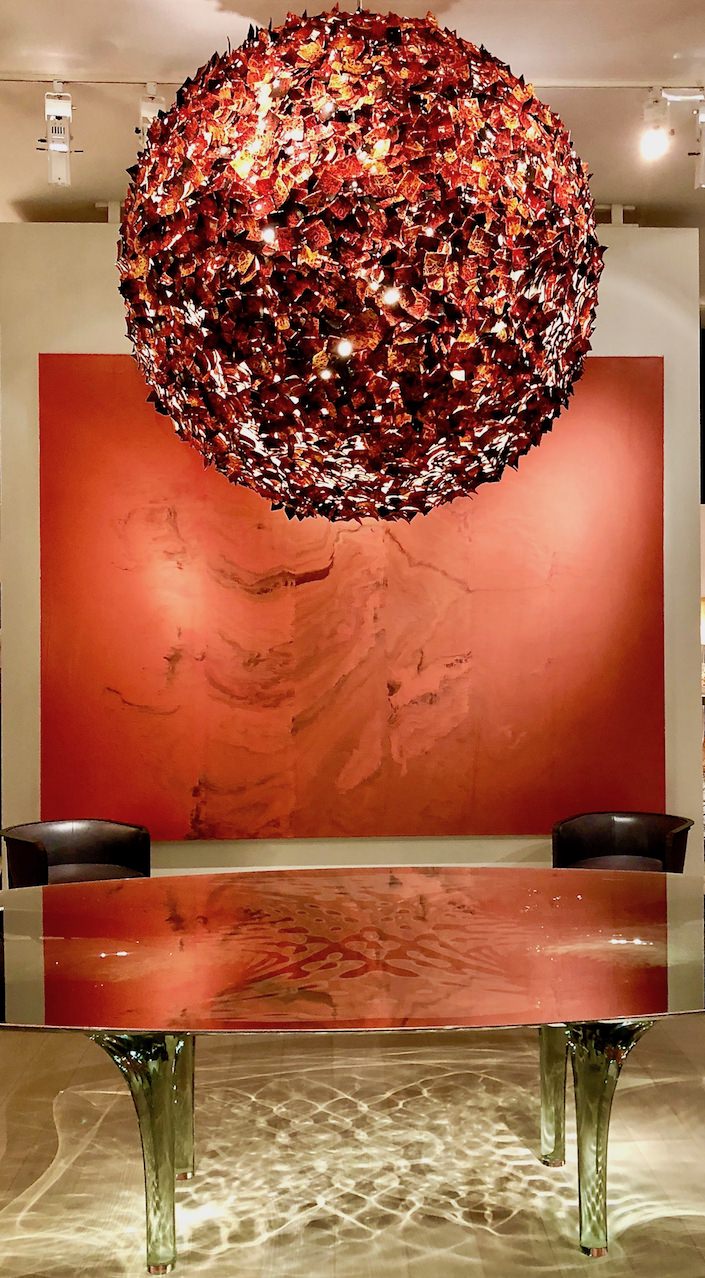 And it was hard not to be intrigued by the enigmatic Giorgio de Chirico and his Le Muse Inquietanti at Mazzoleni  from 1951.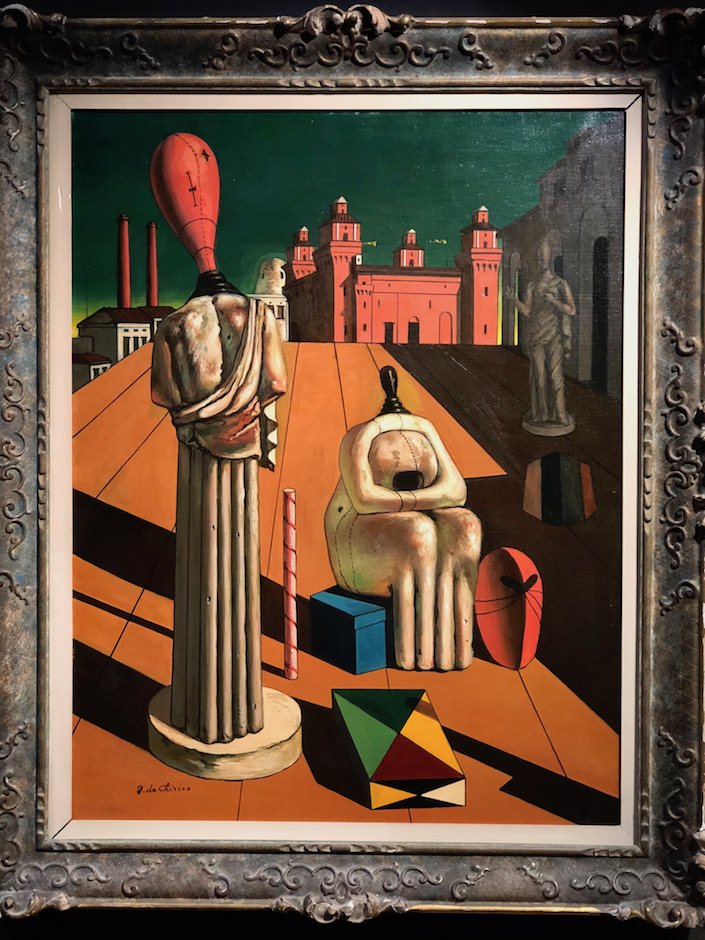 This is obviously just a small selection of the amazing art and design to see at Salon. If in the area on Monday, the highly recommended show is open from 11 am to 5 pm at the Park Avenue Armory.