In the days before film, television, technology and other modern day distractions, the circus was a popular and egalitarian form of entertainment, especially in Europe, where it had a centuries long history. Affordable and available to all, people looked forward to these traveling troupes that would perform seasonally. You may remember last year, the exhibit at the Metropolitan Museum,"Seurat's Circus Sideshow, " which focused on the artist's famous "Circus Sideshow," a jewel in the Met's permanent collection.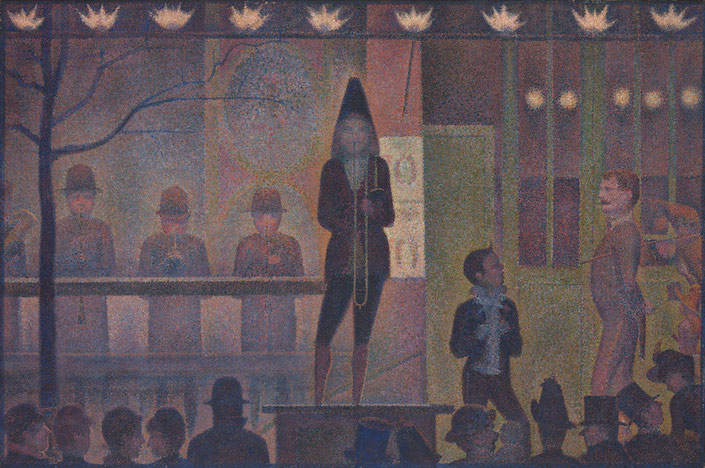 In 19th century Paris, the mystique of the circus, with its vibrant visual appeal and ever changing scenes, inspired many artists, from Daumier (below) with his frequent caricatures, to Renoir, Degas, Lautrec and others.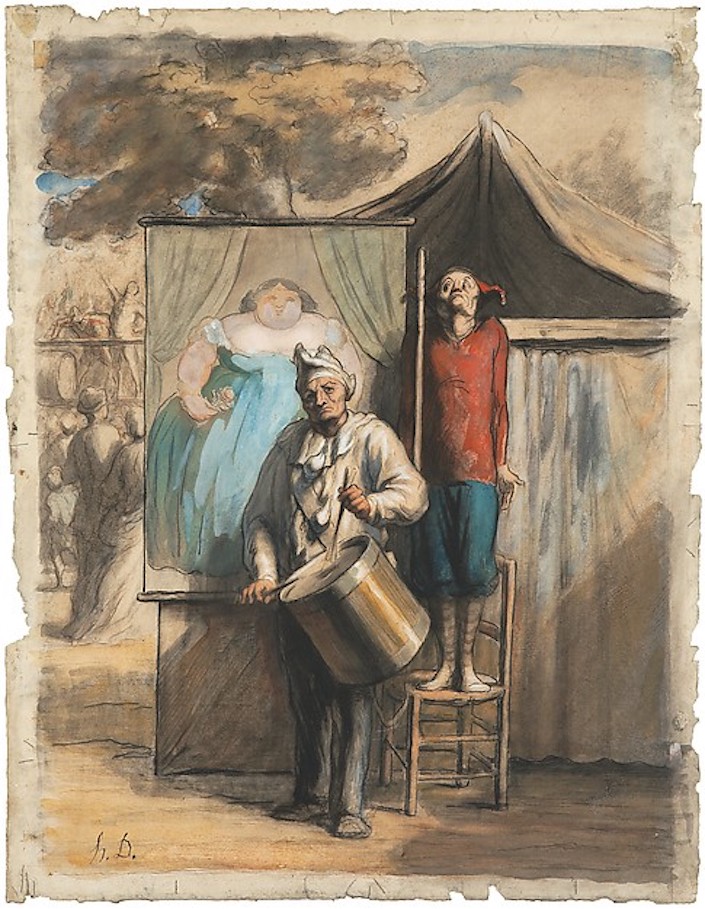 But Seurat's Neo-Impressionist masterpiece, at top, presented the circus side show with a more modern and somber vision. Unlike the naturalistic immediacy of earlier Impressionism, Seurat believed in a careful almost scientific technique. Through his intense study of light and color and disciplined use of linear geometry, he imbues the night scene with a beautiful yet haunting mystery that translates to an underlying sense of fragility.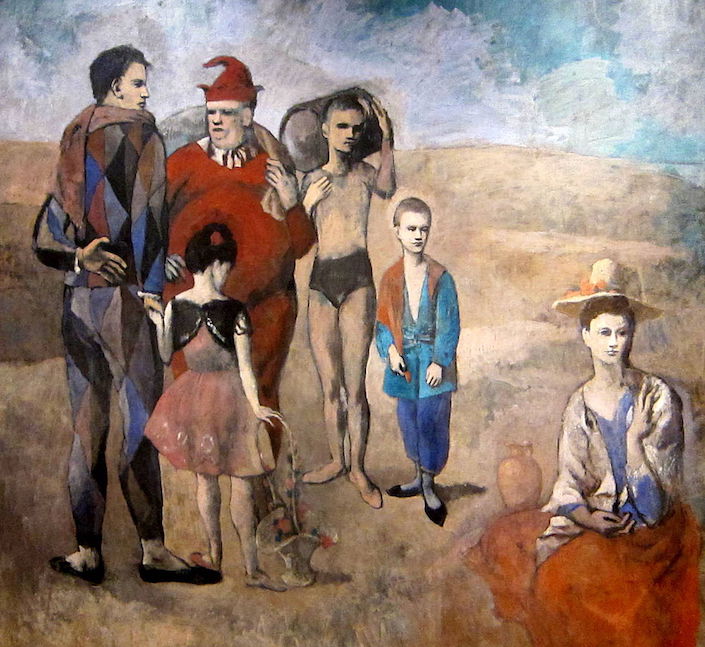 Picasso's Family of Saltimbanques, above, from the artist's Rose Period, 1905, famously depicts emotions of isolation and alienation. Artists could often relate to the transient lifestyle and hand to mouth existence of the circus performers, dependent on the caprices of their audience for their livelihood.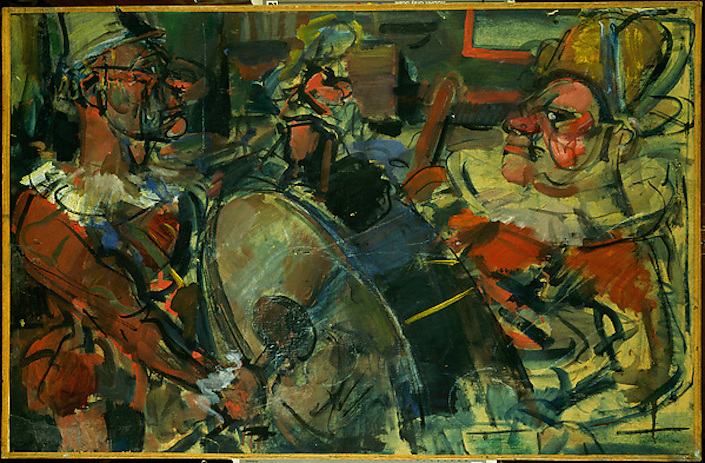 Georges Rouault, in his Parade from 1907-10, above, also sought to express the disparity between the superficiality of the clown's outward colorful appearance with a vulnerability and interior sadness. "I saw quite clearly that the 'clown' was me, was us, nearly all of us… We are all more or less clowns."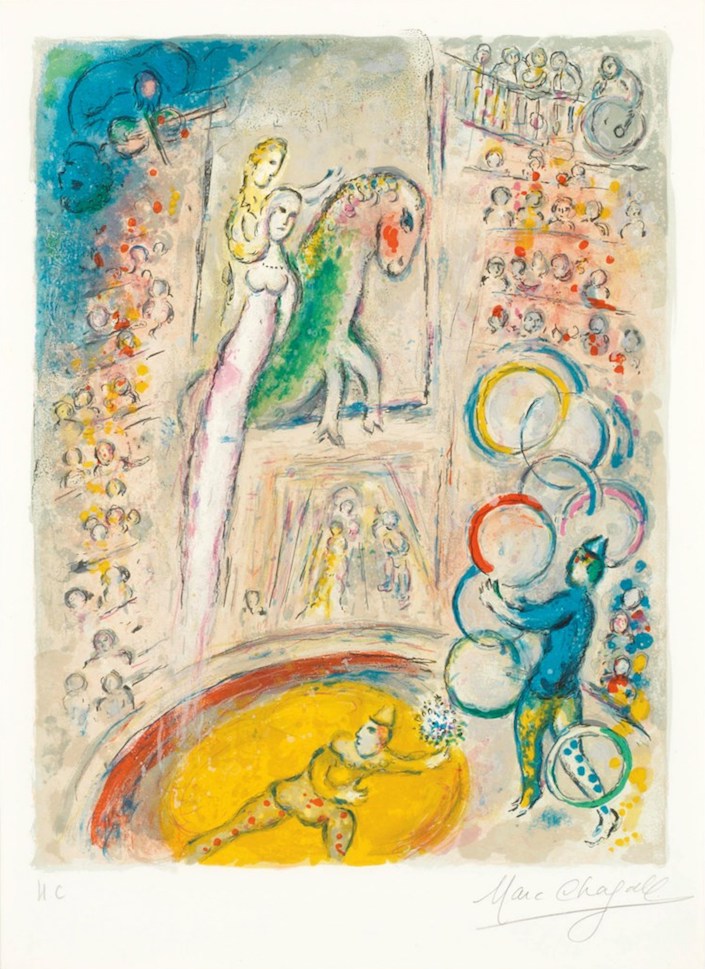 But the modern artist who produced the most prolific circus themed works may well be Marc Chagall. Fascinated by the circus since his childhood in Russia, Chagall was enthralled by the colorful and chaotic ambience and yet, like Picasso, was also sympathetic toward the uncertainty of the circus performer's life.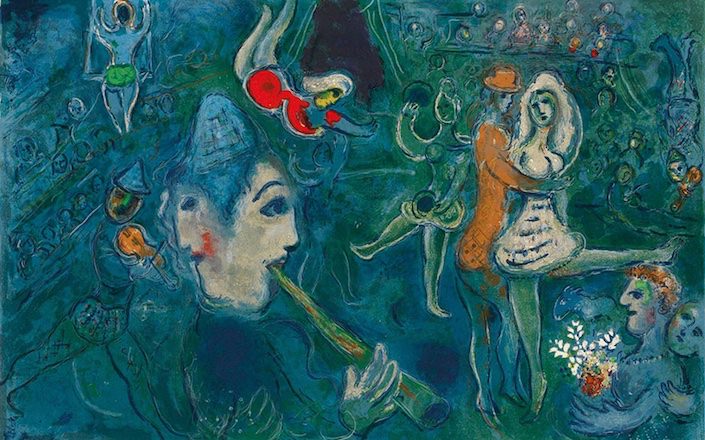 After moving to Paris, Chagall's dealer, Ambroise Vollard, in 1927 asked him to produce a suite of circus inspired gouaches. The project, known as Cirque Vollard, is a joyous homage to one of his favorite themes. Unlike many of the other artists who portrayed the circus in art, Chagall produced imagery with an uplifting and positive spirit.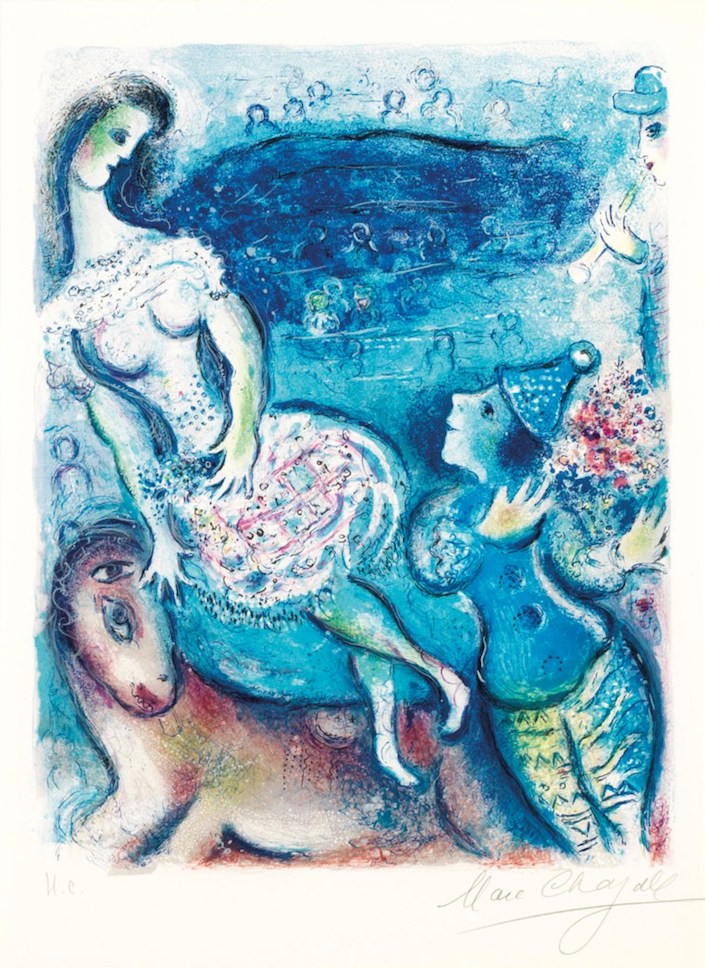 Decades later, using the gouaches as a model, Chagall engraved 23 color and 15 black and white lithographs, which were published in a deluxe edition of 24.  And now, starting on February 19th through March 1, lithographs from the deluxe edition of Le Cirque are being offered in an online sale at Christie's.
all Chagall imagery courtesy of Christie's
For Chagall, the circus encapsulated many aspects of life, representing the perfect setting for his fantastical and personal storytelling. As he wrote, "For me, a circus is a magic show that appears and disappears like a world. These clowns, bareback riders and acrobats have made themselves at home in my visions."
SaveSave
SaveSave
SaveSave
SaveSave
SaveSave
SaveSave