I would imagine most of you are familiar with Robert Hughes. The Australian art critic wrote for TIME magazine for over 30 years, has made dozens of TV documentaries, published many books and won countless awards, too numerous to list here. Pictured here in his debonair younger years, Hughes, now 72, always outspoken and sometimes controversial, is indisputably one of the most famous art critics in the world.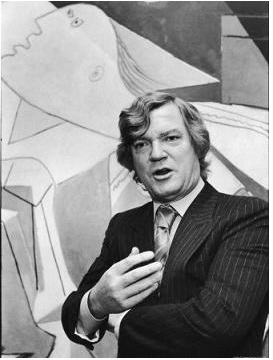 He is probably best known for his views on the modern art world, specifically the marketing of artists that started in the 1960's and had its heyday in the extravagance of the 80's. He felt many artists, including Jean-Michel Basquiat for example, were overrated and over-hyped. He described Basquiat's Whitney retrospective as "a parody of a funeral rite" and wrote equally unflattering comments about the work of David Salle. "Looking at his work is like watching a TV set in the rain with the sound off". Looking back now, even Hughes admits that he may have been too hard on some of these artists.
No matter how you feel about Hughes' views, it cannot be argued that his articulate and entertaining presence is a force to be reckoned with. I recently became aware, via The Observer's Very Short List, of a documentary film he made that was broadcast on British television's Channel 4 in 2008. Called the Mona Lisa Curse, it is a fascinating work. I've attached the first episode (of 12) here. As VSL says, if you "Ever feel like you don't "get" the art hanging in museums and selling for millions in auction houses", this film is for you. Judge for yourself. I'll be curious what you think.