While I always appreciate the youthful exuberance of Nanette Lepore's collections, this was by far my favorite collection of hers in quite a while. The upbeat artisanal patterns have a cross generational appeal with many pieces that can be added to an existing "grown up" wardrobe for a punch of color and fun. Thanks to my friend Linda Levy at Richard's, I had the opportunity to visit backstage before the show. The story board gave a hint of what was to come.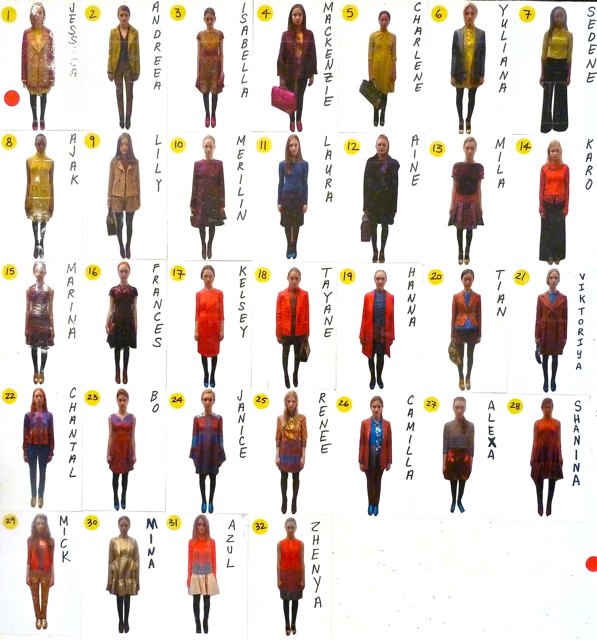 It's always a little hectic as models are preparing for their cat walks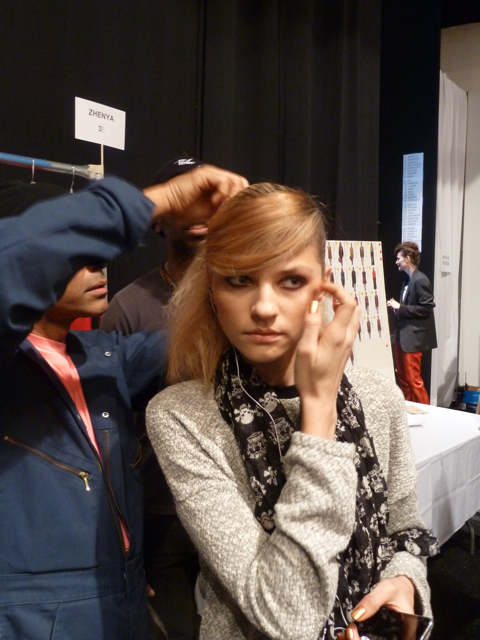 And clothes are being lined up in order on the racks – there's that gold again!!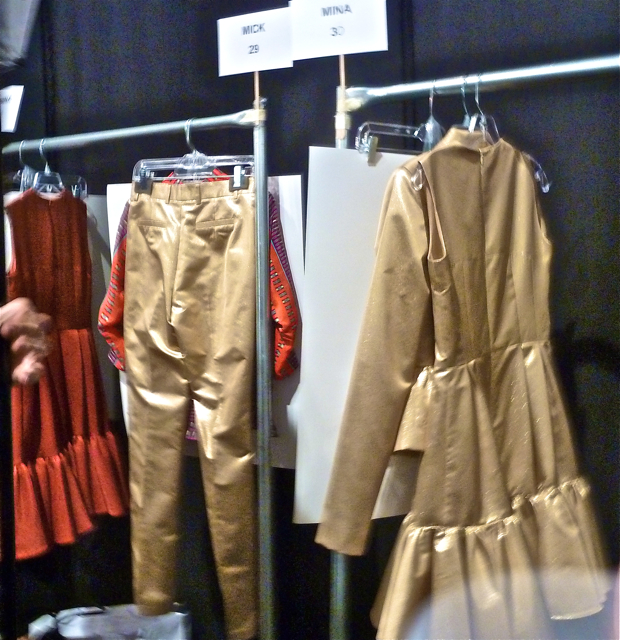 Stanley Tucci is a regular at Nanette's shows.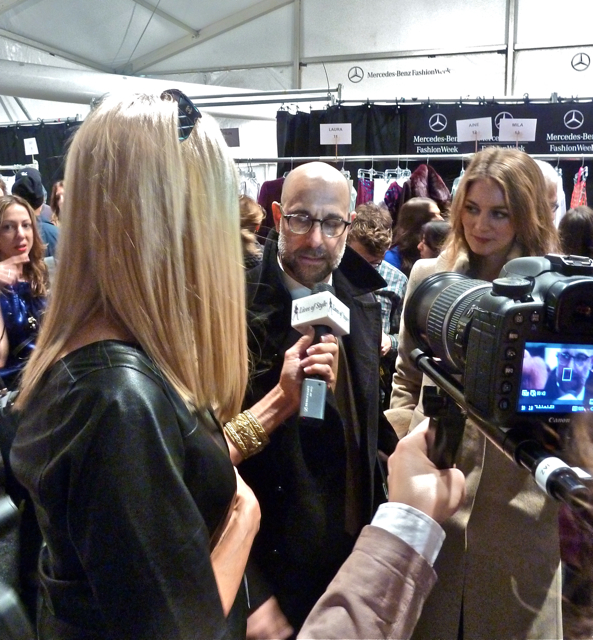 The first look set the tone with the gem print coat and chartreuse cloqué top and skirt. Featuring a completely different palette than most of the other shows, it felt a little bit more like spring than fall, but I loved the cheerful upbeat vibe nonetheless.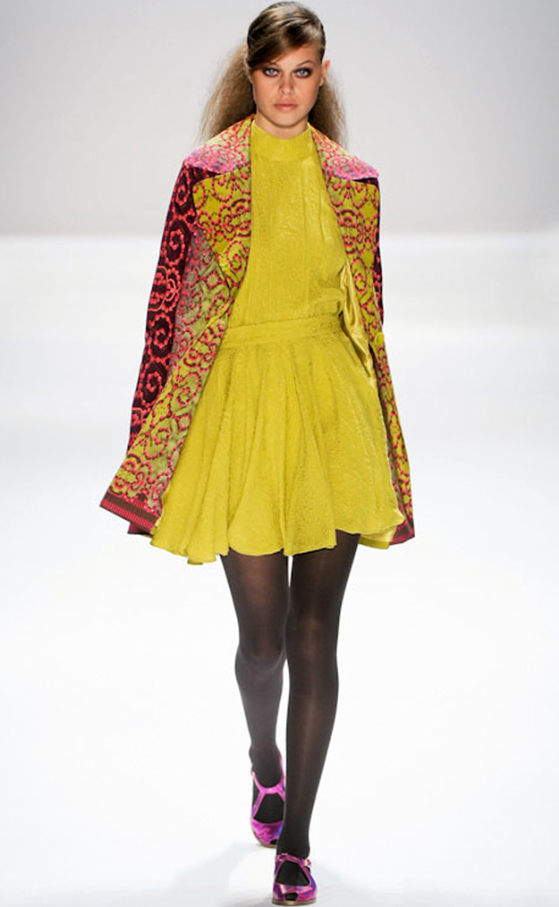 While I normally tend toward more neutral colors and classic lines for fall, I would wear this chartreuse velveteen jacket in a second.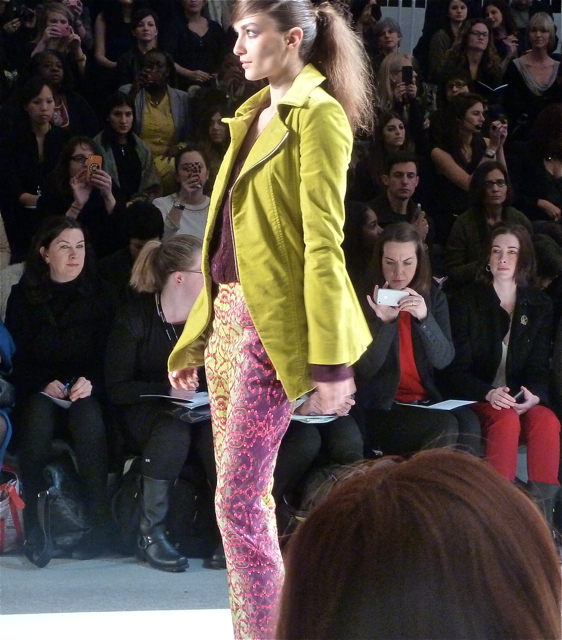 I was happy to see a few more ladylike pieces in this collection including both fashion and accessories.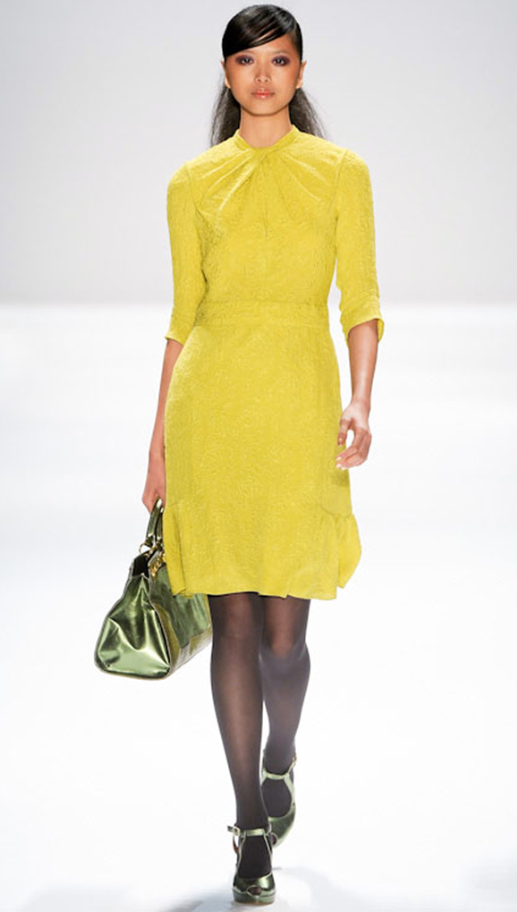 The chartreuse and green was a strong color story. We've seen these as popular colors for interiors this spring. Although I personally find this yellow-y version of chartreuse a tough color to wear, I loved that pretty forest green blazer. And see that hand in the lower left? It's Bill Cunningham – he was sitting right in front of me, with what I'm sure are very different results!!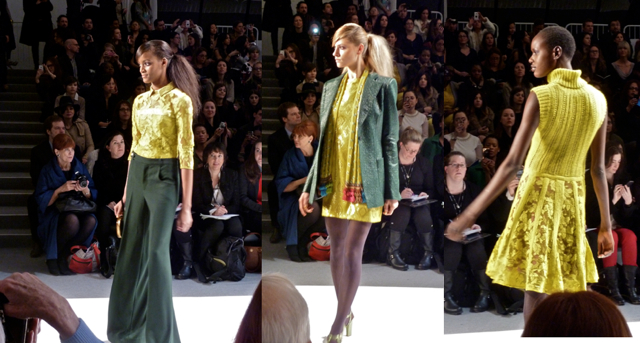 This blue and mulberry mix looks so fresh. The cyan ribbed sweater and lace skirt is a totally winning easy-to-wear day time look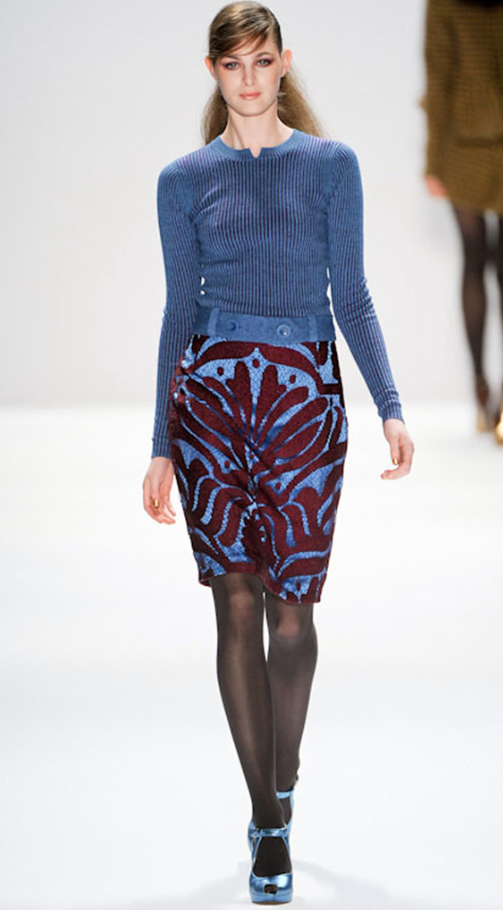 that Lepore extended to a fun coat and dress as well.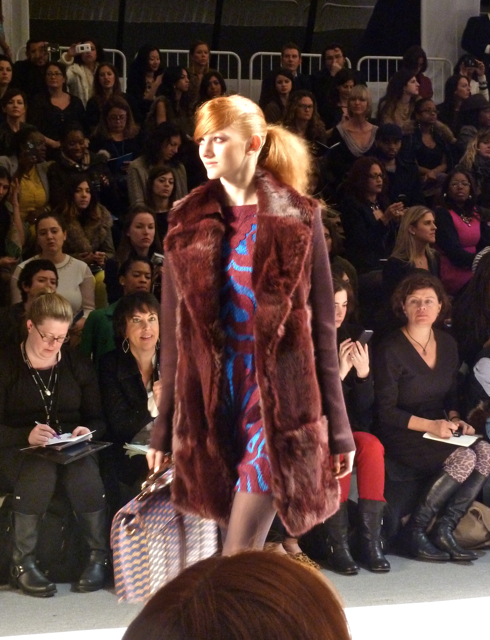 Her tarot prints have a versatile ethnic chic going on.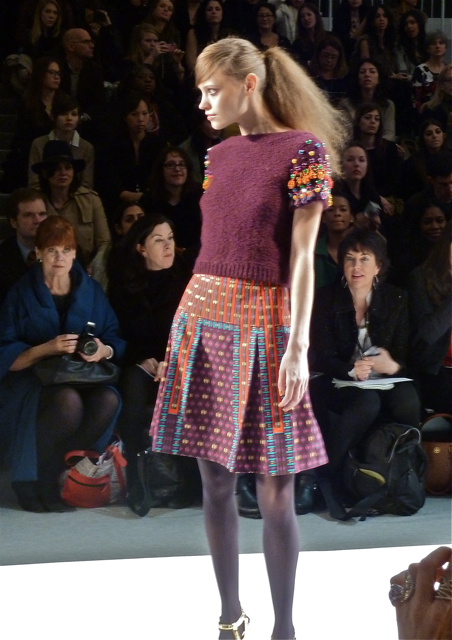 They mix well with the gold trend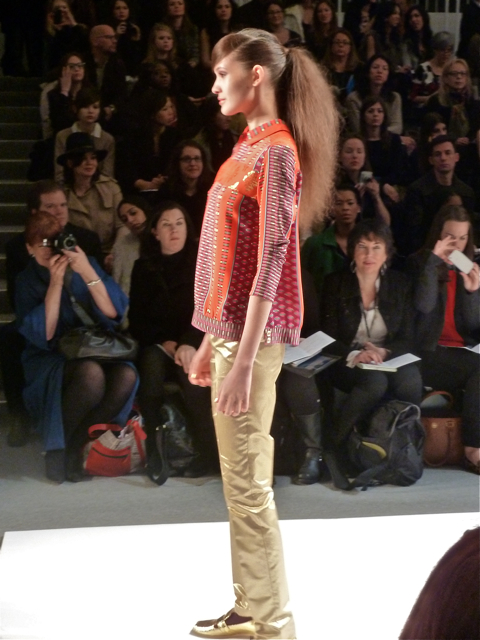 and can be dressed up for a more sophisticated take on BoHo Glam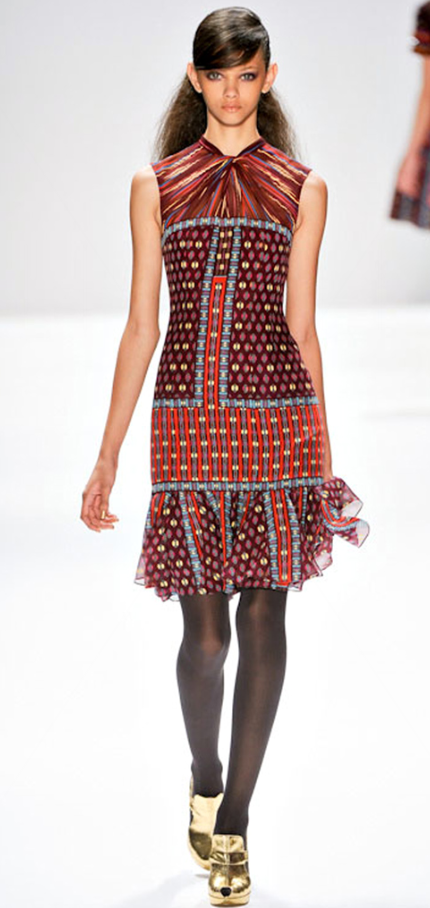 The red we have been seeing around the shows made a strong showing chez Nanette, trending with her prints as an outerwear addition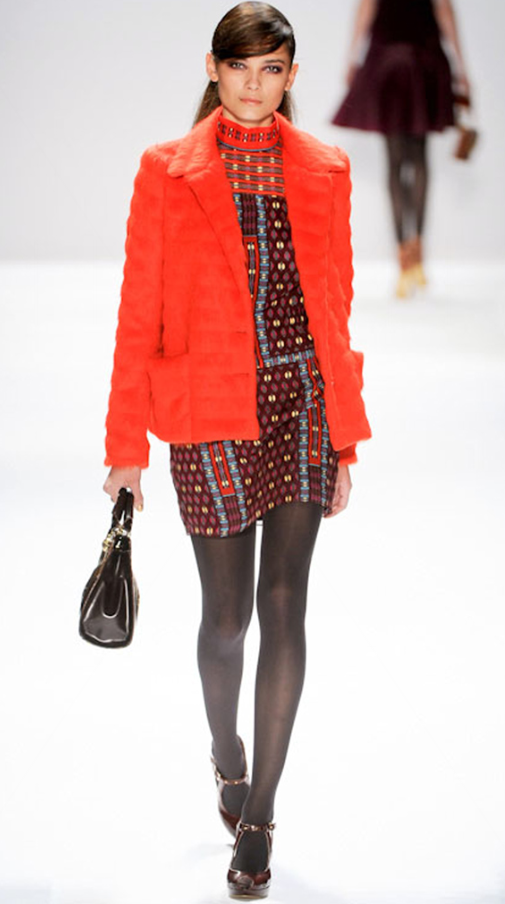 or as a color block section of this pretty dress.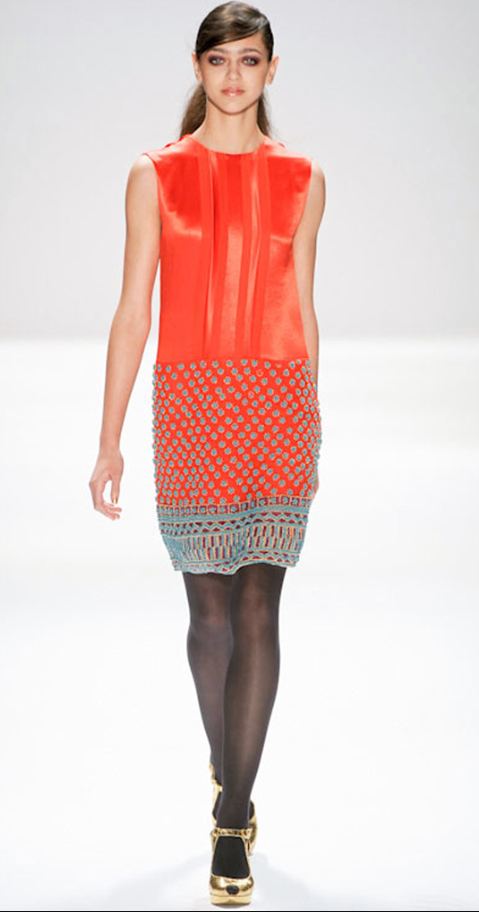 I usually view Lepore's shows with my daughter or young consumer in mind but it was wonderful to see her extending her reach with this collection. With fewer girly frills and some longers hems, I think she'll find a wider group considering these pieces.
As always, Lepore took a quite final wave with her daughter Violet. They are happy for good reason!!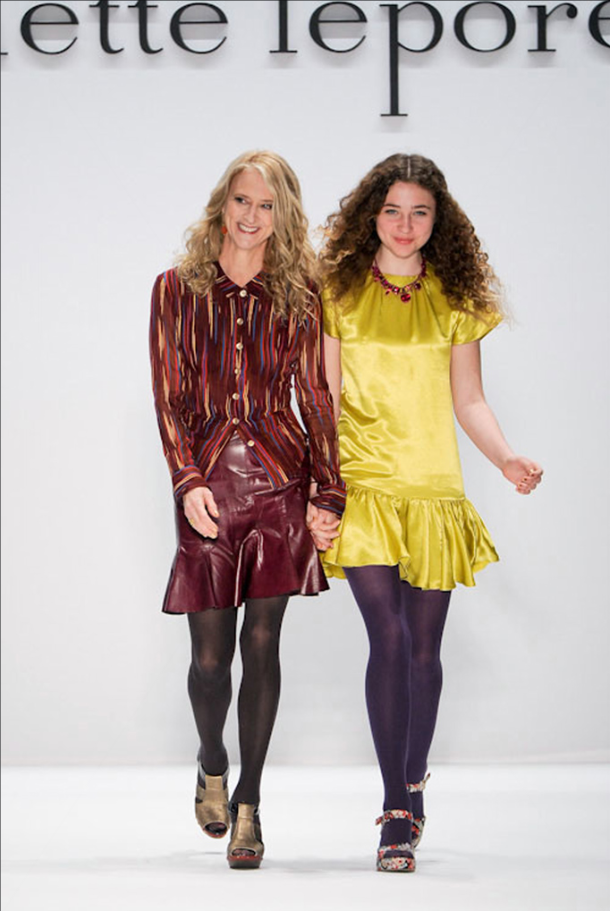 Photos by Q. and Alessandro Viero/GoRunway.com