At Mercedes Benz Fashion Week, Lela Rose frequently cites an artist or, in the case of last season, an architect, as inspiration for her collection. This time round, her muse was poetic installation artist Jim Hodges, whose work focuses on "the duality between lightness and mass, fragility and permanence…and the frailty of the human experience." I love the intellectual component of Rose's work and you can certainly see the translation of Hodges' dichotomies, as expressed in his well known curtain of flowers,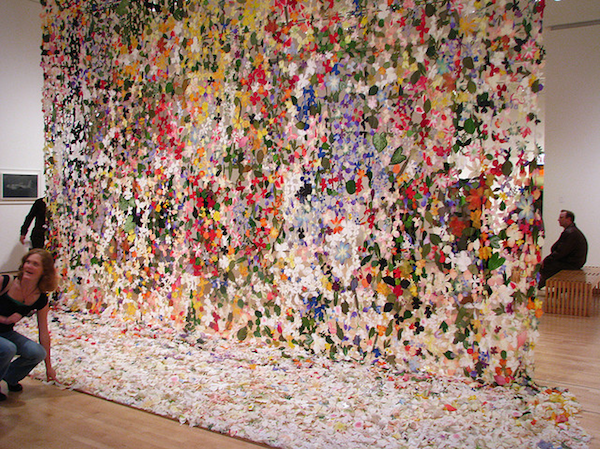 in Rose's floral prints and flowing fabrics, such as this withering landscape organza dress.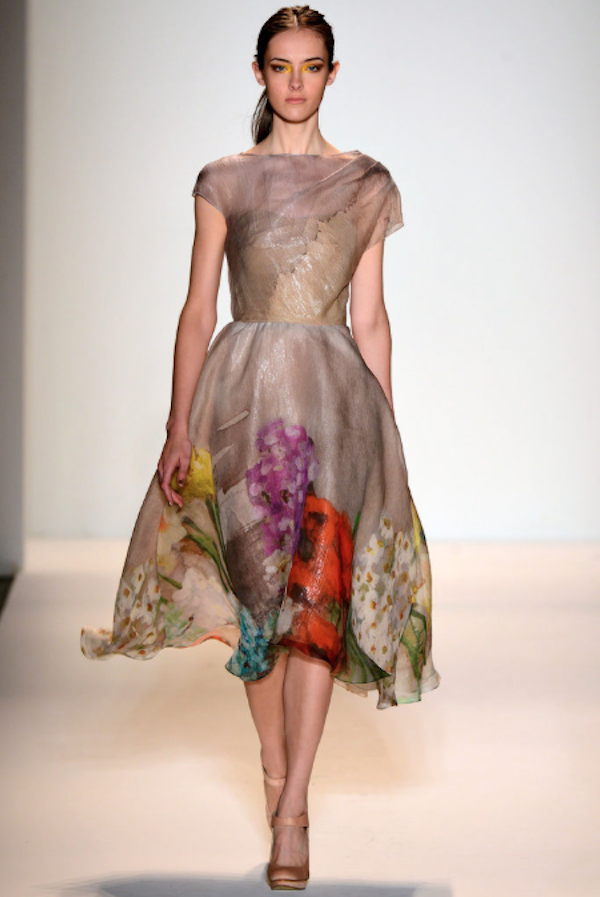 While she interpreted Hodges' woven webs of chain rather literally in some of the pieces, I found the more successful executions were webs expressed in beautiful guipure lace, cut out and reassembled as flattering mirror image silhouettes.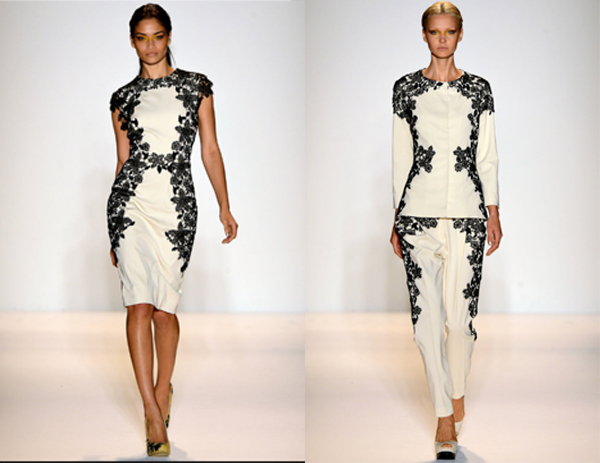 The first half of the collection was comprised mostly of bright tweeds, solid silks and camouflage landscapes, the latter referring to Hodges' abstraction of natural forms.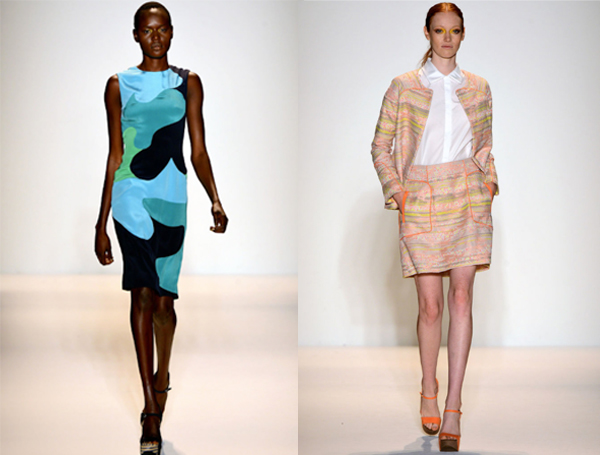 These contrasted with the more serene second half of the show featuring the softer more diaphanous fabrics and more subdued colors. This beautiful floral voile in the middle of the show walked the line between flowing fabric and clearly delineated lines of the seamed bodice, effectively utilizing the negative space of the pattern that I caught in the back view.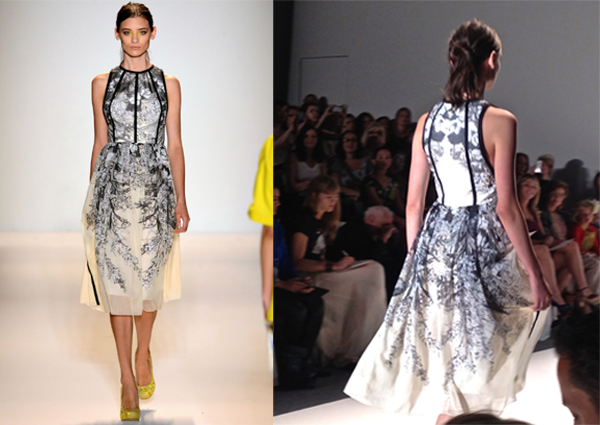 I loved the ethereal combination of materials and workmanship in the nature inspired themes of these two dresses.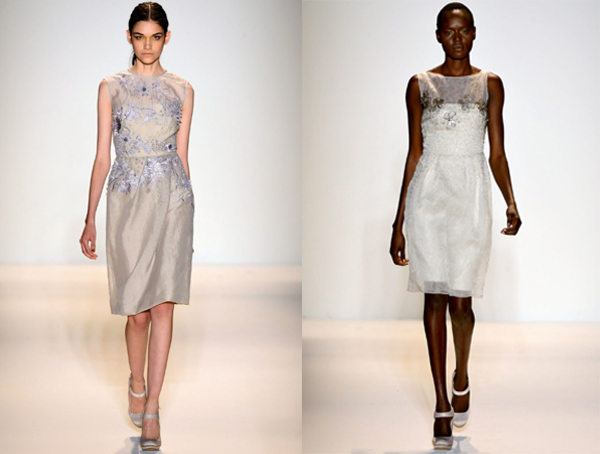 These beautiful embossed and stamped organza gowns captured the elegant flow and drape we are seeing so much of for spring.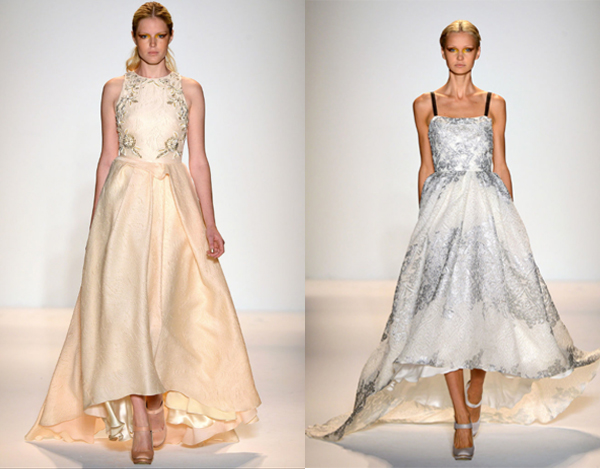 The back views (evidently my specialty) were equally stunning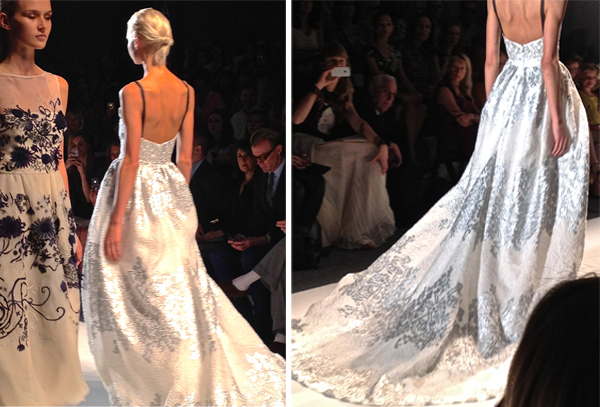 But my favorite of the collection might just be this ink blue etched landscape dress with its full graceful skirt. With exquisite embroidery, feminine flow and elegant yet quietly sexy bodice, it floated like a dream down the runway. I barely remembered to grab my camera for the back view!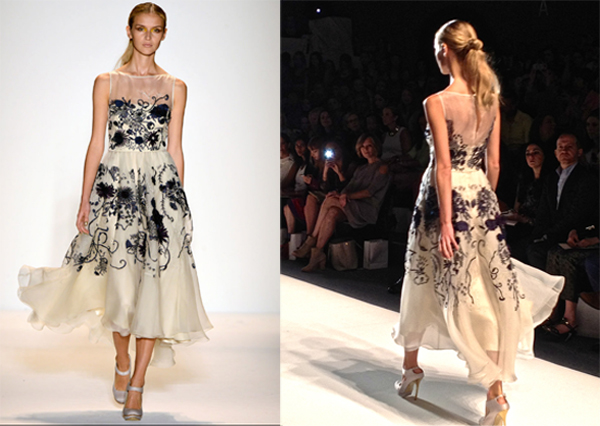 All photos, unless otherwise noted as mine, by Yannis Vlamos/GoRunway.com for Style.com