Irene Neuwirth's statement jewelry has major IT girl appeal. Ever since college when she started dabbling with beaded jewelry as a hobby, people have been drawn to her unique sense of color and proportion. In 2000, with a capsule collection created from a tiny investment, Neuwirth sent her samples to Barney's. They placed a major order and she has been on a sky rocket trajectory ever since. With star studded customers such as Angelina Jolie, Halle Berry, and Reese Witherspoon, Neuwirth has established herself as a major player in the crowded luxury jewelry marketplace.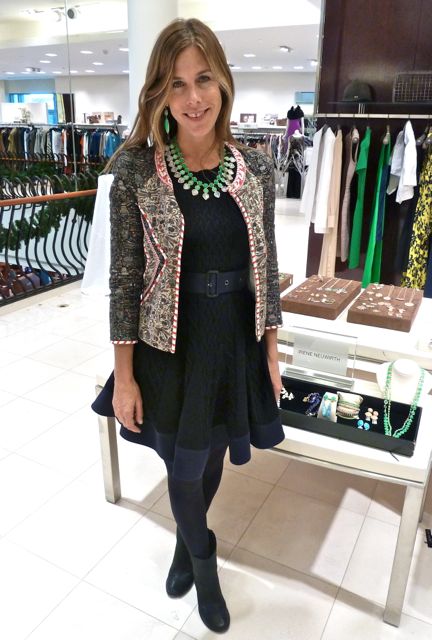 I caught up with Neuwirth a couple weeks ago when she had a trunk show at Richard's in Greenwich, CT who carries her collection. Natural and low key, she is the embodiment of her relaxed luxe style.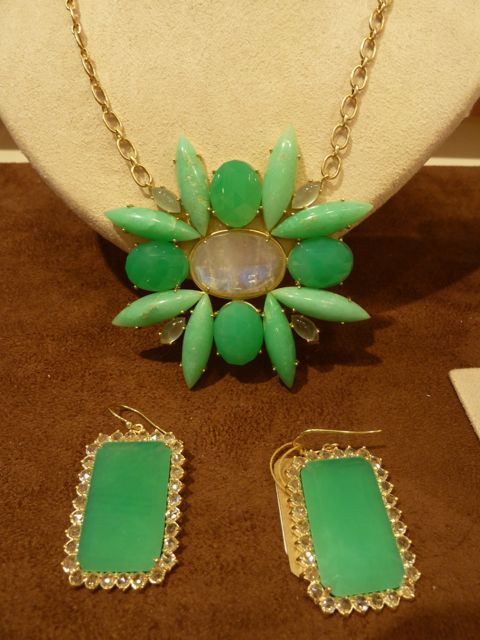 Neuwirth started seriously designing 11 years ago. She had been teaching horseback riding and her parents wanted her to find more stable employment. After landing the Barney's account, she started working with Richard's and Mitchell's about 4 or 5 years ago and is now carried in upscale boutiques around the country. Inspired by her frequent travels, color and nature, Neuwirth uses only untreated natural stones. She launched her one-of-a-kind opal collection in 2008 which has developed into an incredible part of her business.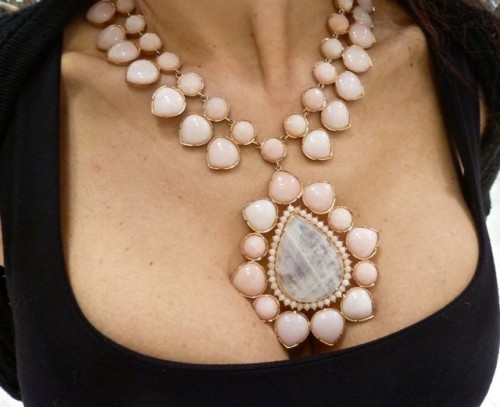 I asked Irene how she segued from making beaded jewelry to a more serious line using gem and semi-precious stones.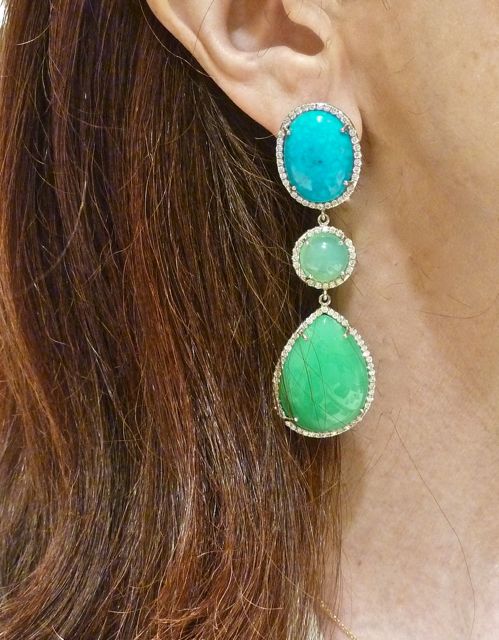 She explained that after Barney's she started working with a GIA professor and learned how to do all the wax carving and metalsmithing. For the first three years, she made everything herself. This mentoring process was important to learn the limitations and what's really possible for when she later started working with manufacturers. She has since developed a signature look that is distinctive and recognizable. The earrings above and necklace below, both of which I thought suited me rather nicely, are perfect examples!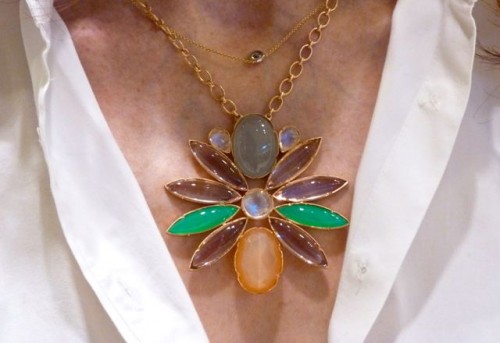 Of course Neuwirth acknowledges she was part of a lucky gene pool – her mother was a talented artist and her father a successful businessman.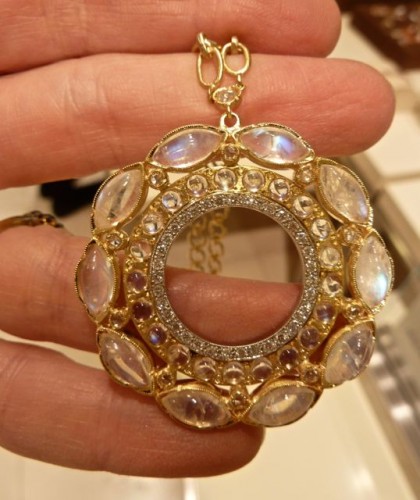 Although Neuwirth no longer makes her jewelry herself, she oversees every single piece at her manufacturer in California. She described her process. It all starts with the stones. After buying rough stones at the gem show in Tucson, she has them custom cut in India into her unusual shapes and sizes. She plays with the stones until she has a sense of what she wants to do and then draws everything out with meticulous exacting detail. A model is first made in silver, altered yet again and then finally caste in gold.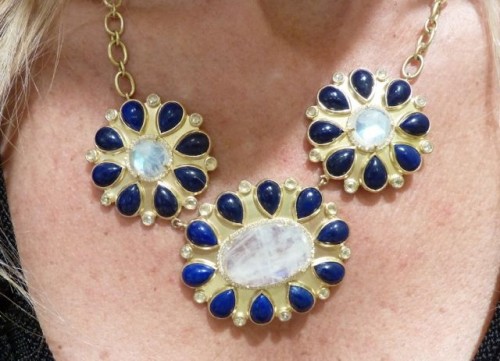 What a long way from crafting beaded jewelry in college! Neuwirth said if she could offer one piece of advice it would be to "go for it." She really knew nothing when she started and gradually made it her business to learn it all. She stresses that you can't wait for the stars to align – there is never that ideal moment when all is perfect. You just have to jump in, start and learn what is needed as you go!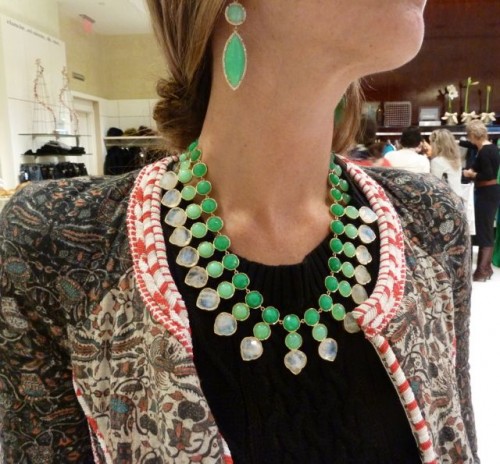 She doesn't organize her pieces for specific price points. She works more aesthetically than practically, creating an entire collection twice a year. She makes what she loves and it just somehow falls into a collection organically.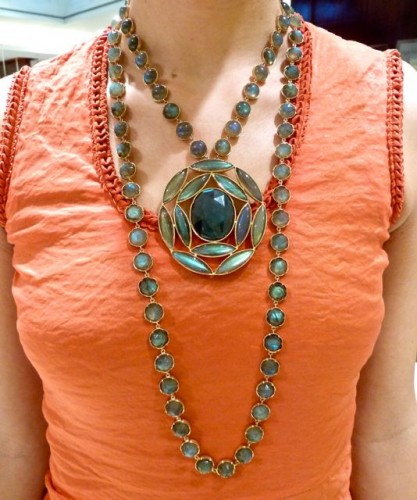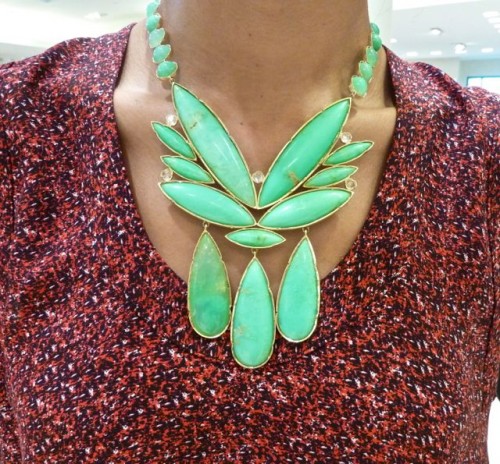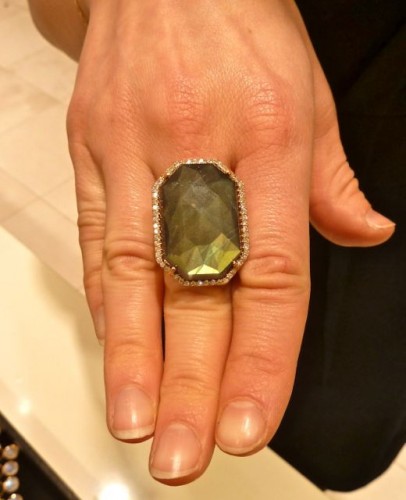 All the beautiful gold chains are hand made.
If Santa is reading, don't you think this beautiful Labradorite and diamond necklace and earrings look just perfect on me? The rose gold is so complementary.
I asked Neuwirth if there were any other creative endeavors she was interested in. Her answer? A luxury home collection encompassing tabletop (china, candlesticks, flatware etc) and fabrics. You heard it here first – I would be on the lookout for the development of the next stage of her luxury brand in the not too distant future.