Monday I ventured down to SoHo to visit the new C Wonder store. Chris Burch is a brilliant marketer and the happy spot brims with bright colors and touch me temptation everywhere you look. But I won't dwell on this venue since so many others have covered it.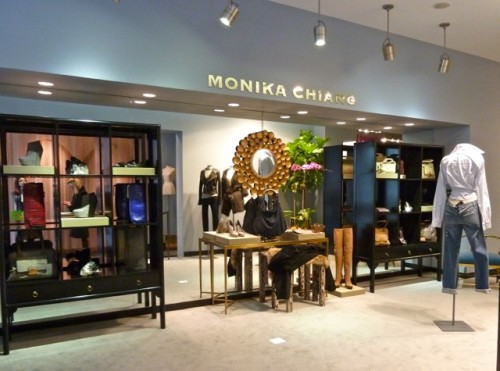 Afterwards we walked across Prince Street to another of the entrepreneur's recent ventures – girlfriend Monika Chiang's preview store. While the designer's permanent digs are being prepared, this temporary location serves to introduce a small collection in advance of the official spring opening. What a different feel from Burch's signature colors that we're accustomed to seeing at ex-wife Tory's emporiums, C Wonder or Poppin. This dark sophisticated lair exuded an edgy trendiness that I didn't think was going to be my cup of tea.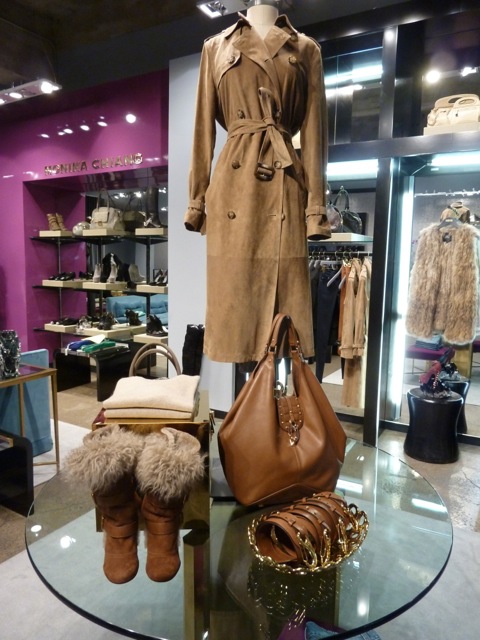 But after perusing the offerings, I realized that although some items featured the thorns, soaring heels and spikes of the late night club crowd, much of the collection actually focussed on updated classics tweaked to walk the line between trendy and timeless. Take for example this good looking camel grouping above. These pieces could go in either direction depending on their pairings.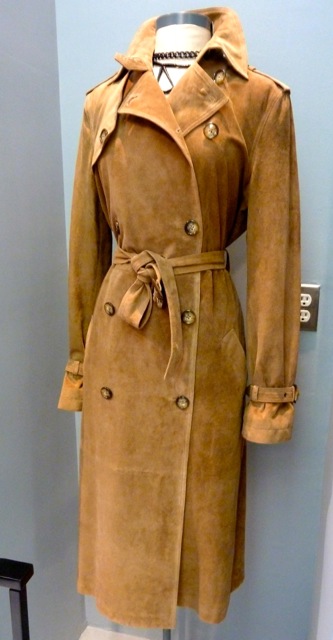 I would wear this suede coat any day (that doesn't include precipitation). Camel just never seems wrong and the slightly oversized silhouette gives it a more modern scale.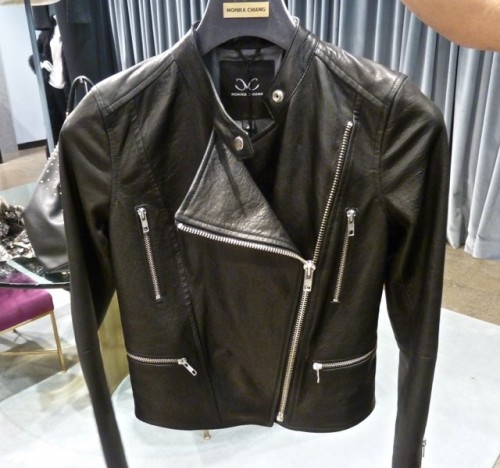 And when you feel like walking a little on the wild side, the leather Moto jacket will give you an edge without pushing you over the precipice.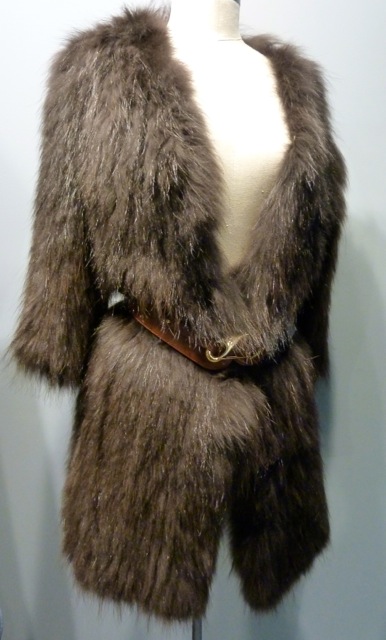 I was surprised at how much I liked the fur collection. These woven pieces are light, easy to wear and add effortless style to any outfit.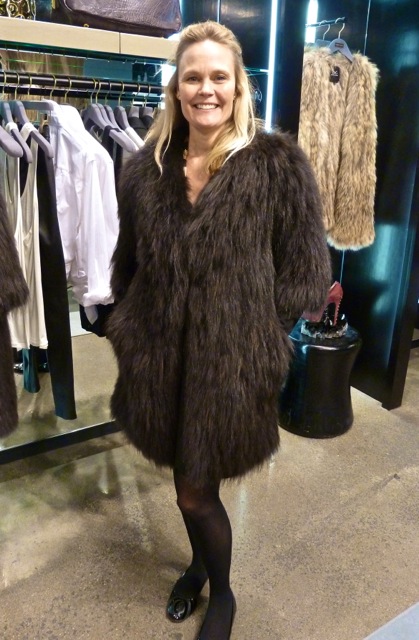 Look how great friend Ridgely Brode looks in it – casual chic at its best.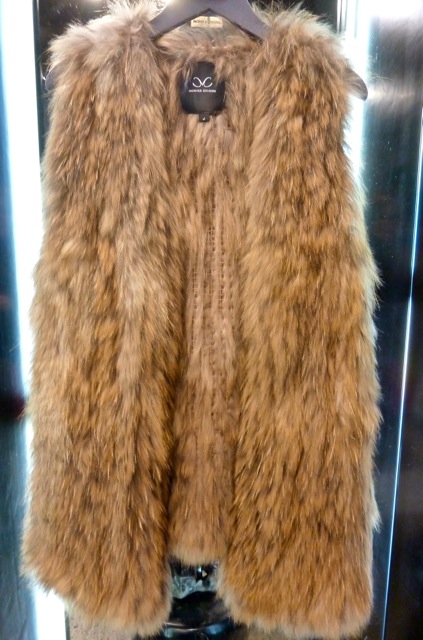 My favorite piece in the ready to wear collection was probably this fur vest. My photo does not do justice to the elegant coloration of the raccoon. A versatile dress me up or down addition to anyone's wardrobe, I was a little sad to return this one to the rack.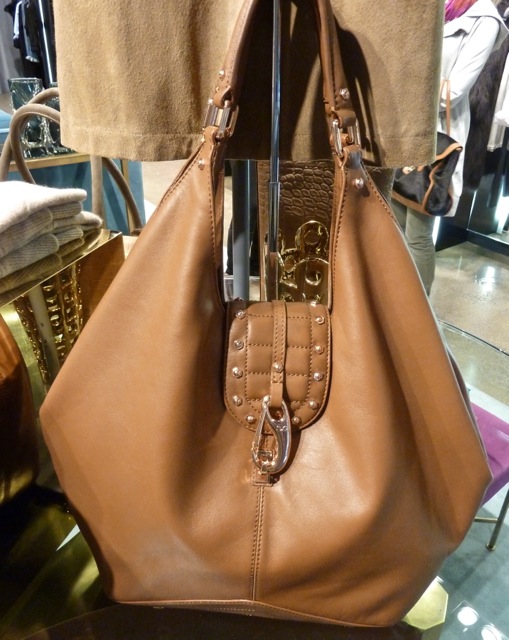 Where Chiang really shines, however, is with her accessories collection. At Tory-esque mid price points, many of the pieces, such as this easy going large Moto bag, are worth consideration. I love her signature closure – it references crossover hardware/equestrian chic.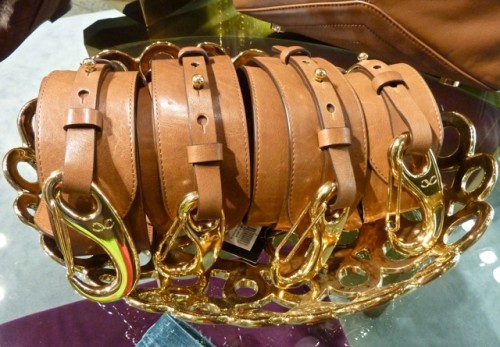 Another successful harnessing :-) of the signature buckle is seen in the Carabiner belt. I tried this on over the fur vest and it was fabulous! I might have to have a conversation with Santa about this versatile accessory.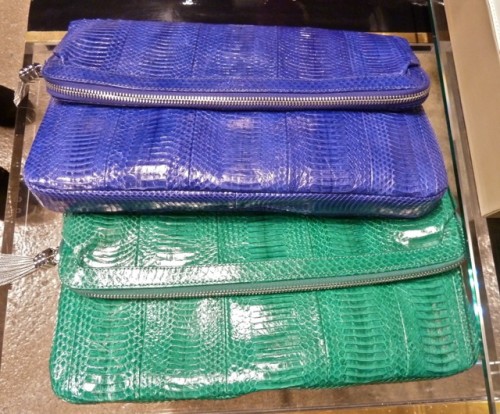 The girls in the store told me that these foldover snake clutches flew out of the space the other night at the opening.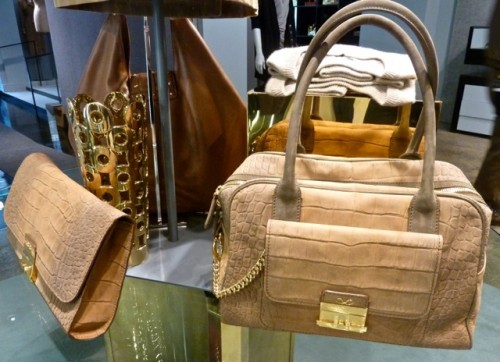 One of favorite clutches was the Matte Croco shown to the left of the satchel. It's a stylish oversized shape that could easily go from conference to cocktails!!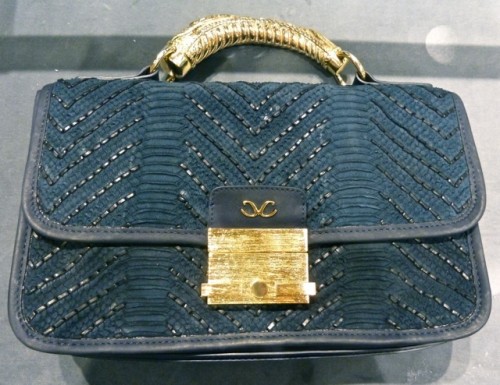 And I loved the navy Raja – glamorous distinctive hardware and a great go-with-everything shade – a navy without red is much more versatile!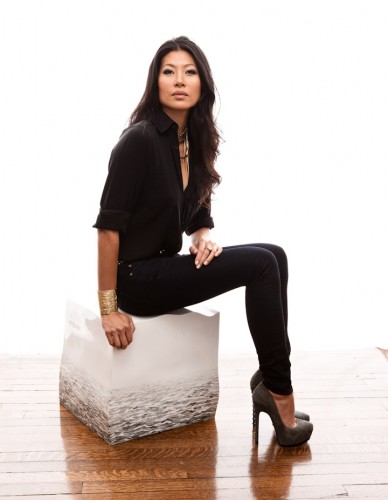 Chiang's accessory line also includes a collection of jewelry. While some of the pieces seem destined for those on Santa's naughty list, her signature cuff, seen here in her official portrait, would be a welcome gift for just about anyone.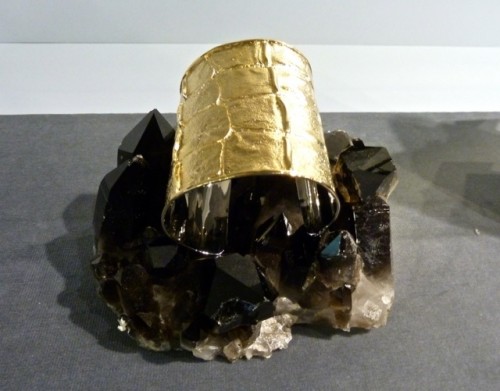 The artisanal croc cuff is a perfect cross of tailored and sexy. Light and comfortable, it's malleable form assures the proper fit for just about any wrist.
I'm looking forward to seeing the full spring collection when the permanent store opens on Spring St. in the new year. While edgier than Tory Burch, this well-priced line is sure to include choices for a variety of tastes and styles. In the meantime there are a few items here that might just make it into my winter wardrobe!!