While you may know crystal maker Saint-Louis  primarily for their elegant glassware and lighting, throughout their distinguished history they have also produced small quantities of exquisite and intricate millefiori paperweights. This specific glass technique is thought to have originated in Roman times and then revitalized by Murano glassmakers. But it was in 1845 that Saint-Louis revived this ancient art and produced their first paperweight ball, continuing production for about 15 years until demand diminished. A century later, as collectors such as Jeanne Lanvin, King Farouk and Colette rediscovered these mini masterpieces, production resumed and since 1970, Saint-Louis has produced limited edition new models every year, each signed, numbered and dated.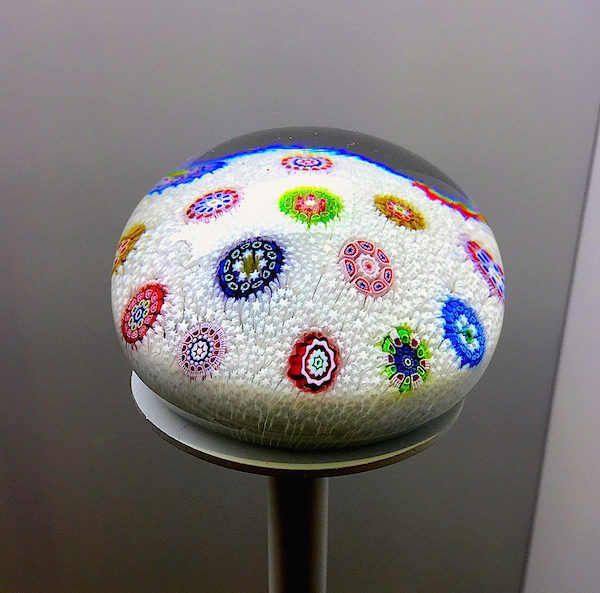 Carefully handcrafted under high heat with blowtorch and fine instruments, elaborate designed are created and assembled. As Jérôme de Lavergnolle, CEO and Chairman of Saint-Louis explains, "Paperweights are the crown jewels of the brand because they condense all of the techniques Saint-Louis is known for into one imaginative piece." You can see the detail in the Bonbons Anglais (English Bonbons) above (from an edition of 250) as colorful crystal candies are placed on a delicate white millefiori carpet.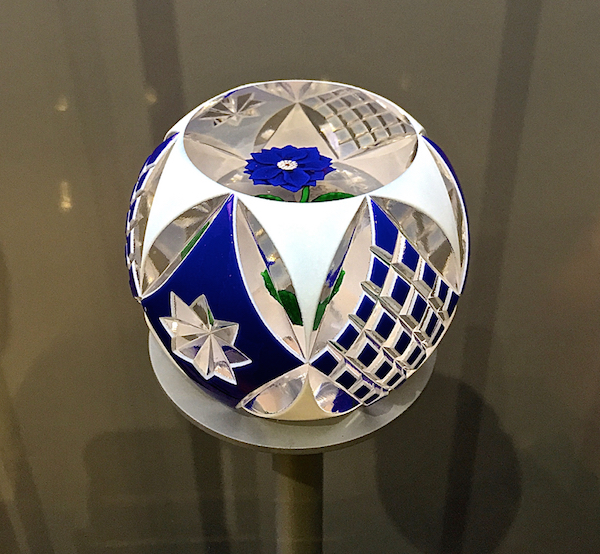 Through January 9, an exhibit of Saint-Louis paperweights is visiting New York City at Galerie Dumonteil on Park Avenue. Including many pieces from the archives, the show demonstrates the incredible creativity and craftsmanship of the house. In the Overlay Alaska paperweight, above, from a series of 150, summer flowers peek through a blanket of snow.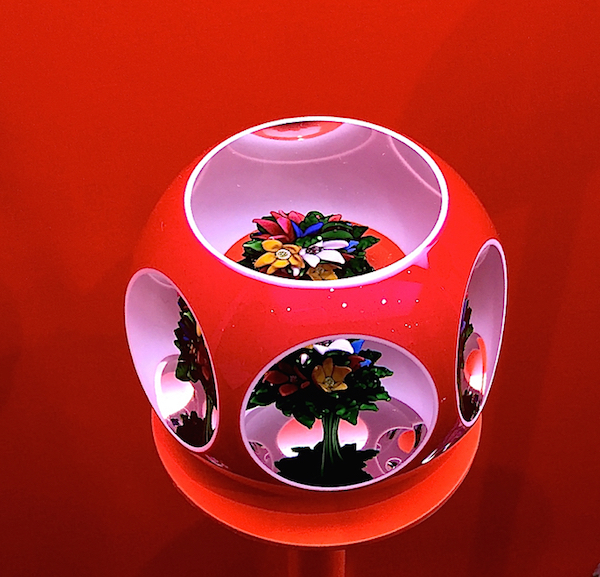 Each is incredibly different, expressing a theme decided on by the glassblower. Above, the Bouquet Dressé (Rising Bouquet) feels almost a little pop art as the multicolor bouquet rises within the crystal ball with a brilliant red glaze overlay.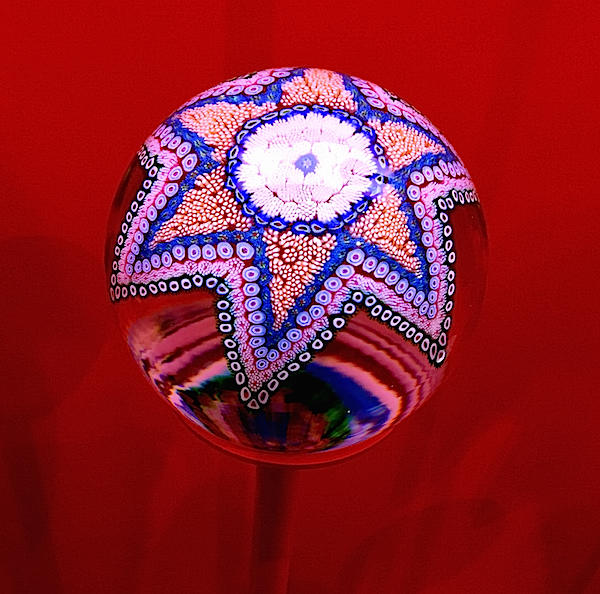 The Mandala paperweight, from this year's edition of 50 pieces, is inspired by Buddhist meditation. The points of the star wrap the crystal ball, created with hundreds of multicolored rods each placed individually with tweezers.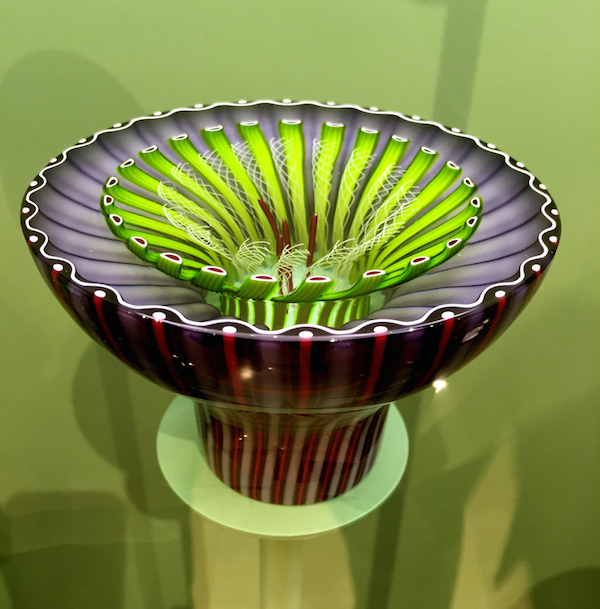 In a more unusual shape, the Notus paperweight, one of 50 pieces, features a vibrant green water flower opening to reveal the intricacies of its pistil within amethyst rods. Representing the south wind in Greek mythology, Notus' flow is captured eternally within its crystalline form.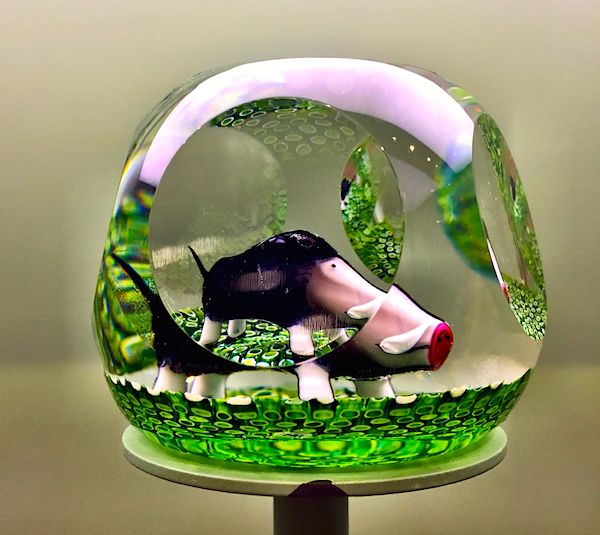 While the flora and fauna of nature is the theme for many of the pieces, the whimsical Marcassin paperweight above is of a baby boar, one of 75. Crafted by blowtorch, the animal stands on a bed of green rods suspended within a ball cut with 5 planes.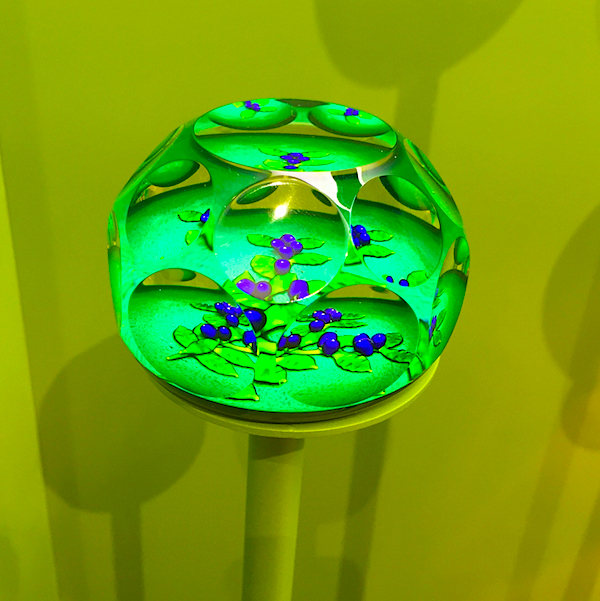 Within a multifaceted crystal ball, bouquets of blueberries, individually created by blowtorch, blossom from a green floor – one of 150 pieces. These are but a few of the many amazing crystal creations featured in this exhibit, including this fall's modern set designed by Martine and Jacki Perrin for their firm Perrin & Perrin. I couldn't capture their artistic presence so you will have to see for yourself. While looking forward, constantly striving to find new innovative techniques for assembling these and other Saint-Louis creations, the workshop is also training artisans to preserve the traditions that are at the heart of the crystallerie's noble heritage.
all photos by Stacey Bewkes for Quintessence