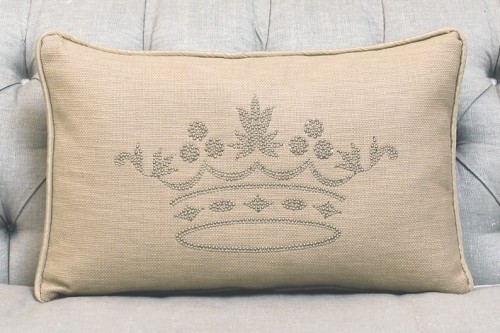 You may have noticed Michelle Hatch's beautiful pillows featured as part of von Hemert Interior's Royal Wedding event.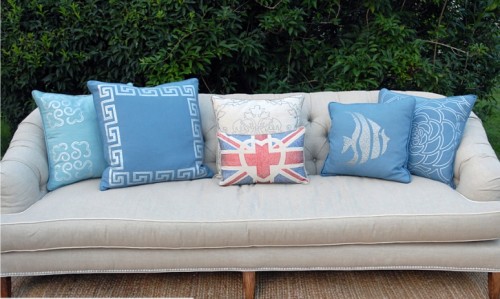 I was so enchanted by them, that I contacted Michelle to find out more about her company and lovely products.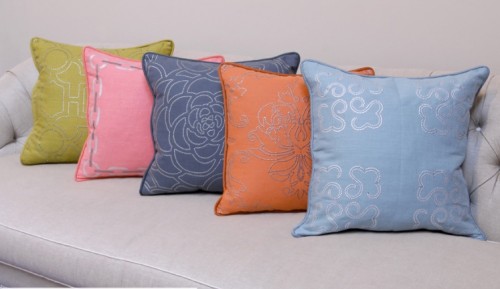 Michelle Hatch has an extensive accessories design pedigree. For 26 years prior to starting this home furnishings endeavor, Hatch was a luxury fashion accessories designer. She lived in Florence for nine years and Milan for six, during which time she designed for Salvatore Ferragamo and Donna Karan, traveling around Italy, Europe, Scandinavia, Asia and South America.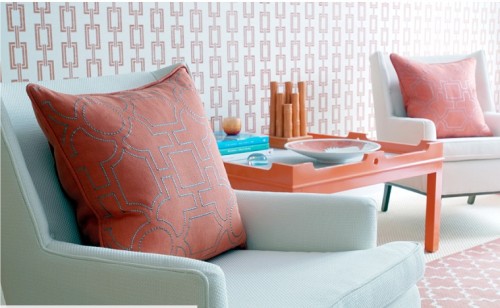 Working with the finest artisans, sourcing materials, components, factories and design inspiration, Hatch had truly amazing experiences. Upon returning to New York, Judith Leiber hoped to retire and recruited Hatch to replace her as creative director. Her Italian experiences came in very handy, since most of Lieber's components were made in Italy. After leaving Judith Leiber, she started a luxury handbag collection, which was distributed through the Neiman Marcus group.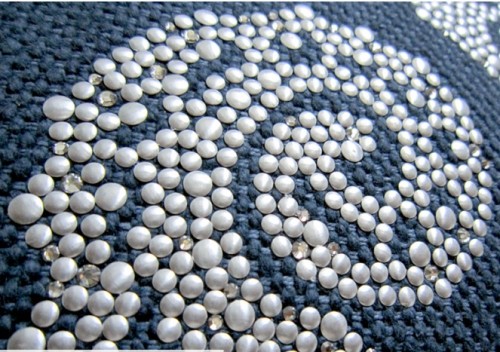 In 2008, Hatch had what she calls a zen moment. While considering her next move professionally, she realized she had everything she needed right there in her studio. She had ideas and leftover metal nailheads & Swarovski crystals from a prior consulting job with St. John Knits. She started playing with them, making a few pillows to give as gifts to close friends and family.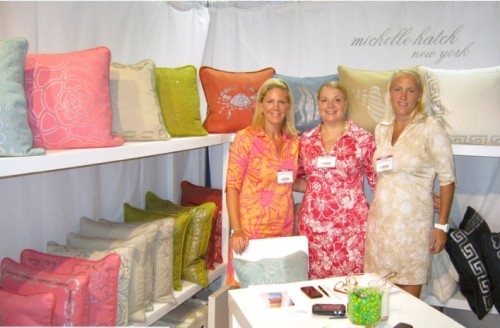 They loved them and encouraged Hatch to consider this as a business.  After visiting the New York Gift Show with her best friend, a very smart & successful interior designer in the Hamptons, they realized there was nothing else like what she was doing. Fast forward 14 months and Hatch has done two New York Gift Shows (see her at one above) and recently the Architectural Digest Home Design Show!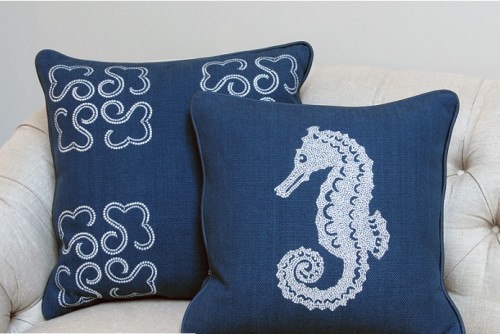 I asked Hatch what her inspiration is and she cited "the endless beauty in nature, architecture and a "city to sand" lifestyle. Streamlined graphic patterns for the city and luxuriously textured sea life for the beach. Rich, warm, cozy colors, refined fabrics and details, all come together with discreet sparkle and shine."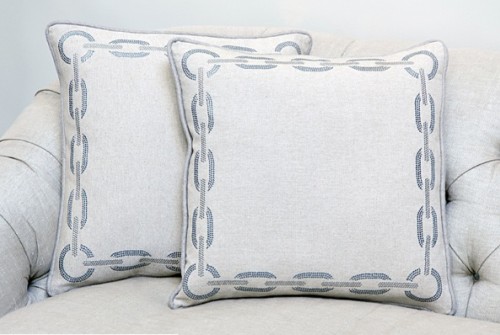 And I am delighted to report that her pillows are all made right here in New York.  After so many years spent traveling the globe, Hatch explains it's a pleasure getting on her bike and riding to the garment center, whether to source fabrics or see her manufacturer. Even the fabrics are made here in the U.S.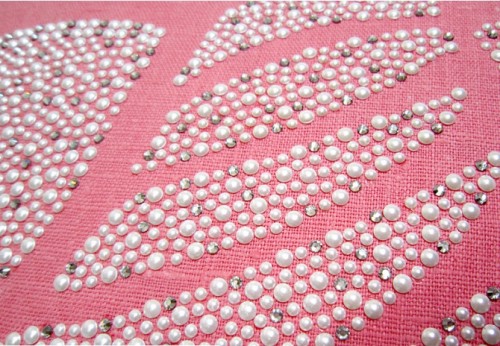 The patterns, which are created in a combination of metal nailheads and Swarovski crystals, or pearl and crystal as above, are all made here.  The pillow inserts are made in Ohio. With the exception of the metal nailheads and Swarovski crystals, it truly is a "Made in the USA" product.  The pillows come in either a beautiful, substantial basketweave cotton, or a classic linen and are trimmed with a matching silk taffeta piping and closed with matching fabric covered buttons. This amazing attention to detail shows in these beautifully crafted products!!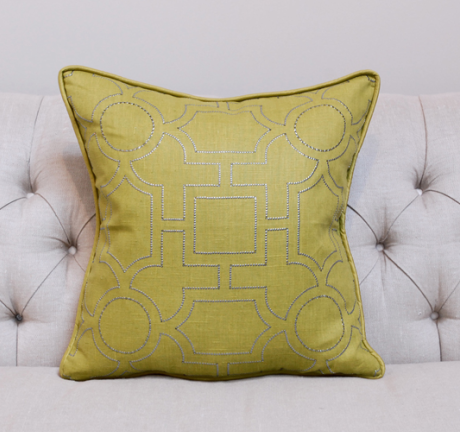 Hatch has already enjoyed working with many designers such as Jennifer Mabley and Austin Handler of Mabley Handler Interiors, Ike Isenhour, The Rockwell Group, Gille Clement of House of Clement, Stephanie Stokes and Beverly Ellsley Design for example. She allows designers to customize pattern, color or detail and finds "they really understand how luxurious and fun the collection is and they inspire new ideas."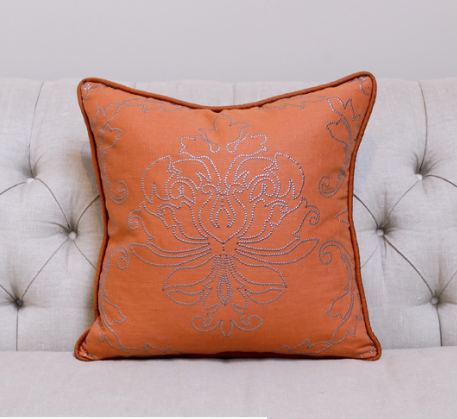 Michelle Hatch pillows are also sold in upscale retail shops such as Mecox Garden (New York, Hamptons, LA), English Country Antiques (Bridgehampton), Lillian August, House of Clement, Plantation in LA, Stephanie Grace in Santa Monica, Thread Count in Miami, Trillium in Lexington, KY AND of course, Von Hemert Interiors! I'm sure that these beautiful and versatile pillows will soon be accessorizing stylish homes everywhere!