I am excited to be reporting from Los Angeles as a Legends Ambassador for one of my favorite annual design events. The La Cienega Design Quarter is hard to beat for its charming array of shops. The participating stores, sponsors, editors, bloggers, not to mention packed schedule of informative events make this a not to be missed extravaganza. And the LCDQ Legends Windows are always an inspiring display of creativity. This year's theme, Novel Interors, Storytelling by Design is right up my alley. For me, it's always all about the story, and the translation of words into visuals is how I spent the majority of my career. I took a quick stroll down the avenue yesterday and and while many of the windows were hard to shoot with the reflections, I managed to capture a few.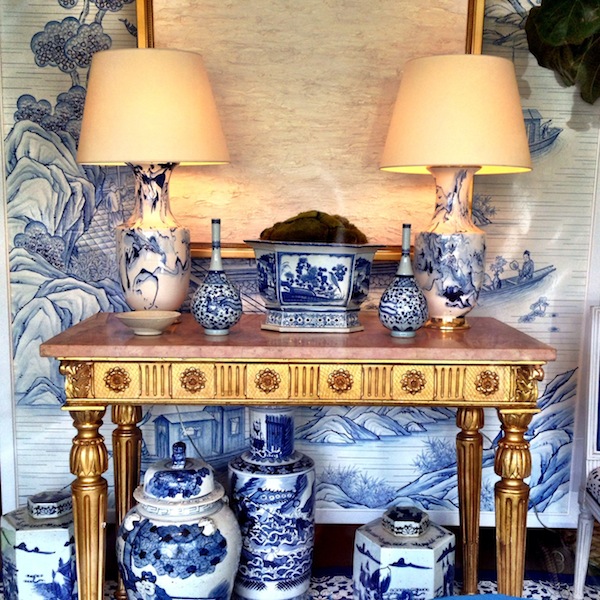 Social media followers of Mark Sikes will be familiar with his #blueandwhiteforever hashtag. The designer's windows for Hollyhock cited Graham Greene's Orient Express with beautiful Asian inspired panels from Gracie, Christopher Spitzmiller marbleized Delft Blue Ming lamps and a selection of antiques and accessories.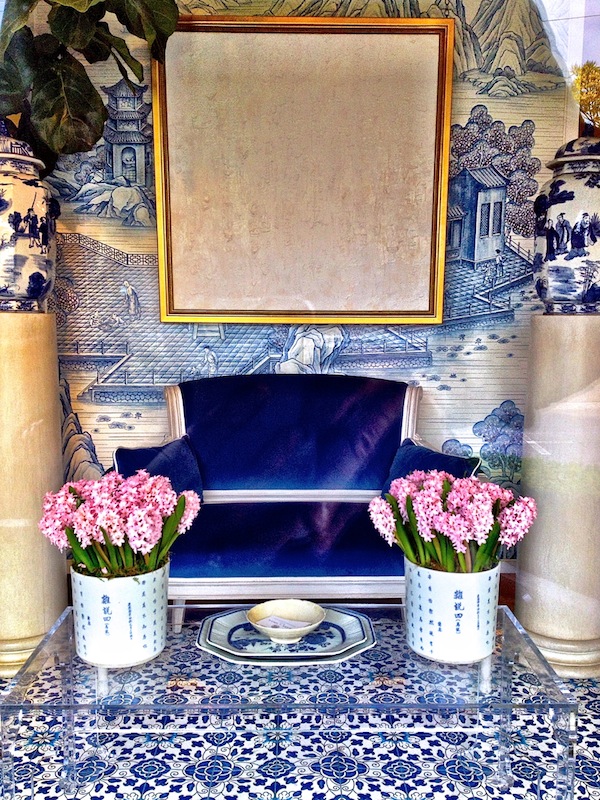 In his second window, above, you can see the clever floorcloth and a Lindsay Cowles painting that adds texture to the refined palette. The side view shows the Louis chairs with Brunchwig's Les Touches and the assortment of ceramics on wall bracket.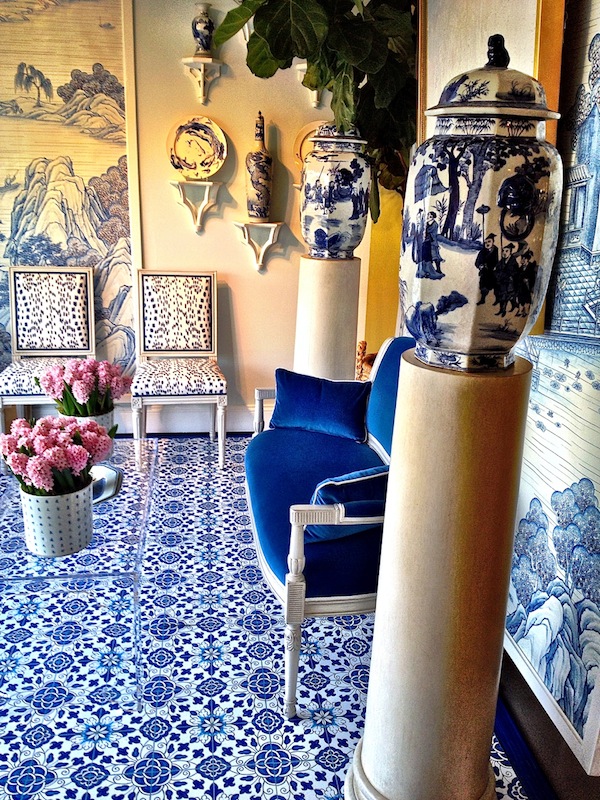 David Kleinberg created his Thieren window based on Edith Wharton's The Custom of the Country. While this is just a snippet, it gives you also a sense of the glorious offerings at the showroom. I'm looking forward to visiting this evening at the 1stDibs sponsored gala.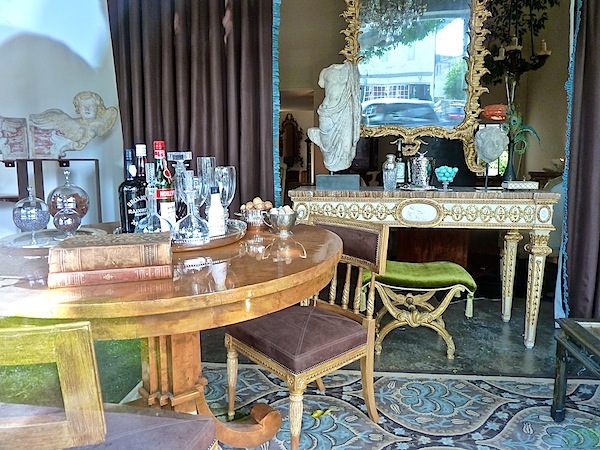 Hemingway is a popular author chosen by the designers and Thomas Callaway's window for Harbinger channeled his classic A Moveable Feast.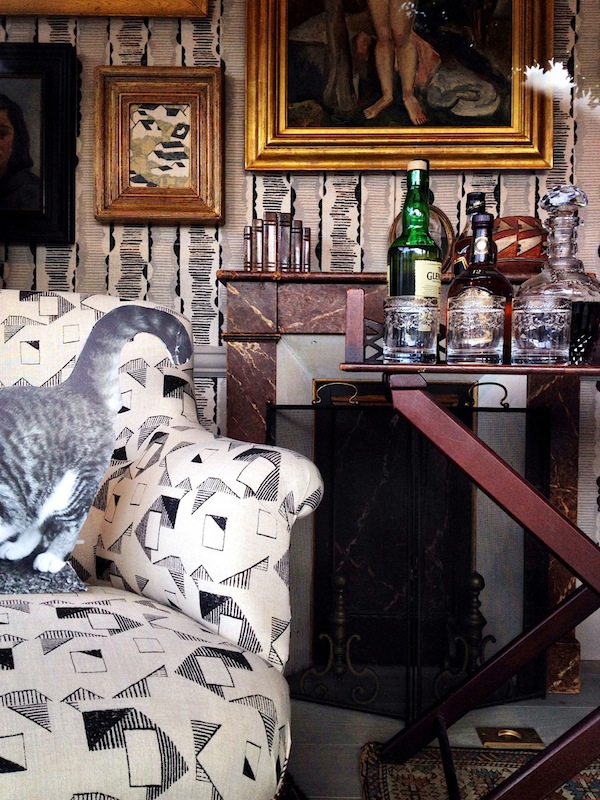 Hayes and Howells chose The Sun Also Rises for their two windows at George Smith, imagining the master at work.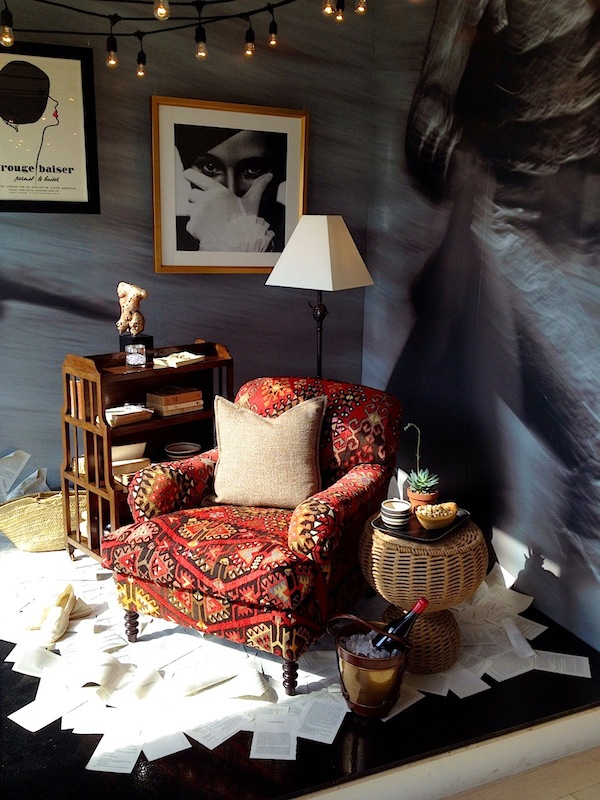 I loved the quote they cited, "All good books are alike in that they are truer than if they had really happened and after you are finished reading one you will feel that all that happened to you and afterwards it all belongs to you; the good and the bad, the ecstasy, the remorse and sorrow, the peopel and the places and how the weather was."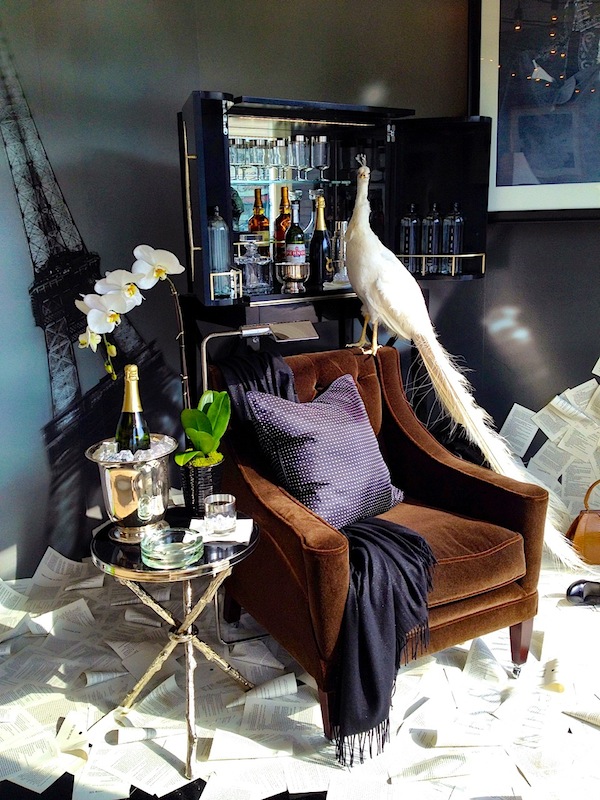 Designer Catherine Kwong evoked Mrs. Dalloway in the other George Smith windows. "A nod to Geroge Smith's British heritage, the selection of Virginia Woolf's 'Mrs. Dalloway' proved to e a rich source of inspiration. The window design was inspired by the novel's iconic opening sentence, "Mrs. Dalloway said she would by the flowers herself."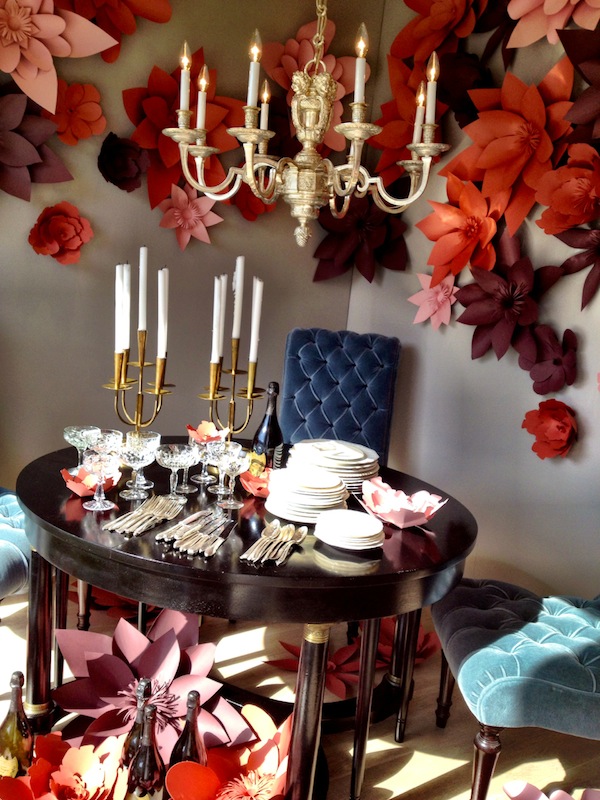 I loved the fabulous wall treatment in Kylee Shintaffer's whimsical Frog & Toad window for Ralf's Antiques.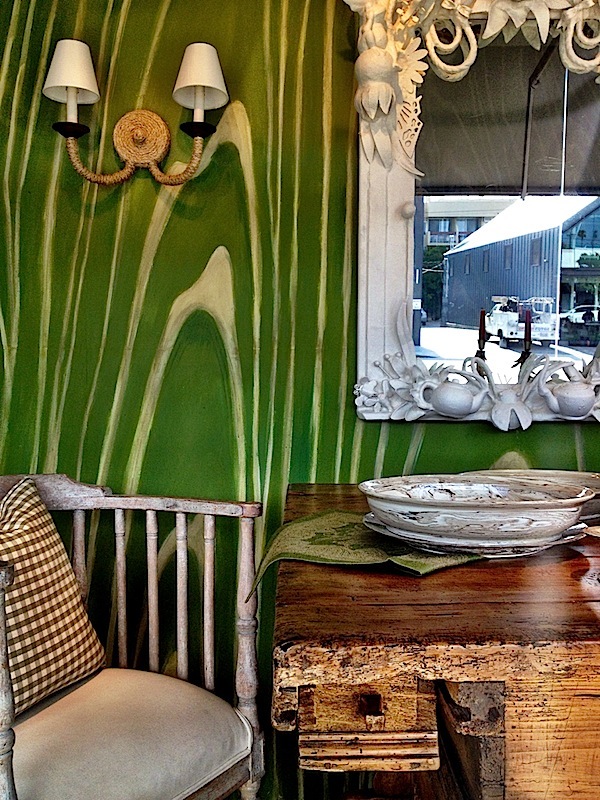 E.M. Forster's Passage to India was the inspiration behind Kohler Global Creative Director Tristan Butterfield's exotic windows for Scalamandré. I didn't even realize that their classic le Tigre was available in that luscious pink.
No, this photo is not crooked. Jackson Paige just did an amazing job capturing the sense of being at sea in Virginia Woolf"s The Voyage Out for JD Staron.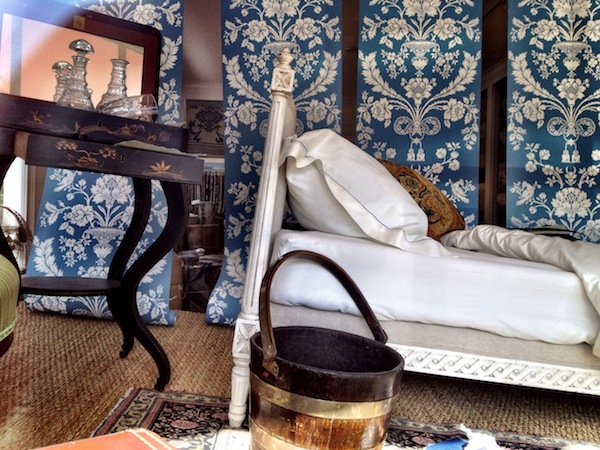 It's a beautiful layering of fabrics and color so appropriate for Virginia Woolf's novel in which we are introduced to the legendary Clarissa Dalloway.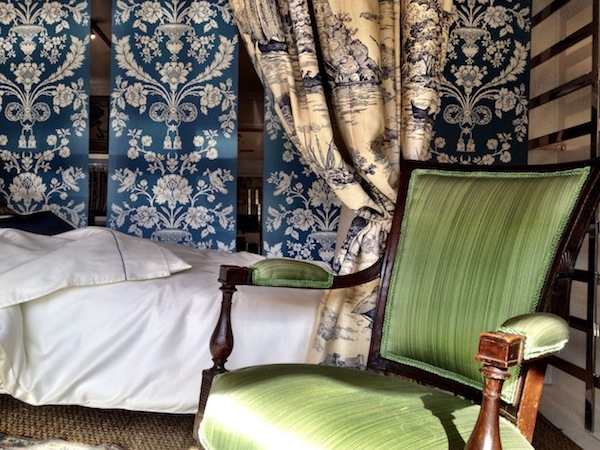 The 1970's Parisian rivalry between fashion giants Yves Saint Laurent and Karl Lagerfield, chronicled in The Beautiful Fall, is the inspiration behind Cliff Fong's chic window for Dragonette.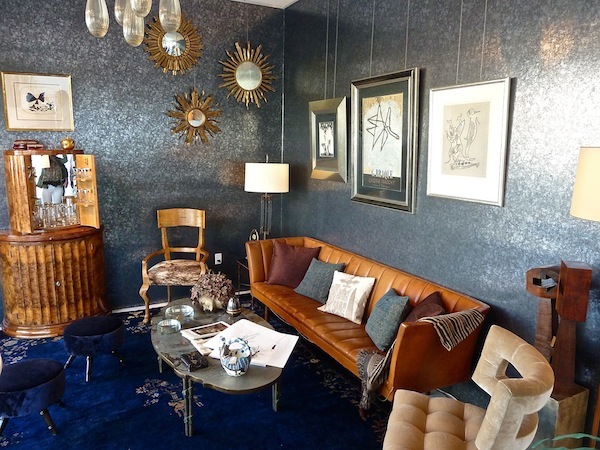 Harte Brownlee & Associates did a very clover job emulating the main character from HG Wells' The Invisible Man for Mecox.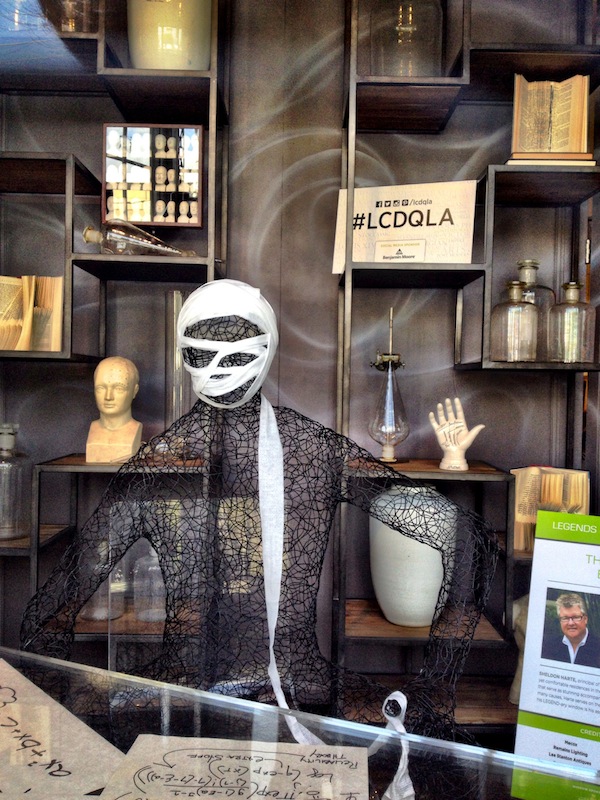 I loved the disarming simplicity of Madeline Stuart's window for Compas. Less is more could not be more charming in her Harold and the Purple Crayon design.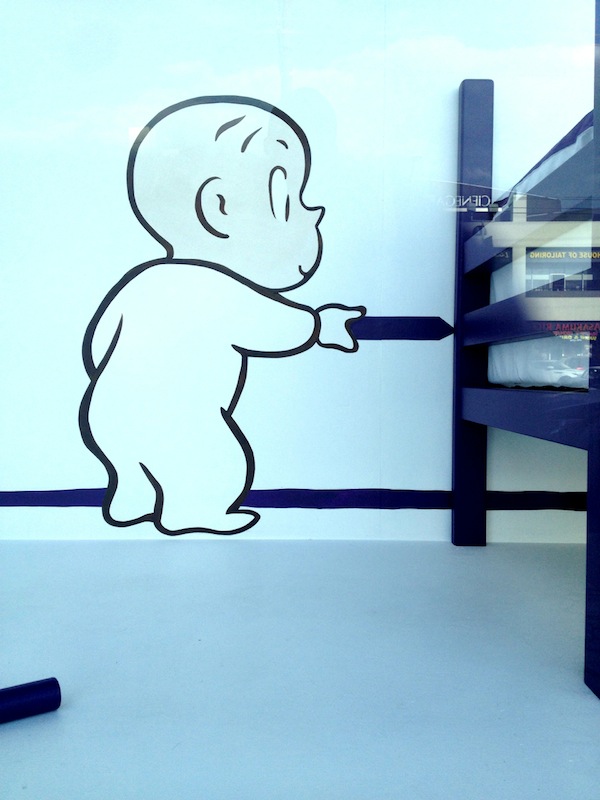 Be sure to follow along on twitter and instagram for more from La Cienega Designer Quarter's Legends now through Friday!