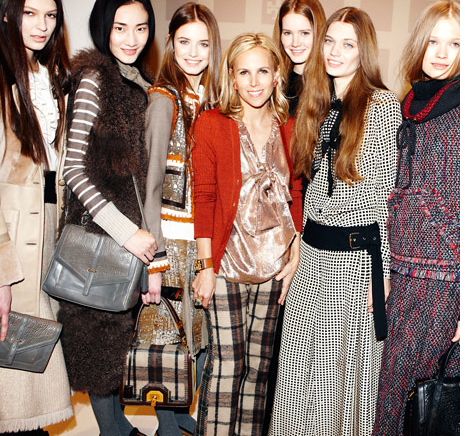 Tory Burch didn't do a runway show but rather a presentation that circled around the catwalk with pauses for people to get a better peek and take shots. But it all proceeded at a rather clipped pace so it was a good thing that they repeated the procession several times for people either coming and going out of the very crowded studio or staying for multiple viewings like me. Burch described her collection thus – "Fall is inspired by the play of American sportswear and English country dressing – outdoorsy feminine and textured."

There were indeed many plaid and tweed pieces, mixed with a variety of textures and colors as above. As usual, lots of wearable separates were offered with infinite mix and match potential. Silhouettes were decidedly longer with a slight retro 70s vibe. I feel like I had something along these lines in my closet back then. It's an easy comfortable look allowing for many different stylistic interpretations depending on what direction you want to take it – from Boho chic to casually elegant or anywhere in between.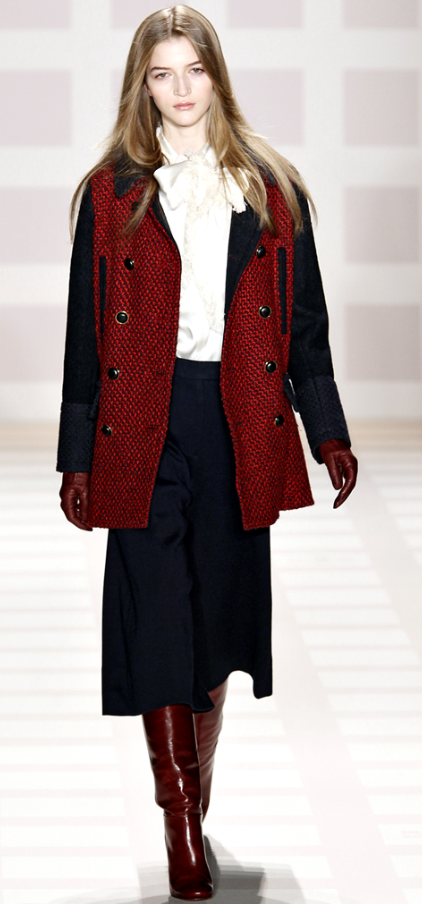 This reminded me of those classic YSL velvet suits with jabot blouses.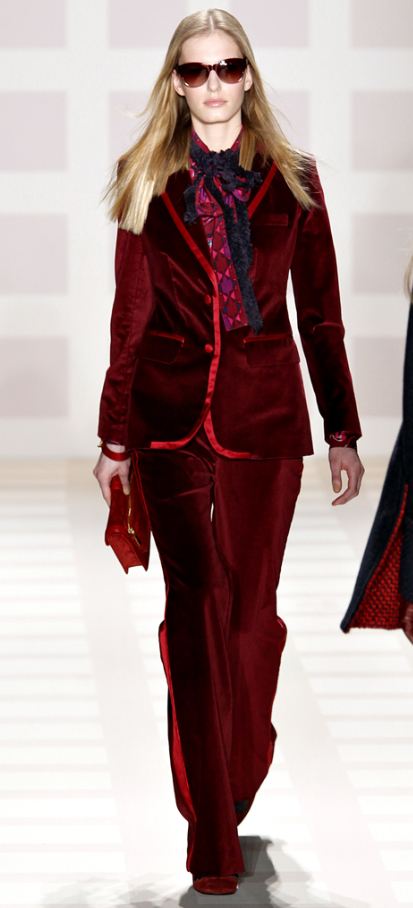 As with the other collections I've covered, there was a wonderful variety of layering opportunities with great jackets, vests and coats that mixed a variety of materials. Witness this fabulous patterned collaboration of plaid, leather and fur. Take it apart and wear any of the items with what you already have in your wardrobe. And this is the commercial genius of Tory Burch – stylish, practical, wearable and affordable!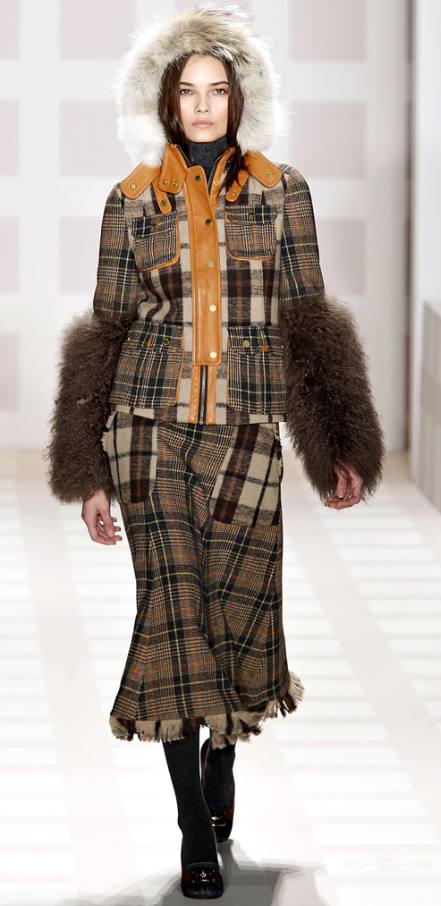 Same skirt with a fabulous shearling vest and silk blouse.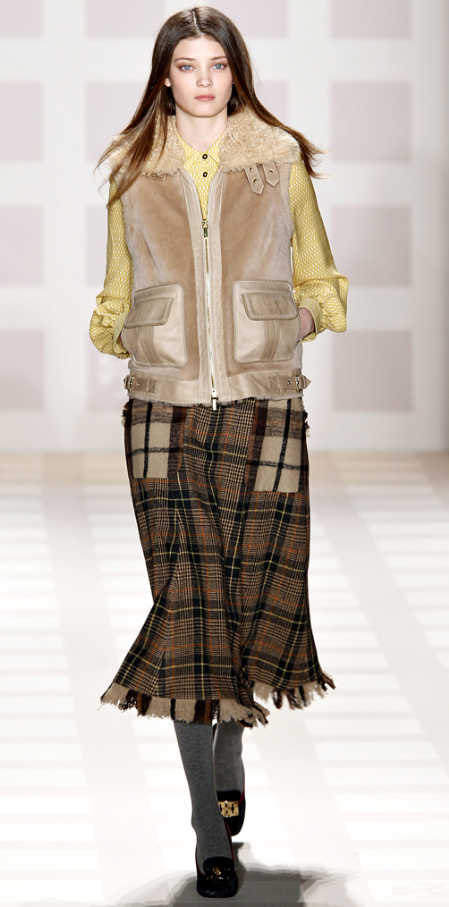 Another great shearling piece.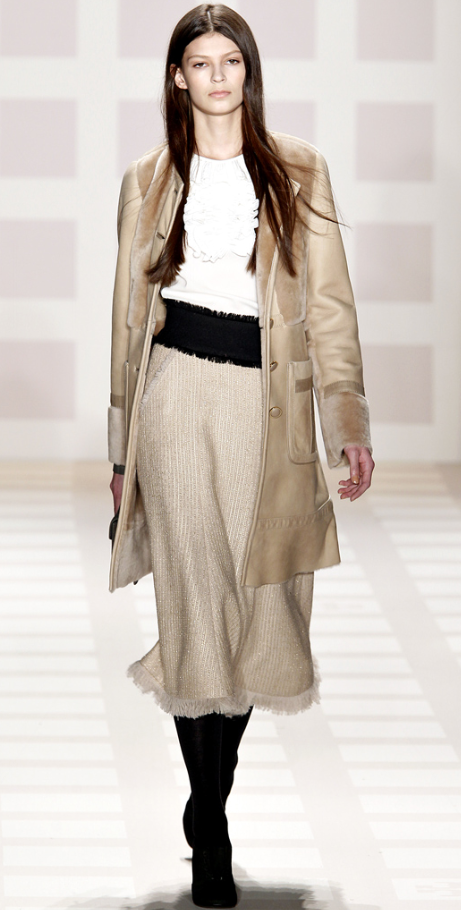 And for those of you who don't like so much pattern, don't worry – there are things for you like the neutral look above or this fabulous black outfit, capturing the essence of the collection with proportion, texture and mix of materials. I may have to have the trapper hat – one of the best I've seen.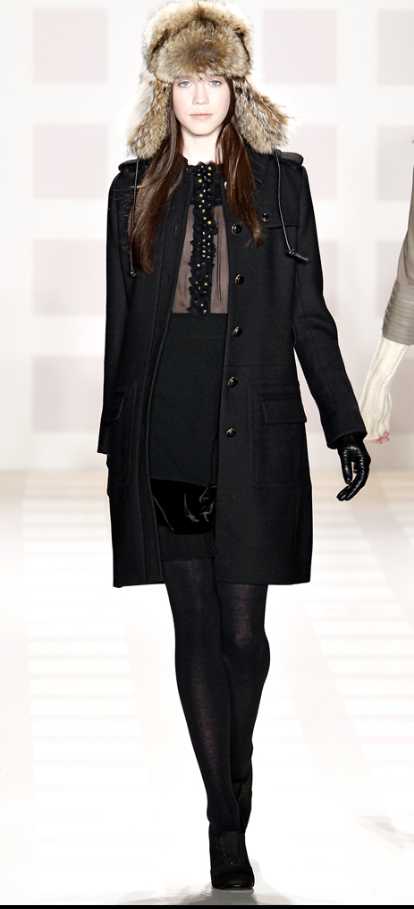 And although I'm not a huge fan of the lace, the long maribou vest is a knock out!! Wear it with absolutely everything!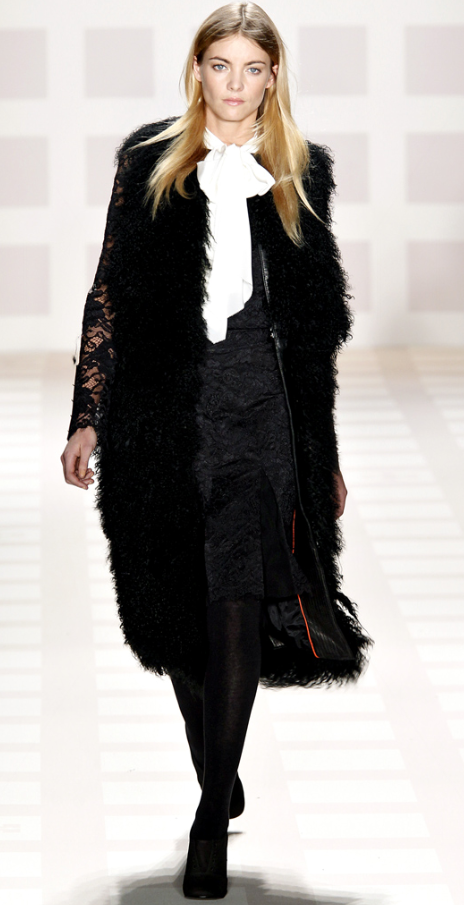 The stars of the collection, however, were the beautiful pleated palazzo pants. You of shorter stature will have to be careful with this look but the tall girls out there will find that a pair of these could be an indispensable addition to your wardrobe- dress them up or down, with tweed and plaid for day or silk for easy evening out or holiday party at home. Wide is definitely the word for pants this fall.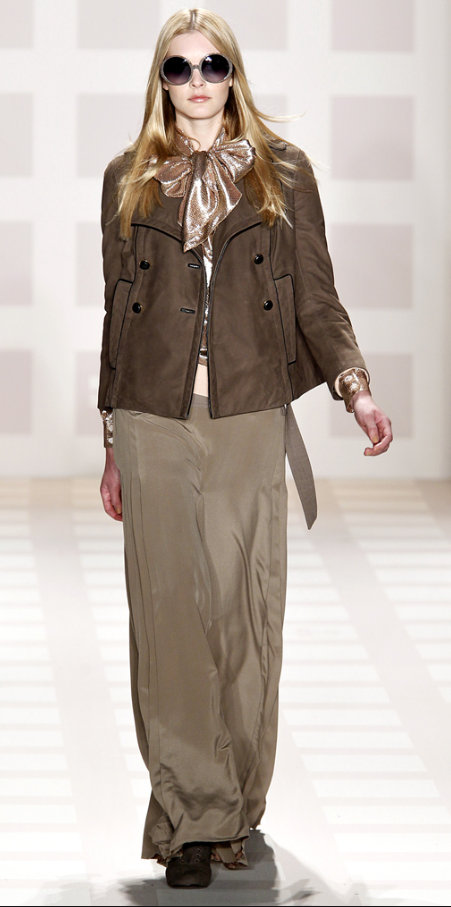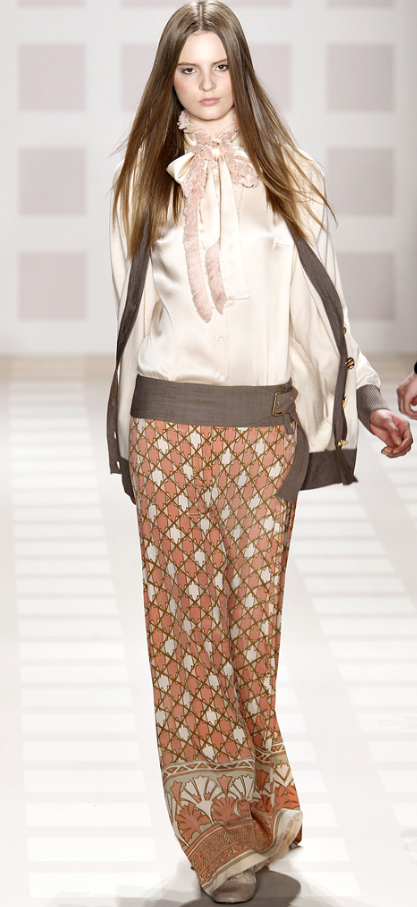 Photos: Alessandro Garofalo/GoRunway.com
And of course, lest I forget to mention, there was the usual Tory array of terrific shoes, boots and bags with a few new shapes and styles.
So does this collection have the exquisite tailored vision of Derek Lam or the elegant flowing feminine appeal shown at Lela Rose? No, but does it offer versatile, stylish, affordable pieces that almost everyone can find a place for in their wardrobe? You bet!