While researching my pink post yesterday, I wandered over to Dior to see what they had to offer. I was so amazed with everything, that I had to post about it. Much of the Dior jewelry is unrestrainedly fantastical. It is the stunning work of creative director Victoire de Castellane, with whom you may already be familiar for her devil may care attitude on the Parisian social scene.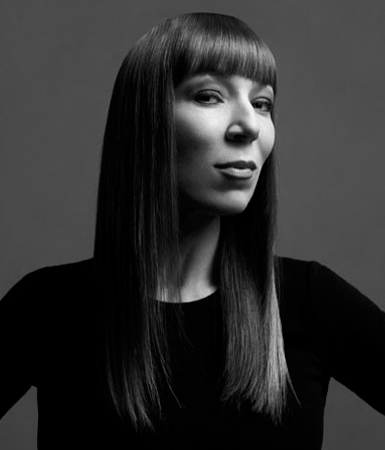 She was brought to Dior's Haute Joaillerie department in 1998 after fourteen years designing costume jewelry at Chanel. Since then, she has continued to create the most inventive collections that range from elite sophistication to childlike wonder. Although she is respectful of the house of Dior, she intentionally brings her own style into play to shake things up. "It's not because it's real that it has to be boring" explains Castellane.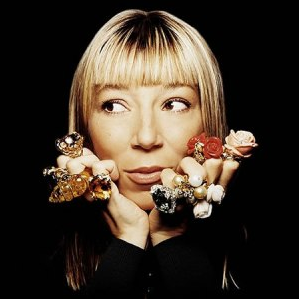 Castellane grew up in an aristocratic family in Paris where she was groomed by her grandmother Sylvia Hennessy and friend Barbara Hutton, known for their enormous jewelry and extravagant ways. By the age of five, Castellane had made her first pair of earrings and by twelve her first ring, fashioned from her religious medals which she had melted down (mother was none too pleased). She gravitates towards color – "I love coloured stones. They are like sweets. I feel I can taste them" which she combines in incredibly daring ways. From nature's wonders, to American cartoons from the 1950s to Japanese figurines and Bollywood, Castellane's inspirations are boundless.
Everything starts from a sketch on a Post-it note. But don't let her unconventional attitudes and over the top designs fool you. She is a stickler when it comes to quality. She insists that all pieces be hand-made in specific Parisian ateliers and production can take up to two years. If you ever wondered why some jewelry like this is so astronomically expensive, take a gander here.
For Castellane, every collection has to tell a story. Her very first collection recalled Dior's garden at Milly-La-Foret. It includes everything from charming rings with bees and flowers to extravagant jewel encrusted pieces intertwined with lacquer.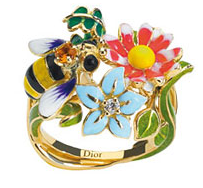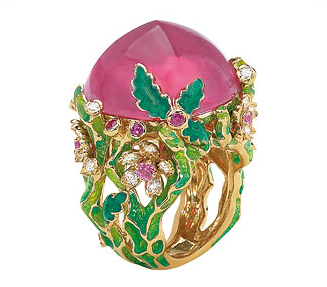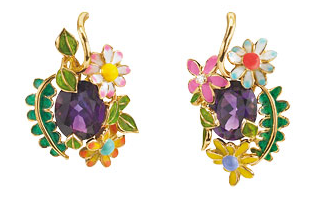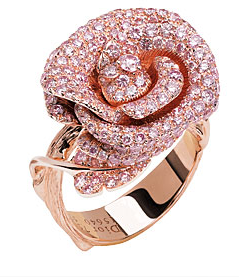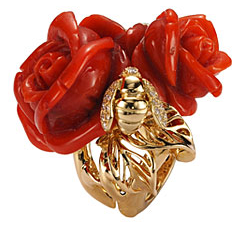 The Milly Carnivora collection, featured in the video, is inspired by Castellane's imaginary Belladone Island, where these exotic flowers live. To give you an idea of the scale of these pieces, here is an ad for the collection.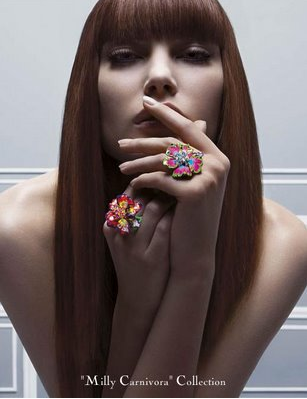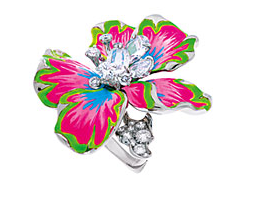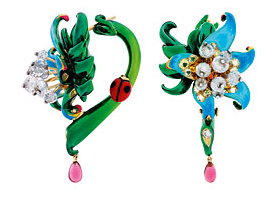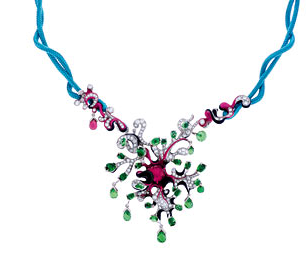 And for the Biennale des Antiquaires show in Paris that year, Castellane prepared a collection of baby Carnivoras, displaying them in incubators as jewelry newborns. "I like the idea of jewelry having a family," she explained.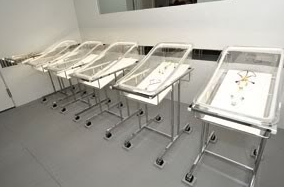 The Fiance du Vampire collection (with an explanatory video on the Dior website worthy of Anne Rice), features everything from skull cufflinks (or tete de mort – everything sounds better in french doesn't it?) to these more elegant creations.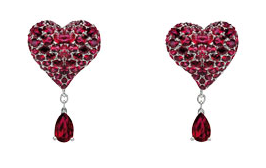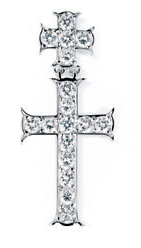 The Coffret de Victoire collection represents some of her most extravagant and elaborate pieces. I adore these "Coffret de Victoire" earrings in 18K white gold, diamonds, sapphires and coral. Not quite sure where I would wear them, but as artistic creations, they are magnificent.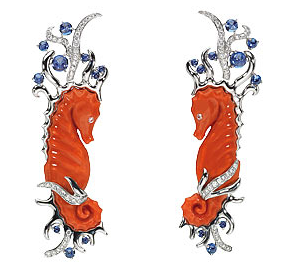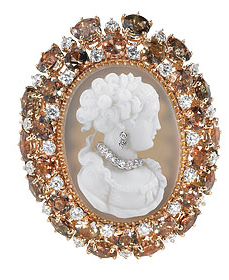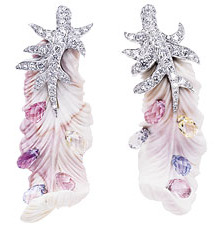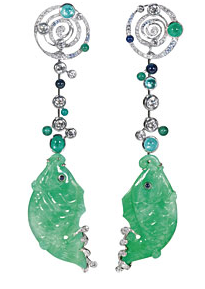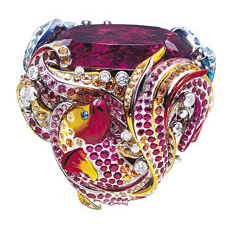 One of the most spectacular collections is, however, not on the website. Created for spring 2009, the Idylle aux Paradis collection features eight one-of-a-kind cuffs, that can transform into brooches or pendants. They are mind boggling confections inspired by exotic locations around the globe – Zanzibar, Borneo, the Cyclades, Valparaiso, Oulan Bator, Baie d'Along, Kyoto and Fiji.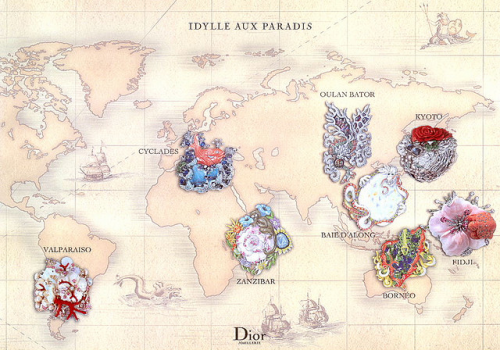 Castellane claims they were based "sur un reve" (a dream) of "a man who brought romantic treasures to his wife from eight heavens on earth. Thanks to the cuffs, she can contemplate them whenever she wants". Each bracelet, understandably, takes nearly a year to make. "It has been difficult to decide how to proceed with the removable parts, how to sculpt elements like complex, wavy edges, and how to make sure the bracelet doesn't turn on the wrist", says Castellane, who has never let technical challenges stand in the way of her artistic vision. It doesn't hurt that LVMH, who owns Dior, gives her access to many exceptional stones. "Dealers come to me with specific stones but I also have them looking all over the world for particular gems," she says. "Finding the right stone is a huge inspiration." My favorite piece in the collection is probably the "Idylle aux Cyclades" with its opals, sapphires, tanzanites, Paraiba tourmalines and white diamonds crowned (literally) with a carved coral fish.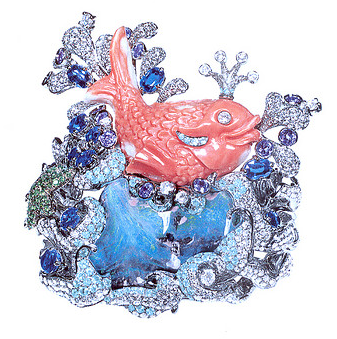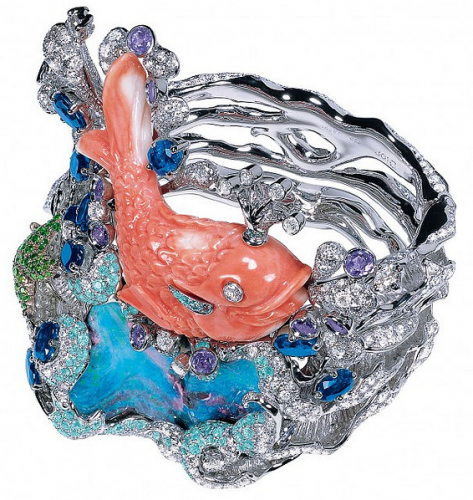 But the Valparaiso and Fiji are amazing also.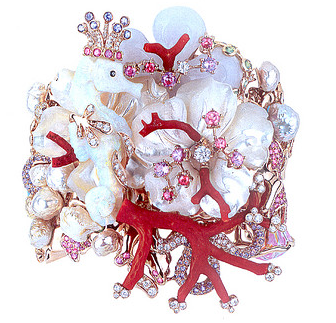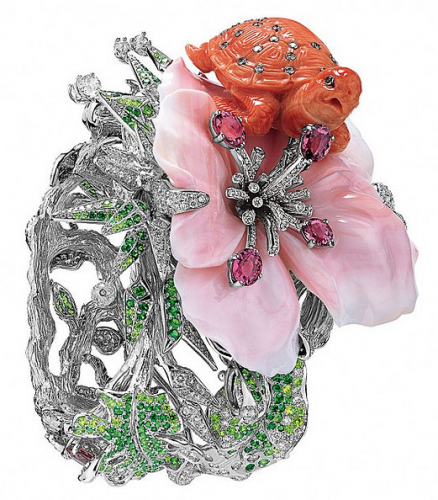 I'm not sure who buys these pieces, but make no mistake – they do sell.  Castellane's position, at the helm of an esteemed house such as Dior, is a unique fit. But her unconventional approach to such a presitigous collection has clearly paid off. And her playful style is clearly an ingrained part of her personality.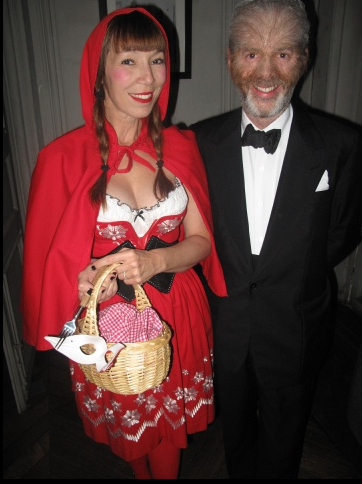 Be sure to stop by the Dior website. It is beautifully designed with all sorts of fun tidbits, such as videos, screensavers and wallpaper, so that we can all live vicariously!