It's no secret here that I love Legos. And clearly so does photographer Dale May. What a fun evening I had last week at the Samuel Owen Gallery for the opening of May's Lego Star Wars exhibit. Known for his conceptual art and stylized celebrity portraits, May walks the line between commercial and fine art. And he found the perfect subject matter in these iconic toys. The opening started early so that parents could have the opportunity to attend with their children. What a fun and easy way to introduce them to the concept of looking at art together.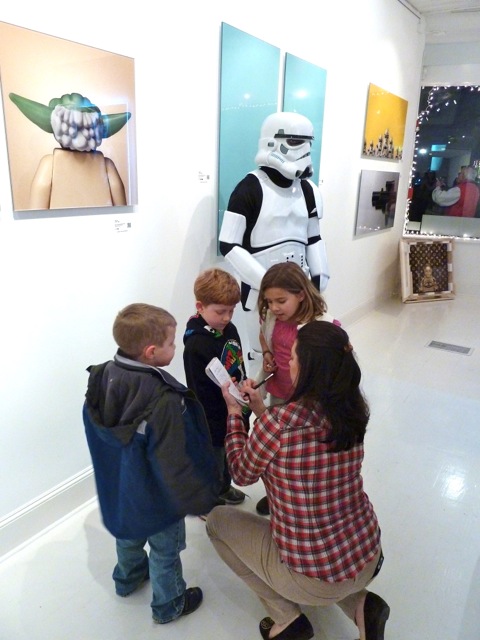 A "live" Storm Trooper was on hand to enhance the experience for the younger viewers.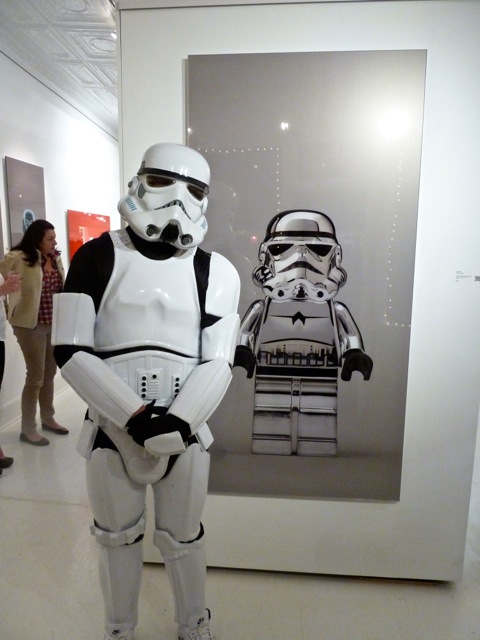 I was thrilled to have a chance to catch up with the artist and chat about his latest endeavor.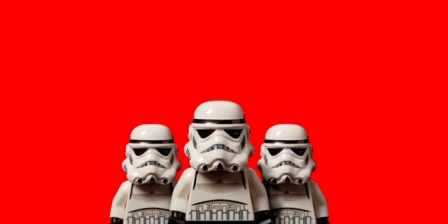 This series is clearly a deliberate departure for May and I was curious what led him in this direction. He explained that normally his commercial work involves large production shoots and he wanted the opportunity to do something on his own, in his spare time for fun.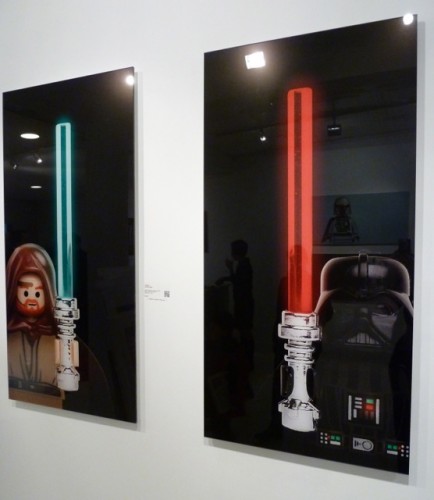 And he indeed loved the idea of creating something that the whole family could enjoy experientially together. Many of May's and his wife's friends are starting families, and after recently doing some shoots with children, the idea seemed naturally appealing.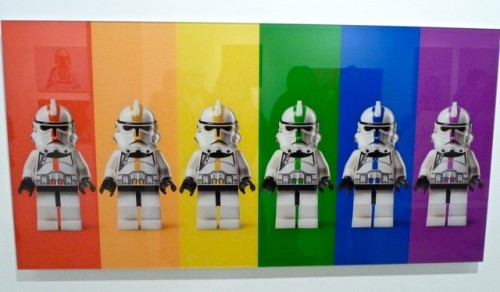 May has been a Star Wars fan his whole life – it was the first movie he remembers seeing – and has always loved Legos as well – a builder at heart! He admired the way Lego took a larger than life subject matter and miniaturized it. He combined that concept with his macro photography and then reversed the process again, making the figures larger than you can see with the naked eye.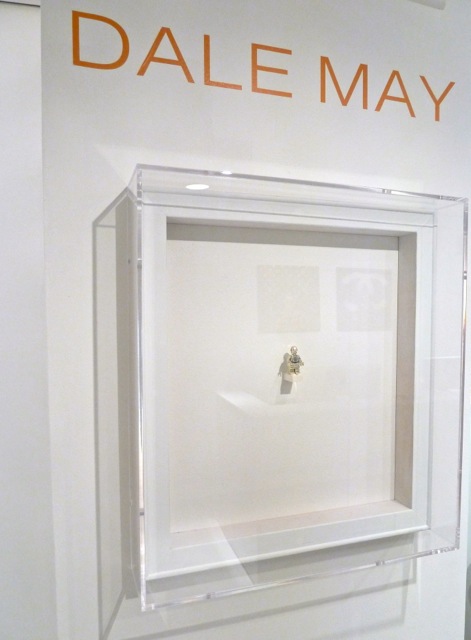 One of the most fun elements of the show is the incorporation of fashion. May explained he was inspired by the CP30 gold figure. When he realized they made a limited gold edition (the original is not metallic), he searched on Ebay but the cheapest one he could find was for $160 – immortalized in the shadow box above.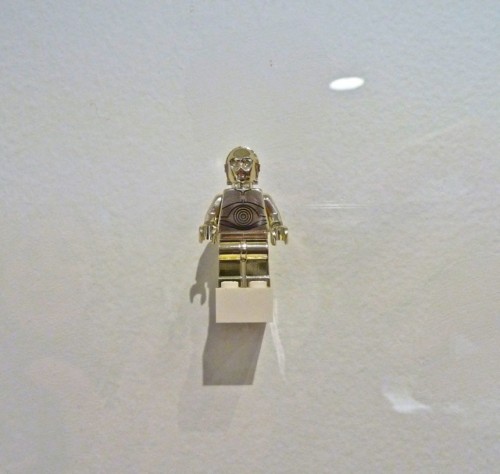 His reaction? It's the Louis Vuitton of Lego toys!! And hence V3P0 was born. From there it wasn't a big leap to the very clever Coco Vader or Chewy Burch portraits!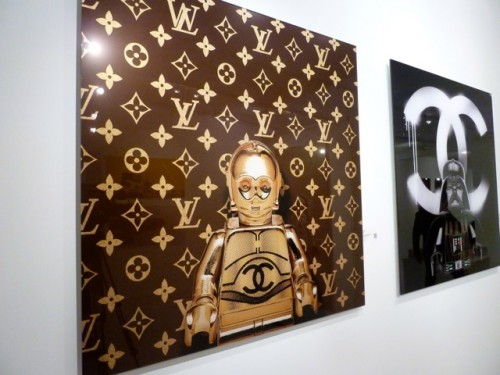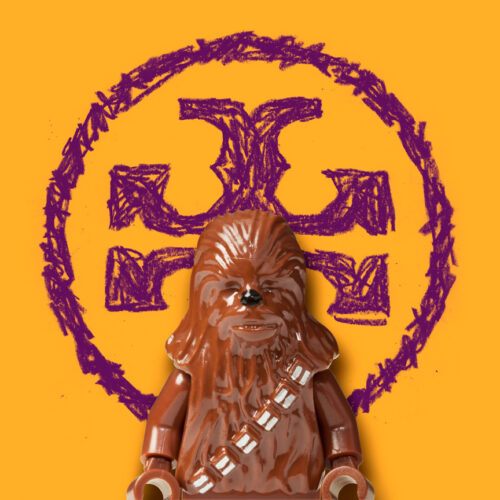 I just loved the combination of the iconic logos with the equally iconic figures. May said he was pleasantly surprised at how well each logo fit each figure. As with all his work, May is meticulous with color and details.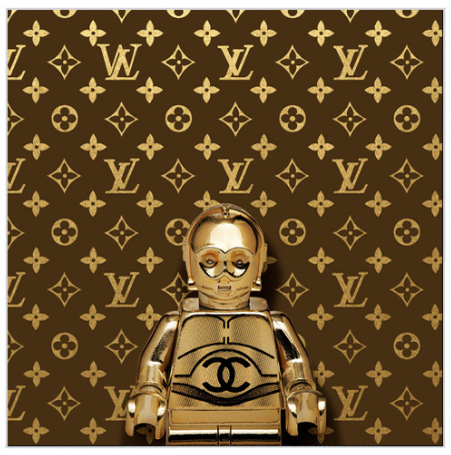 Note how the richness of the gold CP30 works perfectly with the warmth of the Vuitton background and of course the black Darth Vader is the perfect choice for the classic black and white Chanel.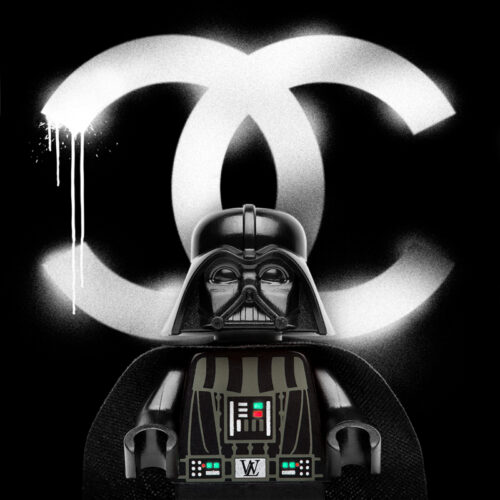 May pointed out how this Darth Vader figure struck him as very childlike, which inspired the messy spray of the Chanel "c's". I found the Darth Figure somehow reminiscent of Karl Lagerfeld himself – perhaps he needs this portrait! Chewbacca's rather unkempt appearance inspired the rough hewn crayon rendering of that logo.
If you look closely you'll notice May's rather obsessive attention to detail – he changed the logo in Darth Vader's belt and in one of the "LV's" in the upper left of the Vuitton pattern  to an LW logo for Lego Wars.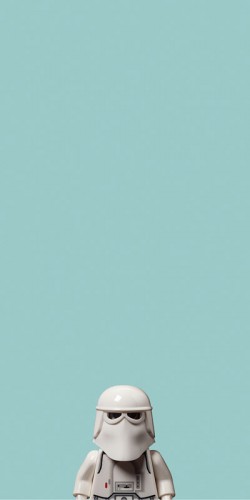 Tiffany blue is one of May's favorite colors – it is in fact what he used in his own bedroom. He explained that the figures themselves really dictated the colors. And although he wanted to show them larger than reality, he also wanted to dwarf them within the photo so it was a visual and conceptual push/pull, resulting in his interesting use of negative space. The other unusual aspect of the photos is that they are archival acrylic, backed with aluminum, resulting in a very bright slick display. Normally May likes to see photographs matted and framed in a gallery setting but the nature of this project inspired him to try this combination.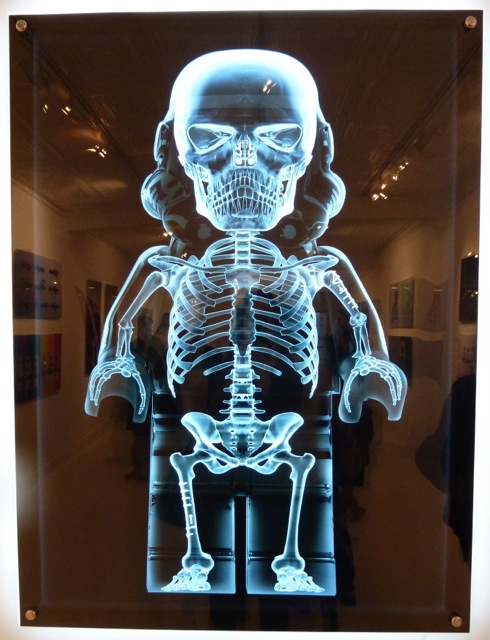 May couldn't quite remember how he came up with the concept for the X Ray Trooper, shown here in its special LED format.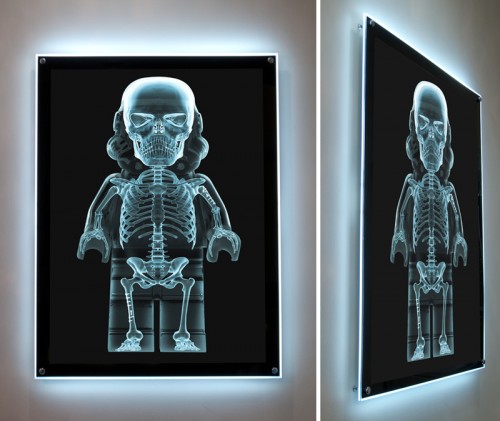 He manipulated the skull so the eyes have the same shape as the helmut and teeth are now going up.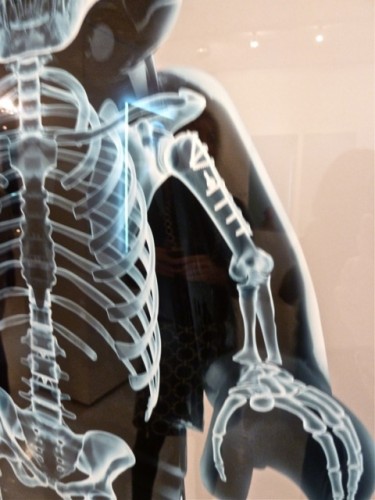 And for an added dose of authenticity, he also included some fractures to his arm and leg to reflect his battle experience.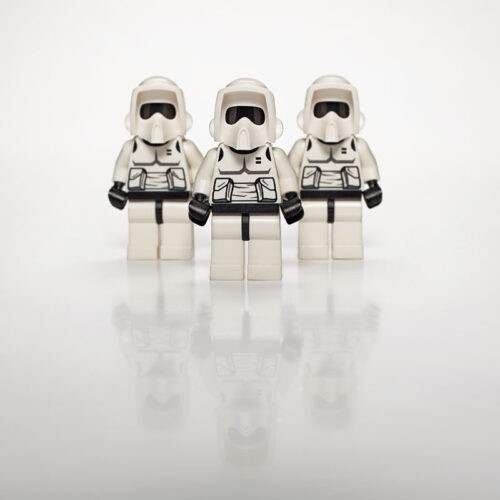 As it turns out, these portraits are actually a rather natural transition from May's extensive album cover work. Even though the toys can't move or talk, each most definitely has its own personality, expressed brilliantly in May's representations. Think of these as celebrity portraits in their own right with big personalities on set. When you play with these toys as a child, it's as if they're real. May wanted to relive that experience by bringing the essence of these toys to life in a new art form.
Kitchy and fun with a certain bit of nostalgia, they were clearly a hit with adults and children alike. May said that often the test of whether someone wants to hang the photograph in their home determines the difference between commercial and fine art photography. Judging by the number of red dots around the show, I think the answer is clear. People realized the art has staying power – in a few years both the toys and photographs will be vintage appealing to an entirely new generation of fans.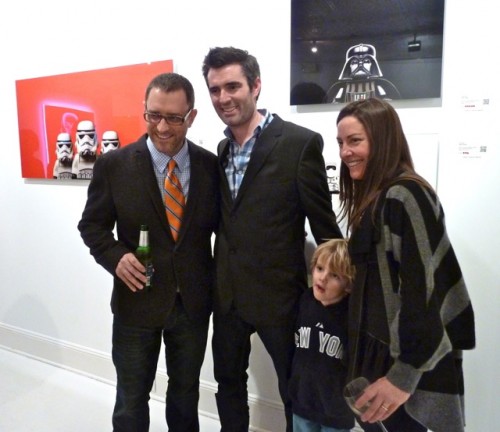 If you are in the area before January 19, I highly recommend you come with or without children to see this fun upbeat show!!