As VP of Merchandising and Marketing, Holly Blalock, explains, "Color is not a trend for CR Laine. We are committed to color as a common thread throughout our collection." And she should know. Now in her 10th year at the company, Holly has been instrumental in helping CR Laine, one of my sponsors at High Point this spring, make the shift from a very traditional upholstery company to one now associated with an updated, cleaner and stylish neo-traditional look and an indisputable emphasis on color. "At a time when the economy had everyone feeling the need to be safe with their decisions (i.e. – neutral, neutral, neutral), we decided to be a beacon for COLOR."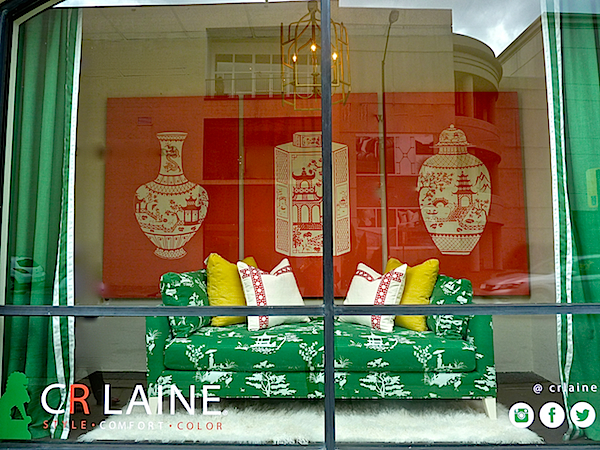 And they didn't approached this change with trepidation but tackled it head on. Their showroom, shown above at spring market, became a showhouse, "a place to inspire our retail and design partners to embrace the emotion that comes from an interior infused with color." And their corporate identity of STYLE • COMFORT • COLOR, established in 2011, changed their course. This January the company completed a 42,000 square foot addition to their Hickory, NC manufacturing facility and, despite a challenging economy, CR Laine has experienced back-to-back years of unprecedented growth.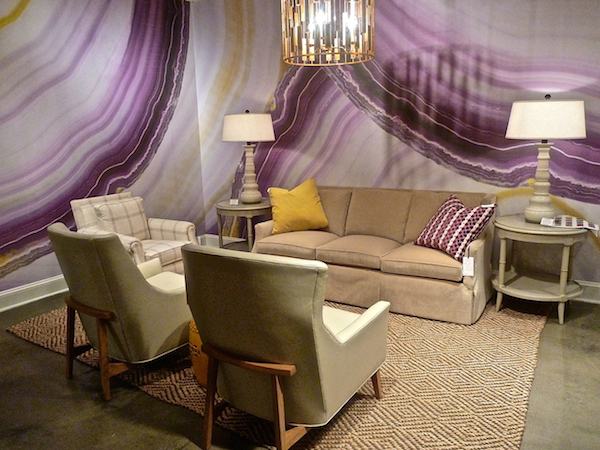 Holly is the first to give her team credit. "The success of CR Laine is multi-faceted. Our local reps and our in-house team provide exceptional customer support. Our family-owned company is financially strong, our steering committee is of one mind and the working environment at CR Laine is unlike anything I have ever experienced. Creativity and NOT doing things the way they've always been done is encouraged. Every idea is considered. If something is not broken, then maybe we should break it and find advancement in the process." CR Laine has benefitted, for example, from Holly's ideas to collaborate with outside artists, artisans and designers, creating dynamic environments for their collections. The space above featuring Tracy Hiner's geode-inspired wall treatments, for example, enhances the chiseled lines of the new mid-Century style Franz leather chairs and Johanna sofa .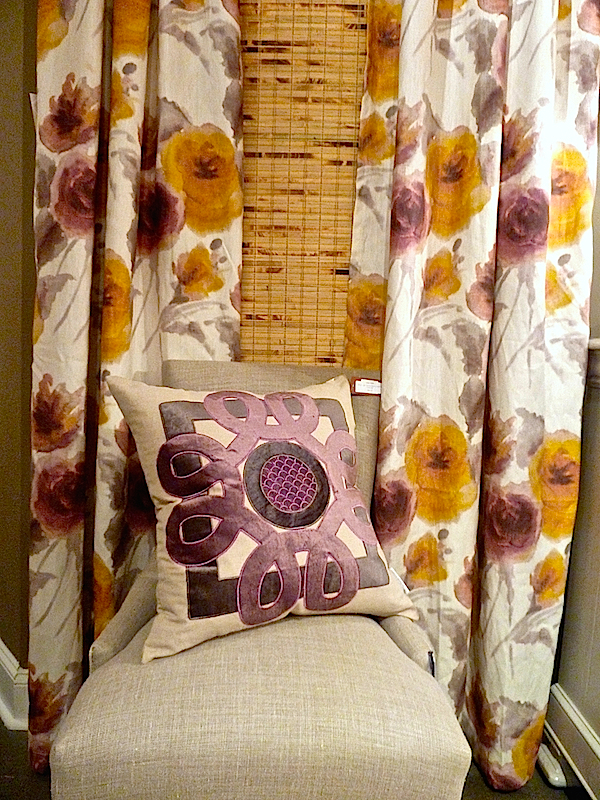 Holly's process for her creative and colorful merchandising starts at the biannual ITMA Showtime market. "Within the span of three days, I view the new textile collections from producers all around the world. It can be overwhelming, but I stay focused, sampling only those fabrics that give me a positive emotional response. And even though I always source with a specific color palette in mind, I am always hopeful that something special will be revealed. This season, that was Ellingwood Thistle, a painterly large-scale floral that ultimately set the tone for five settings in our collection." (shown above with Traci Zeller's Loophole pillow, from a collection she produced for the showroom).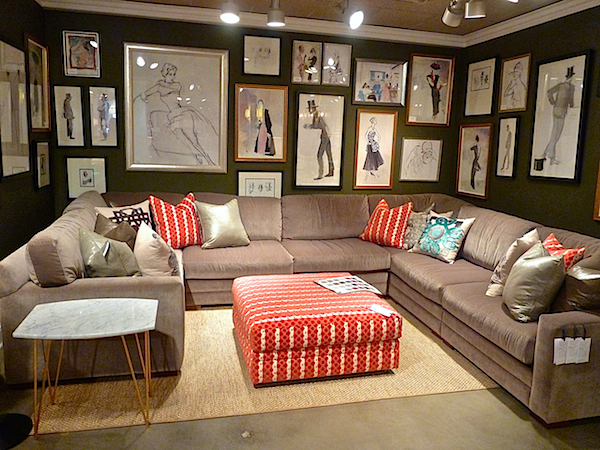 For the latest collection, Holly found her inspiration in texture such as the epingle velvet from the Tilton Fenwick collection (Molly Dot, in CR Laine lingo) used on the Everest ottoman, above, and new Aledo chairs, below left.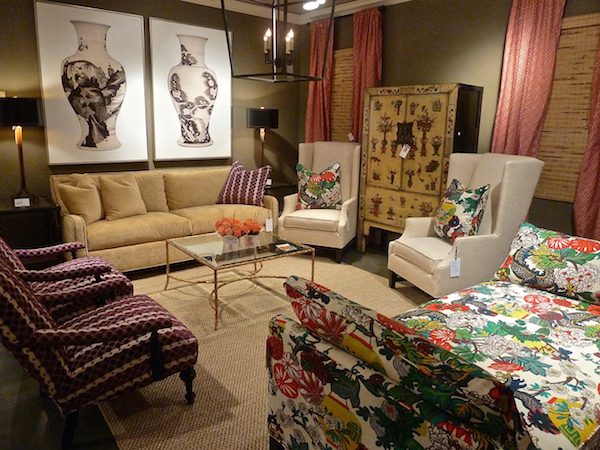 Brush fringe, a traditional decorative element that Holly had up to now been resisting, looking modern in a tonal application on the 1800 Topeka Sofa below, and luxe Belgian chenilles used generously throughout the collection, added "visual depth to each of our color blocked rooms."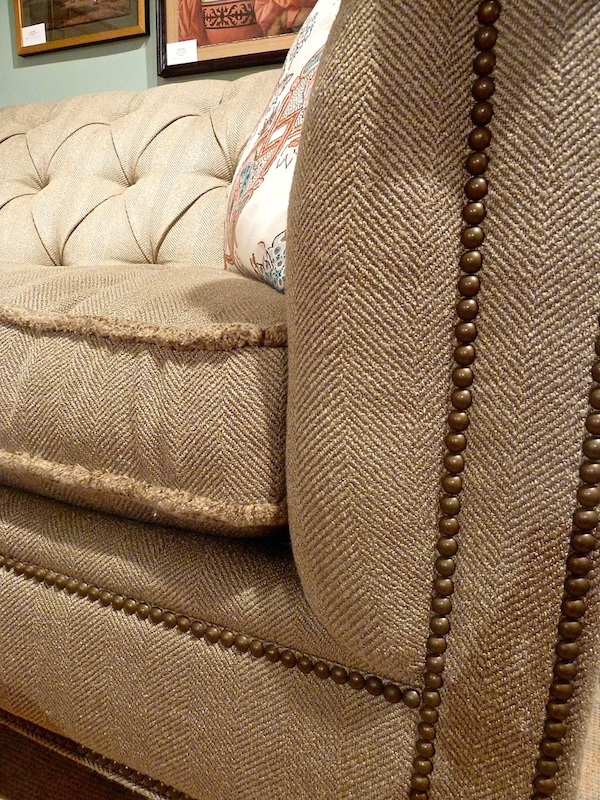 Last year's Punk exhibit at the Metropolitan Museum inspired Holly to look at fabric in a different light. Deconstructing patterns and then reassembling them resulted in lively combinations at the showroom. Tilton Fenwick's stripe (known as Tippy Blush in the collection) was applied horizontally on the Shelburne Swivel Chairs, below,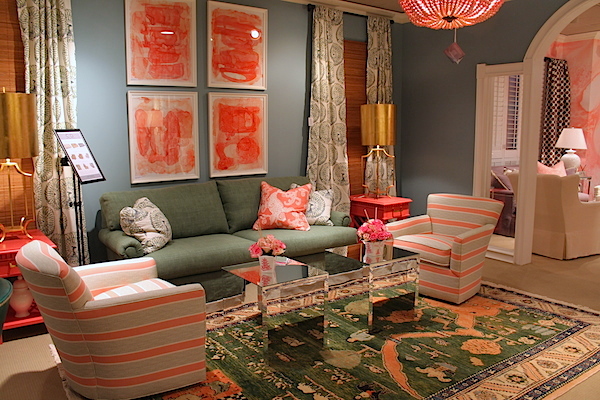 and "the patterned portion of the stripe was then used as a coordinating fabric skirt banding on a sofa covered in the Cactus colored Lenno, a Belgian linen."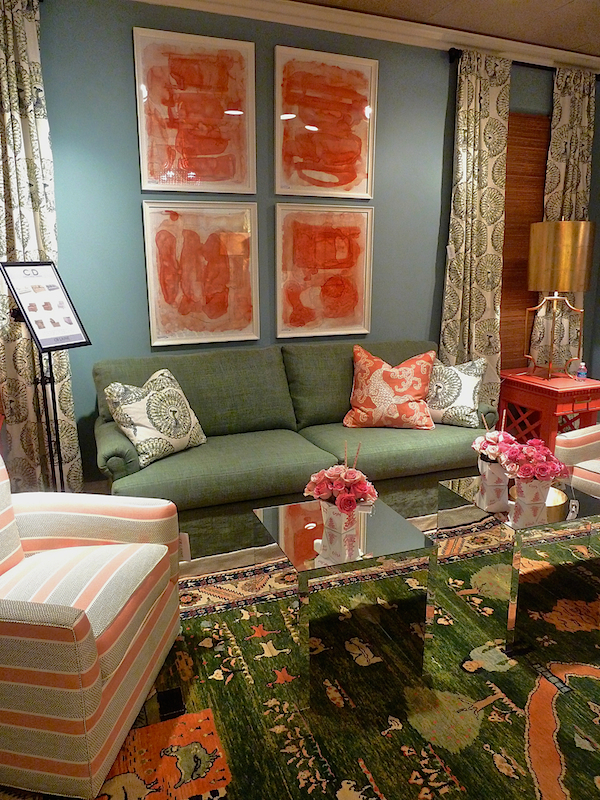 A detailed shot below.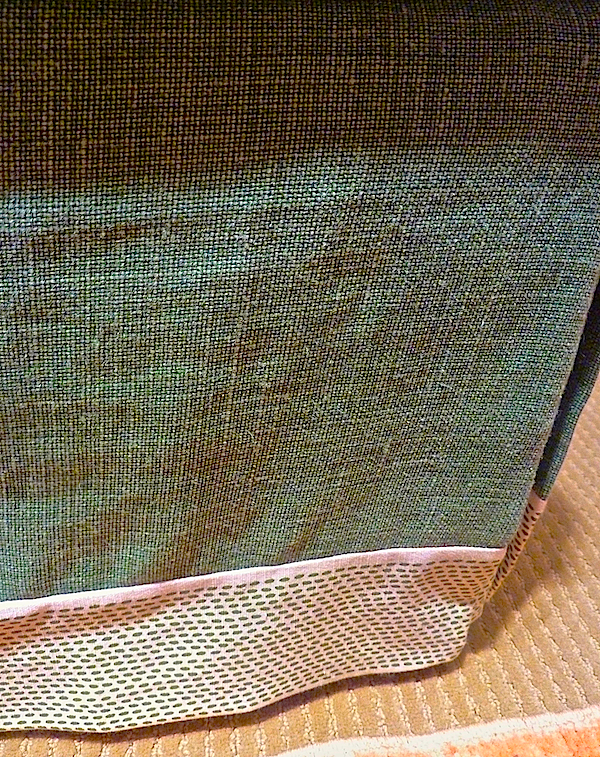 Similarly, a large 7″ wide white stripe is inserted in chic Rothschild fashion on the Pierce chair below, a stylish option officially offered when ordering the chair.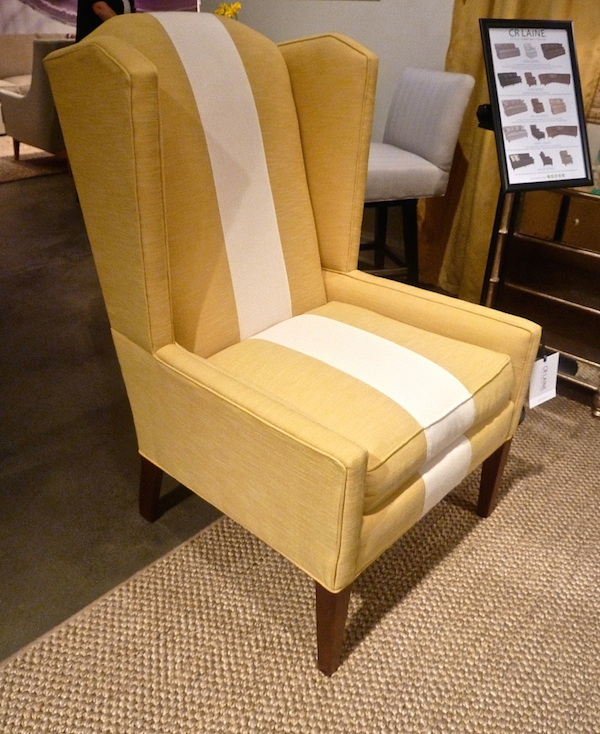 We'll look at more of the creative world of color from CR Laine at High Point next week.