Did you know that October is also Archtober, the third annual month-long festival of architecture, activities, programs and exhibitions in New York City? This year, it unofficially extends to New Canaan, CT where the New Canaan Historical Society will be hosting its biennial Modern House Day Tour + Symposium. New Canaan is not only the home of Philip Johnson's celebrated Glass House, but is widely known for its collection of Harvard Five houses and other post modern examples by some of the nation's most well known modern architects.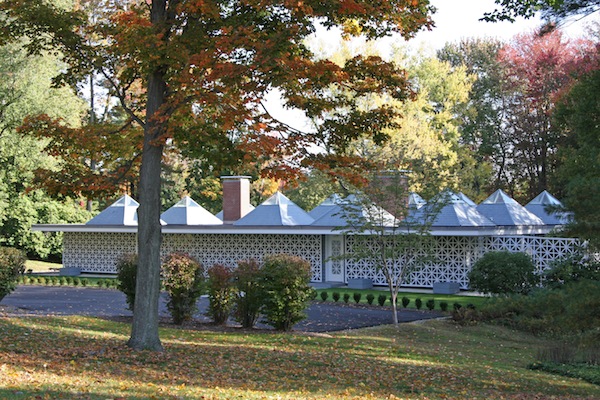 This year's event, titled A Modern Mix: Art + Architecture, features a continental breakfast, symposium, lunch, in-depth guided tours of six Mid-century Modern homes and an evening cocktail reception. Included on the tour is Edward Durell Stone's Celanese House, above. Commissioned by the Celanese Corporation of America, to showcase the company's products, it was completed in 1959 and featured that same year in many publications including House & Garden (October 1959), House & Home (September 1959), and Architectural Record (October 1959). With its distinctive trellis surround and twelve pyramidal skylights, it remains a distinctive fixture in town thanks to the current owners who, in 2006-7, undertook a major renovation and restoration of the house.
photo by Craig Bloom
Other houses on the tour include the Kehm House (1951) by Bimel Kehm, the Melville House (1958) by Gates and Ford, the Tatum House (1962) by New Canaan architect Hugh Smallen, above, and the Warner House (1956) by John Johansen, below. The Tatum House is making the tour this year, fifty years after debuting on the Modern House Day tour in 1963.
photo by Robert Gregson
John Johansen's iconic Warner House (1956) is making a rare public appearance. The last living member of the Harvard Five (a renowned group of architects including Marcel Breuer, Landis Gores, Eliot Noyes and Philip Johnson, who all settled in New Canaan just after World War II.) until his death last year, the architect explained "Of my designs, the Warner House most elegantly interpreted the Palladian ideal: the central pavilion was the bridge that spanned the stream, its three bays covered by arched vaults. Flanking this bridge were secondary pavilions rendered in pink stucco decoratively embossed with my designs. Gold leaf was used in the arches and on the living room ceiling, and on the exterior spurting off rainwater to the stream below were eight gilded gargoyles designed by the sculptor Robert Engman."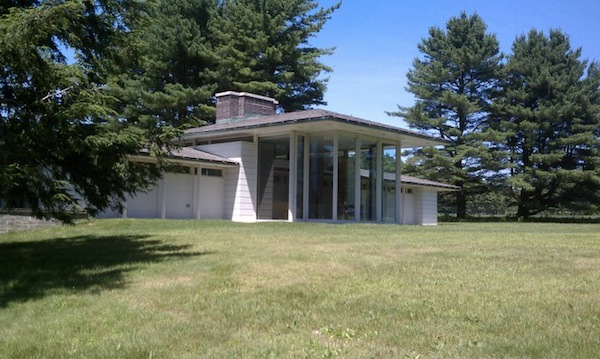 The NCHS Library contains an important collection of archival material about the Modernist movement in New Canaan and the Society operates and maintains the Gores Pavilion (1959) in Irwin Park, above, which serves as a museum and cultural center highlighting the legacy of New Canaan's modern architects and architecture. For anyone interested in mid century modern architecture and its legacy, this is a day not to be missed. You can register for the event here.