Established in 1880 as a ferronnier, Pouenat has continued to stay relevant and thrive by embracing their heritage while collaborating with some of the most recognized designers working in Europe today. Almost exactly a year ago at their Maison et Objet booth, I was struck by the successful mix of old and new, celebrating the great tradition of French craftsmanship with old world savoir faire and innovative new design. The exacting quality was immediately apparent, from a classic set of ornamental doors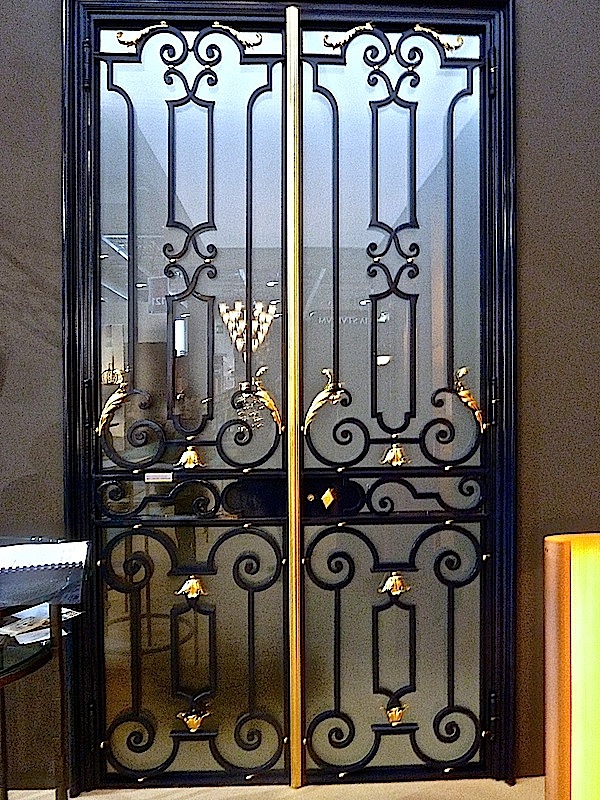 to the architectural beauty of Francois Champsaur's metal Line lamp, part of a special collection celebrating the firm's tenth anniversary of collaborations with leading designers.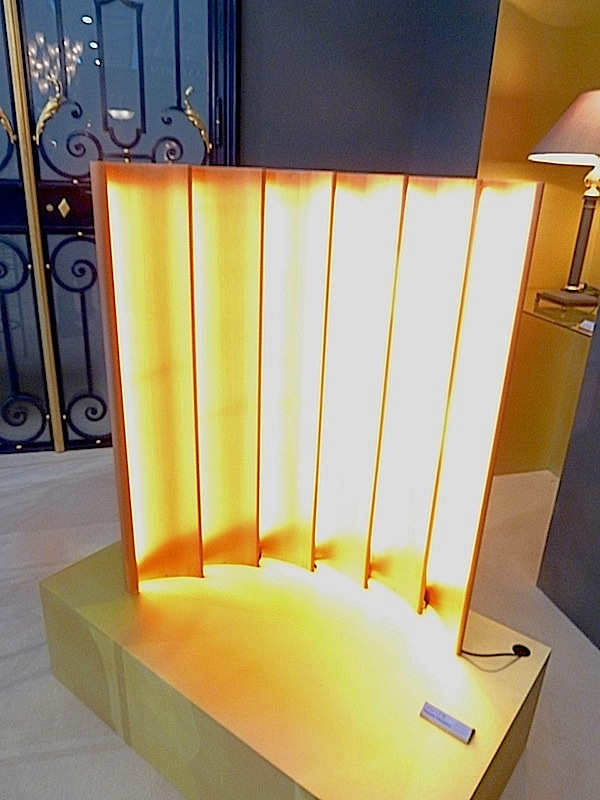 Interested to see more of what they do, I was referred to their showroom in Saint Germain des Prés, which like many of the design outposts in Paris, is found down a tiny street off a charming courtyard.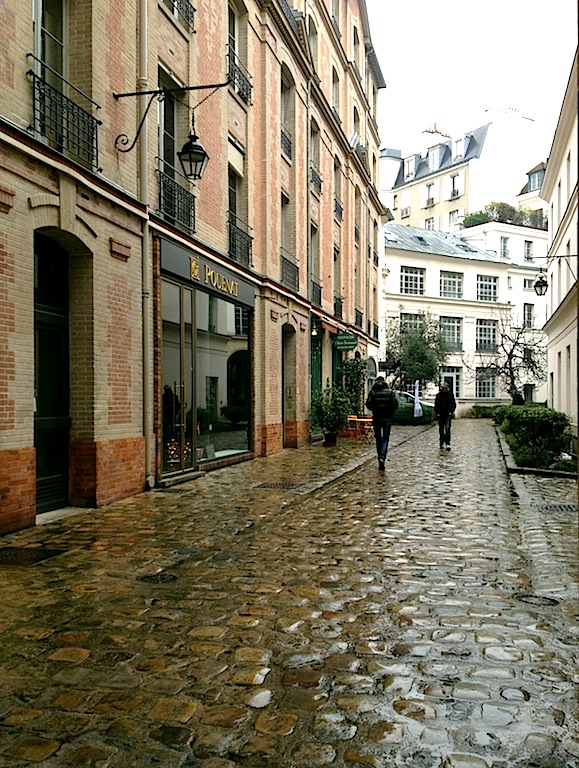 Here their passion for metal in all its forms appears in sophisticated renditions of lights, tables, chairs and more. Damien Langlois-Meurinne's Nuit Étoilée lamp for the 10th anniversary is a like a night blooming flower, its sensuous shape illuminating with a celestial grouping of tiny holes.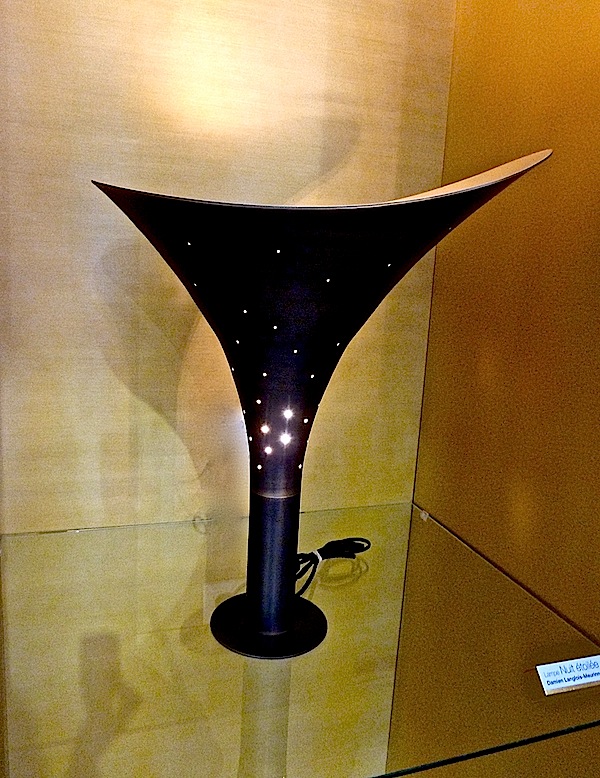 Architectural elements grace such venerable establishments such as the Plaza Athénée (the canopy over the main entrance below),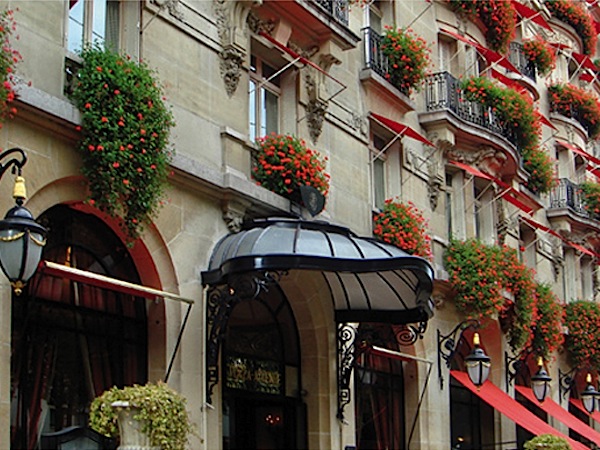 the Dior and Balmain boutiques (the latter below, designed by architect Joseph Dirand)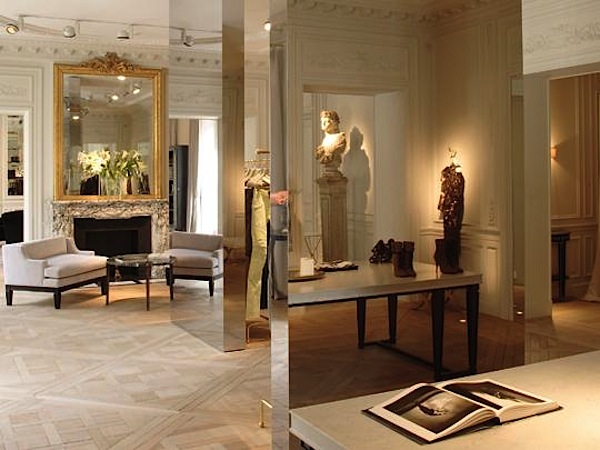 and the Connaught in London (reception desk designed by India Mahdavi)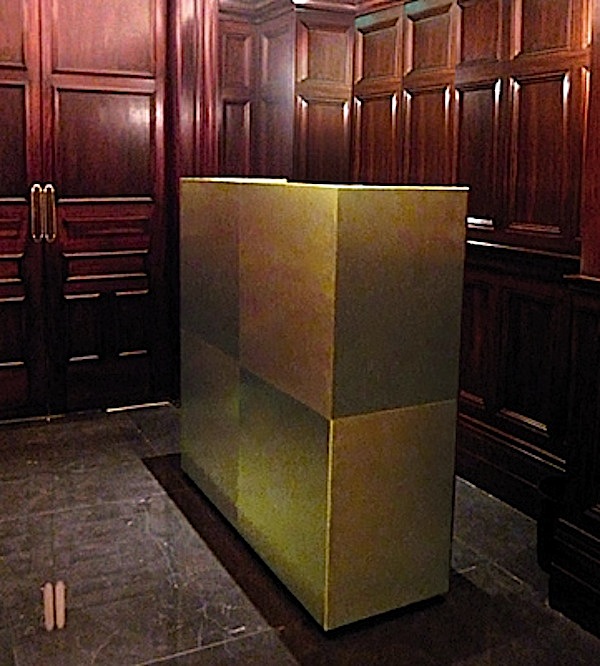 as well as many luxurious private residences and even Versailles, where the firm was tapped to do the metal restoration work. It was fifth generation Henri Pouenat, who also designed timeless pieces for the collection such as his Etrier console below, who in the 1960's, steered the company toward including more decorative  and contemporary collections.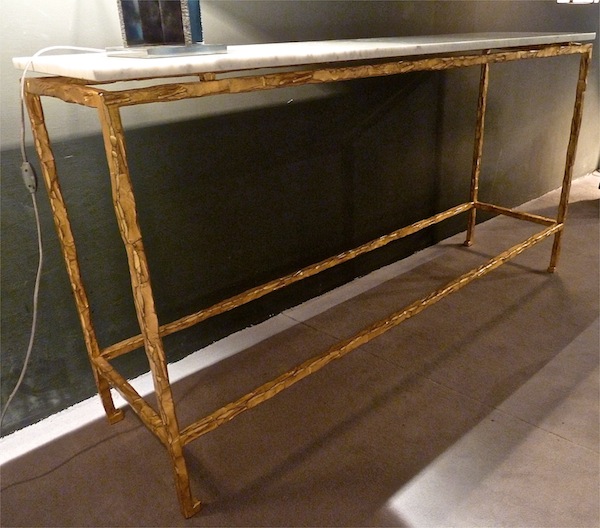 With a Giacometti-like hammered finish, it is elegant with a timeless artistic quality.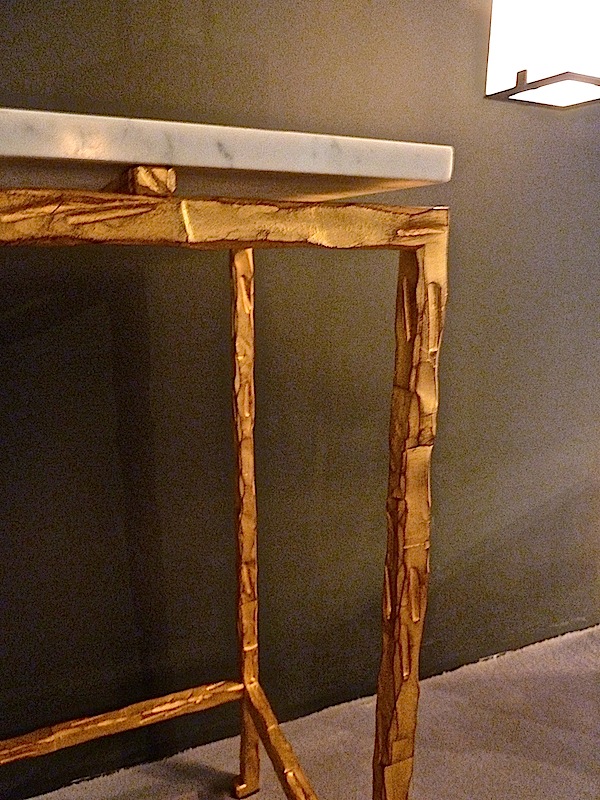 Nicolas Aubagnac's Olympe sconce is a modern take on a medieval torchère. Elegant yet playful, it has a strong and noble presence.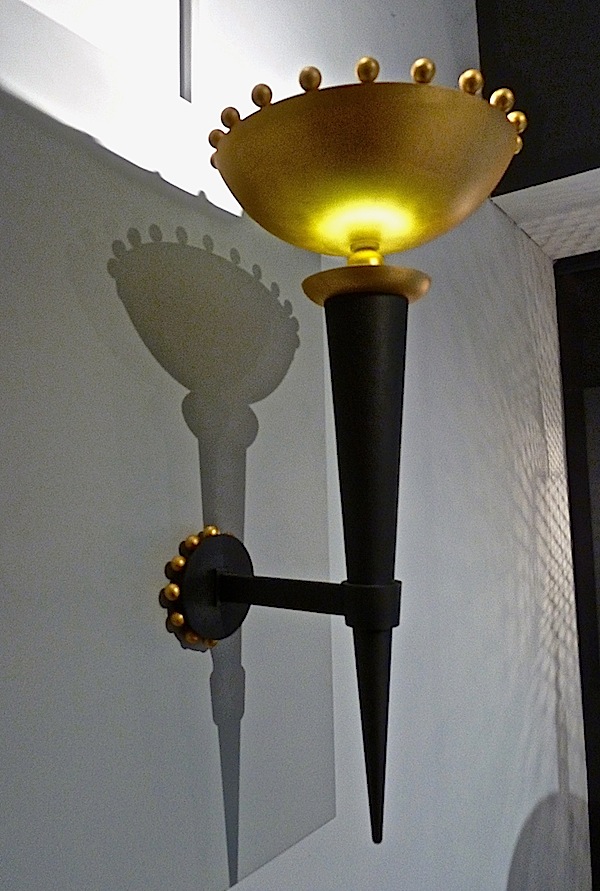 Some other favorites included Kaki Kroener's glamorous Oléron pedestal table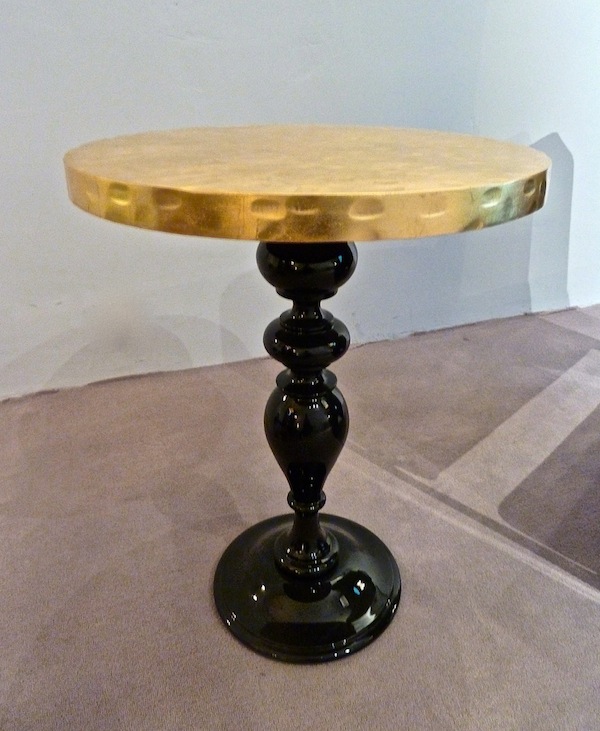 Thomas Boog's sleek nautical Sailor hanging shelf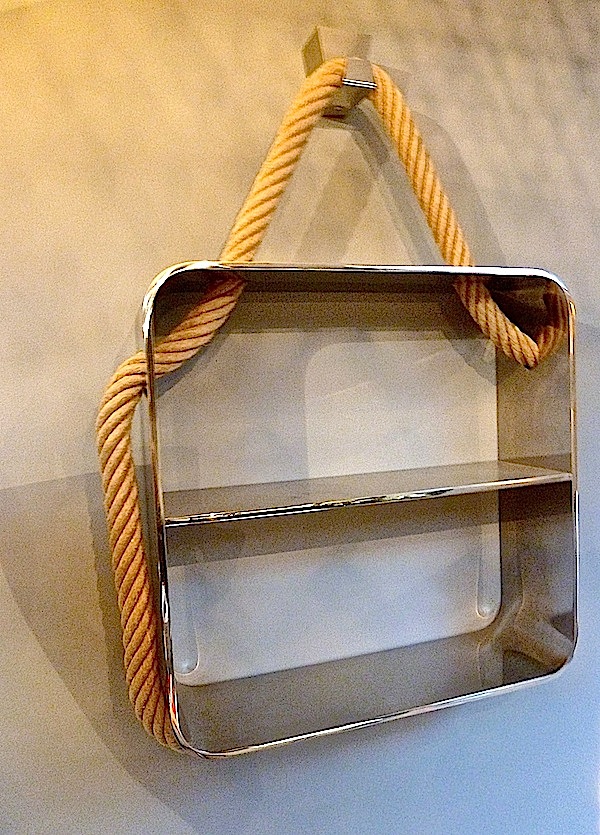 Nicolas Aubagnac's indoor/outdoor Troubadour bench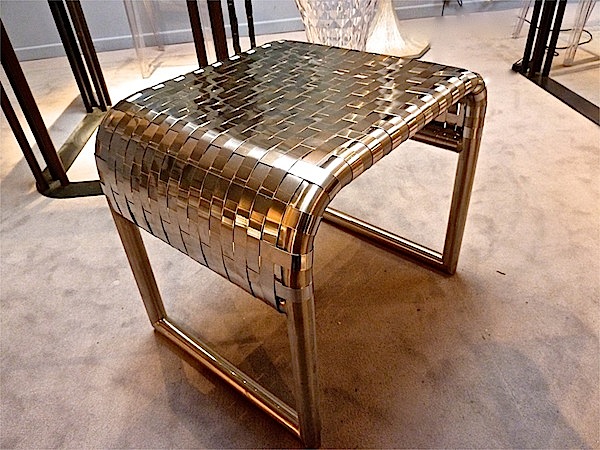 Francois Champsaur's anthropomorphic Macao coffee table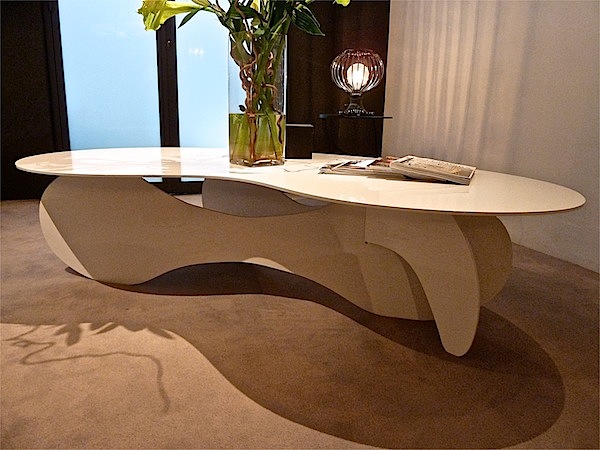 and Michel Jouannet's modern play on a tête-à-tête, "Left" (with the addition of a right back rest, it is called "L'indiscrète),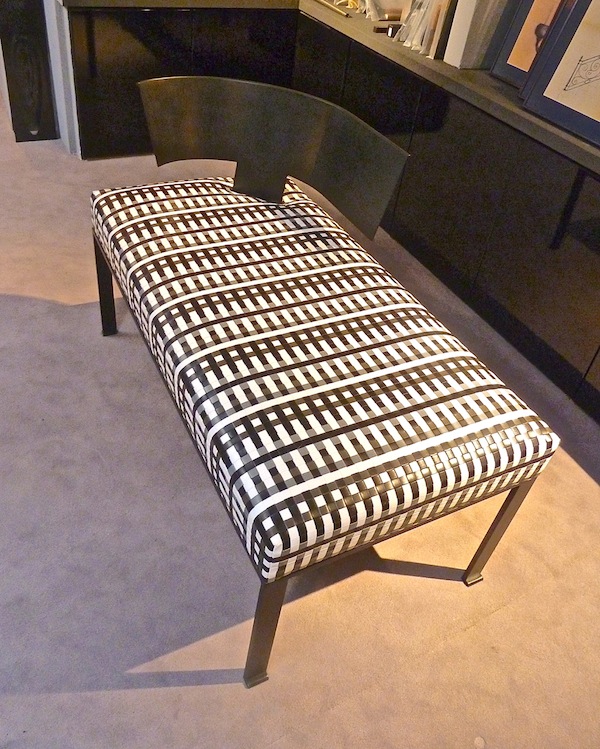 with a beautiful leather woven seat. With its strong geometry and simplified klismos-esque forms, it looked like it might have come right out of someplace like Villa Kerylos.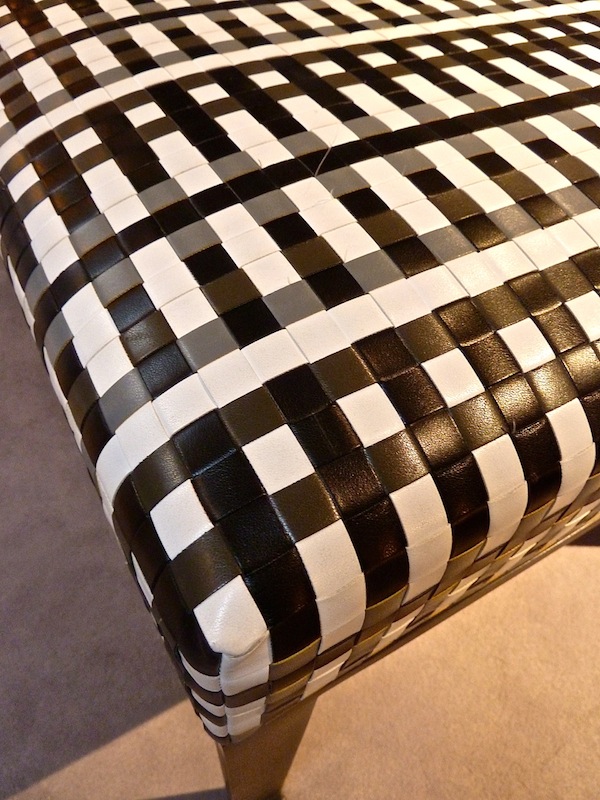 On display are many of the original drawings for the elaborate custom work done by the firm, ranging in style from the medieval to the 20th century.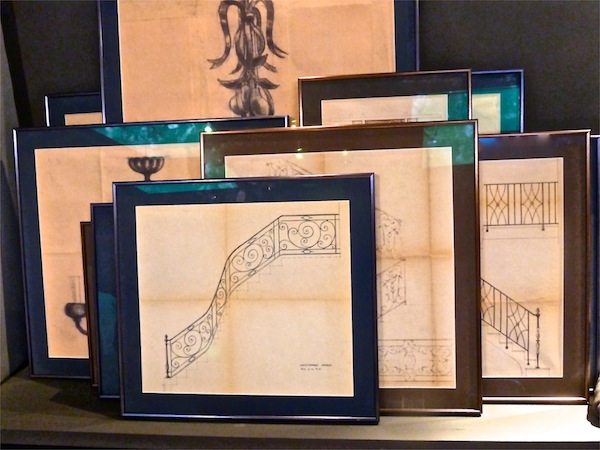 Past and present are comfortable companions at Pouenat, where craftsmanship lives on in both traditional and contemporary forms. I am hoping I'll have time next week to stop in to see what's new.
Pouenat, 22 bis passage Dauphine, 75006 Paris  pouenat.com