Before we are catapulted into the "big" holiday of the season, I wanted to pay un petit homage to, what seems this year, to be the orphan child of celebrations. Thanksgiving offers so many lovely decorating opportunities that seem to be somewhat overlooked in favor of the overwhelming holiday coming down the pike. When I went around to my local establishments trying to find shots of tabletop decor to share, everyone had already moved on to Christmas – some segueing straight from Halloween with not even an acknowledgement. So, from my files, let me share some pilgrim cheer from present and past.
Charlotte Moss' tables are always elegant and layered with great accoutrements.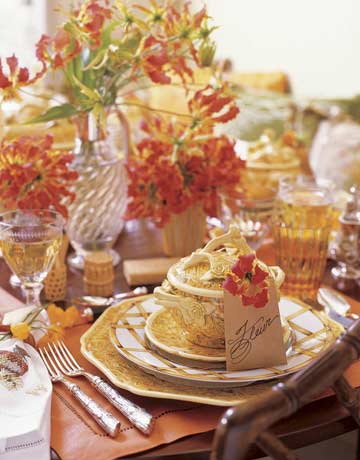 It is going to be much more difficult to find this beautiful aptware now that Charlotte has closed shop.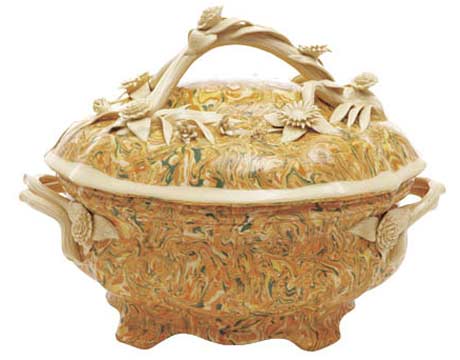 This Martha Stewart table looks like a Dutch still life – I love the dark and dramatic background.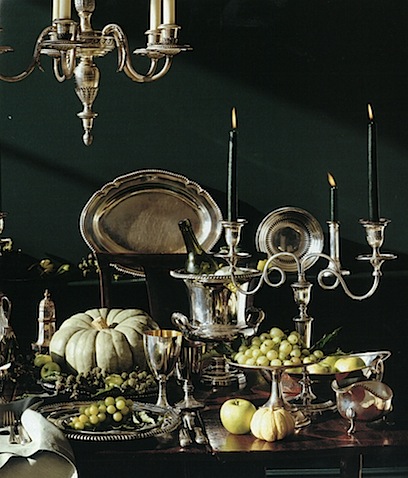 Even though this wasn't published as a Thanksgiving table, I certainly think it could be!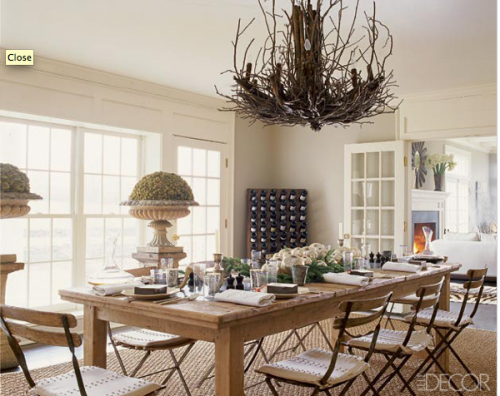 This beautiful shot was on design sponge just the other day. I love the modern contrast in colors and textures.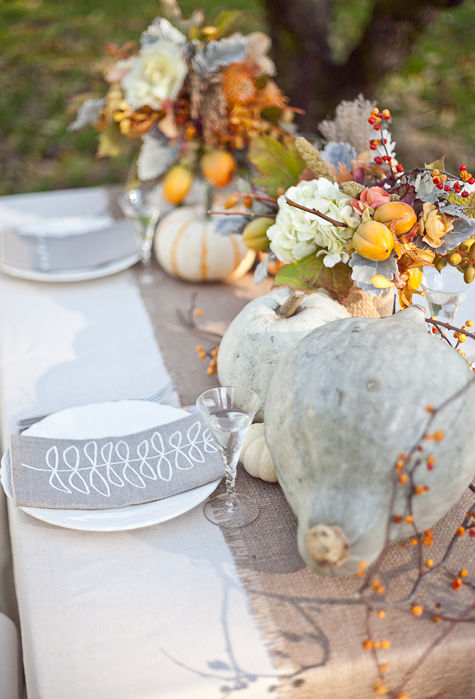 Originally from Southern Accents, this room is a stunner. The screen is magnificent and although taxidermy isn't really my thing, I do love the bird (pheasant?).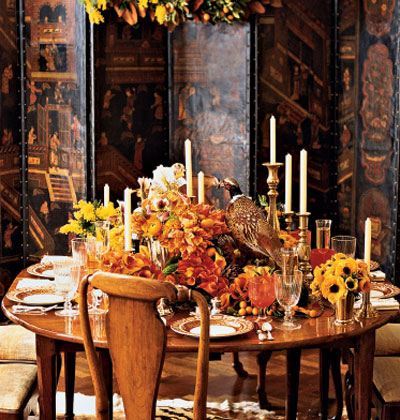 Here is a close-up of just the table top.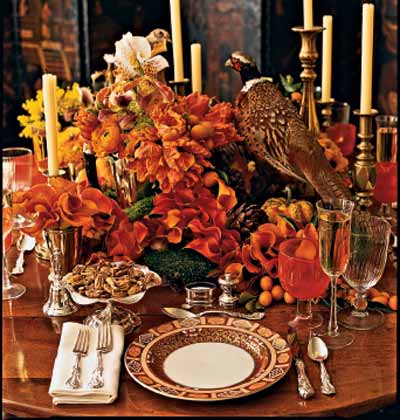 This table, also from Southern Accents is one of my absolute favorites – the color scheme is just so rich. The amethyst glassware gives it a fabulous depth.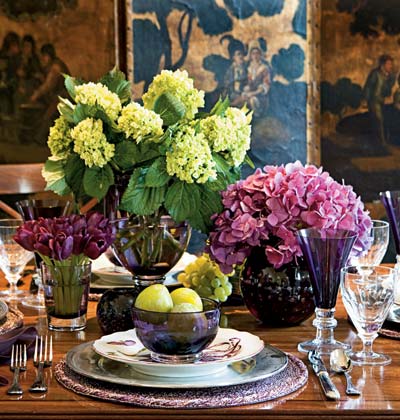 Eddie Ross is the king of tabletop. I'm not even including his fabulous blue/orange Thanksgiving table he did for Lonny since it went viral in the blogosphere and has already been featured everywhere. Instead I'm including this elegant vignette he created with a more subtle colorway.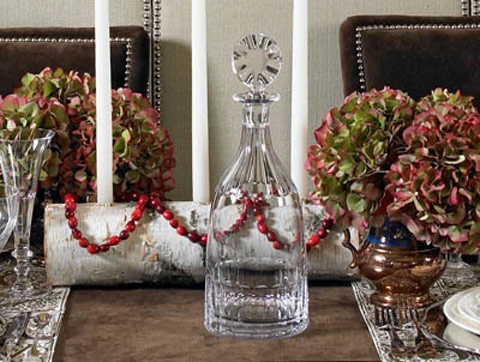 Charlotte Moss' Winter House is one of my favorite books. It captures the season so perfectly and has so many great images. This table scene is one of my dreamscapes – how fabulous are the leather chairs and paisley table top. (sorry for the seam).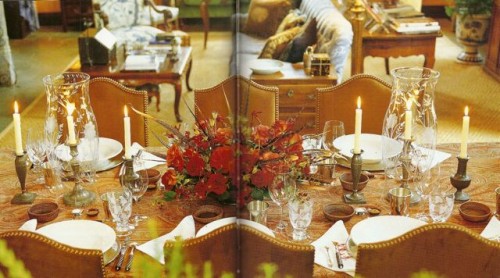 Here is a close up so you can really appreciate the details.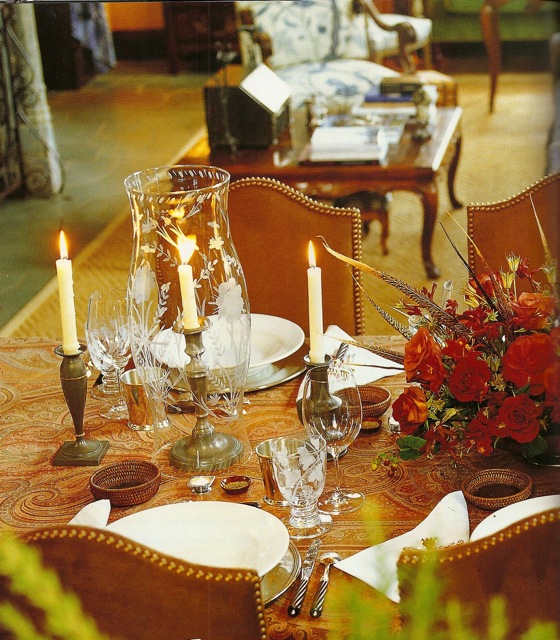 Another rich tablescape is from A Home for All Seasons, a book I've had forever but I still refer to regularly.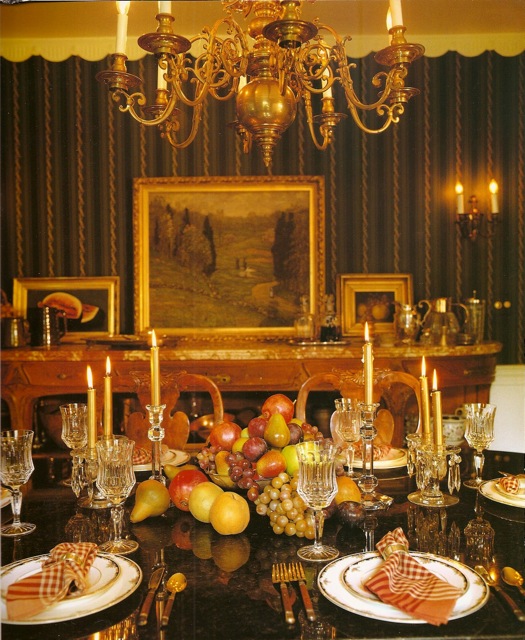 But I think my favorite book of all time for table settings has to be At Home with Carolyn Roehm. The layout, photography, level of details and concepts are just incredible. Her pantry must be bursting at the seams there are so many different patterns of plates, glasses and linens. Here is the double page spread of one of her lovely fall settings. (again sorry for the seam). Aren't those arrangements just spectacular?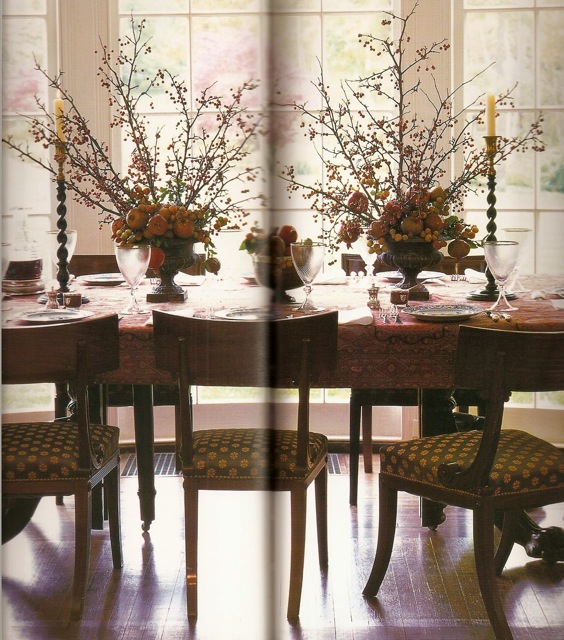 But here is the close up where you can see the table more clearly.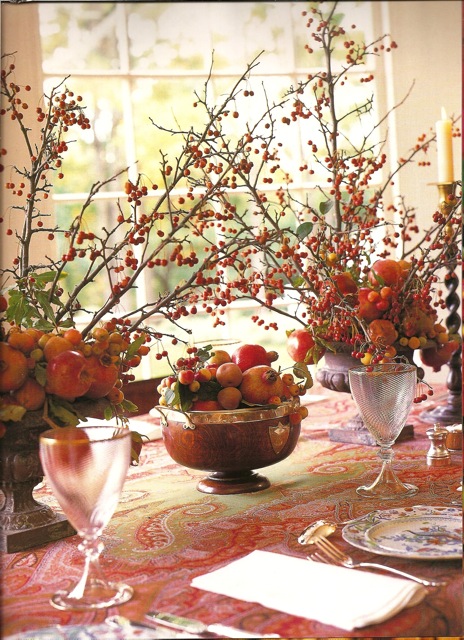 Another close up of a fall concept from the book again shows her love of berries and fruit as centerpieces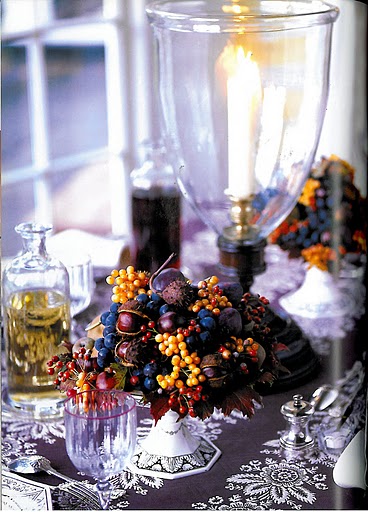 And here is a lovely spread Roehm did for House Beautiful that could easily be adapted for a Thanksgiving celebration. I love the pewter!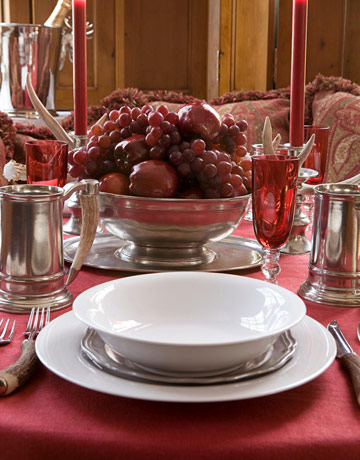 Believe it or not, I'm still not exactly sure what I'm doing with my table. For subscribers, there will be no feed (email) tomorrow, but do check back if you want during the day – I'll post a shot of the table when I'm done! I wish you all the happiest of Thanksgivings.  Enjoy your day with friends and family and please do take a moment to remember how much we all have to be thankful for.