Since we finally have had signs of warmth and sun, we can start looking forward to time outdoors and spring entertaining. Products from the fall tabletop show are now available, so it is a good time to consider what you might want to add to your collections. One of the most exciting updates has been the reinvigoration of Richard Ginori. Taken over by Gucci in 2013, the 270 year old porcelain brand represents a distinguished history of Italian excellence and creativity that deserves to be protected and rediscovered.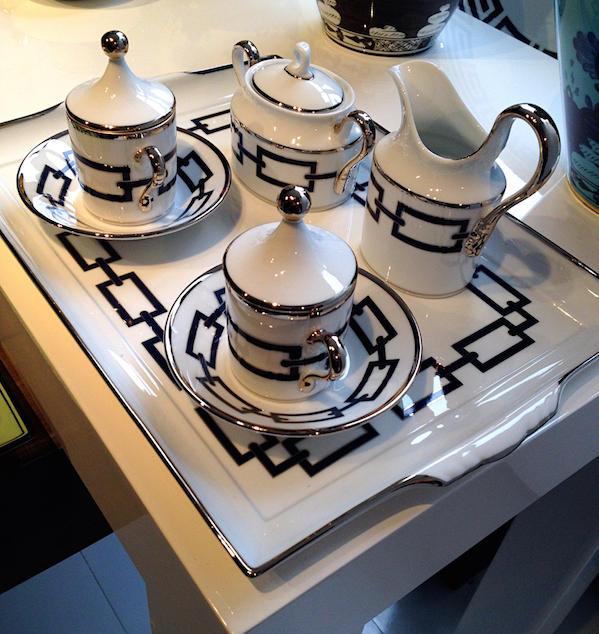 Gio Ponti was the artistic director in the 1920's and many of his timeless designs are still produced today. The recently introduced Catene Collection is inspired by drawings of his from 1926, interpreted on dinnerware and now giftware items such as this classic yet modern tête-à-tête set, above.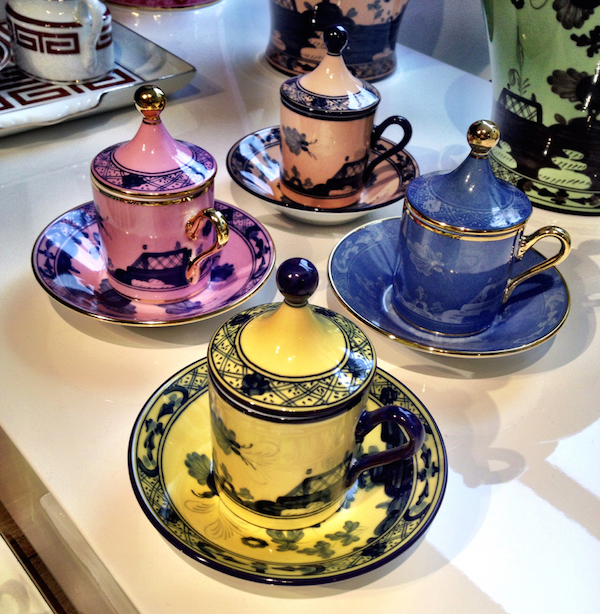 The color saturated Oriente Italiano made a huge splash last year and the collection has been extended to include a fuller range. The Italiano coffee cup set with lids, above, are brimming with charm. The exquisite hand painted Oror di Doccia feels current again in shapes such as these enchanting covered  mugs. I'll have more to share from the rejuventaion of this iconic company soon.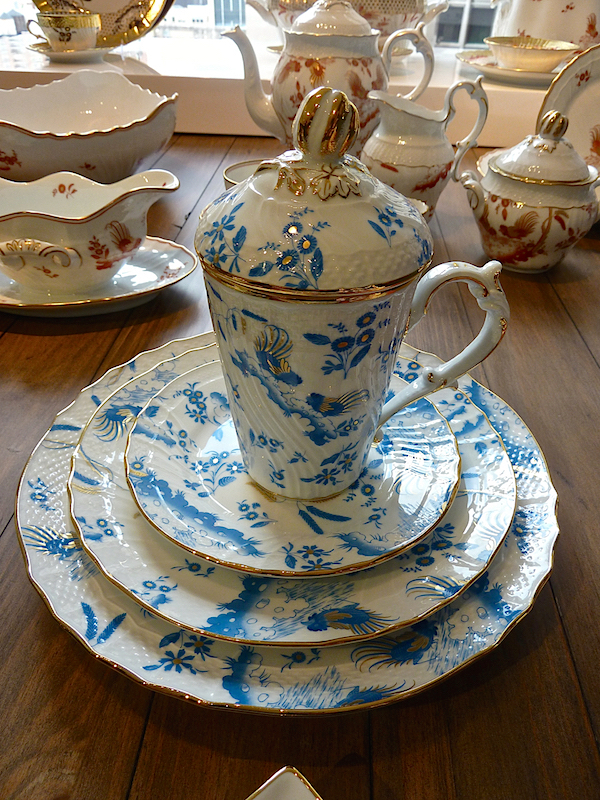 Blue and white is a timeless classic that works year round but is never more desirable that in the summer months. I was delighted to see that Ralph Lauren has reintroduced a spin on their popular Cote D'Azure. In a mix and match assortment of stripes, batik and florals, it is as appropriate for a city terrace as island cottage.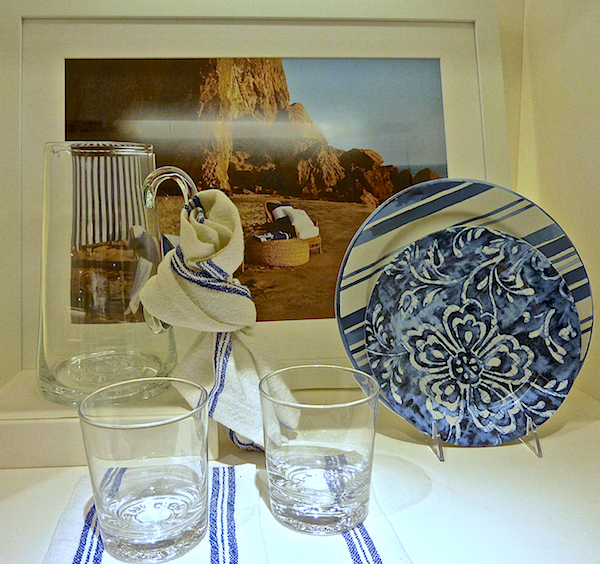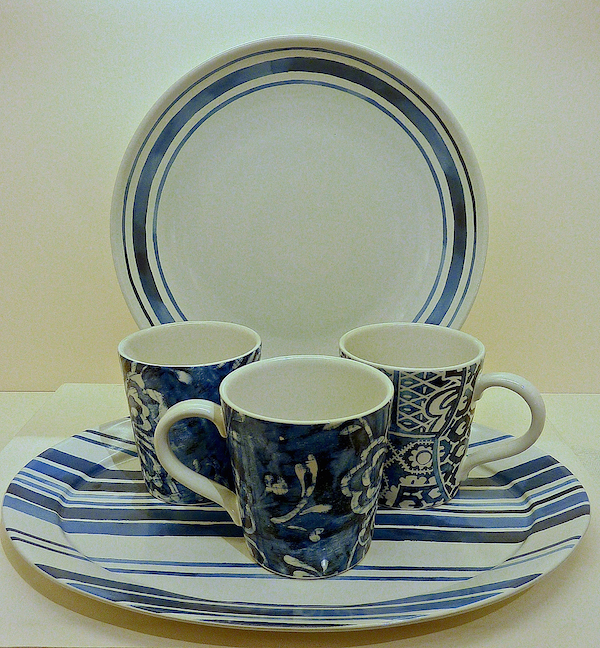 They've also brought back their beautiful Empress pattern, a versatile blue and white that can be dressed up or down.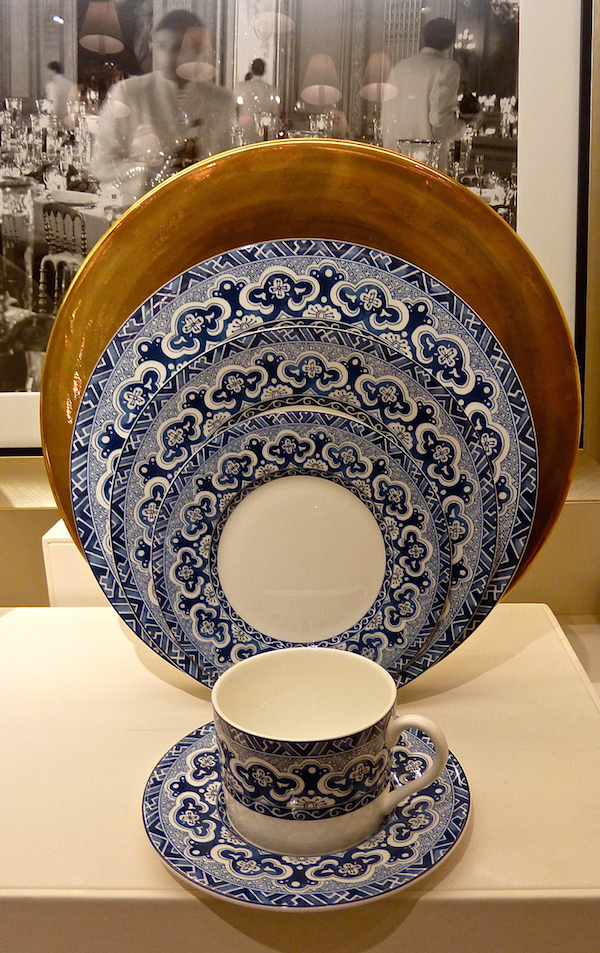 And I loved how they fitted their Jamaica wicker dining chair with the white buttoned navy cushions in the showroom – a crisp and classic idea to remember!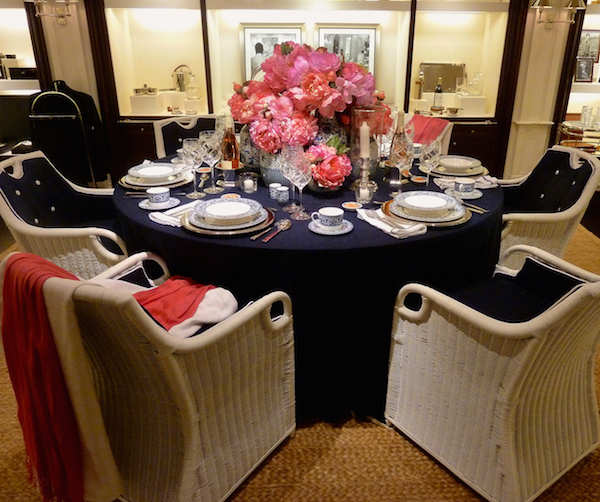 Another company that has been making a comeback in a colorful way is Royal Crown Derby. Their Bristol Belle introduced last year in turquoise is now available in a vibrant orange I love.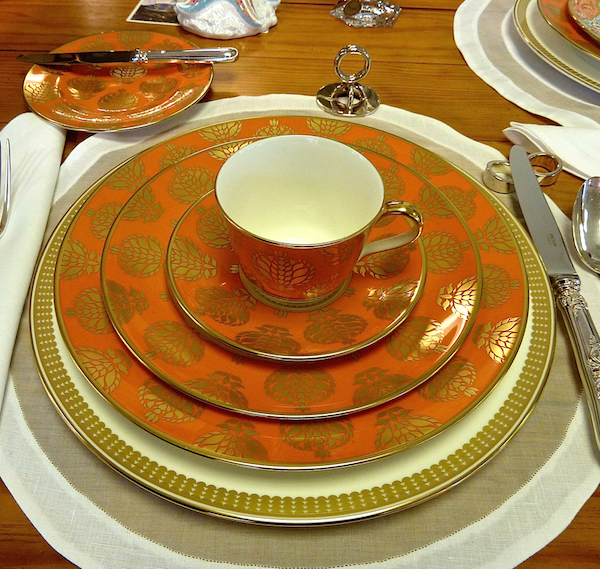 What a clever idea Mottahedeh had to introduce a home fragrance line in their own china containers. Wonderful to remember as a sure-to-be-appreciated hostess present, it's the gift that keeps on giving.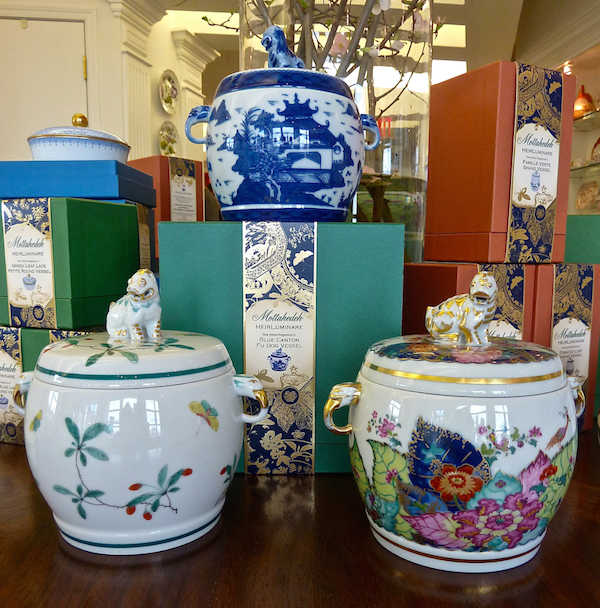 Produced in several of their most popular patterns, the HeirLuminares, as they're called, are reusable in versatile and beautifully designed shapes and sizes. Or as their tag line explains, "When the fragrance is a memory, the vessel is a treasure."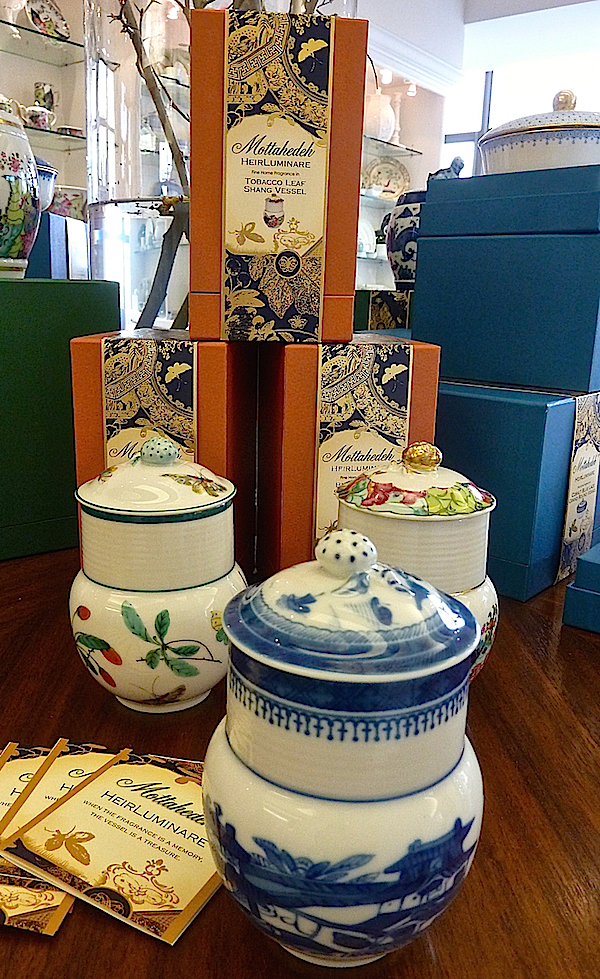 They also introduced dramatic chargers in updated versions of two of their most iconic patterns, Tobacco Leaf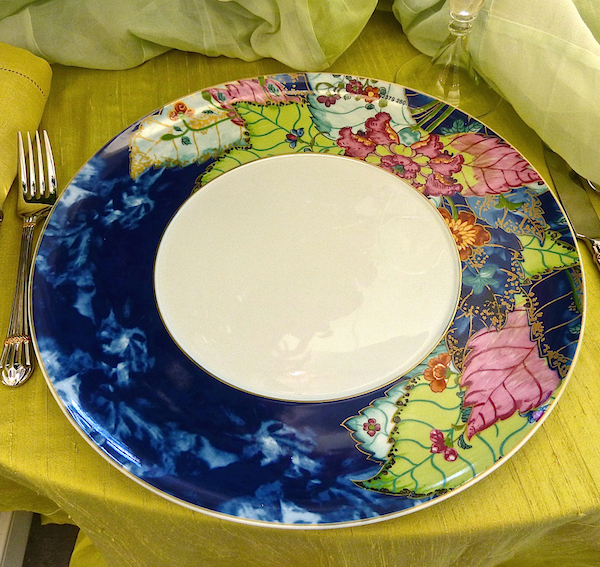 and Blue Canton.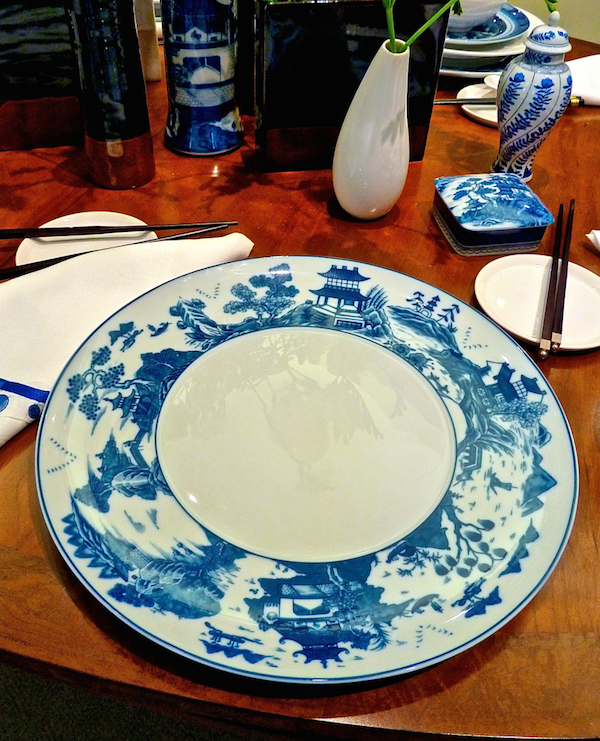 A visit to William Yeoward is always a must and I almost gasped when I spied this spectacular limited edition Xenia Vase. In a luscious light green, it is a gorgeous statement-maker at 25 inches tall.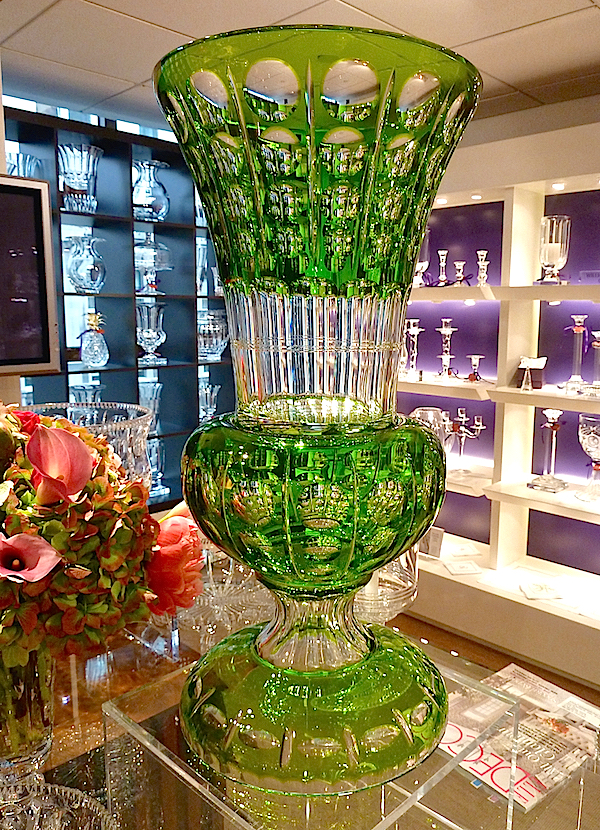 I am definitely feeling the freshness of green and I loved the clever use of boxwood in this spring-like tablesetting.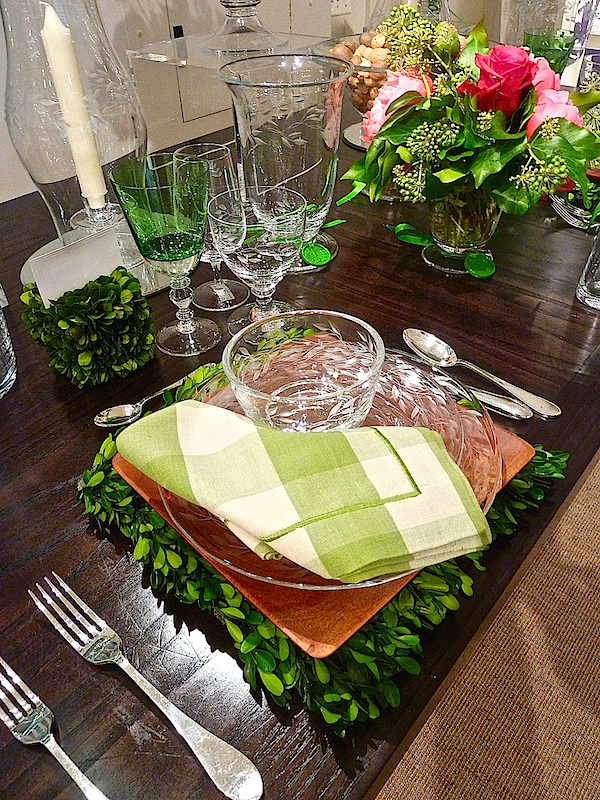 Nothing sets the tone for evening entertaining like candlelight and I was delighted to see the Carmen Candle lamp in the new golden amber.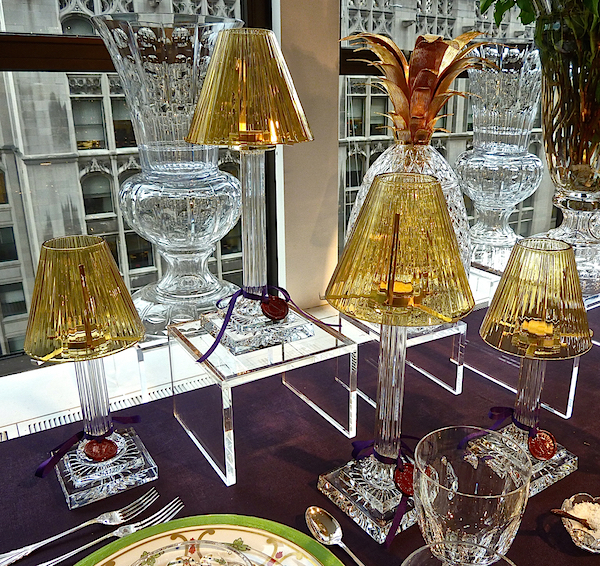 Hering, out of Berlin, Germany, is another impressive artisanal company I will circle back to tell you more about. The level of craftsmanship, creativity and sophistication elevates the table to modern artistry. Their latest collection, Ocean, translates the beautiful cobalt blue of the sea through the evocative and flowing illlustrations of Eleonore Gerhaher, specific to each piece.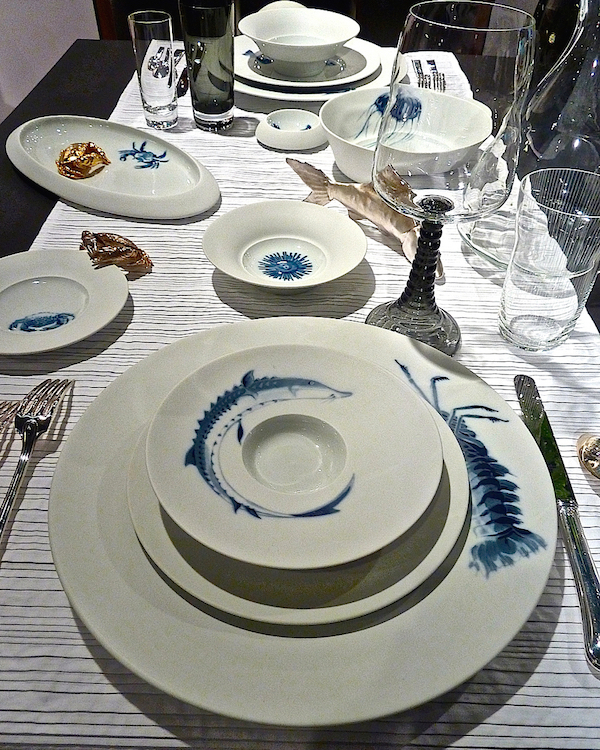 And for a unique and special hostess or weekend house guest gift, I love the idea of these beautifully packaged Christofle Jardin d'Eden silver plated chopsticks. So chic!!