Surrealism seems to be having its moment. While the movement is often cited as having originated in Paris around 1924, it was actually happening almost simultaneously in many countries around the world. Focused on the abandonment of the conscious state, Surrealism emphasized the power of dreams, dismissing the rational, the limits of reality and conventional methods of the creation of art. Surrealism meant many things to many people, leaving open a wide range of interpretations.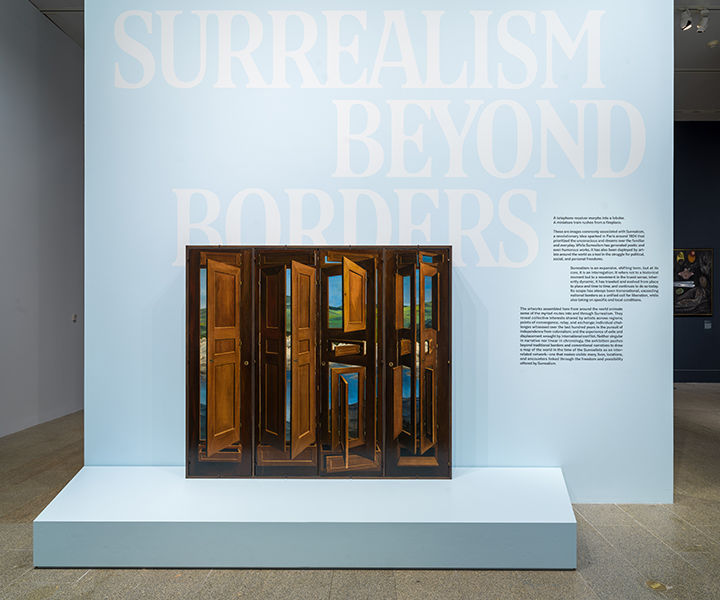 You are no doubt familiar with the famous surrealist artists Dali, Magritte, Miro et al (French surrealist Marcel Jean's Surrealist Wardrobe, 1941, in the image above) but a current exhibit at the Metropolitan Museum, Surrealism Beyond Borders, seeks to expand the understanding of the movement by including "examples from almost eight decades, produced across 45 or more countries…that will recast appreciation of this most revolutionary and globe-spanning movement." Preview the exhibition below.
As explained by exhibition co-curator Stephanie D'Alessandro, "Surrealism is inherently dynamic and has traveled and evolved from place to place and time to time. Its scope is (and always has been) international and, more specifically, transnational—extending across national borders to unite ideas and people, while also remaining specific and local in its liberatory drive. The works in the exhibition represent just a sample of the ways artists around the world have continued to take up Surrealism since its inception in the 1920s."
Although not part of the Met exhibit, one of the most important and previously overlooked female surrealists was British artist Leonora Carrington. Last month, her enormous canvas Sueño (Nephesh as the Soul in a State of Sleep) was offered at Sotheby's Modern Evening Auction (and sold for $1,835,000). In anticipation of the auction, Sotheby's created this illuminating video, narrated by co-head of Impressionist & Modern Art, Julian Dawes, about Carrington and her unique expression of surrealism.