I have been tracking Catherine Olasky and Max Sinsteden of Olasky & Sinsteden ever since spying their stylish Sotheby's Showhouse drawing room a couple of years ago. Young designers with pedigreed pasts (aka design experience), they draw on the classics to create fresh new interpretations of tradition. Their Kips Bay guest bedroom is just that – a chic modern spin on what might have been a top floor space in a stately home.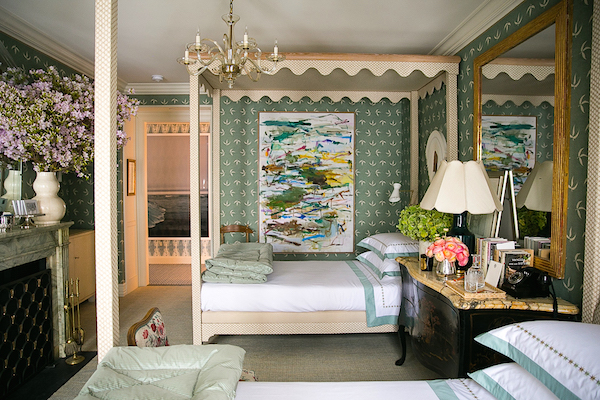 The beds are custom designs that nod to the past with comfort, practicality and updated style. Scalloped tops are reminiscent of a classic tester, yet they feel airy and open with flat upholstered surfaces in a small custom cotton print from Fermoie in lieu of endless yards of hanging fabric. Practicality comes into play as top and feet are edged with a pale cerused wood, making dusting and vacuuming easier chores. And while they have the appearance of classic twins, the beds are actually thirteen inches longer and six inches wider with beautiful custom linens from Nancy Stanley Waud –  a spacious and luxurious treat for weekend guests.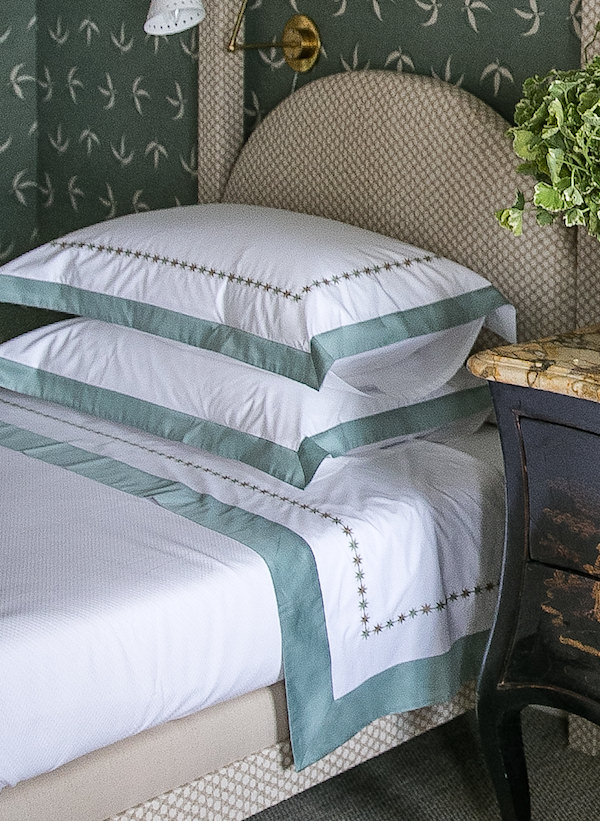 A classic John Fowler curtain design was adapted and updated both for a fresh look and to stylishly accommodate the soffit. Curtains and upholstered walls, as well as the other fabrics are from the newly released Warner Textile Archive Collection available through Claremont.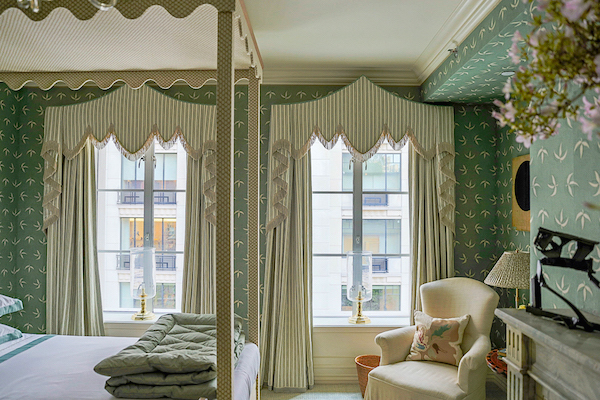 Serious antiques such as the 18th century Florentine chest from Helen Fioratti of l'Antiquaire & the Connoisseur, below,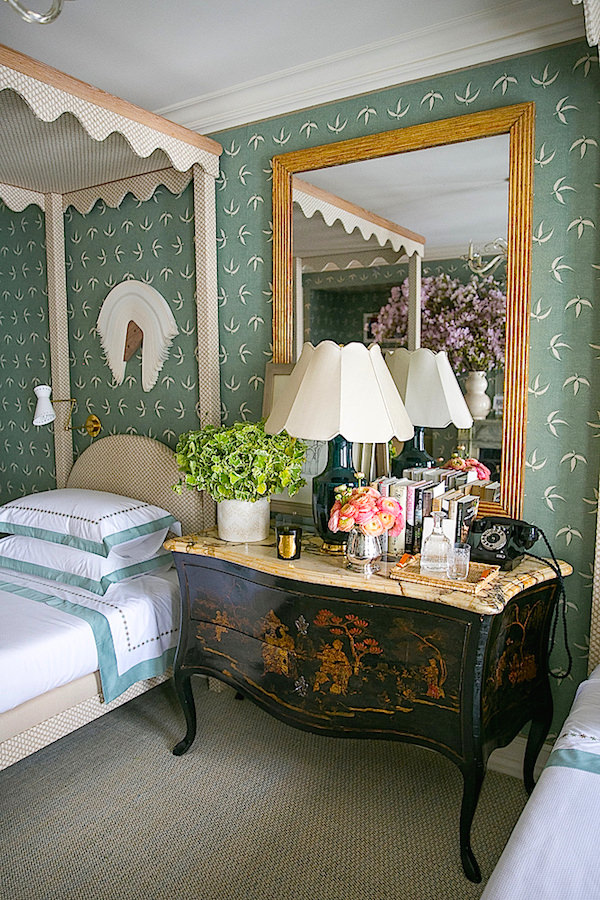 mix effortlessly with contemporary art such as a fabulous large work on paper I covet by Kikuo Saito (top photo) and the vinyl art of Denver artist Derrick Velasquez, below, sourced by art consultant Illa Gaunt.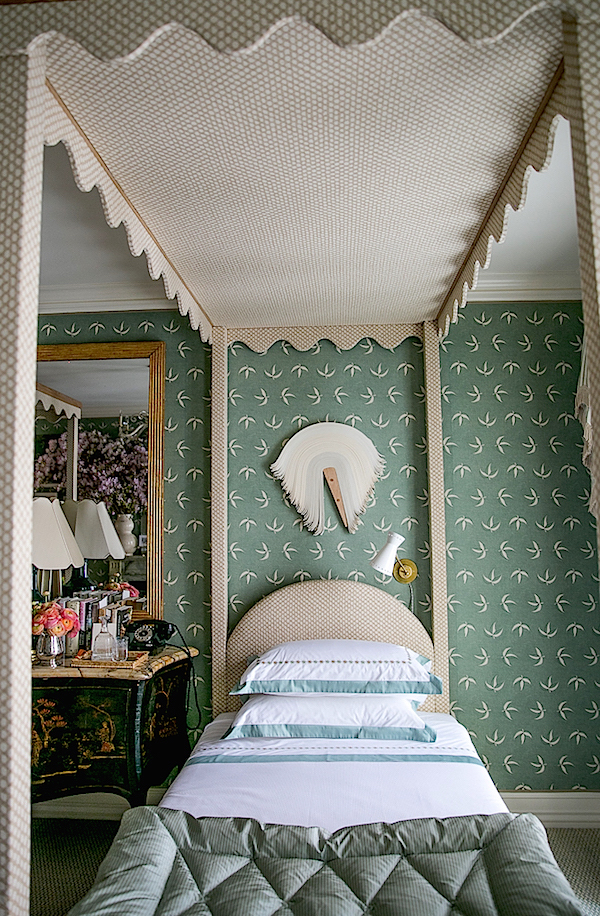 Of course the ideal guest bedroom has its own fireplace, enhanced with an antique mantel from A & R Asta and stunning floral arrangement from Helena Lehane. Schumacher's fetching Frances slipper chair is oozing with timeless charm in Eleanor, an 1860's chintz reprinted with the same traditional hand screened methods as the original for the Warner Archive collection.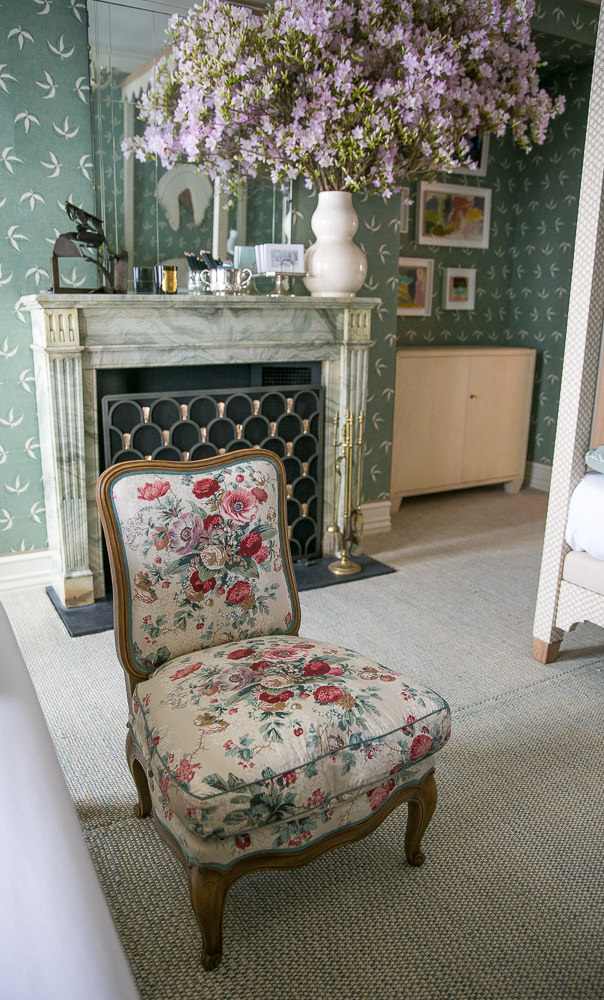 Max and Catherine have thought of everything to make their guests feel at home. From the concealed TV, showing a mutual favorite flick, Visconti's visually lush The Leopard,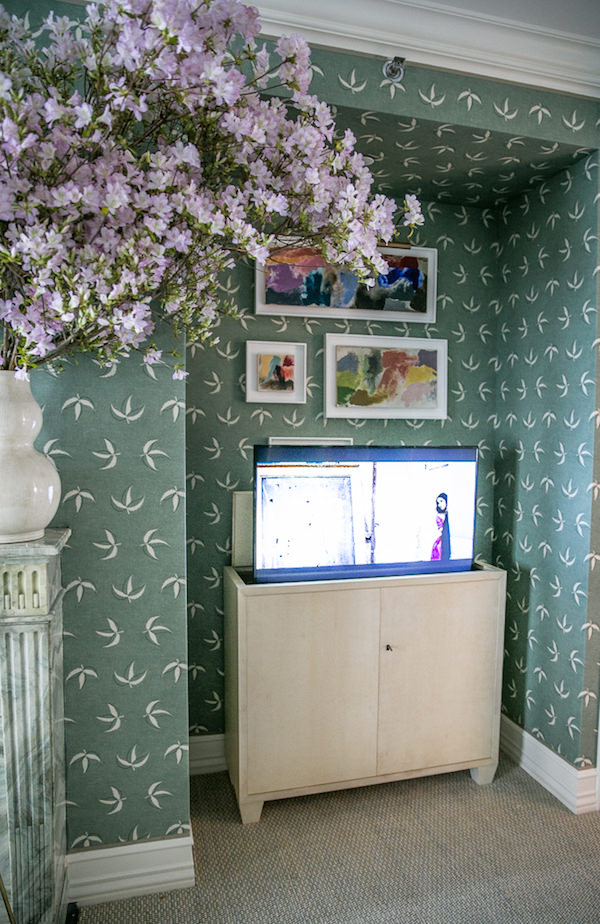 to a cozy reading corner with standing lamp from David Duncan, Robert Kelly art, The Morning News (perfectly appropriate for the space),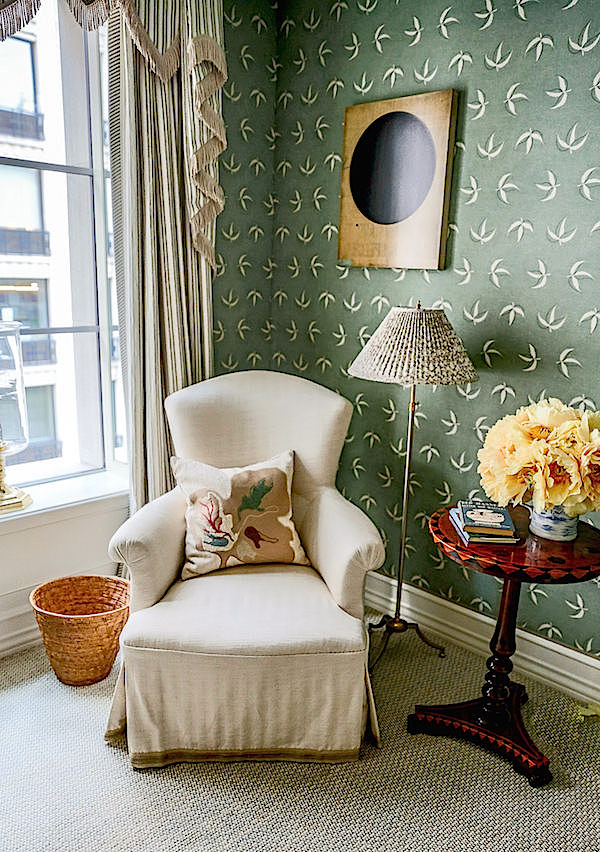 and a gorgeous bouquet of Chinese tree peonies by Helena Lehane.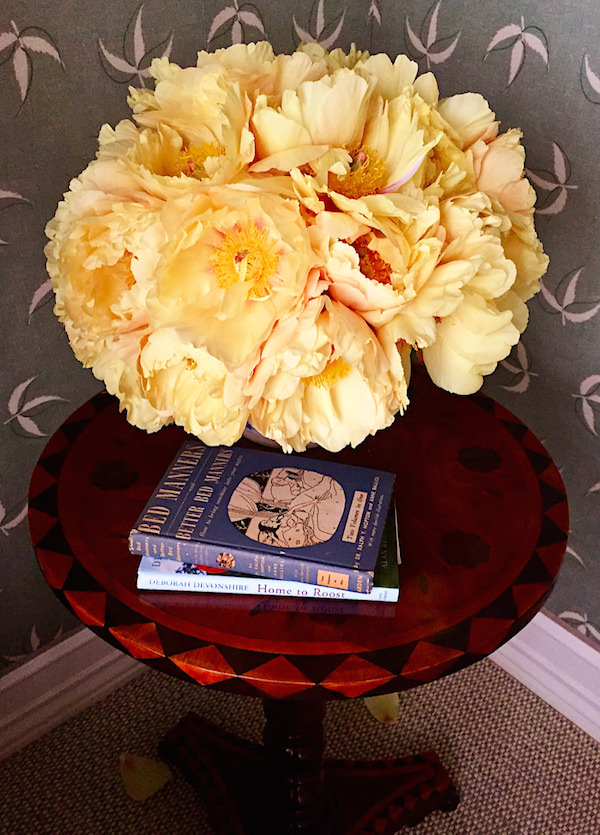 Christopher Spitzmiller's Ming Lamp, in my favorite shade of prussian blue, with a graceful custom shade from Blanche Field, anchors an assemblage of stylish bedside necessities.
all photos by Stacey Bewkes for Quintessence
Olasky & Sinsteden's Kips Bay guest bedroom is such a delightful retreat. As Catherine and Max so aptly explained, "This is a room to live in tonight and dream of living in forever."