Not only is the JAR exhibition at the Metropolitan Museum the first US retrospective of jewelry designer Joel A. Rosenthal's work, but the first at the museum devoted to any living  jeweler, or in Rosenthal's case, artist, whose medium happens to be gems. Including over 400 one-of-a-kind masterpieces, the exhibit is an expression of his rare talent and unbridled creativity. Several weeks ago I attended the press preview for the exhibit and was overwhelmed by the exceptional detailing and unexpected combinations of materials that yield such unique and exquisite work. Take for example the Camellia Bracelet below, executed in enamel and embellished with rubies, silver and gold, which now resides in the Musée des Arts Décoratifs in Paris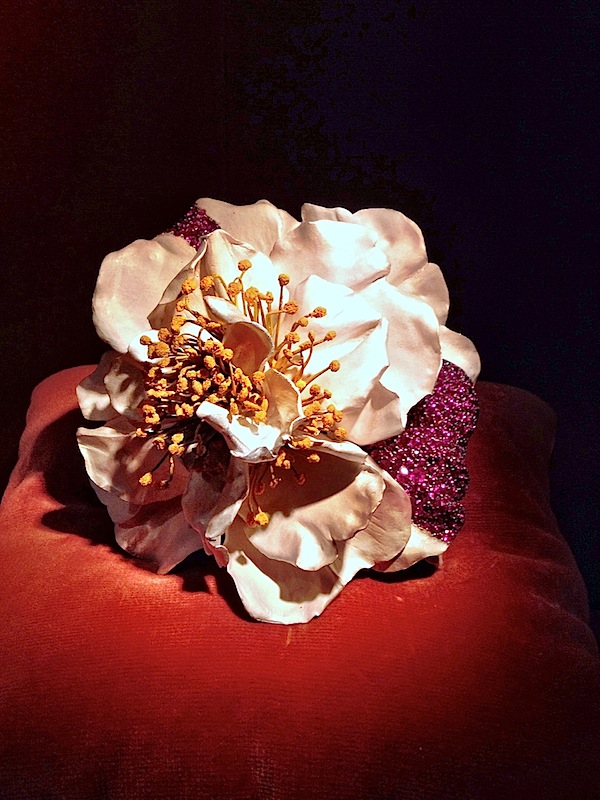 or another camellia study, this time a brooch in aluminum, diamonds, gold, enamel. Interestingly, the two were created 10 years apart, illustrating the timelessness of Rosenthal's craft.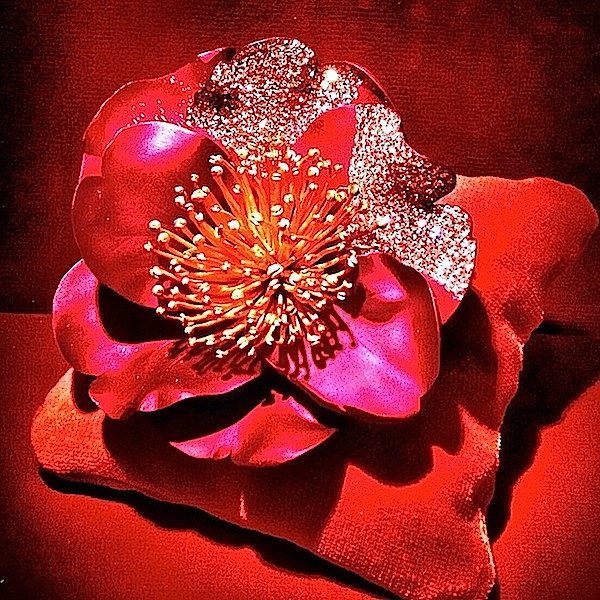 Growing up in the Bronx, Rosenthal was always interested in art and aesthetics. After studying art history and philosophy at Harvard, he moved to Paris after graduation in 1966, where he met Pierre Jeannet, once a Geneva based psychiatrist. Together they studied antique jewelry and stones, visiting galleries, museums and auction houses to broaden their knowledge. They opened a needlepoint shop, where Rosenthal designed canvases, painting with the wool, experimenting with colors and the imitation of nature. But the passion for gems persisted and Rosenthal began by redesigning clients' jewelry. After a stint working at Bulgari in New York, he moved back to Paris, officially opening a jewelry business under his initials, and JAR was born.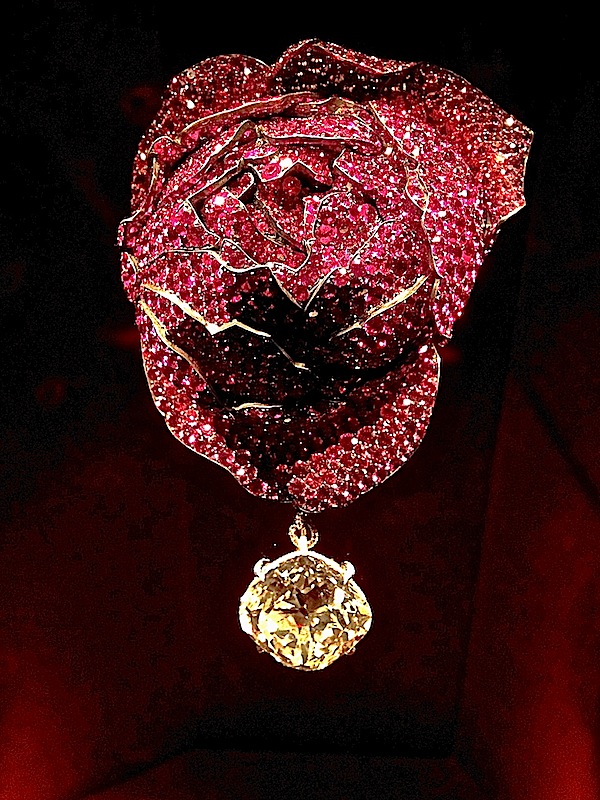 His unusual creative vision and exquisite craftsmanship gradually attracted a clientele beyond his Parisian atelier and soon collectors from around the world flocked to Rosenthal for his unusual sculptural designs in vibrant colors. Known for his exacting pavé, his pieces undulate with movement and sparkle, as in this incredible Rose Brooch above, one of his most recent pieces. And contrast this with the Carnation Brooch below with its graphic patterning executed in aluminum yet resembling brain coral. It's a mind game of materials and matter.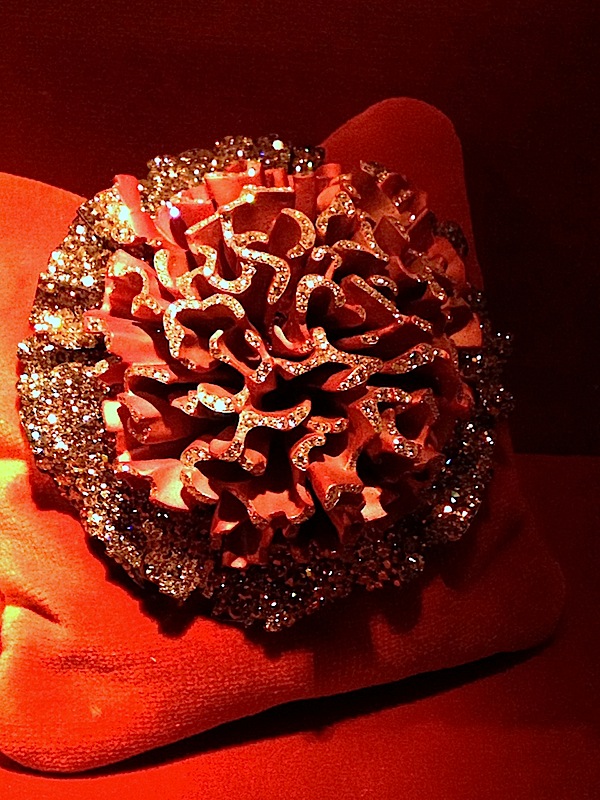 Here similar geraniums are brought to life, one in matte aluminum and the other in diamond pavé, yet both beautiful in their uniqueness.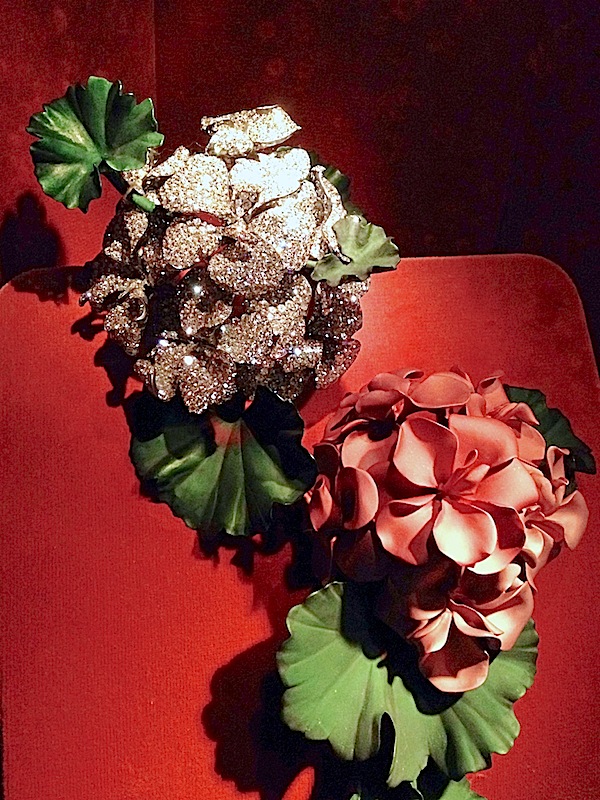 But Rosenthal is impossible to pin down. Constantly experimenting with new subject matter and technique, nothing is too far reaching for consideration. From bejeweled vegetables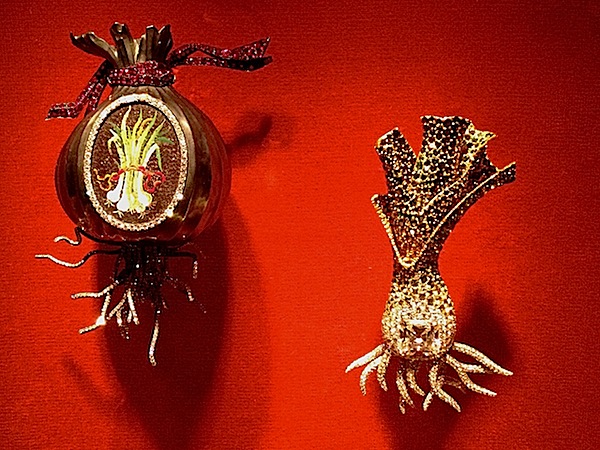 and fruit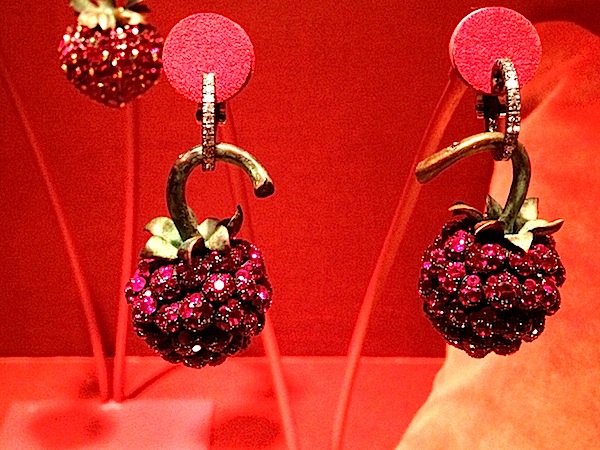 to earrings of bedazzled beetle wings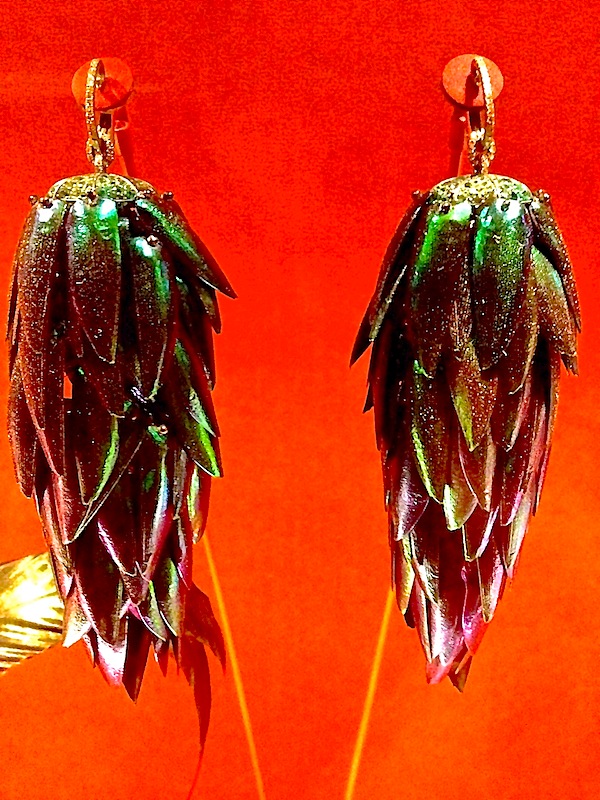 or fabulous feathers, it's the translation and transformation that is simply stunning.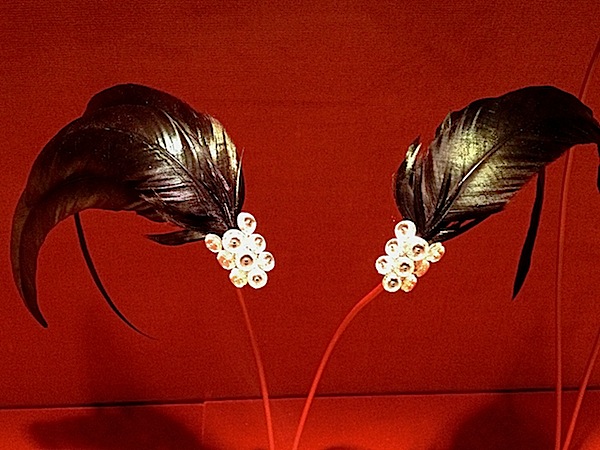 A zebra achieves mythical stature under Rosenthal's watchful eye, regal and elegant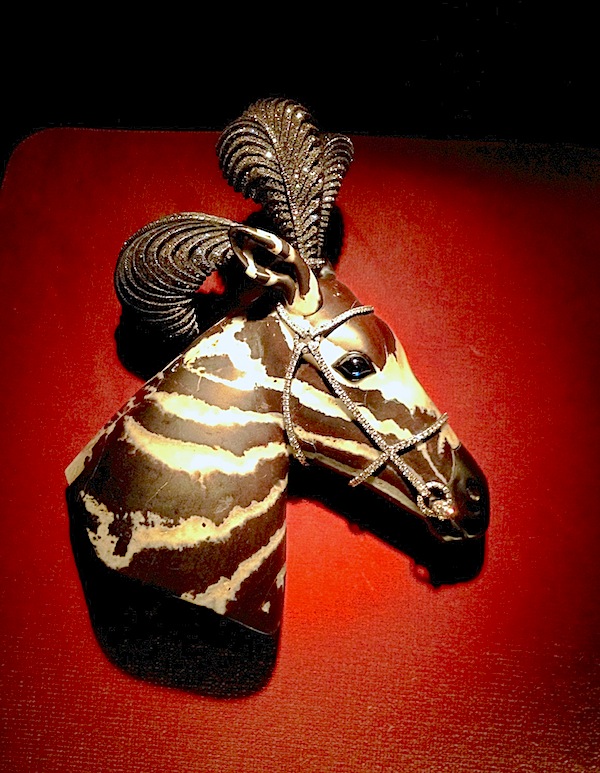 while an agate and titanium elephant is whimsically crowned with a diamond aigrette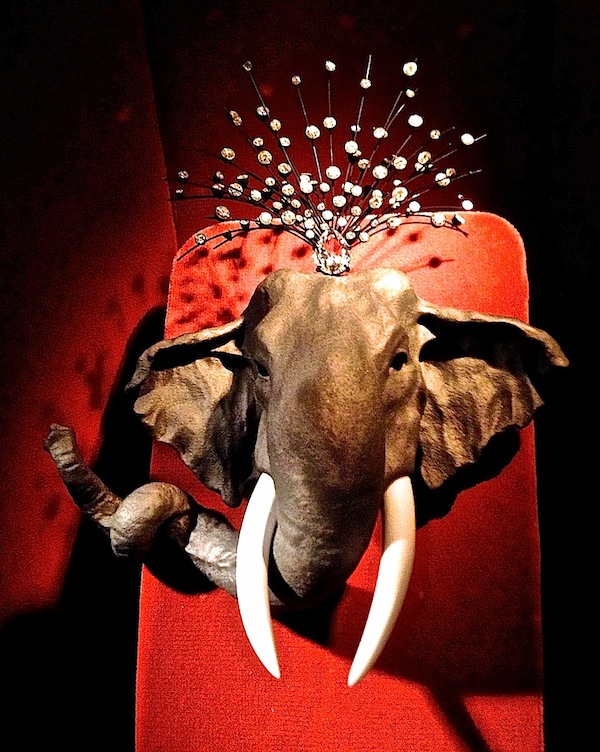 and a sea of his famous butterflies seem ready to take glamorous flight.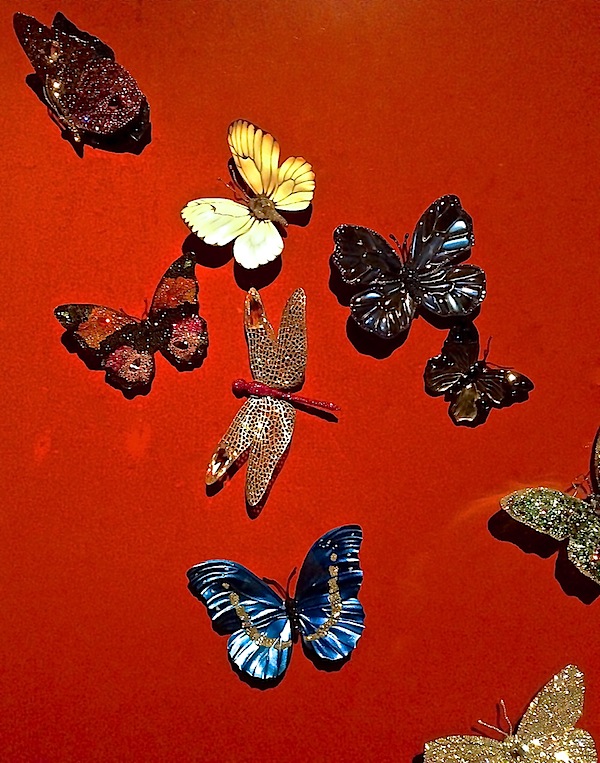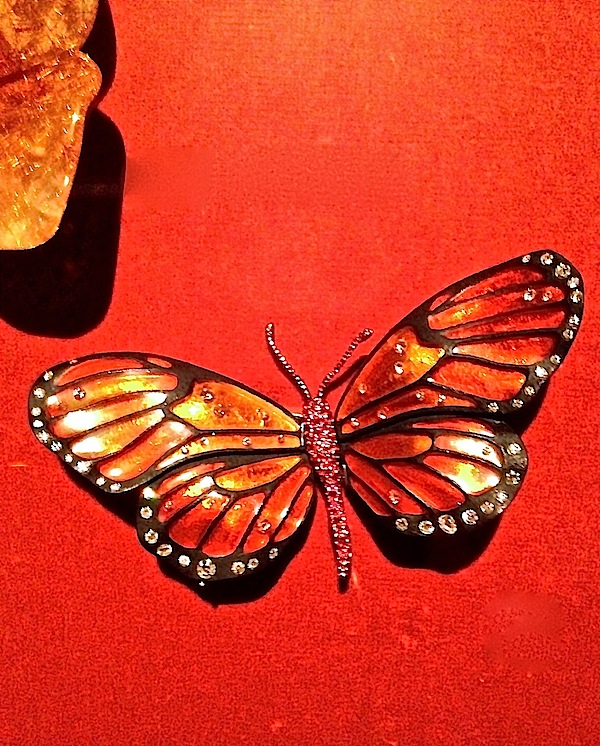 Rosenthal looks both back and ahead. The days of the maharajahs are evoked with this agate elephant clothed in a cloak of oriental pearls and diamonds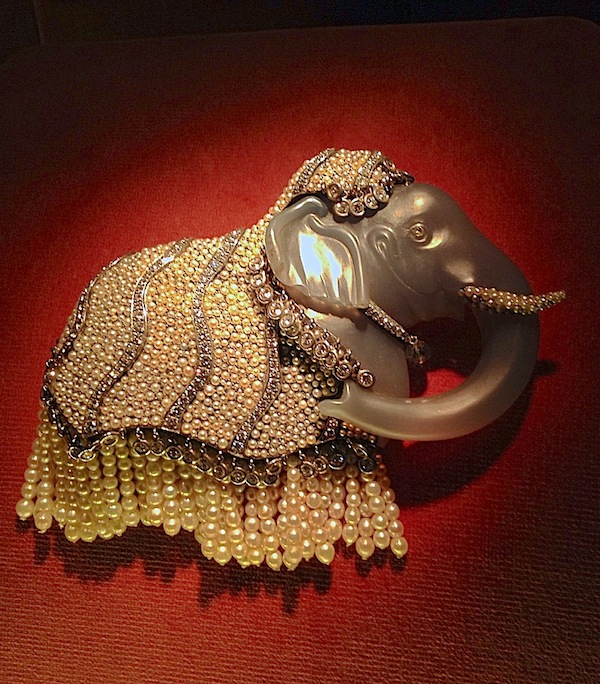 and yet these earrings with their spray of diamonds seem almost futuristic with a sleek modern appeal.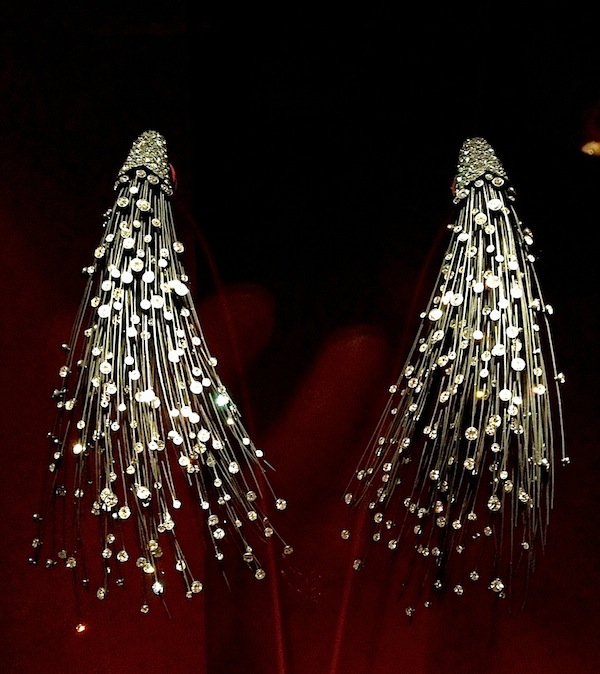 In no particular order, let me share a few more favorites from this incomparable show.
Oak Leaf and Acorn Earrings, 1990 of wood and gold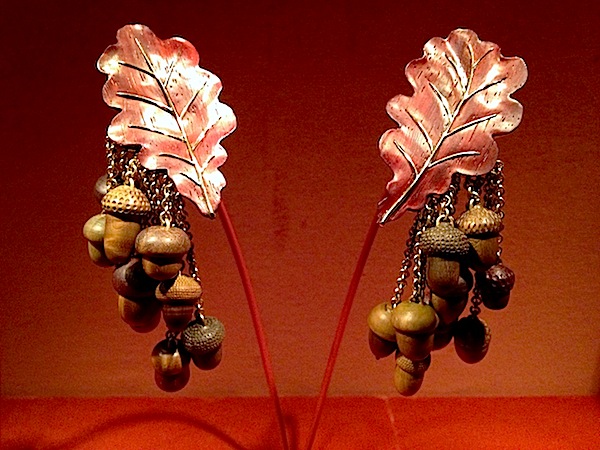 Lily of the Valley Brooch, 1991 Oriental pearl, diamonds, platinum, gold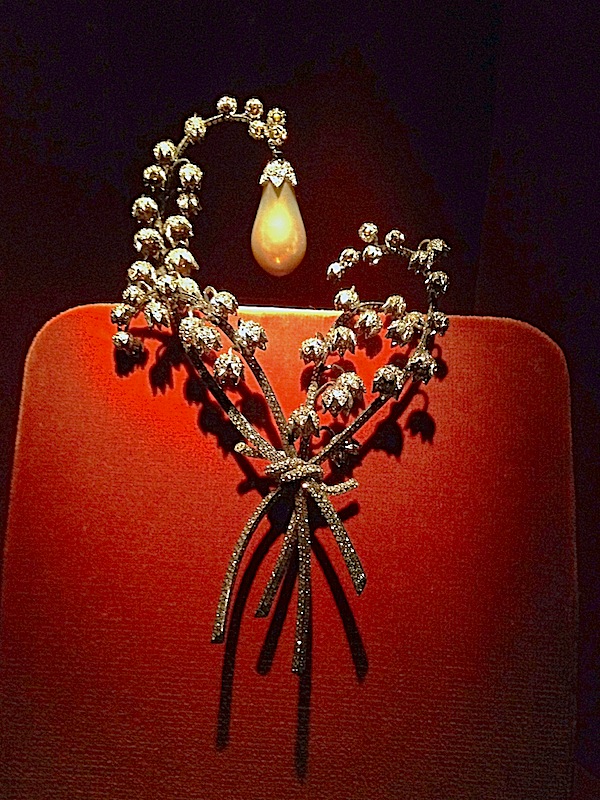 Gardenia Brooch, 1987 Coral, diamonds, platinum, gold.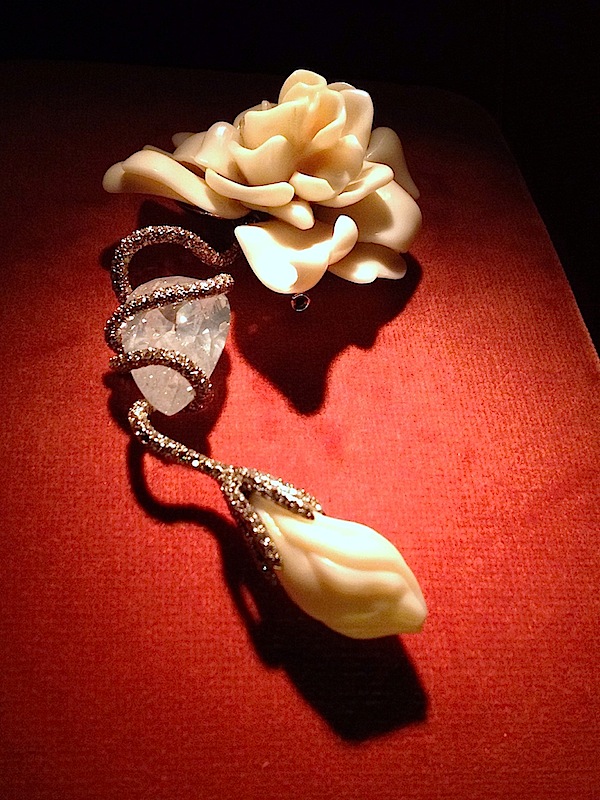 Seashell Brooches from 1990 to 2009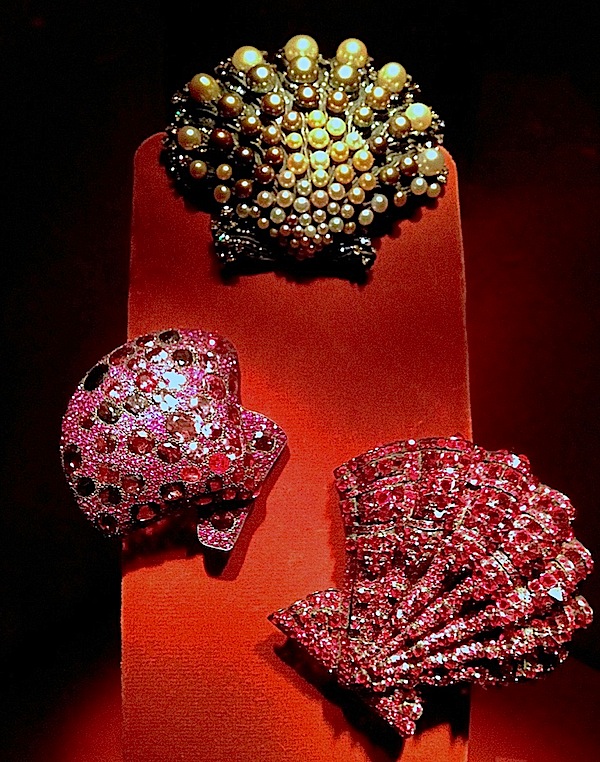 and this mind boggling Iris Brooch from 2000 with sapphires, diamonds, silver, gold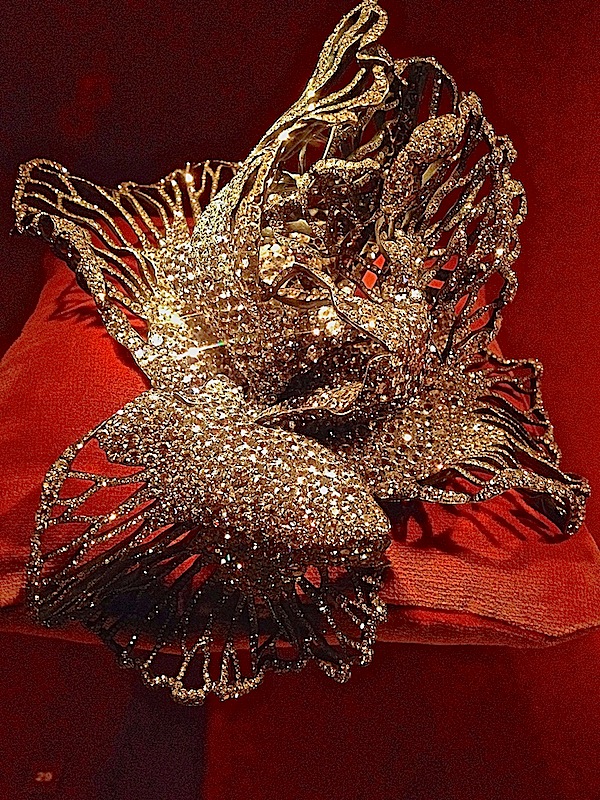 And for those who would love to own an original JAR piece but don't have either the access or budget, JAR has created a small collection of jewelry expressly for the Met that will be available exclusively at the museum (in their Special Exhibition and Mezzanine Gallery shops only – not on the website) through the close of the exhibition on March 9. It includes La Dame Aux Gardenias (The Invisible Flower of Madame X) white resin and 18k ear clips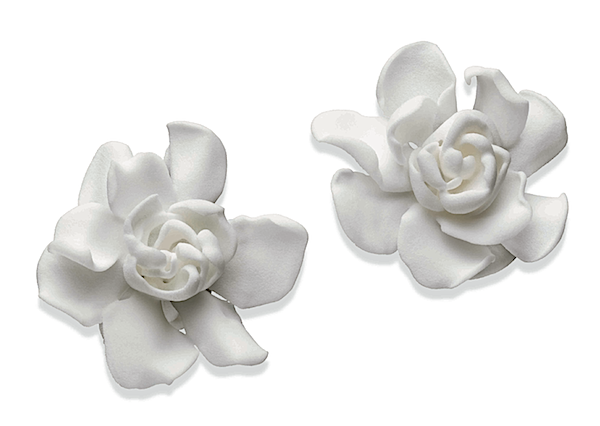 and Tickle Me Feather black ear clips, also in resin and 18kt, among other earrings and a special watch.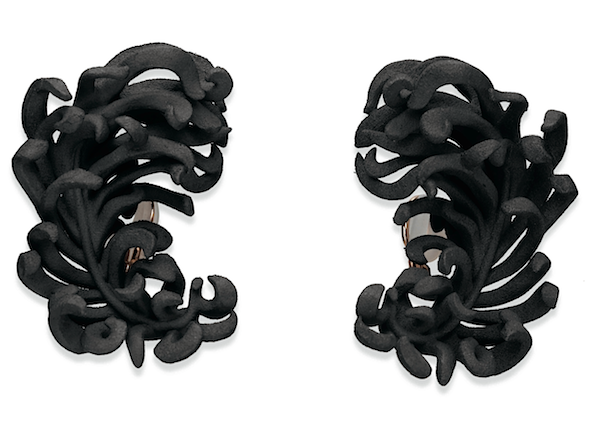 There is also a variety of postcards and a choice of 6 framed digital prints. Of course the ultimate collector's items are Volumes I and II of JAR's work, each documenting over 300 objects in each. Volume 1 is the current reissue of the volume first published by JAR in 2002 and Volume 2 is a new book featuring jewelry created over the last decade.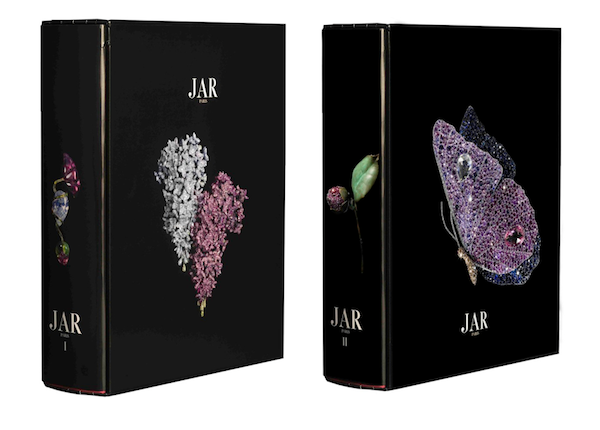 all photos of jewelry in the exhibition by Quintessence
Treat yourself and allow a morning or afternoon to see both this and the Interwoven Globe – you will be guaranteed a visit of rare style and substance.