At Mercedes Benz Fashion Week, Naeem Khan's collections are, for me, perennial favorites. Their timeless glamour, elegant  embellishment and incredible craftsmanship make for covetable creations and this spring was no exception. Showing more daywear than usual, Khan's inspiration came from "elemental beauty and cultural landscapes." This imagery, from florals and geometric patterns to dessert sunsets and ocean surf, was then digitally translated into "prints, beading, threadwork and laser cut leather designs," the latter an especially popular theme throughout the shows. One of my favorite pieces, in fact, was this mosaic leather appliqué satin cardigan/jacket shown over cotton sateen pants – so chic!
photo by Alessandro Viero/GoRunway.com for Style.com
Although I missed seeing the jewelry of Khan's wife, Ranjana, adorning the models, I loved the pure clean aesthetic. With stylish low chignons, simple make up and flats, the show offered an understated sophistication that felt refreshing.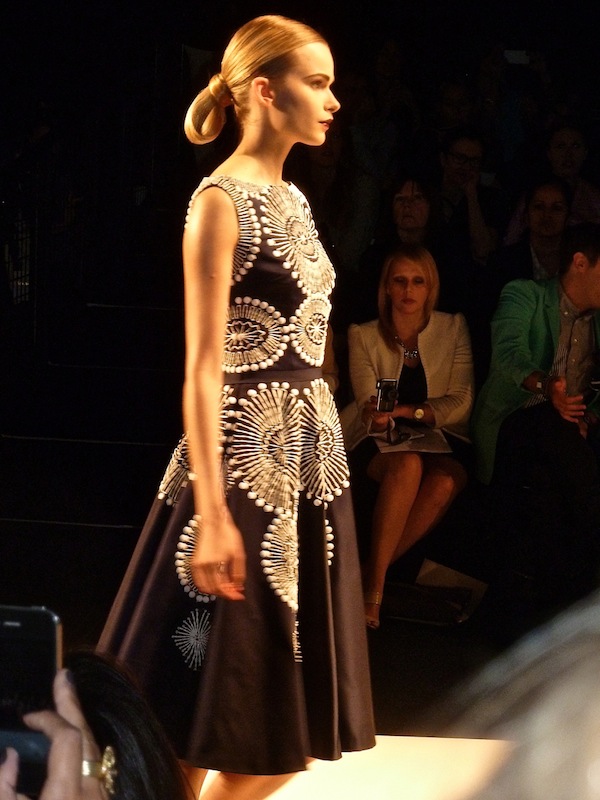 As we've noted, navy is sharing the stage with black for spring and looked stunning in the graphic raffia embroidered satin dress above and palm frond embroidered dupioni topper below.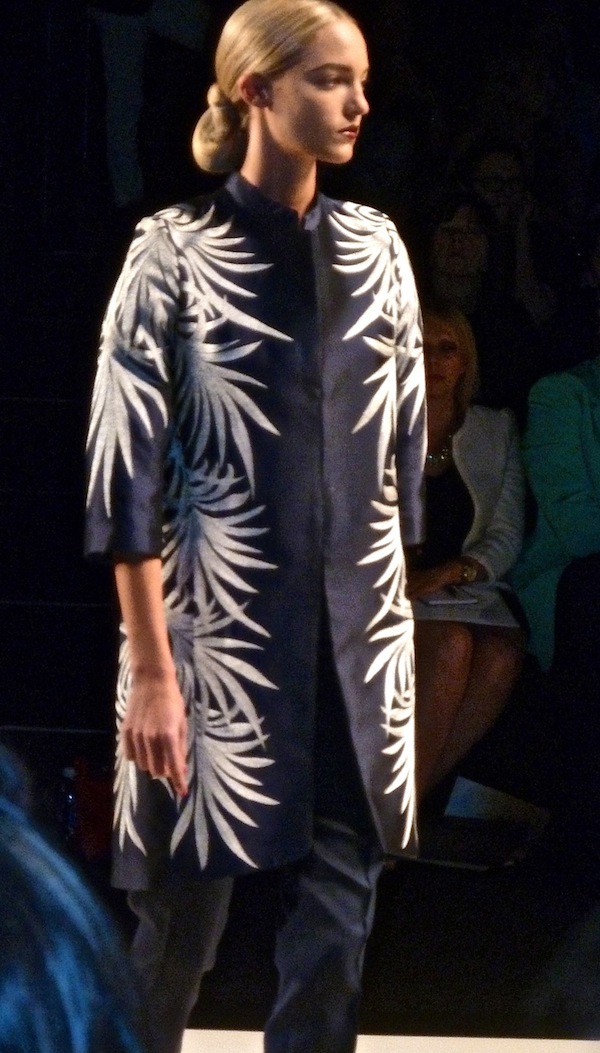 And Khan added a clear brighter blue, also popular on the runway this season, to the collection that was used so effectively in this gorgeous classic quilted silk trench that is on my wish list. Worn with turtlenecks in early spring to silk tanks at the beach in the summer, this would be a versatile piece to count on for seasons!
photo by Alessandro Viero/GoRunway.com for Style.com
While there were fewer formal dresses this time around, one of the most gasp-worthy pieces in the collection was this amazing navy floral beaded cut-out gown in georgette with chiffon cape. It literally floated down the runway.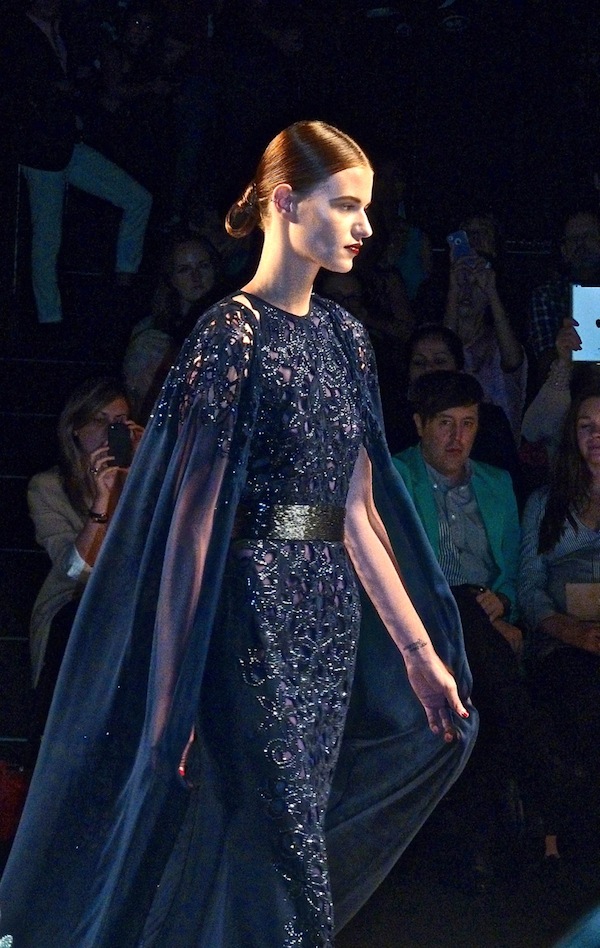 I also liked this marigold gazar ballgown with white beaded bodice – a similar sunny shade to what we saw at Tory Burch.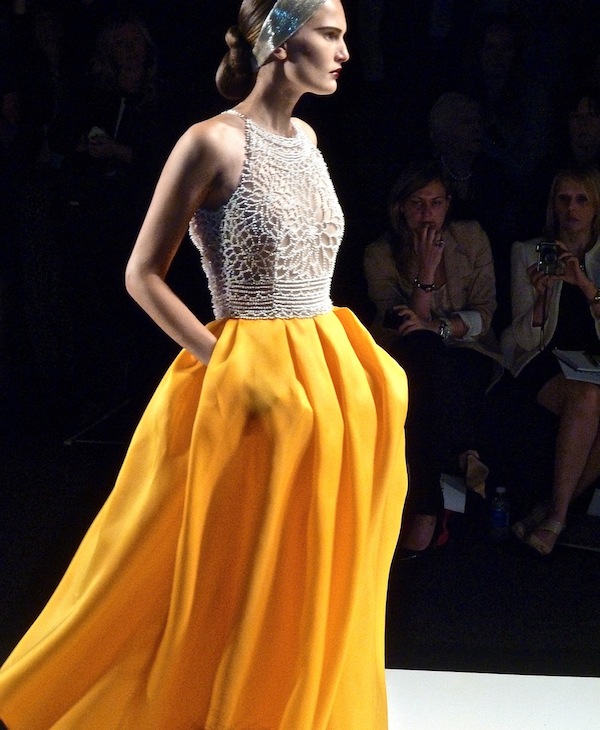 For a dressy spring/summer function, any of Khan's magnificent chiffon caftans would do. Flowing with fantastic drape and beautiful beading, they would be a timeless addition to any stylish wardrobe. The same marigold as above is embroidered with a diamond medallion pattern.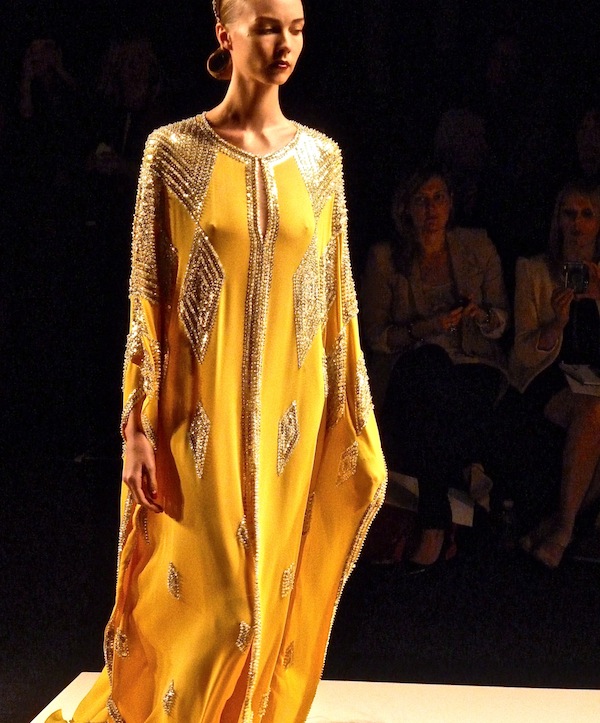 I love coral, orange's kissing cousin, here with a floral medallion beading. The tiara headbands were reminiscent of Oscar's show last season, yet felt totally in keeping with the metallic embellishments.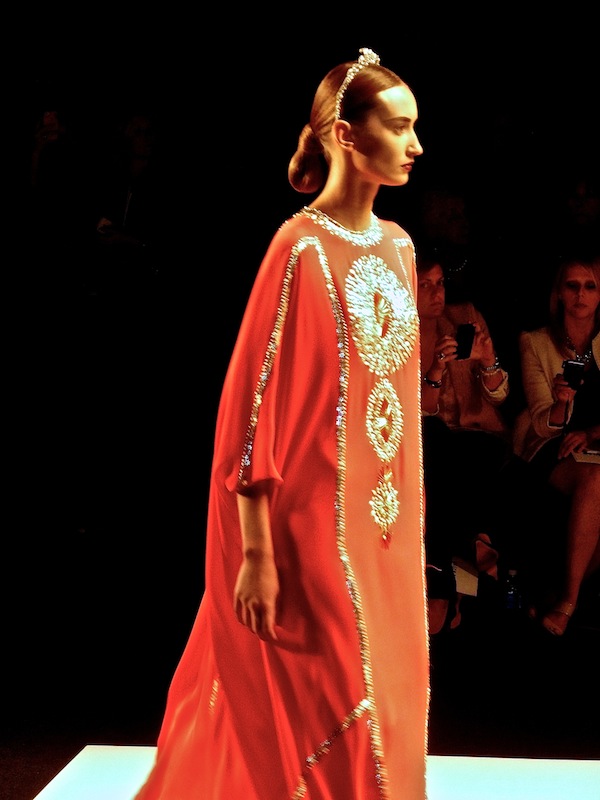 and the beautiful azure made another appearance in this exquisite blue chiffon caftan with silver metallic floral beading. Another beautiful showing from one of my favorite designers.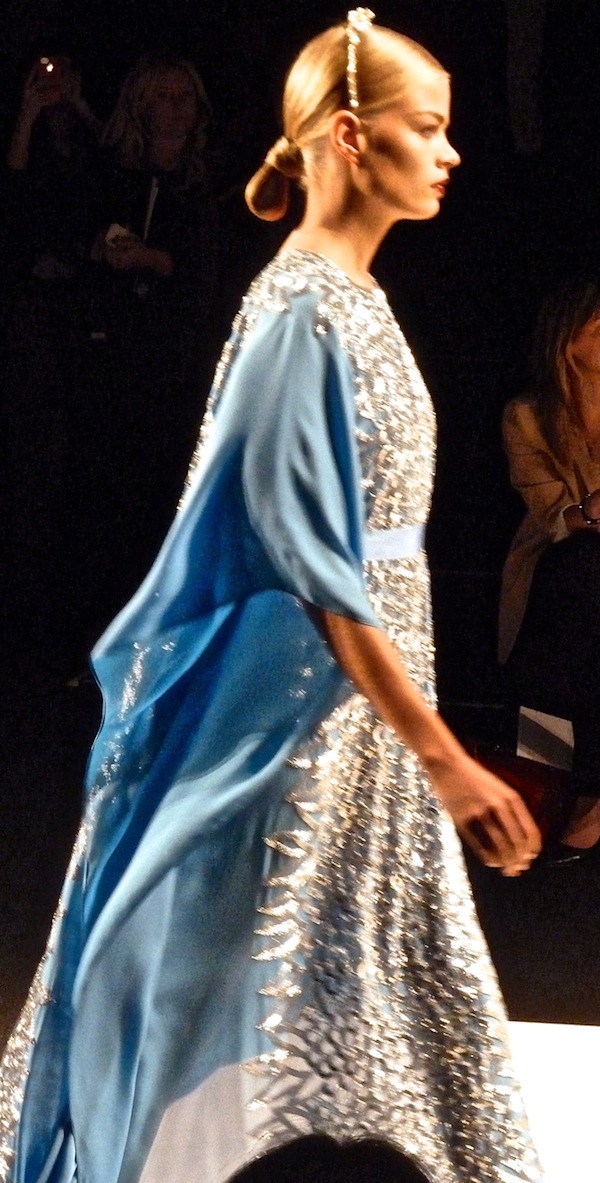 Unless otherwise indicated, all photos by Quintessence