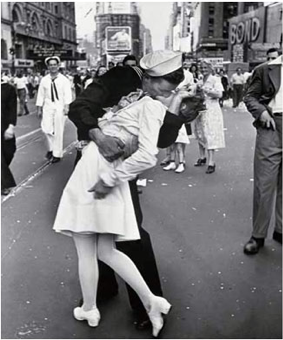 In honor of Veteran's Day, I have chosen this wonderful Alfred Eisenstaedt photo that appeared in Life Magazine, which features a U.S. Navy sailor grabbing a nurse in a spontaneous moment in Times Square as America celebrated the end of World War II when Japan surrendered on August 15, 1945.
Due to the fact that Eisenstaedt never got the names of these two, made famous from this photo, many people have, over the years, claimed to be the sailor and nurse featured. One such woman, Edith Shain of Los Angeles, at the age of 90, actually rode in the front of New York City's Veterans Day parade as the event's grand marshall in 2008.
Let us take time today to remember the many, including my father, who sacrificed to keep our country safe and free.