As we enter the new year with many of the anticipated design events postponed, we can still look forward to some exciting auctions this month, including the upcoming collection of Pierre Durand at Christie's. Born in Lima, Peru to a French father and Italian mother, Durand, below, came to the states to attend Cornell for his undergraduate years (where he met his partner Khalil Rizk) and later graduate school at Columbia. While Durand's primary career was in banking, he and Rizk together founded the The Chinese Porcelain Company in 1984, known among curators, collectors and designers for the finest Asian and European works of art and furniture.
Photo: Jeff Hirsh, New York Social Diary
Always interested in the decorative arts, Durand became an avid collector, eventually helping to oversee the gallery after Rizk's premature death in 2001. His collection being offered at Christie's represents Durand's sophisticated and eclectic interests in fine and decorative arts, from the Chinese porcelain that the gallery initially specialized in to portraiture, Georgian furniture and Italian glassware, all assembled with discernment and curiosity.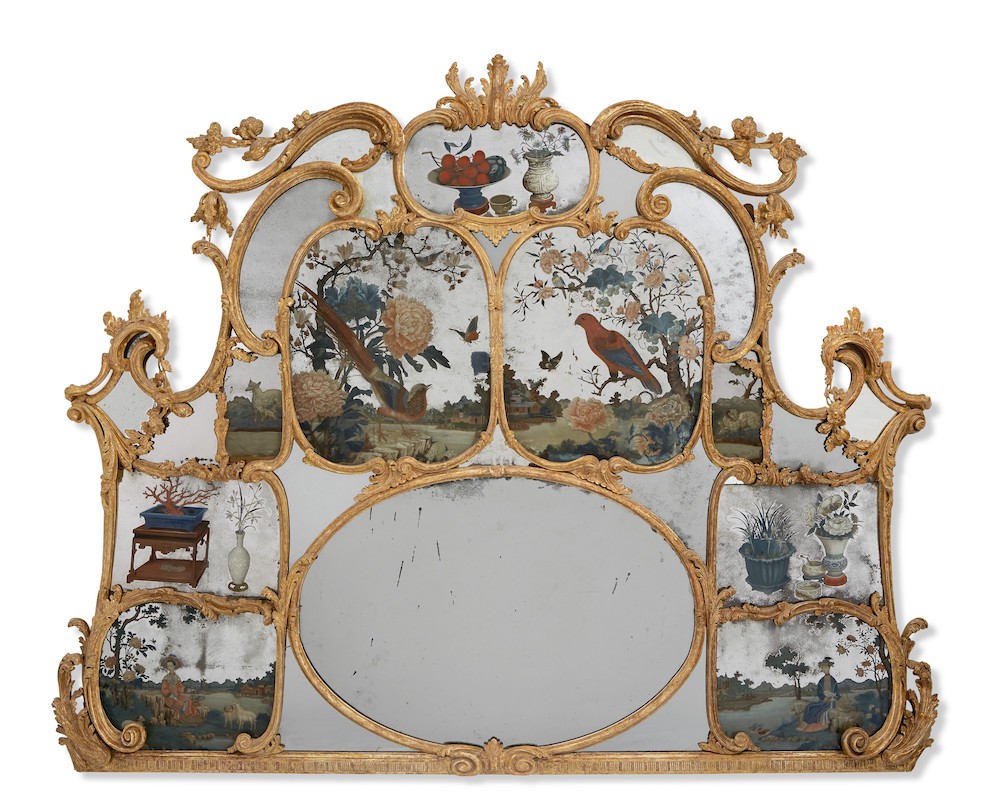 Some of the blockbuster offerings include the extraordinary George II (circa 1760) overmantel mirror, above (lot 69). Impressive in size (almost 5′ tall and 6′ wide), it exudes enormous decorative charm with reverse painted landscape scenes on mirrored glass within an elaborate giltwood frame. As explained in the catalogue copy, Chinese mirror painting began in 1715 with the arrival of  the Jesuit missionary Father Castiglione, who oversaw the decoration of the Imperial Garden in Beijing. He knew the technique of painting in oil on glass, which was then adopted by Chinese artists in glass paintings for export. Flat clear and mirrored glass, however, was not yet produced in China, so from mid 18th century, it was sent to Canton from Europe for decoration and then sent back to be placed in frames for the European market's obsession with chinoiserie.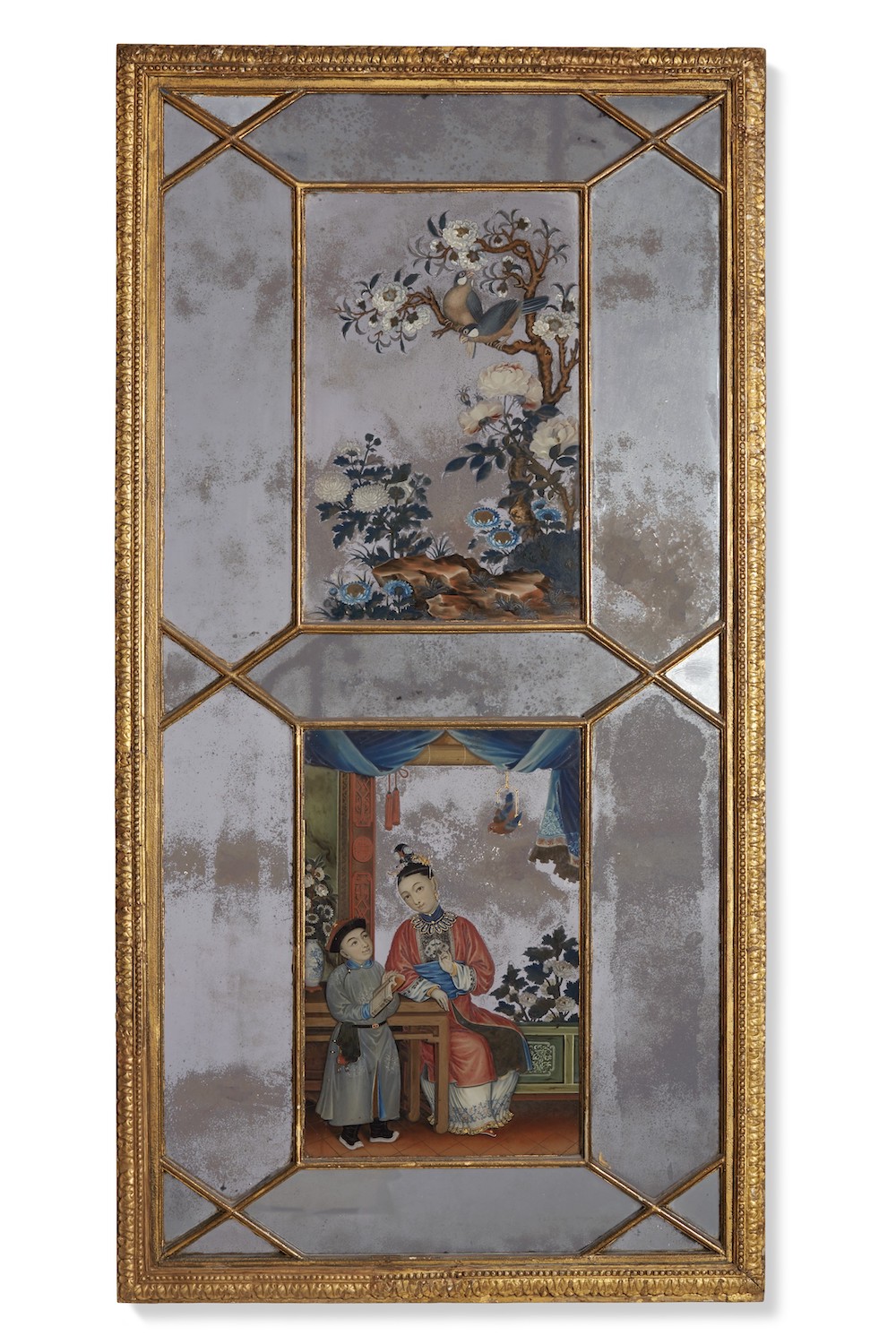 For those who cannot accommodate such a large piece, there is a lovely George III (late 18th c.) giltwood mirror (lot 196) with reverse mirror paintings, above. At 51″ high and 26-1/2″ wide, it could work in a variety of spaces.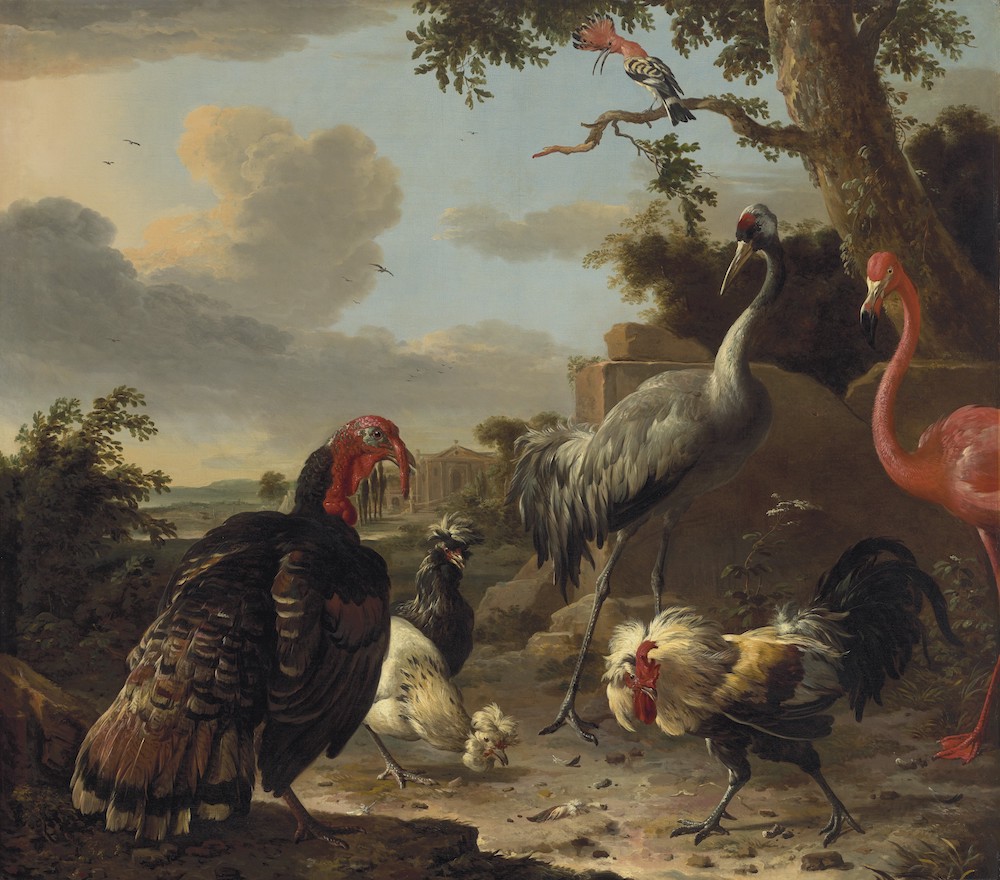 Another exceptional lot (47) is the Dutch master Melchior d'Hondecoeter painting, circa 1675, above. A celebrated and collected artist during the Dutch Golden Age, Hondecoeter was particularly well known for his bird paintings, hence his nickname 'Raphael of bird painters.' He especially enjoyed featuring what would have been rare and unusual species for his audience such as the American wild turkey and Indian/Southeast Asian sarus crane included here. And while not as recognized an artist, I would be delighted to own the Johann Jakob Dietzsch still life below (lot 98). Much smaller in scale, it also has a rather reasonable estimate.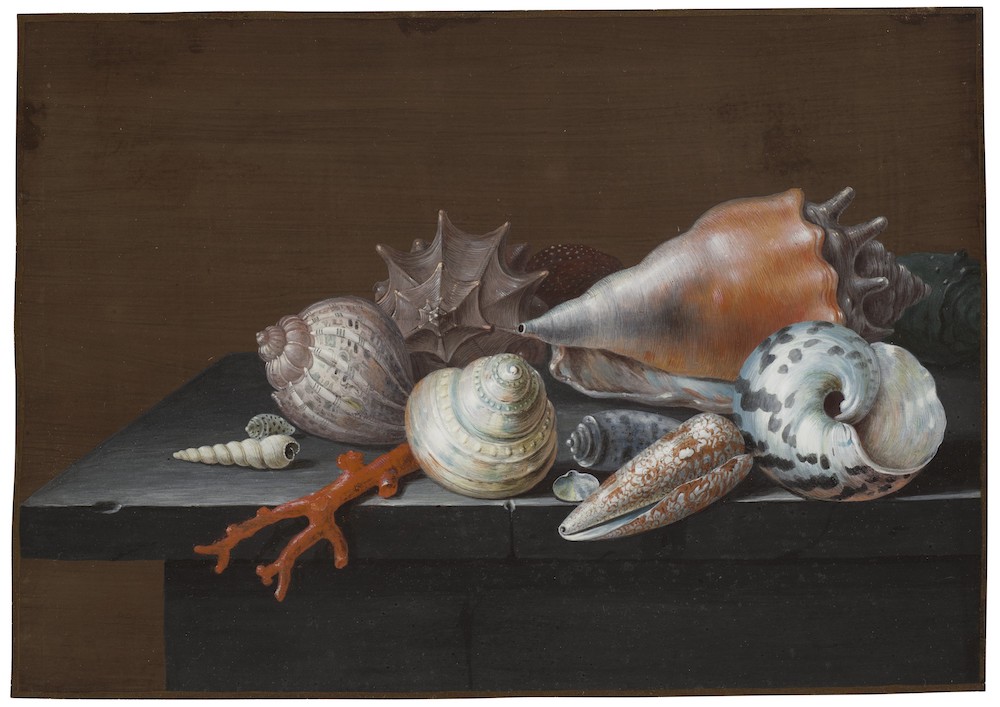 There are several Redouté lots such as the lovely one below (lot 110) but due to the artist's renown, come with a corresponding estimate.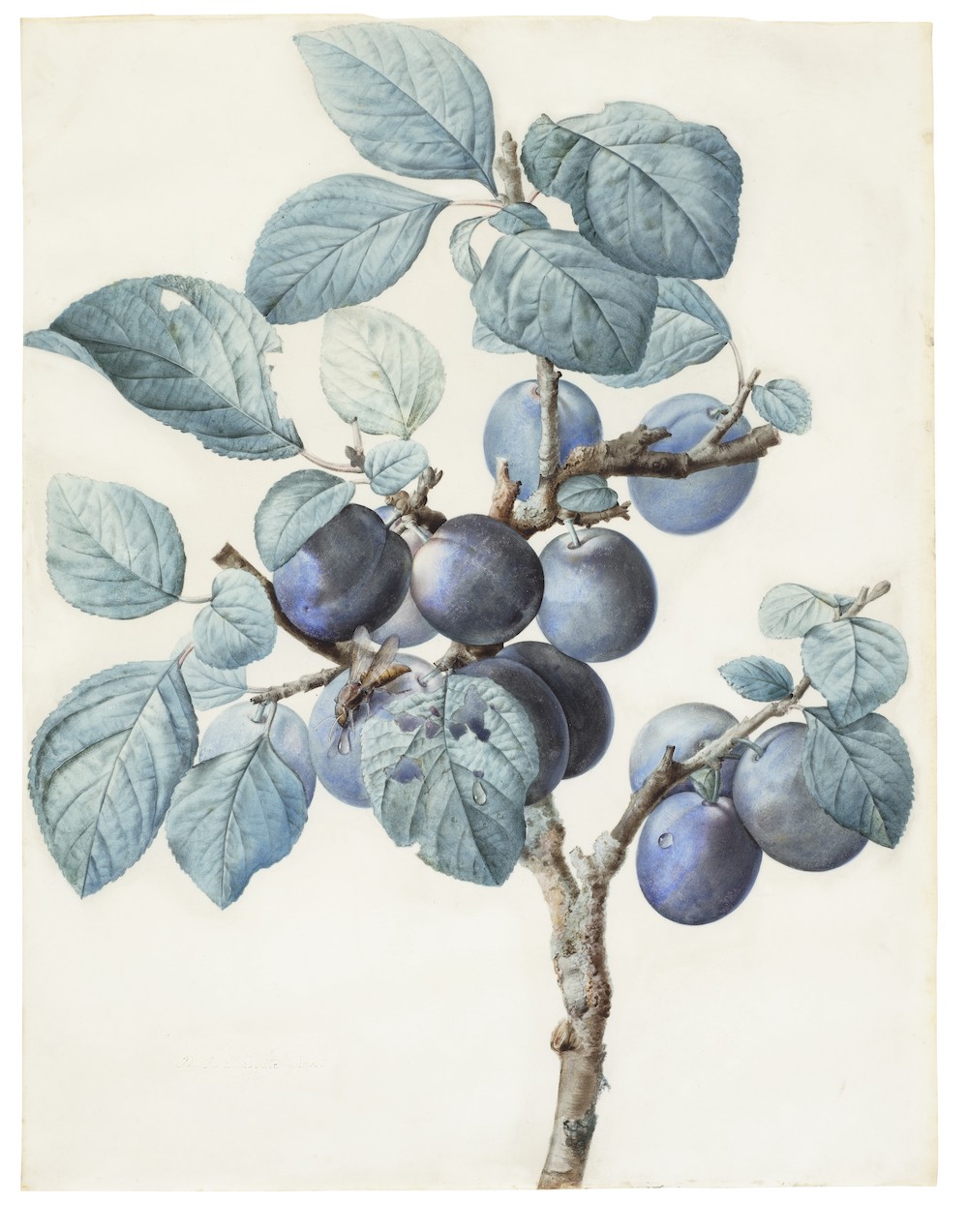 Some collectors are intent on buying only art with pedigree and provenance but Pierre Durand appreciated both, juxtaposing them with an educated eye in his New York and Paris apartments. I think the lot below (207) of 18th century German School studies are equally as charming with a much more approachable price tag.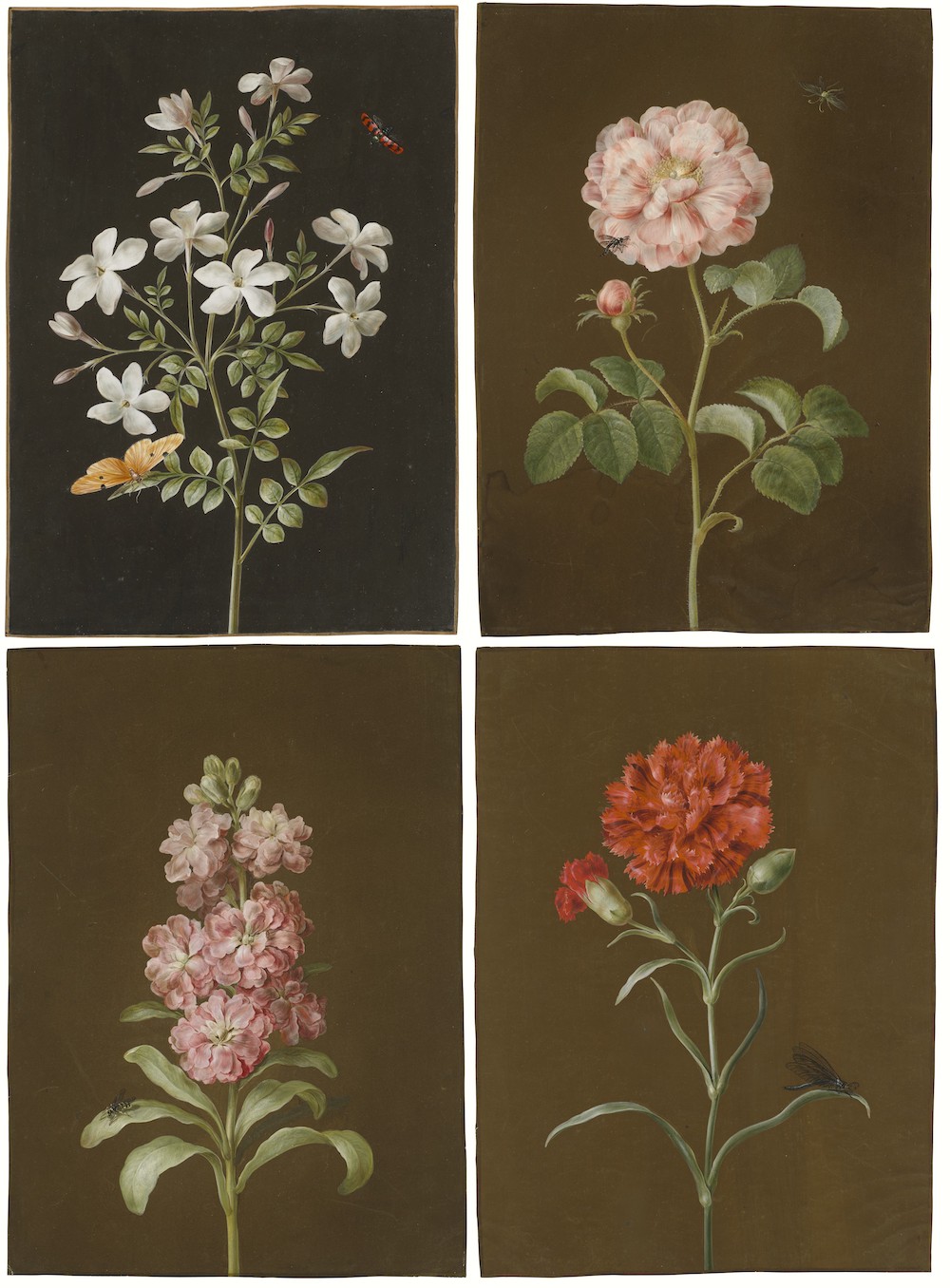 Screens are marvelous decorative and functional additions to almost any room. From behind a sofa à la Coco Chanel to dividing a space in style. There are two examples in this auction but the one below (lot 32) is large enough to fill an entire wall and more versatile in terms of design. With eight panels, this black lacquer beauty is adorned with a riverbank scene surrounded by a border of cartouches with primarily floral motifs.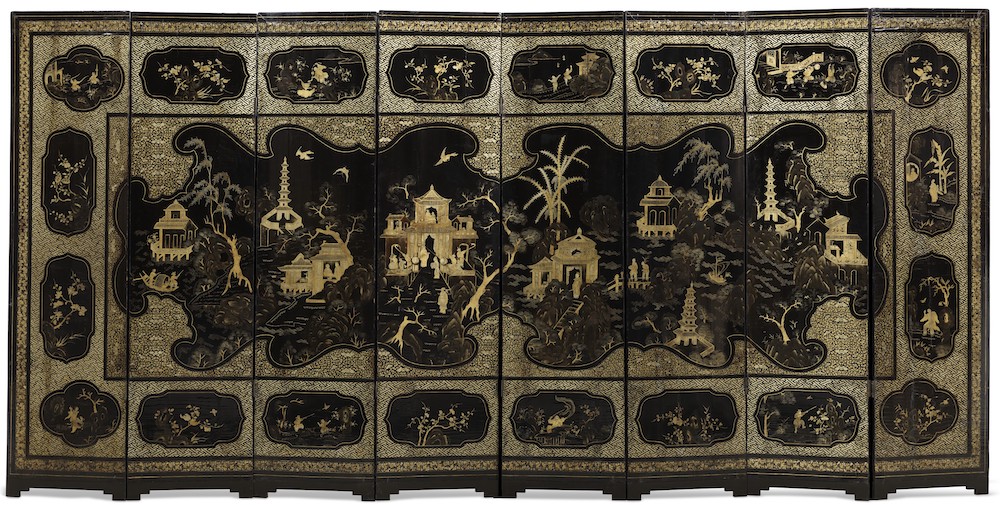 While mantels, surrounds and screens are important to the style of a fireplace, many overlook the opportunity to make a statement within. These charming Louis XVI style (these are late 19th century) chenets (andirons) in ormolu and patinated bronze would be perfect for those looking to up their log stacking ante. (lot 193)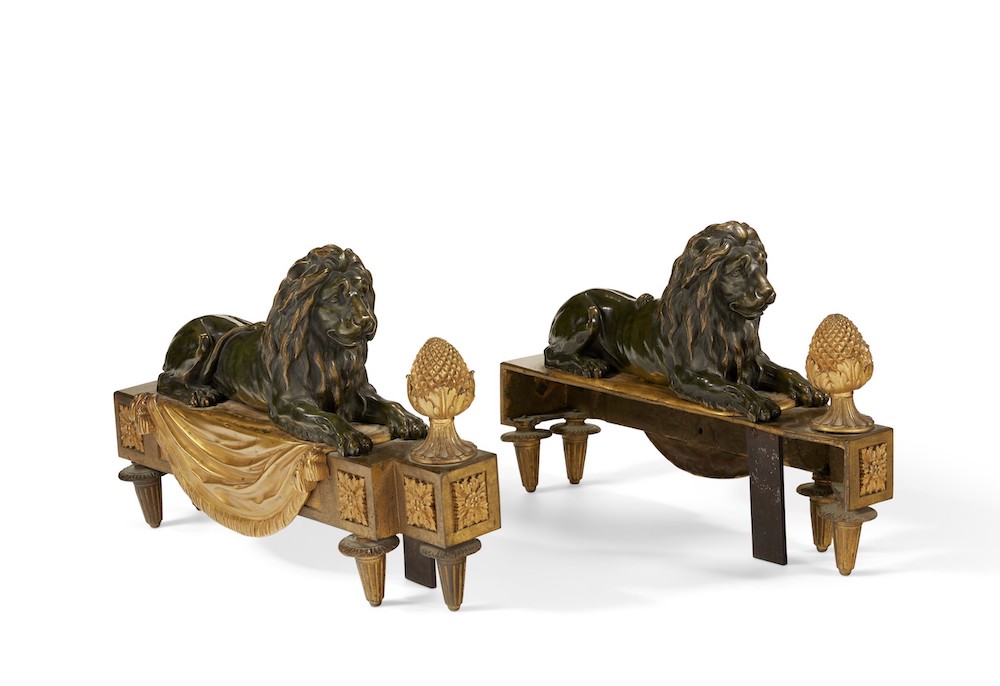 Not surprising for the founder of the Chinese Porcelain Company, Pierre Durand was a great collector of porcelain and other pottery. And not surprising to longtime readers in these parts, it is my favorite category of the auction. There are many stunning choices from a large lot (135) of twenty-three Kangxi Period (1662-1722) blue and white plates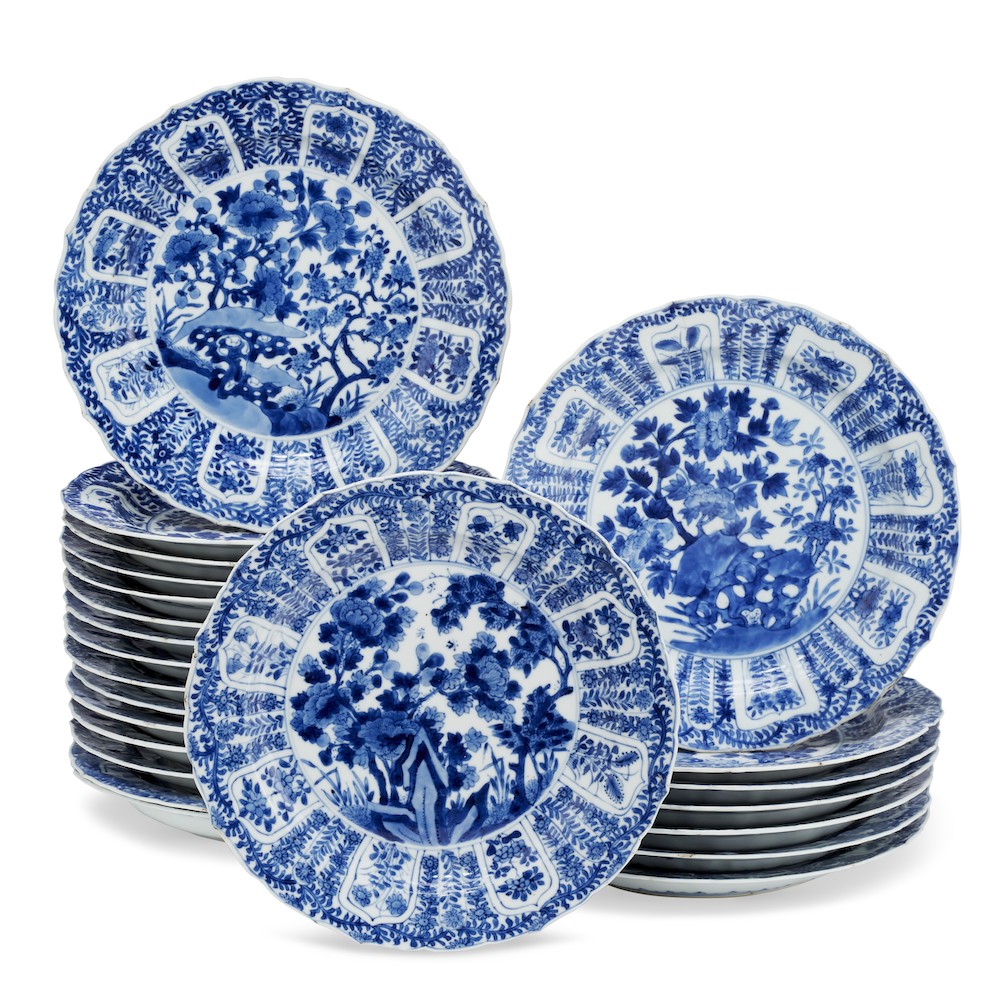 to a rather spectacular set (lot 148) of twelve imperial Sèvres porcelain plates from the service made for Pauline Bonaparte.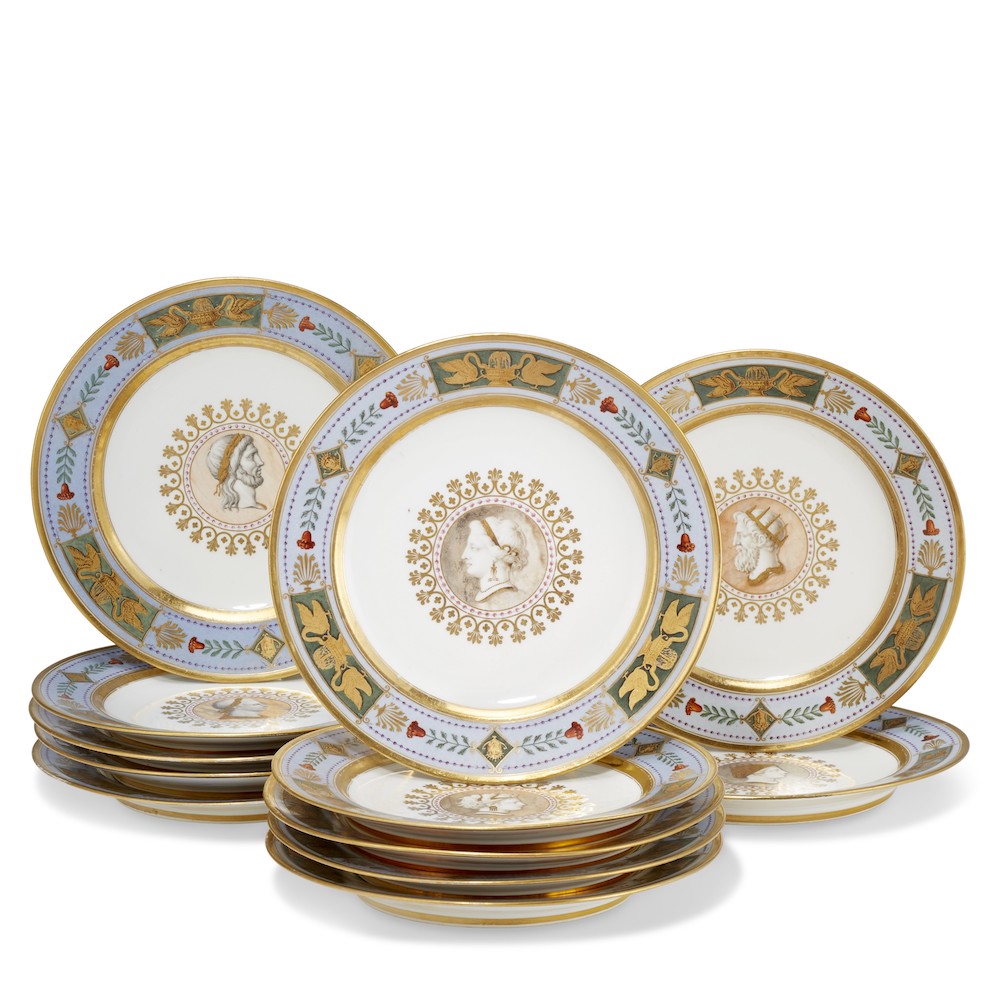 Two lots are from the Flight, Barr and Barr legacy at Royal Worcester (from 1813 until 1840 when they merged with Chamberlain), clearly showing Durand's predilection for seaweed/coral patterns: lot 162, a grisaille crested part service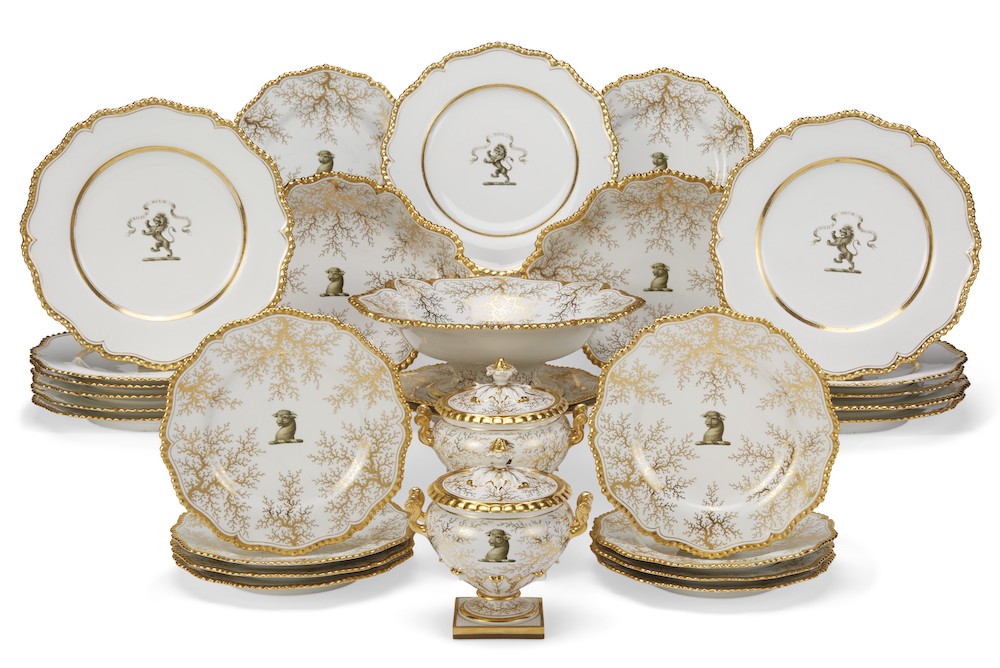 and lot 163, an even more embellished part dessert service with exotic birds in landscapes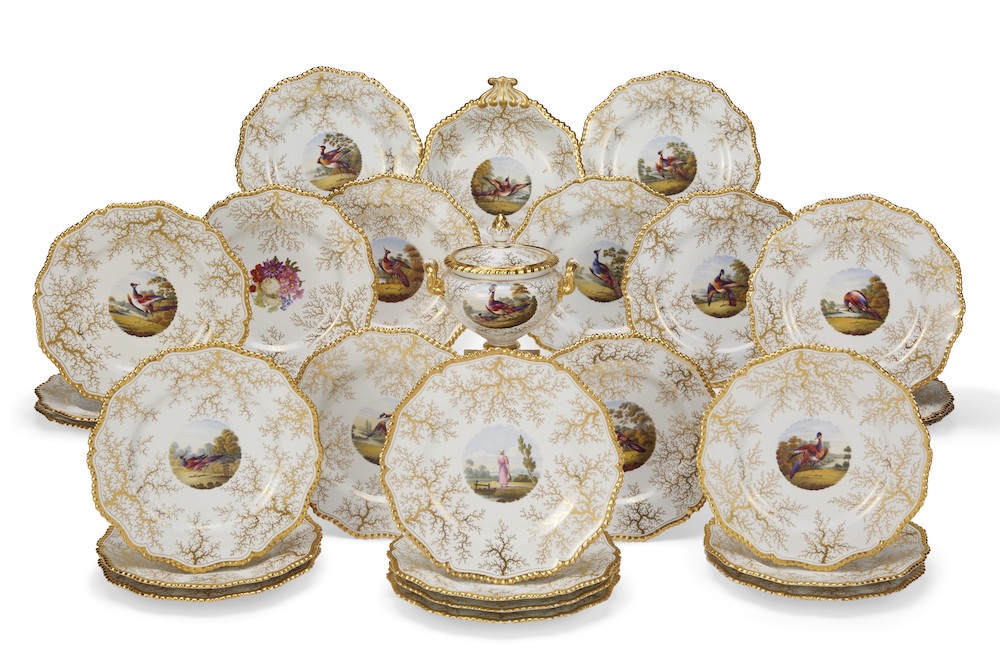 Sèvres is one of the most admired and collectible porcelains, especially for aficionados, like Durand, of 18th century French decorative arts. One of the most charming is this assembled 'feuille-de-choux' part dinner service (lot 144).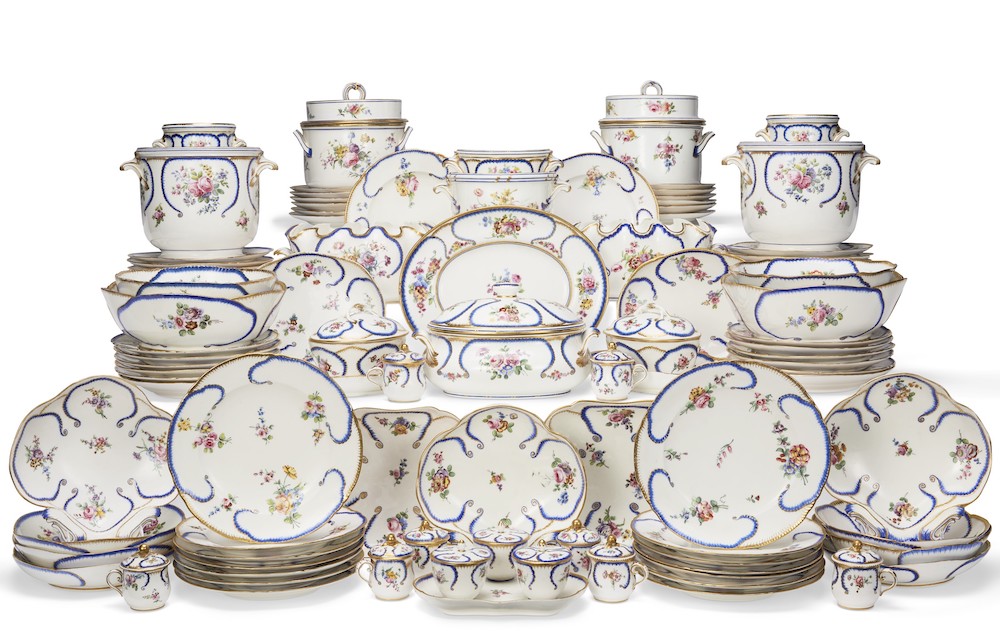 Often considered the first important manufacturer of soft paste porcelain in England (as opposed to Chinese hard paste porcelain), Chelsea porcelain was collected by wealthy and aristocratic Brits. This set (lot 156) of eleven scalloped dessert plates bears the iron-red anchor marks indicating the manufacturer's red anchor period (1752–56).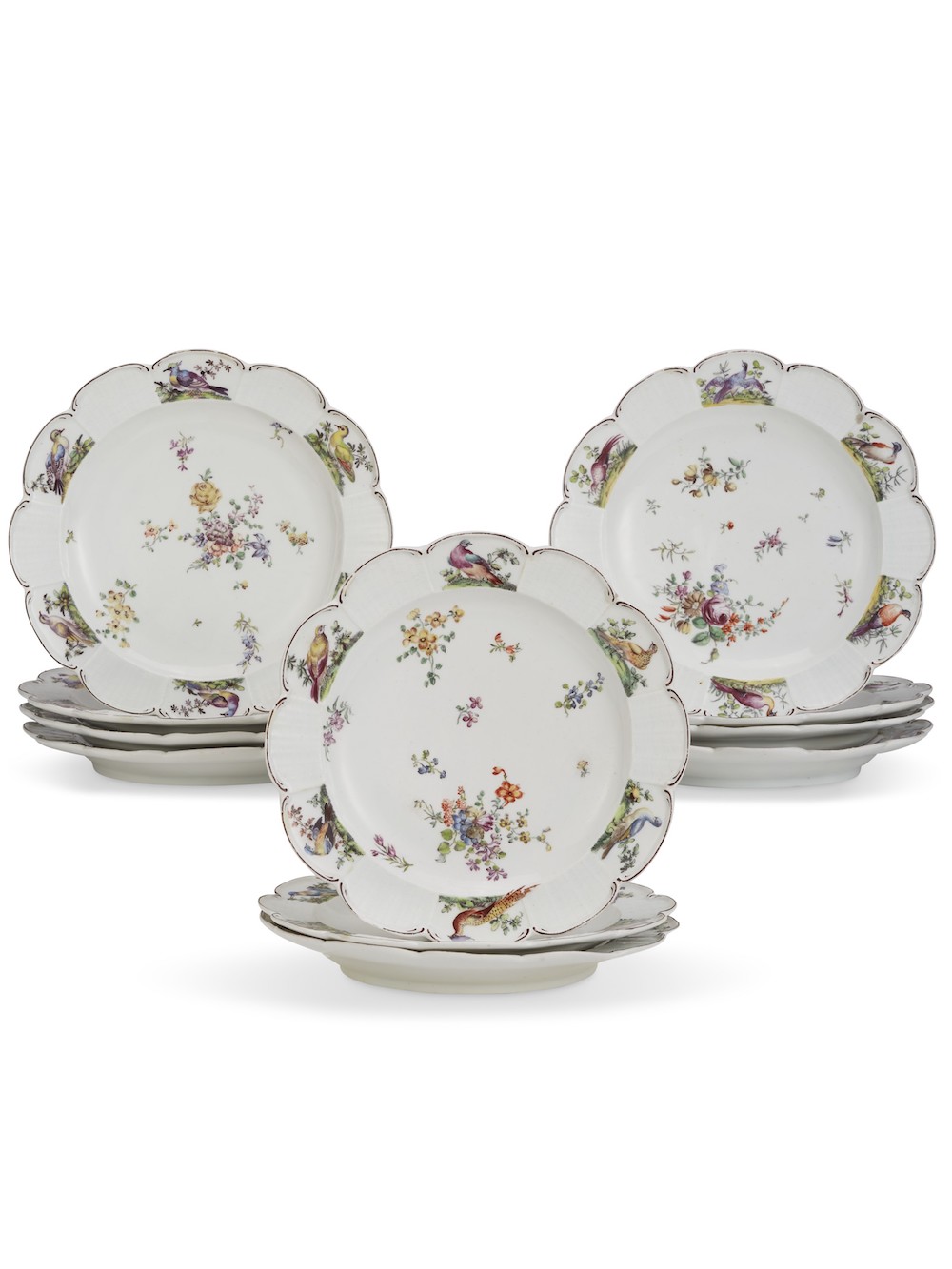 Patented in 1813 by Charles James Mason in Staffordshire, ironstone was developed as a stronger and less expensive alternative to porcelain. It proved immensely popular but Mason overextended himself and by 1848 was bankrupt. New owners, including Taylor Ashworth. continued production. The handsome Ashworth ironstone part dinner service, below (lot 170), is decorated in Japanese style, illustrating how this decorative earthenware sought to imitate the taste of the pricier Chinese porcelain so beloved by the wealthier classes.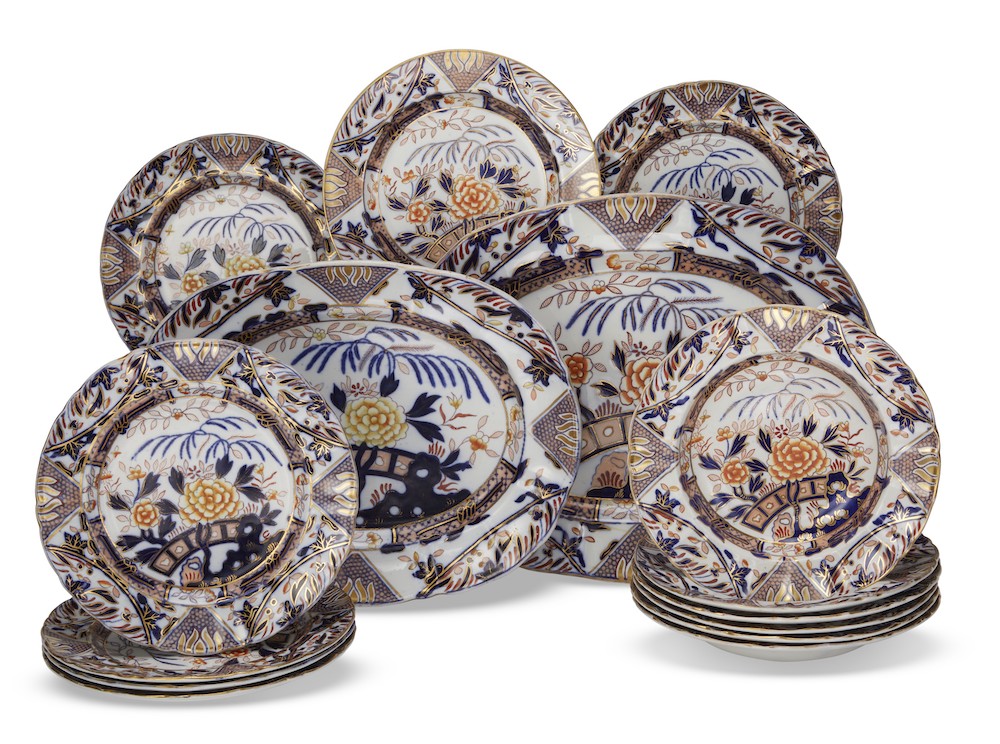 Considered more provincial than porcelain, it is difficult not to be enchanted by the charms of French Creil. Originally created to compete with Wedgwood's creamware, this type of high quality earthenware, known as faience, often features highly decorative and colorful transfer printing but is sometimes hand painted as well. This 19th c. part dessert service below (lot 176) features an unusual footed compote and tureen with distinctive scalloped edge that is also on the eight dessert plates. The molded green and red leaf tips are reminiscent of majolica but somehow more restrained.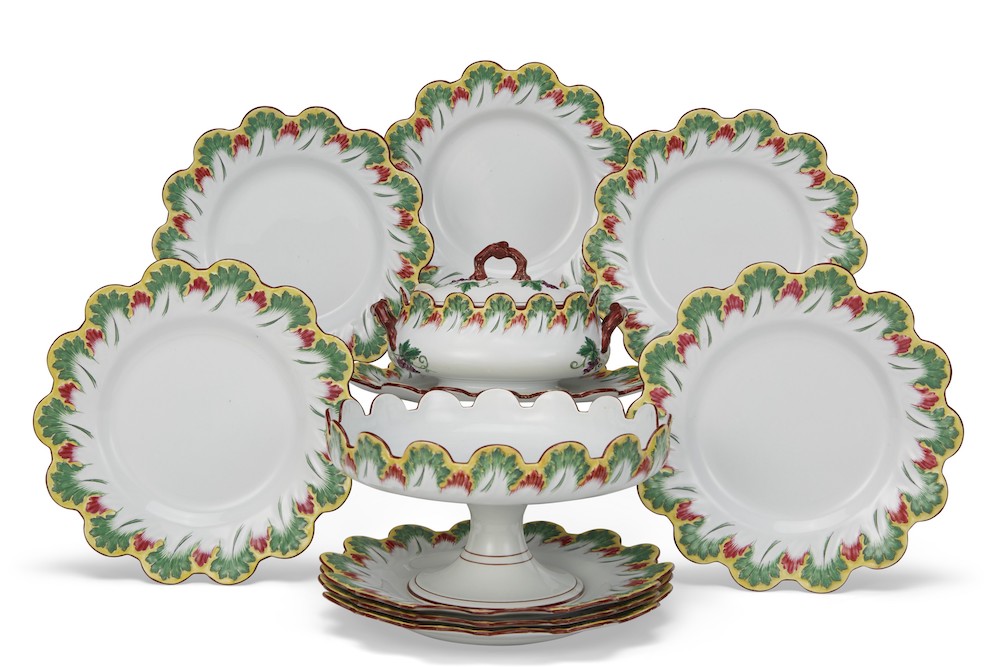 And lastly, guaranteed to elevate your table with elegance, a set of twelve George III (1779) silver dinner plates (lot 169).  The gadrooned rim is always a festive touch, interspersed with double shells surrounded by acanthus.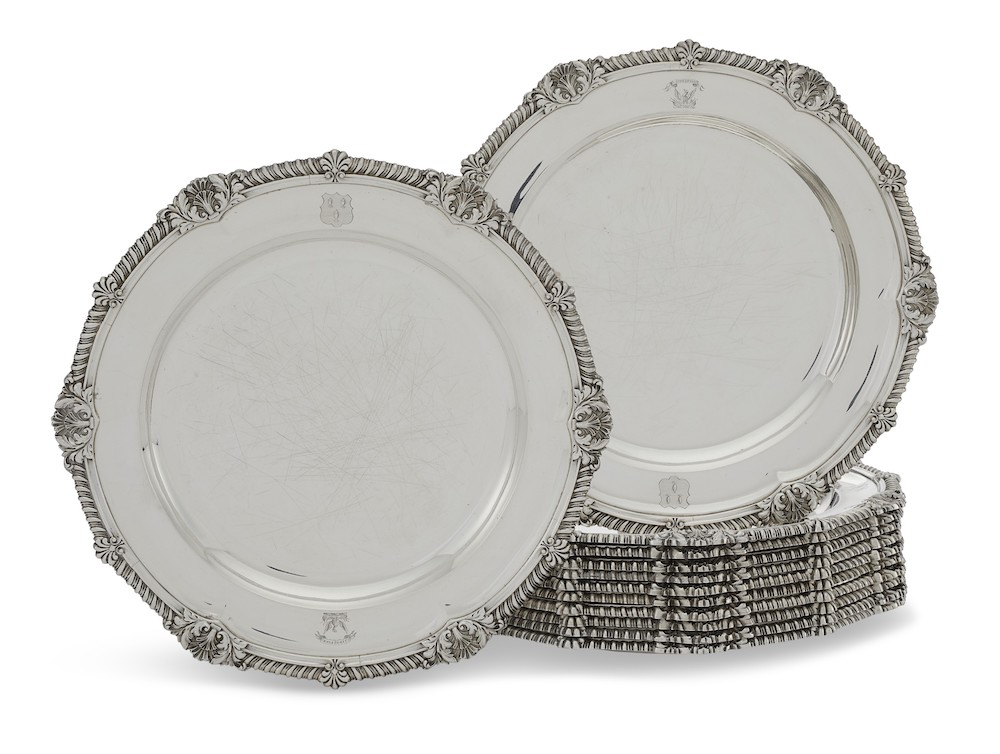 Pierre was known as an avid and accomplished host and I'm confident that his collections played an important role. Viewing can be made by appointment only here with a live auction date of January 27 at 10 am. Paddles up!