With the current state of white out this winter, I am delighted to share a sneak peek at a fresh project full of color in House Beautiful. Lindsey Coral Harper is a young designer who knows how to put an updated spin on tradition. With bold pattern and unabashed use of saturated hues, she has transformed a young family's large house in Charlotte, North Carolina into a stylish, comfortable abode, perfect for the magazine's annual color issue.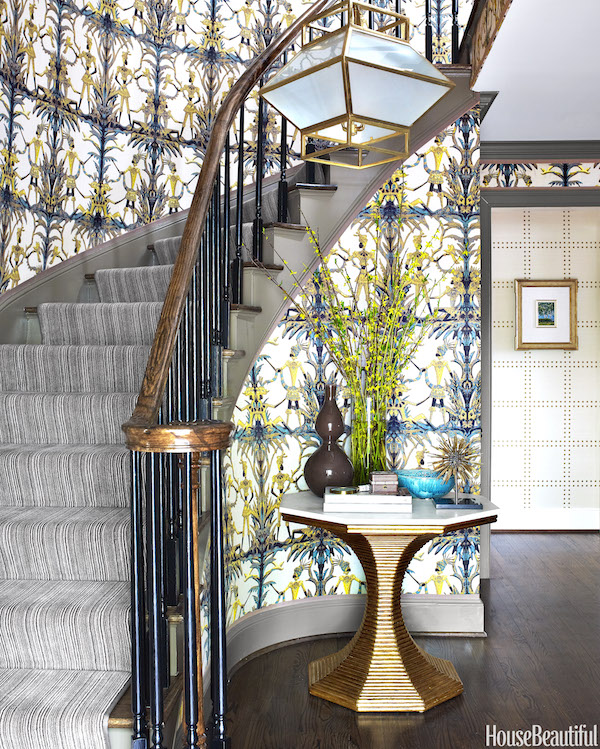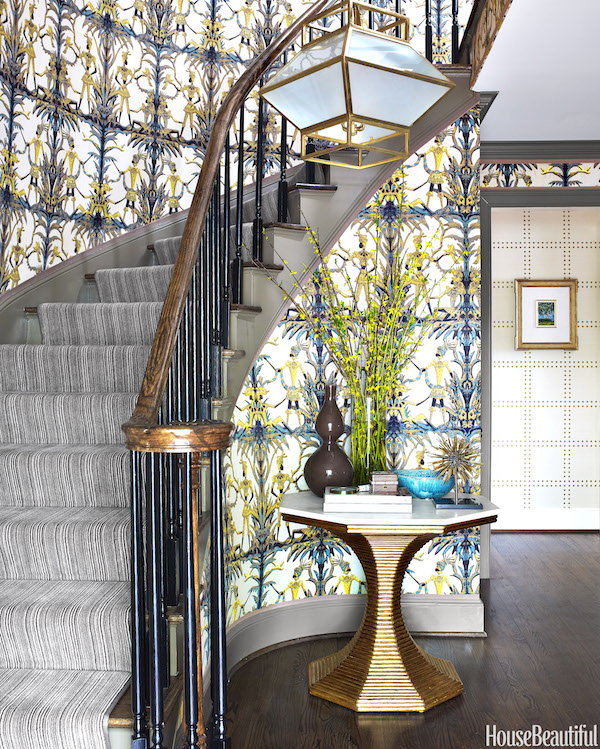 The statement-making entry offers a glamorous yet grounded welcome. The bold pattern of Jim Thompson's Duquetterie linen is balanced with the geometry of Phillip Jeffries' Rivets wall covering in the back, which in turn echoes the gold tones of the fabric, Bunny Williams' classic Hourglass table and a custom light fixture.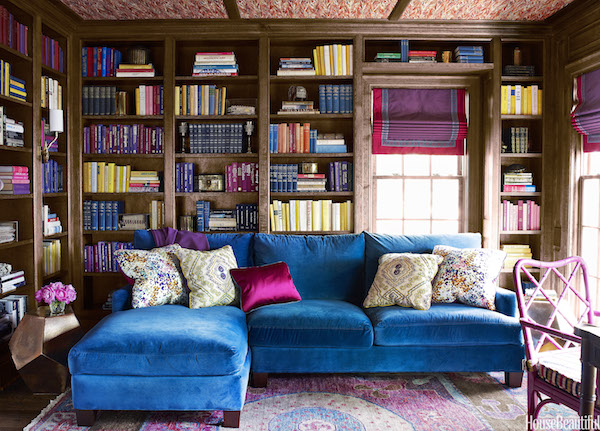 Lindsey's fearless approach to color turns an ordinary library into a retreat full of vibrant personality. A custom Lee Industries sectional beckons with a plush electric blue velvet from Fabricut. Purple and magenta in the roman shades and the rug from Stark add to the lively mix. And yet it's the ceiling that's the unexpected star with Twig's Pheasant wallpaper, adding dimension to the small space. How does Lindsey master the mix? "Balancing color is like cooking or a math problem. You just have to try out solutions until you get it right. It takes practice."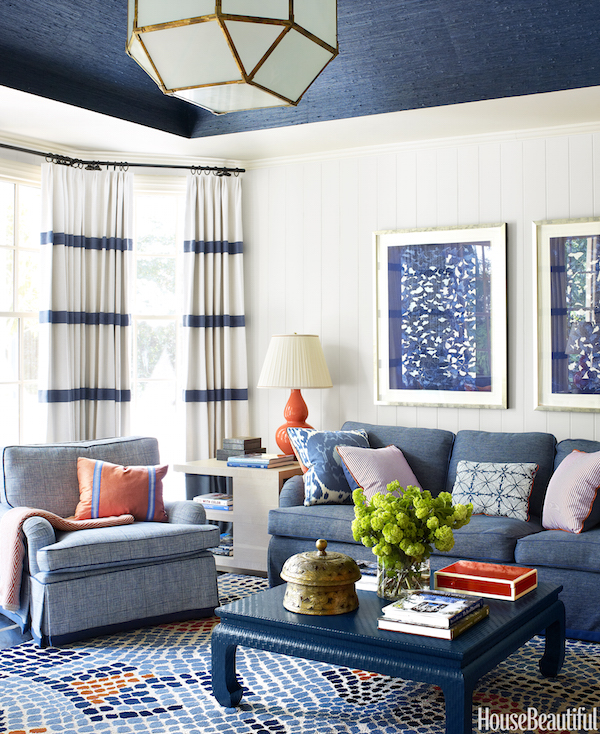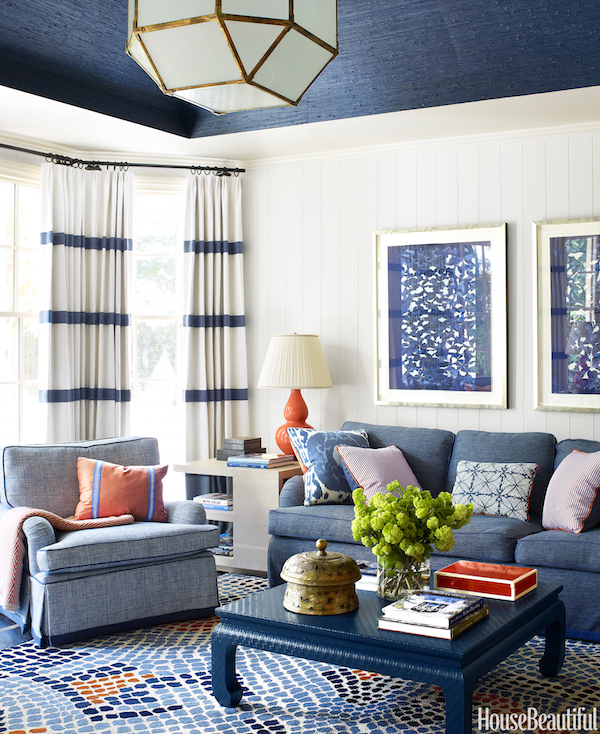 And practice has paid off in the family room where blue and orange (a color combo we're particularly fond of in these parts) collaborate for a fresh foundation. A custom rug from Niba (more about them here) establishes the palette echoed by Jane Churchill's Crispin on the Sofa and Ferrick Mason's Lucas Check on the club chair. Christopher Spitzmiller's Aurora lamp and accessories pull in the orange accents. And yet again, the fifth wall is brought into the scheme as Ralph Lauren's Ionian Sea Linen wallcovering adds color and texture to the ceiling as Circa's Morris Lantern contributes a sculptural presence. And for a budget friendly accommodation, Lindsey used three affordable linens for the voluminous curtains, which her workroom then sewed together with bold strips of blue – big bang for the buck!
all photos Francesco Lagnese for House Beautiful
And while the front entry offers grown up glamour, the back entrance is an exercise in fabulous practical chic. Brilliant blue lacquer in Benjamin Moore's Twilight unifies the doors and cubbies of a hallway mudroom, providing wipe off ease from little hands. And Farrow and Ball's Tented Stripe offers some stylish pattern above the height line. Lindsey shows us it's all in the mix and to see how she worked her magic in the other rooms, you can see the entire project on the House Beautiful site. I am looking forward to seeing the other colorful entries in the issue. Yellow seems to springing up everywhere and this cover proffers hope that spring may indeed be not too far away.