As House Beautiful editor in chief Newell Turner says in his opening letter for the October issue, never say never. While the focus of the magazine for the last six years has been exclusively on American design, this month they expand their view and travel abroad, visiting Americans who have homes from Paris to Africa.  As the world gets smaller and boundaries begin to blur, global influences in interiors have become a part of the American landscape. So how does a Florida-born designer do the Bahamas? It may not be a big jump geographically, but let me share my sneak peek at how Amanda Lindroth brought her "modern meets preppy meets Hemingway in Cuba" sensibility to her house in Lyford Cay.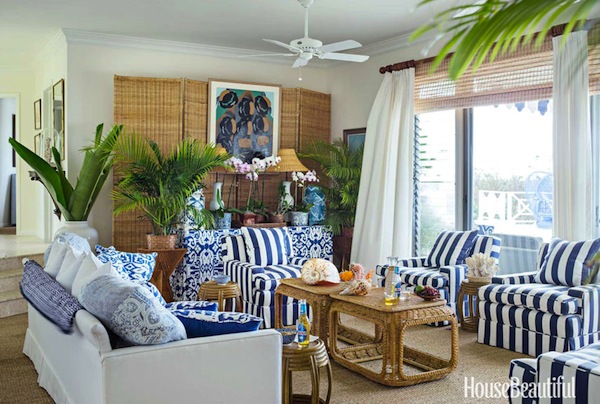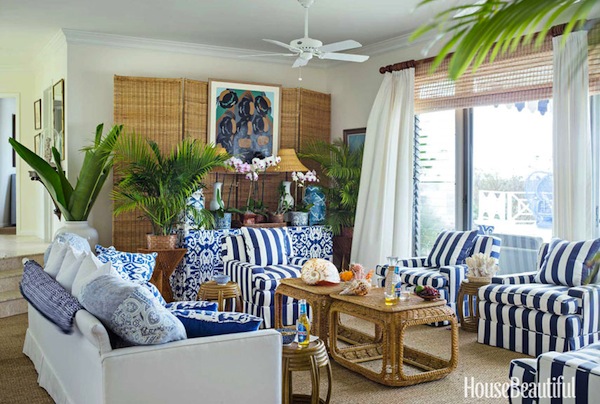 Resisting the typical Caribbean color scheme of bright colors and shell filled shelves, Amanda stayed with a fresh all American blue and white palette, mixing a bold navy and white Sunbrella stripe with a royal Island Ikat by China Seas. The one level house is full of sliding glass doors which Lindroth dressed with full curtains and dummy rattan blinds that hide the awkward space at the top. Although a Bahamian resident now for over 20 years, she channeled her roots with the resort glam of mid century Florida, adding rattan wherever she could, including a vintage screen for the blank wall above.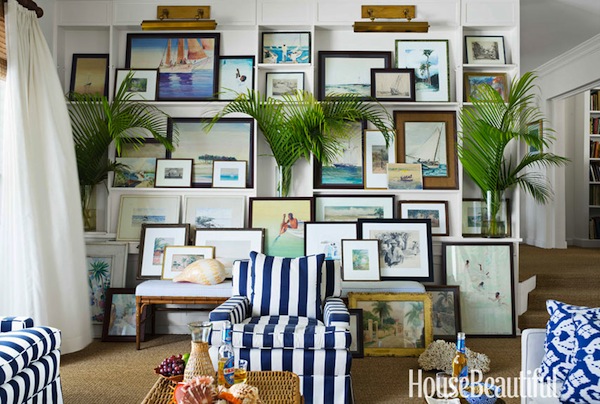 The other end of the living room features a fabulous wall of seemingly casually assembled art. While she and her husband collect late 19th to early 20th century paintings of the Bahamas by vacationing American artists, the gallery might just as easily include a drawing by her daughter. Art and books are the stuff of life and as Lindroth says, "An island house should look like a home."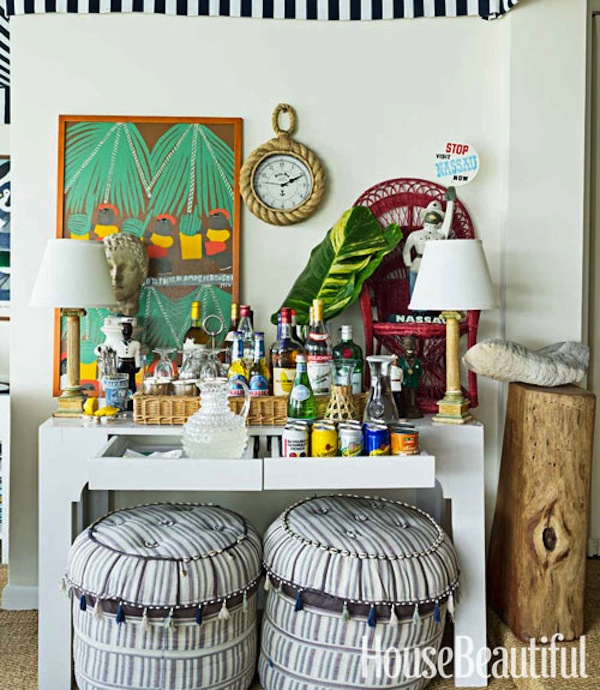 I just love this whimsical vignette! As Lindroth says, "Every island house needs a fantastic, spilling-over bar." This scene simply spells relaxation, bare feet and fun. You can practically hear the music in the background! The happy eclectic mix includes everything from decorative poufs and a rope clock from Two's Company to a painting by well known Bahamian folk artist Amos Ferguson. I'll take a Mount Gay and tonic please!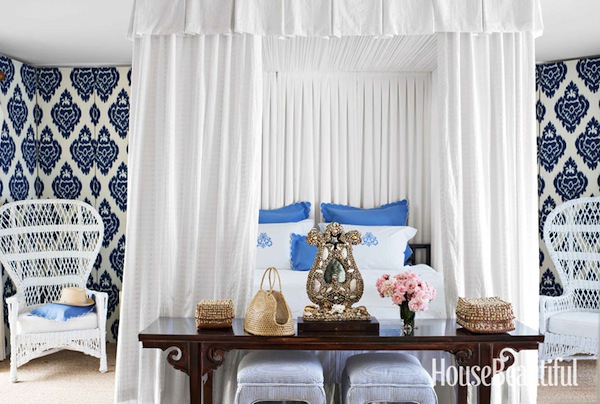 To give her dreamy Caribbean bedroom additional height and add some architectural interest, Lindroth raised the canopy to the ceiling and covered two tall screens with a dramatic Duralee blue and white ikat. Always resourceful, Amanda locally found several bolts of 1960s white eyelet of different patterns that she had her upholsterer seamlessly piece together. And here the vintage rattan was given a coat of paint to allow the vintage Baker console, reglazed to a dark finish, to stand out as the single accent piece.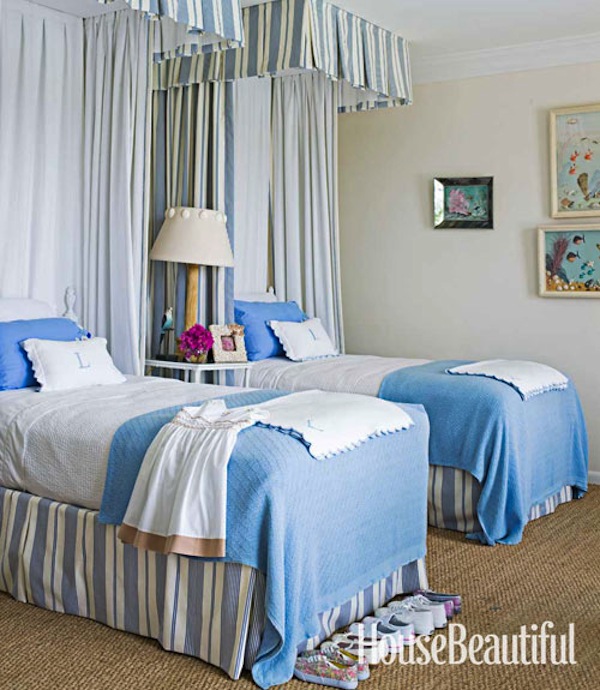 All photos by James Merrell
Many of us are challenged designing a child's bedroom that can transition gracefully to later years. Lindroth's daughter Eliza's bedroom is a successful example of pretty that appeals to all ages! The sea life themed artwork has a youthful bent and I love seeing the collection of sneakers. The entire house is covered in seagrass – concealing a terrazzo floor. Lindroth keeps a stock of Dash and Albert striped rugs on hand to cover up wine, dog or even toddler accidents. And if too many have marred the landscape, at $1/square foot, the seagrass can be replaced.
Island life can make for interesting decorating challenges. Listen to Amanda tell her entertaining version of what living in the Bahamas can mean for work and pleasure.