The March/April issue of  Veranda is all about Modern Romance and that's exactly what contributing editor Danielle Rollins was looking for when she hired Miles Redd to decorate her expansive 1920s Philip Shutze house in Atlanta.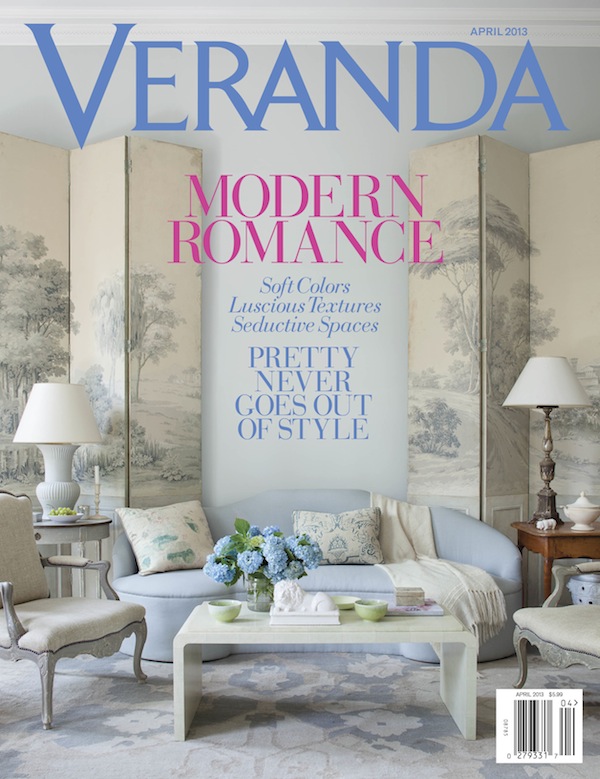 Who better to create a sumptuous manse perfect for stylish entertaining and gracious living than the man whose signature look is a Fred Astaire Top Hat fantasy come to life in his vintage David Adler mirrored bathroom. And Rollins' house has a throw back feel to it as well. As Redd explains, "To me, there's a '50s sensibility to the decorating, with nods to Babe Paley, Brooke Astor, and the Duchess of Windsor." Quite the pedigree! This shot, from a spread that appeared in Town & Country a few years back (photos by Franceso Lagnese), shows how the exterior, complete with Chinoiserie details, begged for the vintage glamour that Redd would extend inside.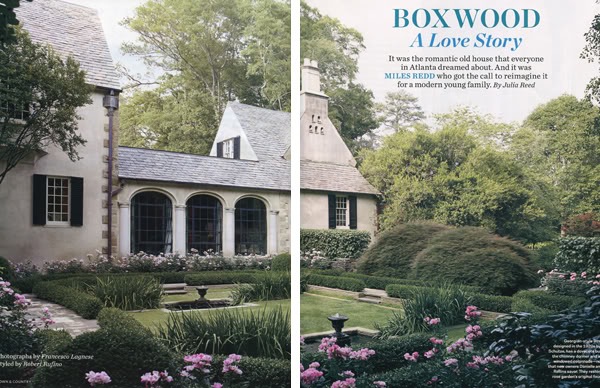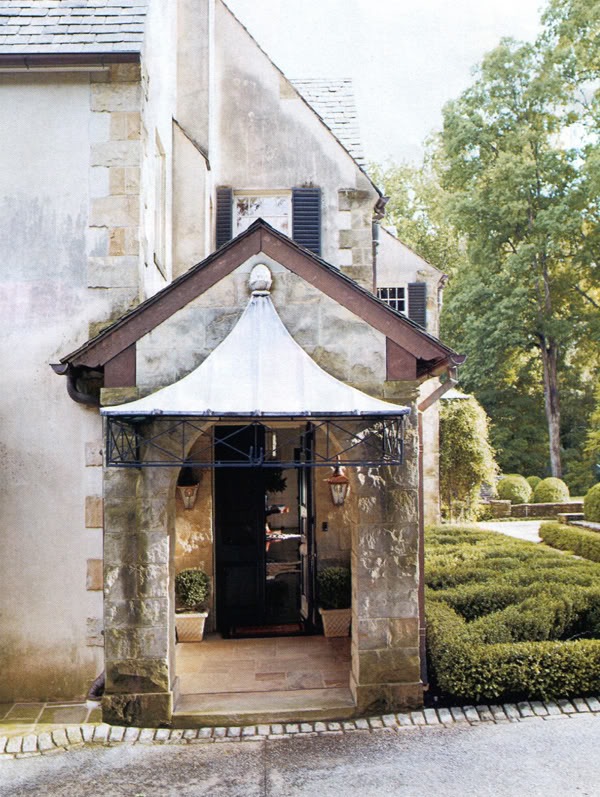 Another peek at the property from a previous Veranda piece about the house and owner. Note later how Redd makes reference to the armillary in the bar.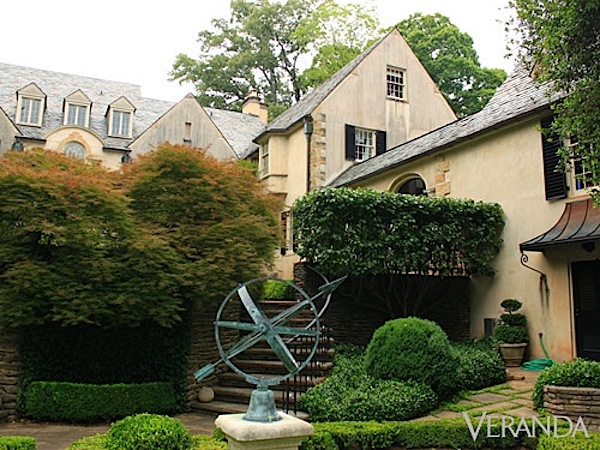 The lush 5 acres are perfectly suited to Rollins' exuberant entertaining skills as seen in her book, Soiree. Redd was naturally up to the task of bringing the large house back to the standards of the spectacular grounds.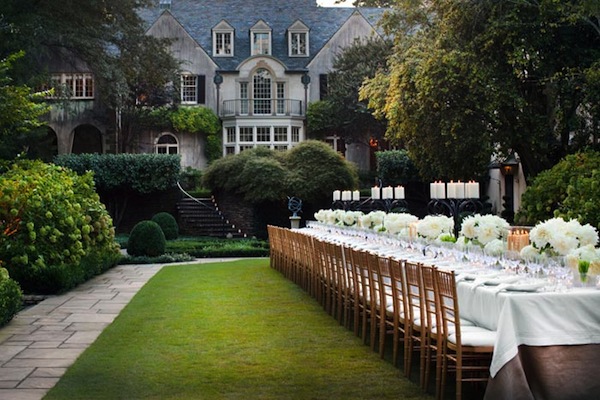 The entry offers subtle hints of the panoply of pattern and color to come. Here Rollins, from the same T&C story, looking casually chic on her way to flower arranging. You'll see in Veranda a few updates to the inviting space.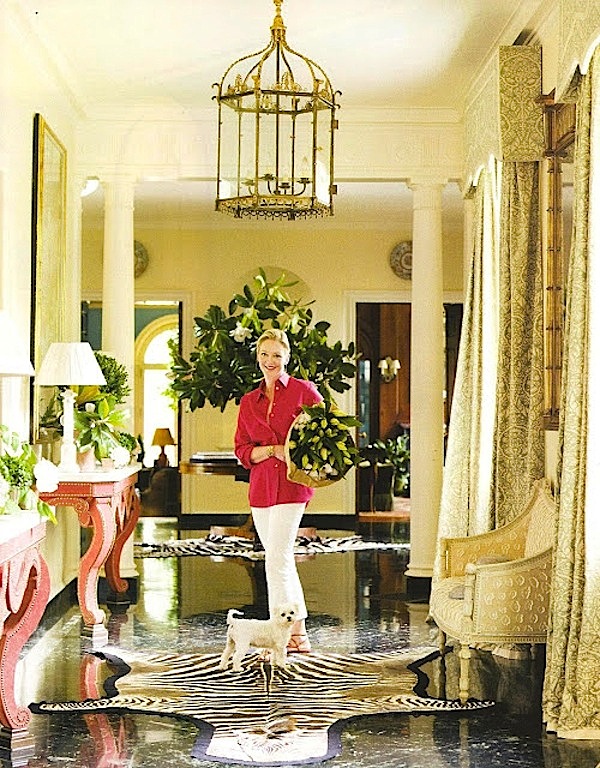 One of my favorite rooms is the bar, epitomizing Redd's color saturated approach to modern glamour. Layers of coordinated color and astrological allusions make for a flawless jewel. The perfect shade of blue adorns the lacquered walls and trim with a coordinating Walker Zanger marble on counters and floor, creating a celestial enclave . And the Zodiac Lantern from Visual Comfort alludes to the scenes on the vaulted ceiling, inspired by the iconic mural at Grand Central. Not only do the family's zodiac signs appear, but also those of Redd, who shares a Pisces birthday with Rollins.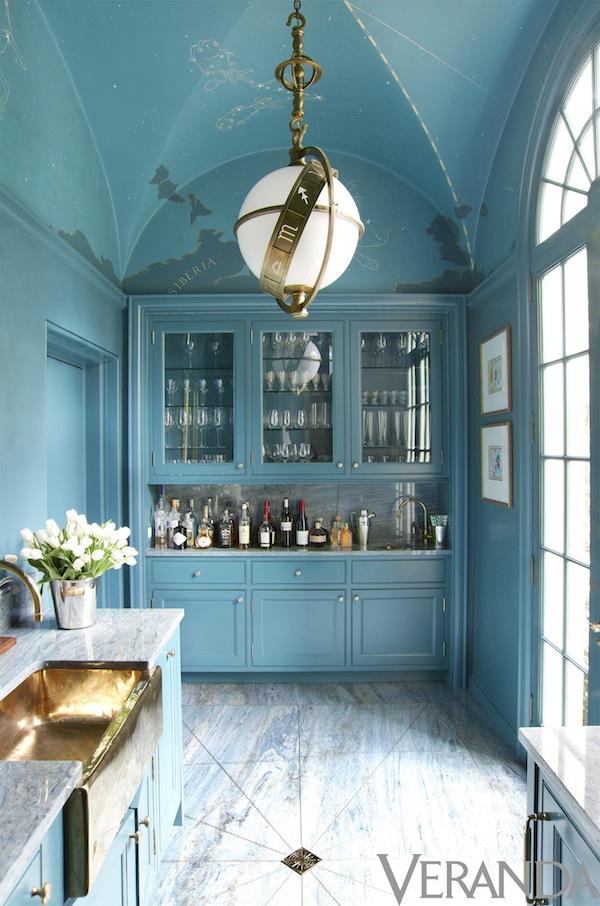 Redd was ahead of the curve with his love of brass. He also employed it effectively in the library, shown from the Town & Country article, clearly an ode to Albert Hadley's classic red room for Brooke Astor.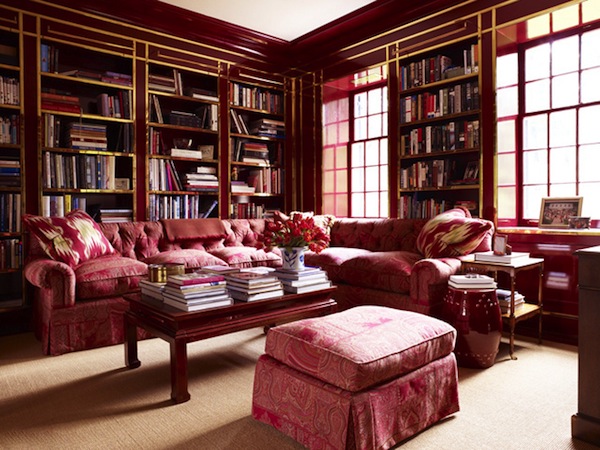 Redd is equally at home in large or small spaces but the latter are particularly gems. The charming breakfast room is stylishly swathed in a Bennison stripe I love (in fact I have the same in my bedroom). With tented walls, matching lampshades, and a fresh blue and white scheme, it is modern and yet makes reference to a technique beloved by Sister Parrish, Madeleine Castaing and many others. And this is exactly Redd's strength, channeling the glamour of the past for gracious contemporary living.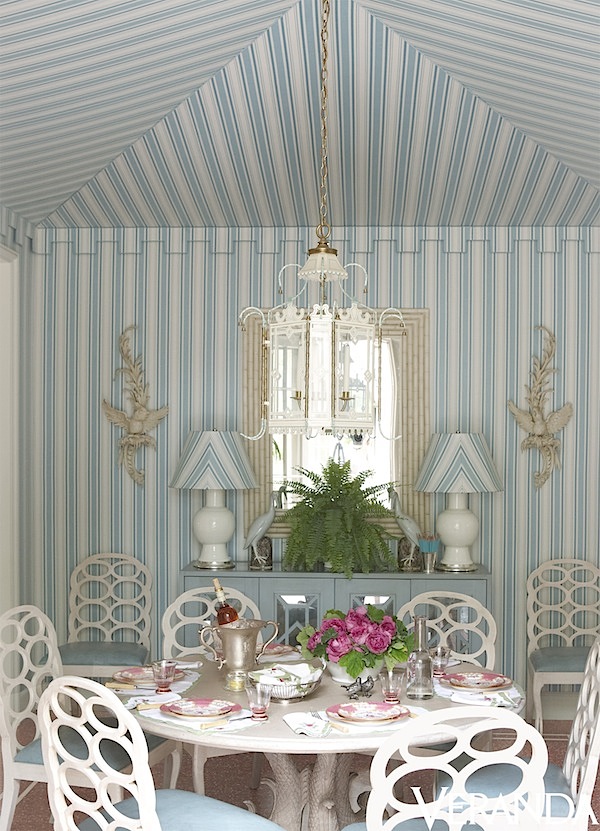 The table, from the Oscar de la Renta collection for Century (of which Redd is the creative director) anchors Frances Elkins style chairs from Downtown and chinoiserie lantern from Mallett. And I love the jolt of pink of plates from Parc Monceau, fabulously styled with the flowers and rosé wine! I should mention that Redd obligingly laminated the entire room (evidently not noticably) to assuage Rollins' fear of family life in the room with children – a handy trick to remember!
The glamour quotient is stepped up even another notch in the master bedroom. Rollins requested walls "the color of chocolate milk." Married to an elegant icy blue, the combination looks nothing like the hackneyed brown and blue rooms that were all the rage a few years back.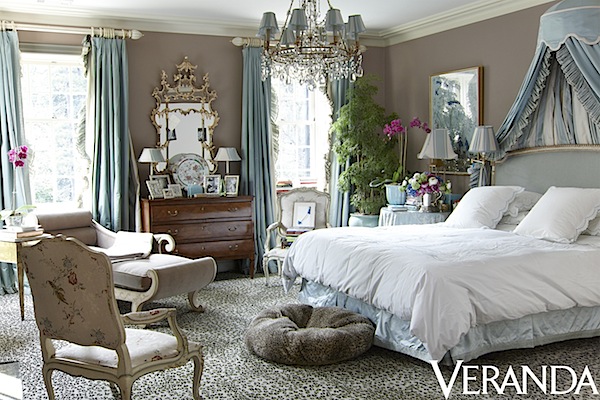 photos of Miles Redd project in Veranda March issue by Melanie Acevedo
Somehow ruffles (satin and striped silk from Brunschwig), coronet and crystal chandelier (Georgia lighting) don't overwhelm, but result in a room oozing with feminine elegance. Matouk bedding, a Travis and Co. Chinoiserie mirror and Oscar de la Renta home rug for Elson all work together for a lavish boudoir. And meticulous details like the myriad of custom shades all add to the effect. All you need is room service!
I can't wait to see the other stories in this issue – like designer Frank Babb Randolph's DC project on the cover – but we'll all have to wait 'til next week!