The February House Beautiful is all about makeovers. Whether easy and casual, timeless or happy and fun, each project explains its challenges and the solutions found.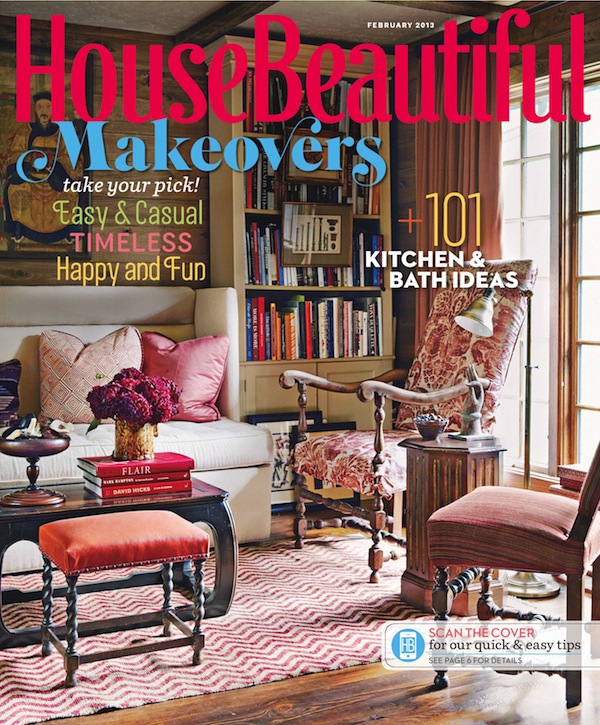 Although designer Tom Samet has generally worked on country houses, a project in a Rosario Candela building on Park Avenue offered him an opportunity to add a little formality to his repertoire. His clients had just purchased this classic pre-war apartment featuring beautiful proportions and large rooms. But it was bland and tired, with a long, rectangular living room and not quite enough light. He and partner Ross Meltzer updated the apartment with exotic wallcoverings, mirrored walls and statement pieces like the Egyptian Revival sideboard below.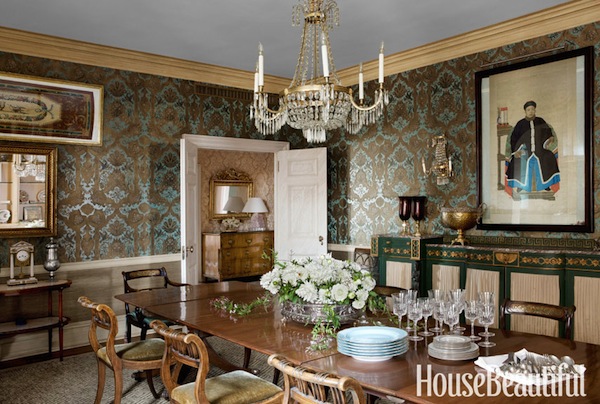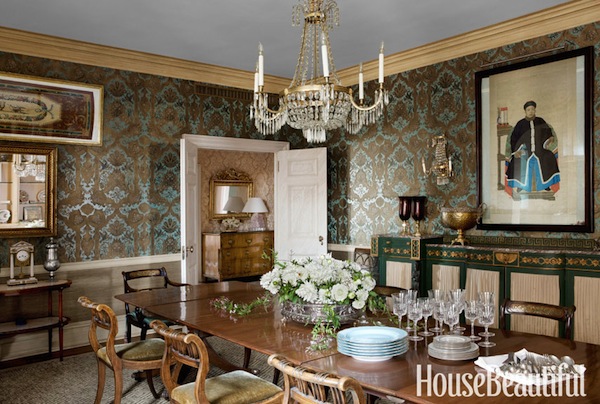 It all started with Samet's fantasy of a Zuber paper for the dining room. The hand-tooled aqua and bronze Moscova wallpaper he chose then set the tone for the entire apartment.  In a cost saving measure, the team used the Zuber only above the chair rail, installing a Roger Arlington grass cloth below that adds texture and ties into the adjoining bar area. This small room, previously a dead space created by opening up a wall, is now oozing with charm. A giant Chinese Chippendale lantern and 1940's shelf lend it a classic exotic appeal.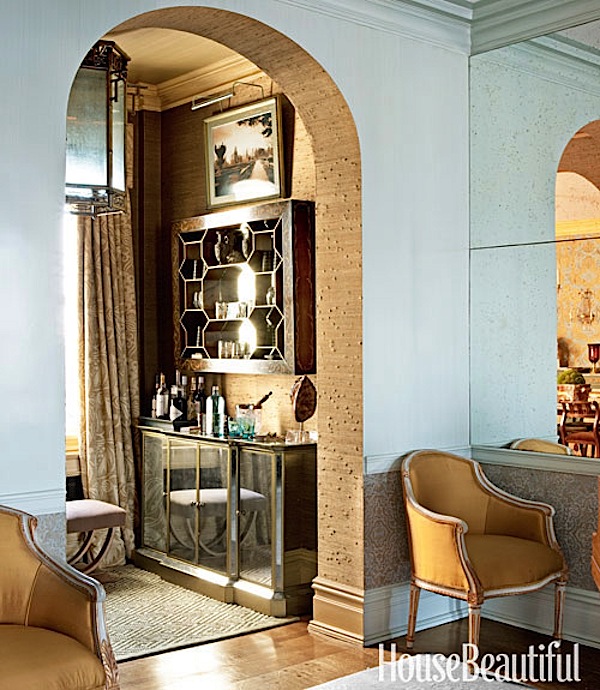 As always, it's the many details that give the project its nuanced layering. Not content with the already wonderful mix of paper, grasscloth and continental furnishings, Samet enlisted decorative painter Ruben Teles to faux paint the doors a cerused oak and added vintage doorknobs from the Plaza as a fabulous finishing touch.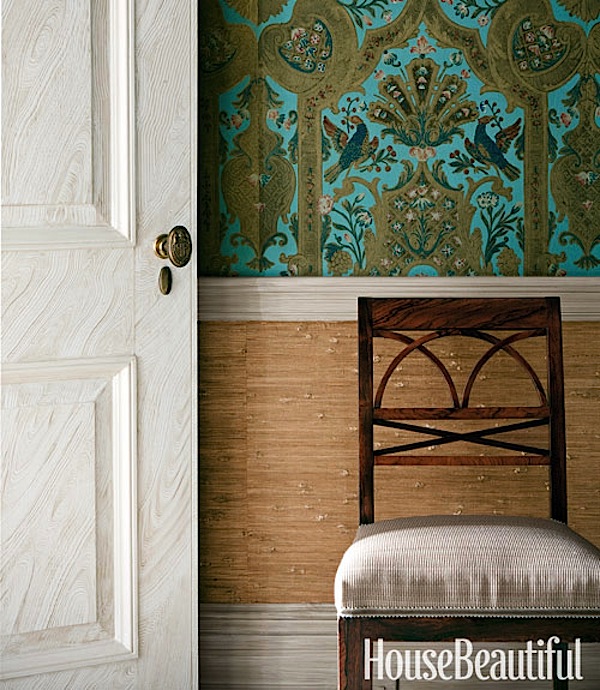 As Samet explains, "After the Zuber wallpaper, any wall that was just Sheetrock looked unadorned." The entire apartment features creative wall treatments such as the caning by Fabrizi Furniture in the library which is hung in panels to prevent future sagging. And I love the custom cabinet with bamboo trim and pagoda top – a fun stylish touch.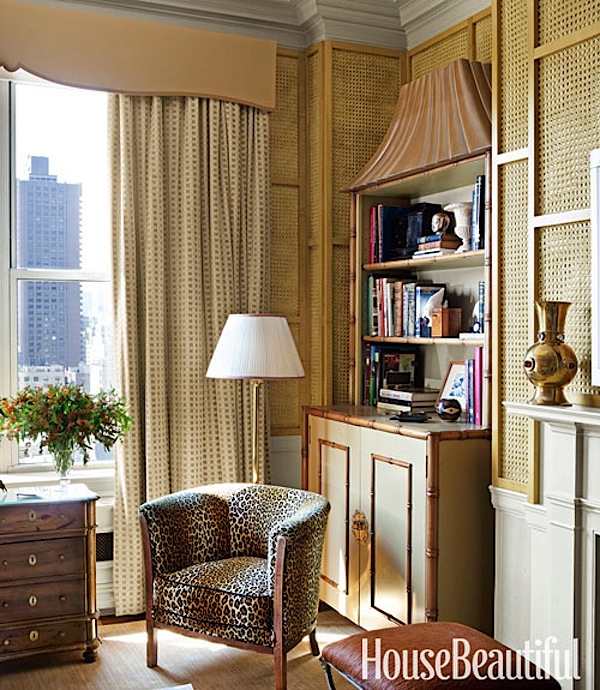 The aqua and bronze color scheme continues in the long and narrow living room which now functions beautifully with multiple seating areas. And an antique mirrored fireplace wall adds reflective light into the formerly dark space. Repeating the valance shape from the bar helps connect the rooms visually and imparts a timeless feel to this updated pre-war. Lots of coordinated patterns, finishes and hand made details maintain the interest in the soothing two-tone room.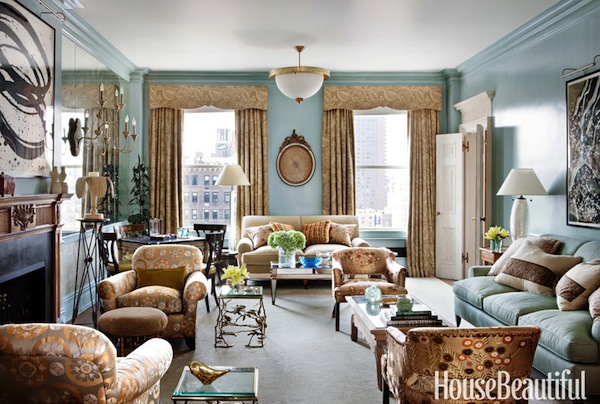 Some of the wall treatments are actually copies cleverly executed by decorative painter Teles. Such is the case in the bedroom, where a banana leaf wallpaper proved too complicated to install. The substitute is a fabulously textured neutral enhanced by pretty pillows from Leontine Linens and Calypso St. Barth.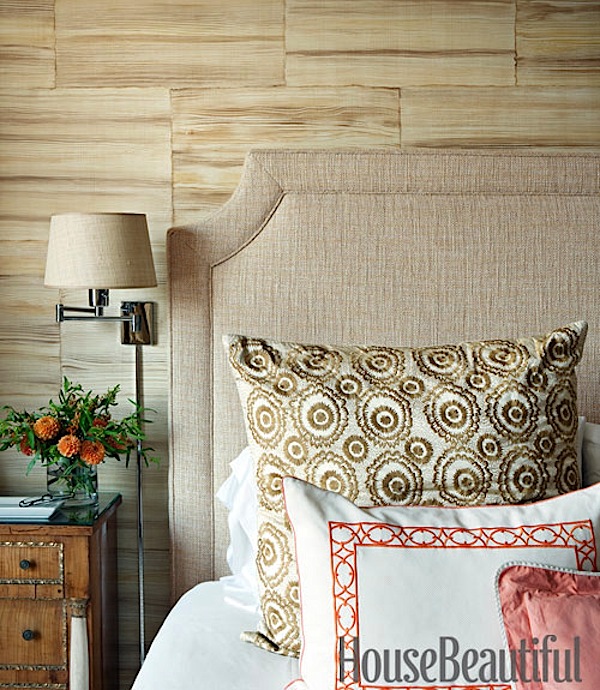 I'm looking forward to getting my issue of House Beautiful to see the other makeover ideas – a perfect way to start off the new year!