Photo by Max Kim-Bee
I had a few technical difficulties today so my planned post will appear next week. Instead I will tell you about some little improvements that are happening around the quintessential abode. I have mentioned occasionally around the blogosphere how I've been planning to update my powder rooms. Well after much internal debating, I have finally made a decision for the formal one. Inspired by the powder room at Boxwood, above, the Gil Schafer/David Netto Nashville renovation that appeared in Veranda this month, which I recently featured as well, I am going to use the same paper – a fabulous dense Cole and Sons toile I fell in love with. Thankfully my husband likes it also. It's a deep inky navy which will pick up the blue in a lovely tufted George Sherlock bench upholstered with a classic Hodsoll Mckenzie linen velvet that sits in the entry outside this room.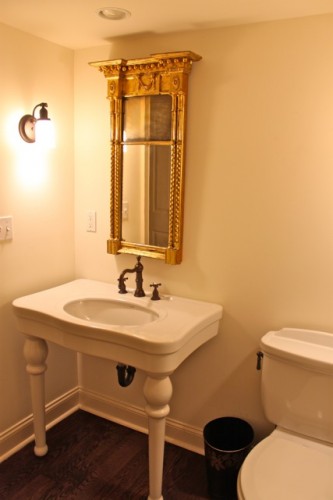 I have some electrical work to take care of (moving the sconces, selecting and installing new ones and hiding the large unnecessary high hats in the soffit) as well as some carpentry (adding a chair rail and faux panels) as well as a few other minor hardware (new doorknobs) and fixture (new faucet) details that I will just quietly change without burdening the other half of this client team (subtle wink). This is an interior windowless room that I am hoping to transform into a tiny jewelbox.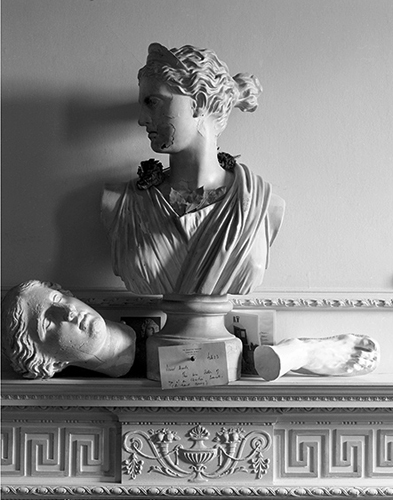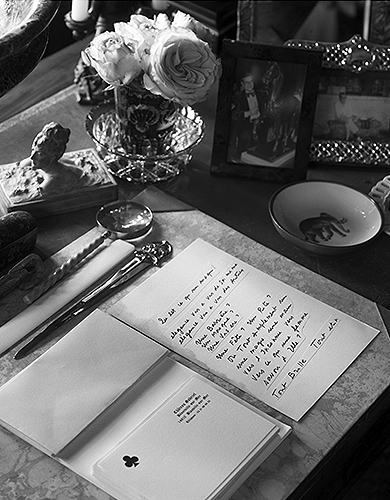 Secondly, many of you may remember that both Little Augury and My Dog Eared Pages featured the beautiful work of photographer Ivan Terestchenko. I was instantly smitten with his exquisite imagery and purchased the two prints above (since I own them, I thought it would be permissible for me to shown them)  from his portfolio entitled Interieurs Couture, a collection of 30 photographs in platinum palladium of interiors from famous couturiers during the last twenty years. The top is of Manolo Blahnik's bath and the bottom of Yves Saint Laurent's desk. They finally came today and they are even more splendid than I imagined. The paper, printing and level of details are superb. I can't speak highly enough of both the artistic and tactile quality of these gorgeous works of art. Once they are framed and up, I will show them again. I have a lovely spot in mind.
These are the first projects in this house I am featuring and although they are very small, I am hoping they will be interesting to follow along.